Find out more about Flytographer!
TUESDAY
Our first full day was off to a very early start – we caught the 7am sunrise in Oia before splitting into groups to get some great portfolio shots of our couples and a family at various scenic points around the village. It was the perfect time to be out – we ended just before the cruise ship tourists started to pour into Oia! Cheers to our photographers who volunteered themselves (and their partners) to be models for this walk: Mankica & Kevin, Joanna & Arun, Amanda & Mike, Christina & Stathis, Claudia and her beautiful family, and Suzy & Keith (parents of one of our team at HQ whose holiday luckily coincided with our meetup).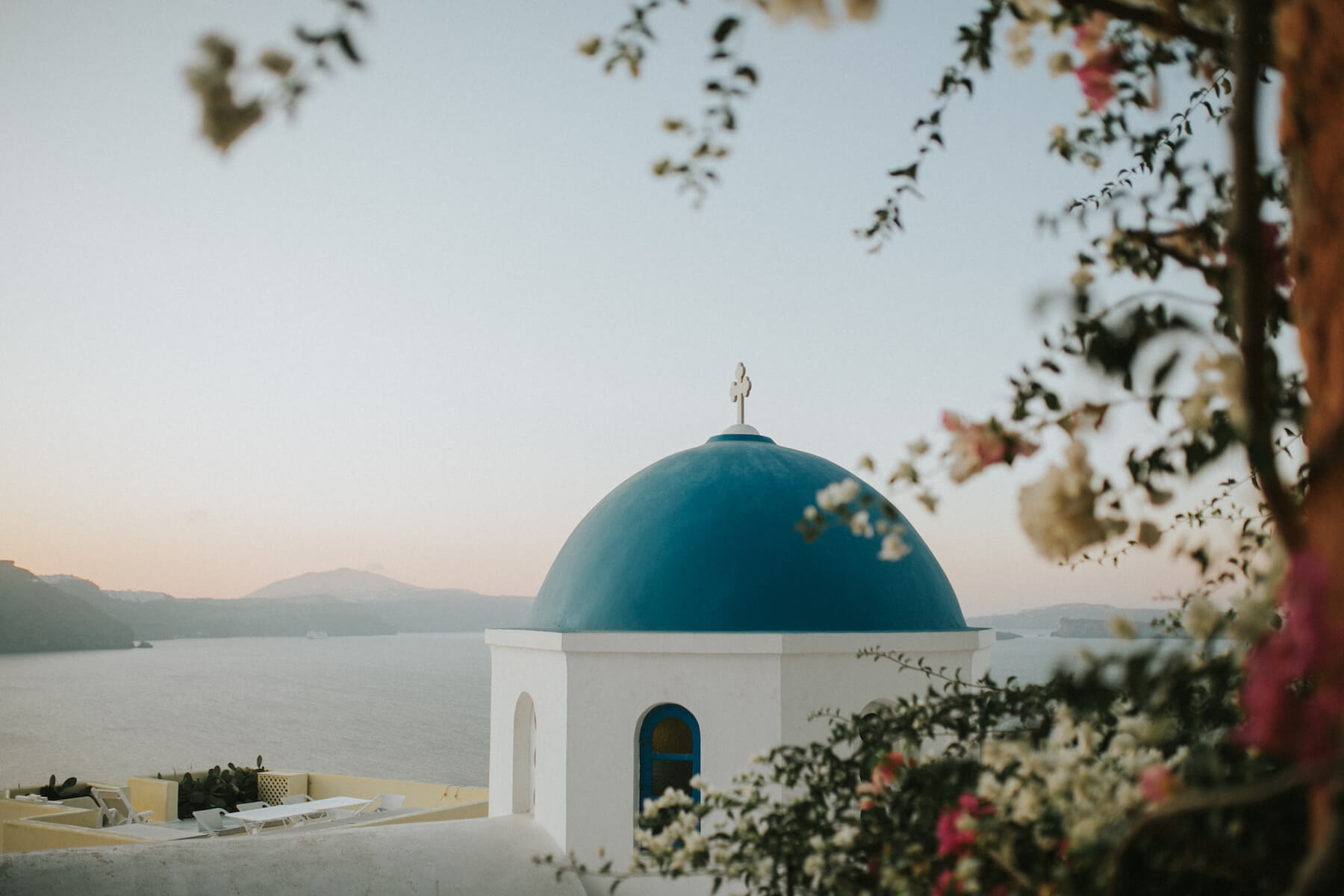 Photo: Conie in Cancun
Photo: Michelle at HQ
Next up was a posing workshop with Rachael in Paris and Kimon in Santorini. We headed to a different location away from the crowds and met up with two couples in Santorini on holiday who helped us practice our ideas. They were fantastic models who kept their cool while forty cameras were pointed at them. Thank you, Courtney & Chris and Ashley & Samuel, for spending your morning with us!
Photo: Michelle at HQ
Photo: Claudia in Cancun
Photo: Claudia in Cancun
After taking a break for the afternoon to recharge our batteries, our group got back together in the village of Pyrgos. We started the evening by hiking up to the highest viewpoint to catch the sunset, and then meandered over to the beautiful hilltop restaurant, Botargo, for a celebratory glass of champagne. After speeches and cheers, our photographers returned to the main village for the opening night reception of our very own Flytographer exhibit, featuring a favourite photograph from each of our attending photographers. We are grateful to Pyrgos Estia Cultural Centre and Hatzidakis Winery for sponsoring our gallery event.
WEDNESDAY
A full day at our workshop space in Pyrgos, generously hosted by the Estia Cultural Centre, meant we had the chance to brainstorm some fun new ideas for Flytographer before meeting our VIP speaker who arrived after lunch. We were so excited to welcome the wonderful Fer Juaristi, who joined us from Mexico to add some inspiration and positive energy to our meetup. His slideshow about honing creativity and trusting your vision sparked excitement in our group, many of whom eagerly pulled out their cameras to experiment with new ideas at the break. Fer spent the remainder of the afternoon offering a speed-round of personal portfolio assessments with each of our photographers.
Right after the Golden Hour Photo Walk, we headed back to Fira to enjoy our Family Dinner with a delicious 4-course meal on an outdoor terrace in the middle of the village. The wine and conversation flowed, the food was perfect, and we were even treated to a traditional Greek dance lesson from Christina in Thessaloniki. (She and her husband Stathis are expert salsa dancers too – ask them to teach you a few steps when you book your shoot with them!) The night, as always, is ever so young, and after-dinner festivities continued on for some late-night owls.
THURSDAY
Even after a night of red wine, we set our alarms to rise up early to meet Fer Juaristi in Pyrgos for his sunrise photo walk. We had two honeymooning couples join us as models, and we watched as Fer set up his shots with them, all the while talking through his creative thought process and decision-making. Watching someone else in action is such a valuable exercise and not one of us came away without learning something new that could be applied to our own work. Thank you to Jenna & Brandon and Arielle & Adrian for being such pros at holding a pose with 40 sets of eyes and cameras on you!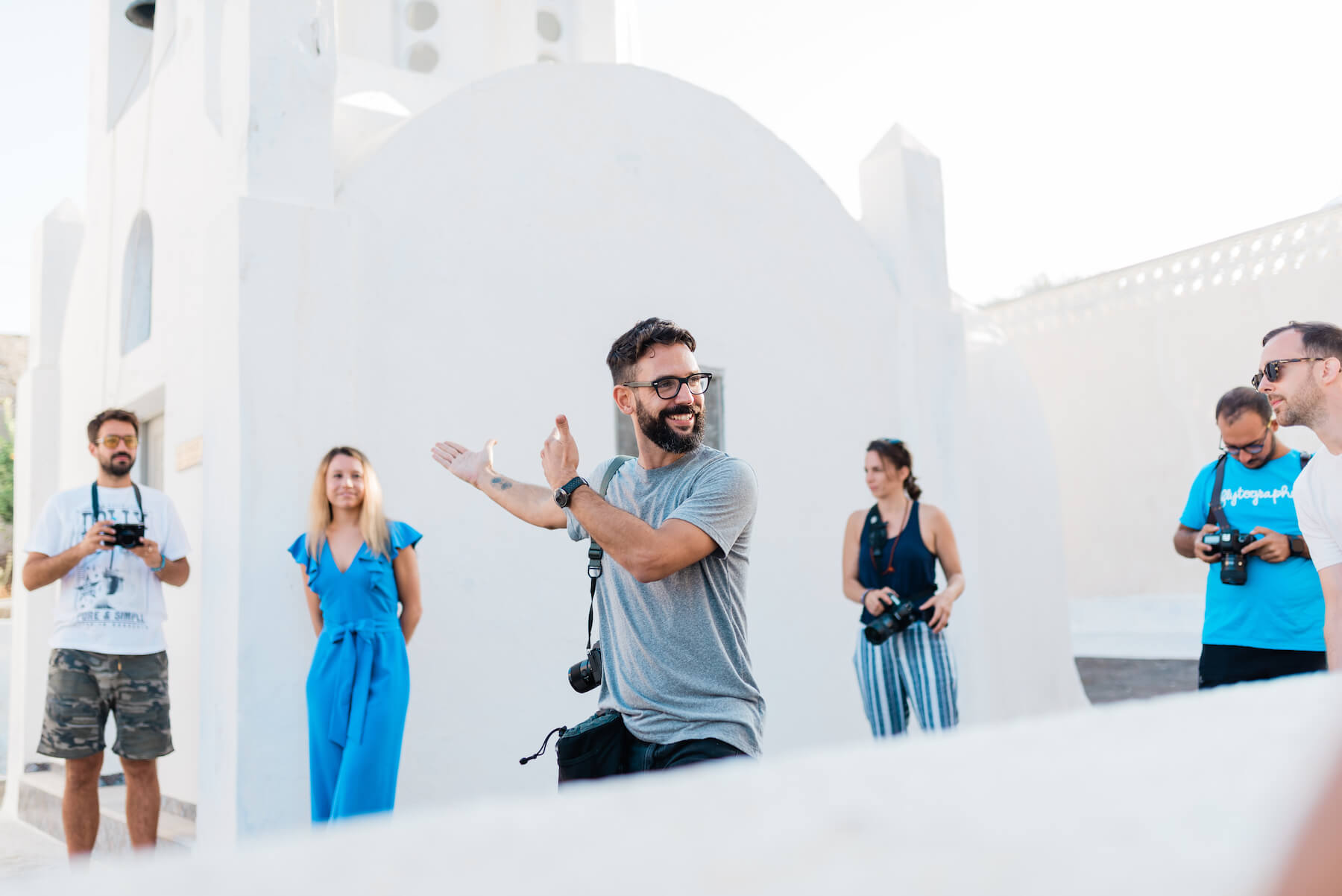 Photo: Elisa in Québec City
Photo: Tracy in Amman
Photo: Natasha in Bangkok
Photo: Pierpaolo in Matera
Photo: Conie in Cancun
Photo: Elisa in Québec City
Photo: Mankica in Ljubljana
We then enjoyed a few more presentations in our workshop space while Fer did a quick edit of his morning's shots, which he then presented to us so we could see the end result of his vision. He has so many meaningful thoughts on composition and setting up the shot, and it really helped to crystallize his teachings when we saw the outcome. Fer was an incredible addition to our meetup and I am so happy he made the time to join us. He is so personable, kind and authentic in his words and his work, that I would encourage any photographers reading this to attend a workshop with him if you can or watch one online. Gracias, Fer, por todo!
Finally, we were so grateful to have fantastic sponsors who generously donated some valuable giveaway prizes for our photographers. Thank you so much to Peak Design, Shootproof, Tribe Archipelago, CameraBits and Iris Works – our lucky winners were so excited to receive your fabulous products!
After a week like this, how hard is it to say goodbye? We tried to soften the blow with an outdoor patio overlooking the caldera and sparkling lights of the island while we sipped on wine and soaked up our final meetup sunset together. This was also a chance to meet some of our photographers' partners who had come to Santorini but had been on their own while we workshopped – they finally got to see all the people their spouses had been hanging out with all week and enjoy our friendly community vibe.
Photo: Michelle at HQ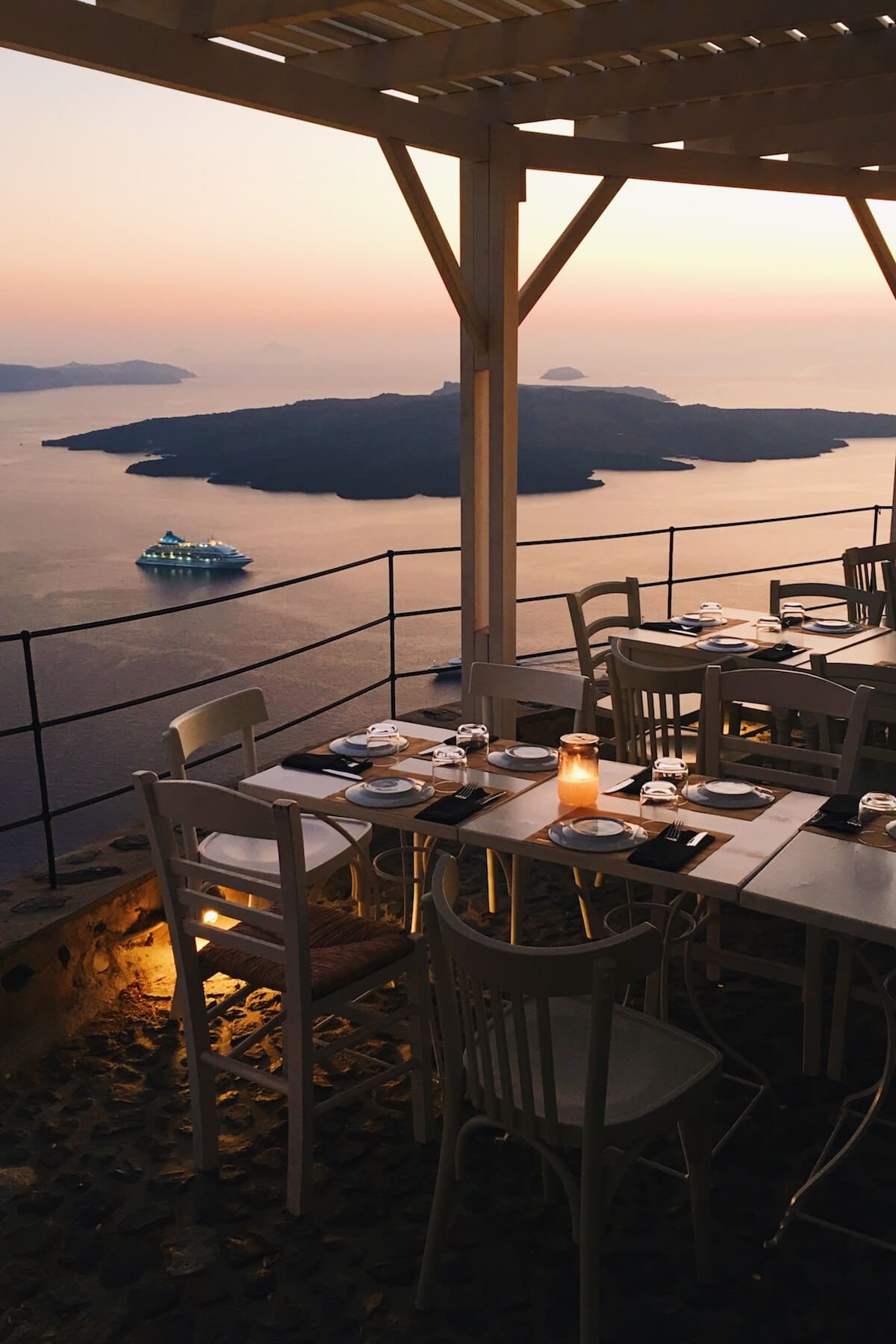 Photo: Michelle at HQ
Photo: Michelle at HQ
Now, back to the 40 photographers in a bar bit ….
After our formal goodbye at the outdoor patio, we moved to the informal wind-up, traditionally known as the "bathroom party" (see previous meetup posts to know what I'm talking about). When I was on the hunt this year for a good bar bathroom, our local photographers replied with, "Have you seen Santorini bathrooms?" Now that I have, I can confirm they are tiny and no place for a party (unless it's a party of one – ha!). Instead, our locals found us a place that was the perfect size for our group. We swarmed into a little bar that was rather on the quiet side when we arrived, but within no time, the place was lit as we immediately filled the dance floor (and maybe the bar-top once or twice). There was even a large birdcage in the corner of this bar, and although I won't divulge any names, it was good fun to see everyone let loose and take their turn dancing in it. If I ever want to just dance and sing and laugh all night long, I know which 40 people to call up!
Blurry iPhone photo taken while dancing - let's keep credit anonymous!
Photo: Armando in NYC
FRIDAY
We were asked about this last year, so this year we did it! We planned an extra bonus activity for anyone who wanted just one more day to hang out, where there was no photography-related agenda or workshops – something just for pure social fun. We found a local captain who took us for a leisurely afternoon cruise around the island aboard his catamaran, complete with a barbeque dinner, drinks and sunset-watching on the water. Heaven! It was the perfect way to end the meetup. We swam in the sea, popped some champagne, and of course, took lots of photos.
Photo: Gonçalo in Lisbon
The best part of our meetups is and always will be the tight friendships that spring up almost immediately when a group of like-minded colleagues come together. Our 500 photographers worldwide are each carefully screened and selected to join our team based on outstanding professional skills, values and personalities; because we all share such similar qualities, it is inevitable that we end up with a meetup group of 40 kindred souls when we come together in person. The proof is in our private WhatsApp group, which, two months later as I write this, still lights up daily with everyone just checking in to say hello or to send the group funny photos or ideas. It's a true community that warms my heart no end. Until we meet again, my friends!
Photo: Mankica in Ljubljana
Interested in joining this rockstar team?
p.s. I would like to give a special thank you and send endless hugs to Kimon, one of our local Santorini photographers, for the tremendous amount of on-the-ground assistance he gave me in organizing this meetup. It's a tough task getting things in place from my desk in Canada, but Kimon was incredible in helping to navigate the local waters on my behalf and doing it all with his usual good humour and amazing smile. I would also be remiss if I didn't call out the generous Mr. Lefteris Zorzos of Crossroads Antiques who got us set up in Pyrgos with the Estia Cultural Centre and other local contacts; he is truly a generous and thoughtful representative of that famous Greek hospitality. Ευχαριστώ!
Want to see more beautiful footage? Our highlights video from the meetup can be found here.
Photo: Michelle at HQ