Travel ideas to spark your next trip away from the crowds.
Whether you're planning ahead for Valentine's Day or just looking to interrupt the dark days of winter with a romantic getaway for you and your main squeeze, we've put together our Current Fave list of off-the-beaten-track destinations for guaranteed romance.
This surf town at the edge of Western Canada on Vancouver Island is the perfect place to hole up in February. You can walk the stunning landscape of wind-swept beaches, do some storm-watching as the Pacific Ocean waves thrash the shore, or go surfing (which is a comfortable pastime with a wetsuit year-round) or indulge in the local farm-to-table restaurant and craft cocktail scene, There are scads of luxury resorts along the coast, so at the end of the day you get to retire to your hot tub with a bottle of bubbly and just enjoy the view.
Photo: Paul in Tofino for Flytographer
Northern lights, ice caves, frozen waterfalls, hot springs—February in Iceland may be a bit nippy, but it's an ideal time to experience all the country's best bits. And what's more romantic than dipping into a geothermal swimming pool under the stars with the hot steam coming off the water? Renting a car and exploring the island is a must as all of Iceland turns into a winter wonderland (and you can rent snow grips for your shoes at any gas station), and in winter the already adorable Icelandic horses turn into giant shaggy puff balls. Tour the city, visit the unique natural sites and do a food tasting tour—Reykjavik was made for couples and it's a trip you won't soon forget.
Photo: Rakel in Reykjavik for Flytographer
Marrakesh is a city of beauty, with shades of dusty pink, arched doorways and ornate tile mosaics that cover every surface. This ancient trading post is still a hub for merchants, and you could spend all day wandering through the historic medina to peruse Moroccan rugs, hand-made artifacts and antique brass wares. It's a place for adventurers, and discovering something new, like the Yves Saint Laurent museum and garden at Jardin Majorelle, or the Menara Gardens with its mountain and water views. You're bound to get lost at least once, but take it all in stride and remember there's nowhere you need to be.
Photo: Ilyass in Marrakesh for Flytographer
If cozying up by the fire in your ski-in, ski-out cabin is your idea of romance, then Banff is the getaway for you. Not only can you ski and board to your heart's content (there are special SkiBig3 passes for Banff Sunshine, Lake Louise and Mt. Norquay resorts), but this small Canadian town is akin to a European alpine village, with towering snow-covered mountains as your backdrop as you snowshoe, dog sled, sleigh ride or snowmobile around Banff. The people here are so welcoming and you can do as much or as little as you like.
With jungle and the ocean at your doorstep, this up-and-coming resort town in Costa Rica has the best of both natural worlds. You could compare it to a Mexican Puerto Vallarta in its infancy, as Tamarindo has started to get more high-end resorts along the ocean, but it's still relatively undiscovered by tourists and international vacationers. The weather is great year-round, the vibes are laid-back and you can surf, snorkel, swim, boat, zip-line, ATV or sip margaritas at your hotel's swim-up bar, the choice is up to you.
Photo: Raquel in Tamardino for Flytographer
It's become the American locus for craft beer and West-Coast cool, and as such it is a port city packed to the brim with hipster restaurants, whiskey bars and moody romantic hangouts for you and your SO. Rain is undoubtedly in the forecast, but off-season is a great time to enjoy Portland's tasty offerings without the lineups, crowds or reservations that come with the busy summer season.
Photo: Whitney in Portland for Flytographer
The ancient hillside town of Taormina is easily Sicily's most beautiful. It's perched on cliffs that look out at big aquamarine bays and the Ionian Sea, and Taormina has long been a luxurious holiday resort destination for tastemakers, Tsars and celebrities. There's an ancient Greco Roman Theatre that frames a killer view of Mount Etna (an active volcano), and you can grab your suits and hit ocean beaches or lakes with reckless abandon—for the latter, Lake Isola Bella is surely the most stunning with crystal-clear water down to its sandy floor. Between the historic centre, the hold-onto-your-hats scenery and the traditional food (and wine!), you'll never forget relaxing or dining al fresco in the sunshine on Italy's southern jewel.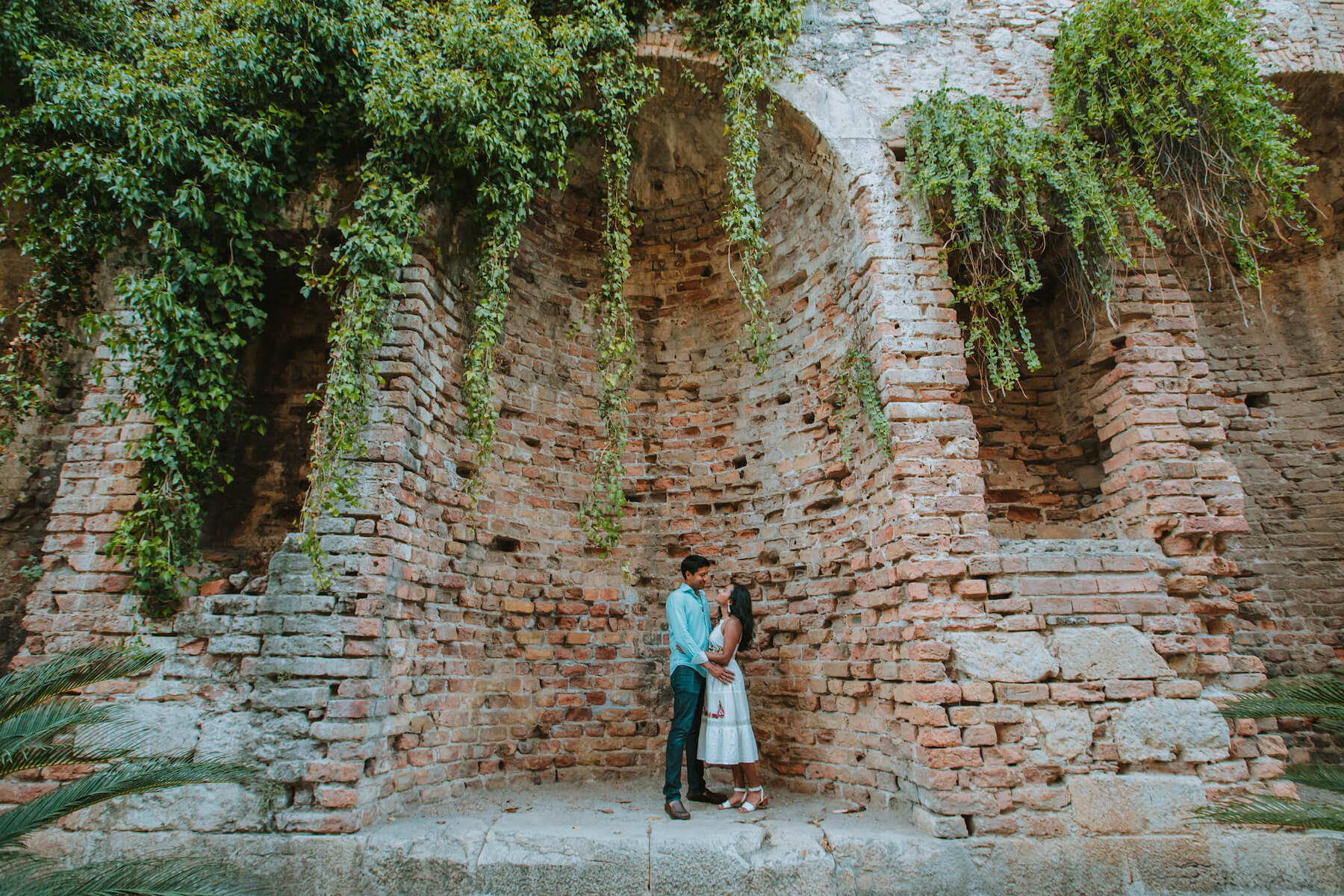 Photo: Deborah in Taormina for Flytographer
Often referred to as the "crown jewel" of Riviera Nayarit, this Mexican beach town off the West Coast is your balmy, turquoise-water reward for making it through January. It's a big surfing destination, but you can also take a more relaxing approach with leisurely catamaran trips through Banderas Bay, snorkel off the boat or out along the golden sand beaches, release baby sea turtles (imagine the cuteness!), go horseback riding along the beach (peaking on the romance scale here) or get active with jungle tours by zipline or ATV.
Photo: Jenn in Sayulita for Flytographer