Find out our top ideas on getting those memorable photos!
If you're reading this, you're probably super excited about the idea of a Flytographer shoot during your upcoming travels, and your partner? …Not so much. If the words "waste of time," "silly" or "not worth it" sound familiar, we've compiled some tried and true methods for not only convincing your partner to do a shoot with you but to *gasp* enjoy it!
Photo: Rachael in Paris for Flytographer
A new style of photography
Booking a Flytographer-style shoot means saying goodbye to the traditional "stand and smile at the camera" photos. It's about truly enjoying and experiencing your destination in an authentic and fun way. Instead of passive models, you're active participants in creating memories, and our photographers are there to capture you at your best. So whether you're walking, laughing or dancing your way through the streets of Venice, Paris, New York City or beyond, our photographers can't wait to get to know you. It's a time for you to connect with your partner in a new and creative way, and whether it's your honeymoon or 50th anniversary, you deserve to capture timeless memories.
Photo: Vito in Venice for Flytographer
Photo: Olga in Paris for Flytographer
Photo: Flytographer in New York City
Plan it together
You could book everything on your own, but getting your partner involved in the planning can become a fun activity it itself. Pour two glasses of wine and hop on the computer together. Flytographer has photographers in over 275 cities around the world, and many of the cities have multiple photographers to choose from. Explore their profiles to get a sense of their specific photography style and personality to see who you'll vibe with best. After all, they'll become your new local friend too!
Photo: Bayu and Ivony in Bali for Flytographer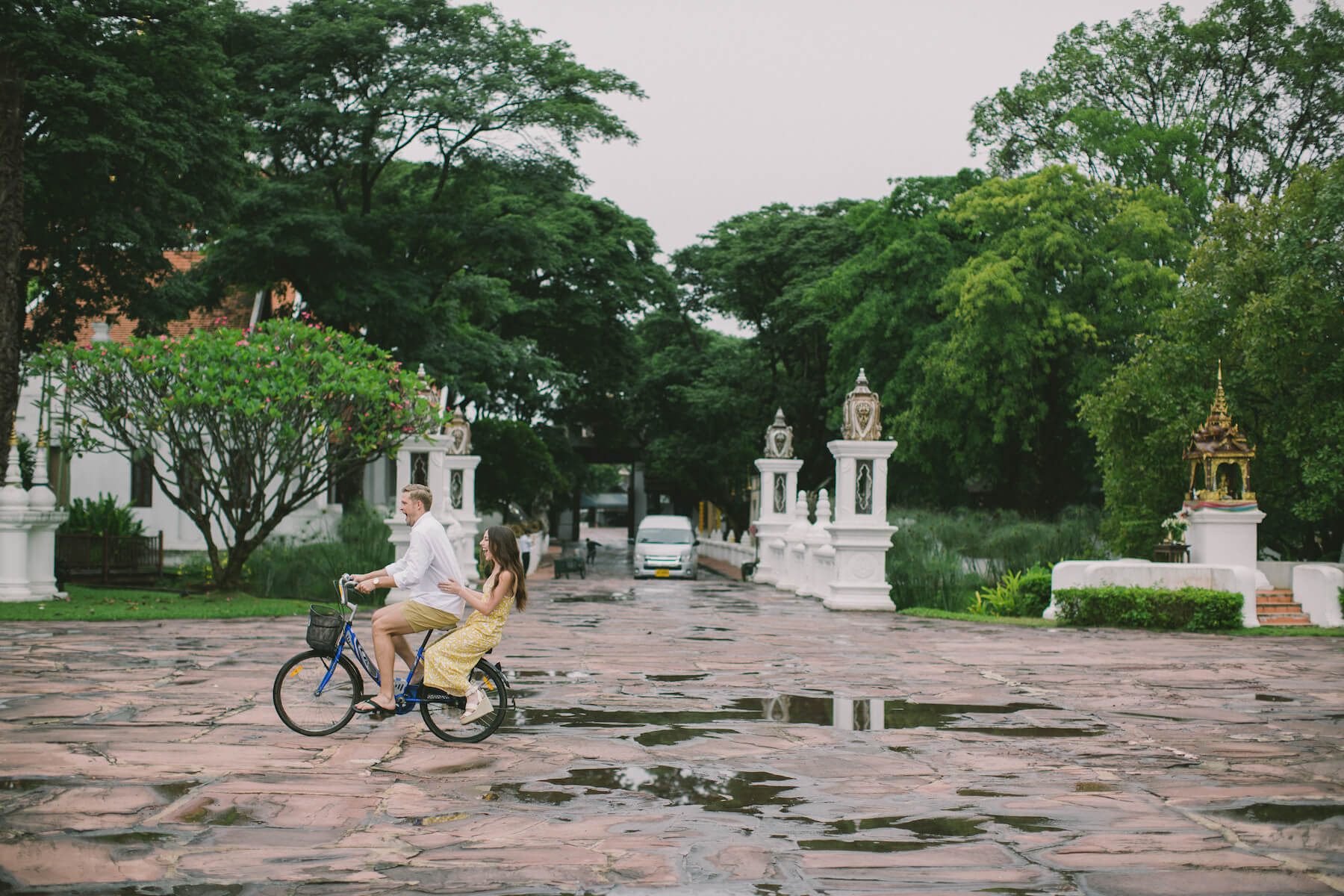 Photo: Mint in Chiang Mai for Flytographer
Make it an adventure
Don't choose your route based solely on how "Instagrammable" it is. Instead, choose somewhere that excites and interests you both (hint: they usually overlap anyway). Maybe it's a location with a historical background, like the shrines in Tokyo, or maybe it's somewhere adventurous like a hidden lake in Banff. Maybe it's a bucket list place for both of you, like a gondola ride in Venice or a sunrise in Santorini. If your partner is a visual person, we have example galleries on each of our city route pages for even more photo inspiration. 
Photo: Daniel in Tokyo for Flytographer
Photo: Lyndsay in Banff for Flytographer
Photo: Vito in Venice for Flytographer
Extend the fun
If getting dressed up for just a shoot isn't appealing, plan fun activities before or after. Did you wake up early for gorgeous sunrise photos? Take advantage of the early morning with a nice breakfast or take extra time to explore the city spots that are usually shoulder-to-shoulder packed later in the day. If you book your shoot closer to sunset, head to a fancy rooftop bar for celebratory drinks afterwards. As a local, your photographer also has amazing recommendations for things to do that are off the beaten track, and their recommendation could even become one of your favourite activities!
Photo: Kimon in Santorini for Flytographer
Invest in your memories
You've likely spent months planning this amazing trip, and maybe years dreaming of it. Dedicating a special time with an amazing professional photographer takes away the stress of feeling like you have to do trip justice with your own photos. It allows you to be present in the moment and take your own photos because you want to, instead of feeling like you have to. (Plus, handing off your camera to random strangers who don't even know your best angles can get pretty tiring.)
Photo: Olga in Paris for Flytographer
Ultimately, capturing your travels with a professional photographer is about creating souvenirs that you can hang on your wall, create an album with or even just use as your new favourite phone background. No matter what you choose, these are the ways you can remember the trip and make every cent you invested worth it again and again. While the trip can't last forever, the memories can, and we're here to capture that magic for you.
Photo: Daniel in Tokyo for Flytographer