Planning a birthday photoshoot
Bring on the cake. Dangle the piñata. Grab the birthday balloons. Cue the confetti. Warm up the feliz cumpleaños wind pipes. Prepare the toasts. 🎂  In fact, here's a good toast from the legendary John Lennon that will help prime you for the spirit of this piece and a festive birthday photoshoot: "Count your age by friends, not years," Lennon said. "Count your life by smiles, not tears." 😊  While you'll celebrating, a great part of the ritual will happen organically: friends and family will whip out their cell phones and take a ton of DIY pictures and videos at a birthday party, from group pics to puffy cheek candle-blowing classics to adult cake smash action. 
We heart it. Best document another trip around the sun, or a special birthday like a child's first birthday, a Quinceañera, a Sweet 16, a 21st birthday or another biggie like a 30th birthday … or 40th, 50th, 60th, 70th, 80th or 90th … with a birthday photoshoot that creates beautiful images is certainly merited. (Another less commonly celebrated birthday milestone: the Golden Birthday, the year that you turn the day of the month you were born.🌟) Here are some practical strategies and birthday photoshoot ideas to help achieve the happiest birthday photoshoots on your happy birthday. (For birthday party decoration thoughts and birthday party ideas though, you're on your own. 😜)
1. How to make the most of your birthday portrait
Pro tip: If you only have time to read one tip, make it this one, because it's actually seven tips in one! These simple coaching notes work for birthday portraits in particular and photos in general. 🔥
Be aware of light! If you can't move the light on your birthday subject, move your position, aiming for minimal shadows and a light source that's behind your lens, not behind your subject.
Embrace different angles. Go landscape and portrait (aka horizontal and vertical). Try a tilted shot. Don't be stingy — many professional photographers go by the 5 percent rule: Take 20 shots to get one good one. (One is 5% of 20.

🤓

)

Use your flash wisely. Contrary to popular belief, it can be very helpful to use a flash in the daytime even when lighting is intense. Also, knowing just how far your flash reaches will avoid dark subjects too.
Don't stick your subject exactly in the center. Known in photography circles as "The Rule of Thirds," this strategy is an easy way to make images more interesting simply by moving the subject of the frame into the outside of the frame rather than smack dab in the centre.
Get close. Try filling the whole frame with the subject. Details will emerge and personalities will emerge with them.
Pay attention to the background. Avoid distracting backgrounds and the infamous tree or light post growing out of the head of your birthday bestie.
Don't be afraid to direct your subject. Saying things like "Pretend I'm not here" or "Jump as high as you can" or "Lean toward the camera" or "Look out over the horizon" all could lead to great results. The possibilities are endless.

🎬
2. When to schedule your birthday photo session
The beginning and the conclusion of a day, also known as "the golden hours," are photographers' favourites because they allow for soft light and avoid the harsh shadows of midday that can ruin a photo. 🥺
If that's not possible, two things to consider: 
Don't be sad it's cloudy out — marine layers or other overcast conditions diffuse sunlight and make for magic lighting. 

If it is sunny, shoot with the sun behind you to prevent rendering your subject as a silhouette.
3. Where to take pictures on your birthday
The fun thing here: this could be as simple or ambitious as the celebrating party desires! 🎉
Some compelling possibilities to keep in mind: 
The beach. The sand, the sea, the sky, the textures! In fact, Flytographer has a whole guide on how to conduct a dreamy

beach photoshoot

. (Lakes and rivers work wonderfully too.)

Open fields.

Plop the subject in the middle of the greenery and click away. Incorporating some wildflowers wouldn't hurt either!

Interesting buildings

. The right spot might be brick, or distressed redwood, or cool steel to match the birthday girl's blue steel. 

Staircases. They make posing easy — or at least more natural — while providing depth and dimension.
Gardens. It could be a greenhouse, a nursery, a botanical garden. Whatever the case, it'll help the picture pop.
Graffiti.

If you have a favourite wall of tagging, it can produce an evocative shot. Just avoid clothes that clash.
Browse local birthday photographers near you
4. What to wear for a birthday photoshoot
The number one priority is to do *you*. And to remember we're talking birthday outfits, not birthday suits. 😆 
But outfits can take a number of possibilities, so we assembled a comprehensive style guide to help out. 
Some key things to remember: 
Options are good. 

Movement is great. 

Comfortable clothes that don't show sweat are fantastic. 

Layers are very helpful practically and aesthetically. 

Shoes are a key detail to consider, but logo shirts are not your friend.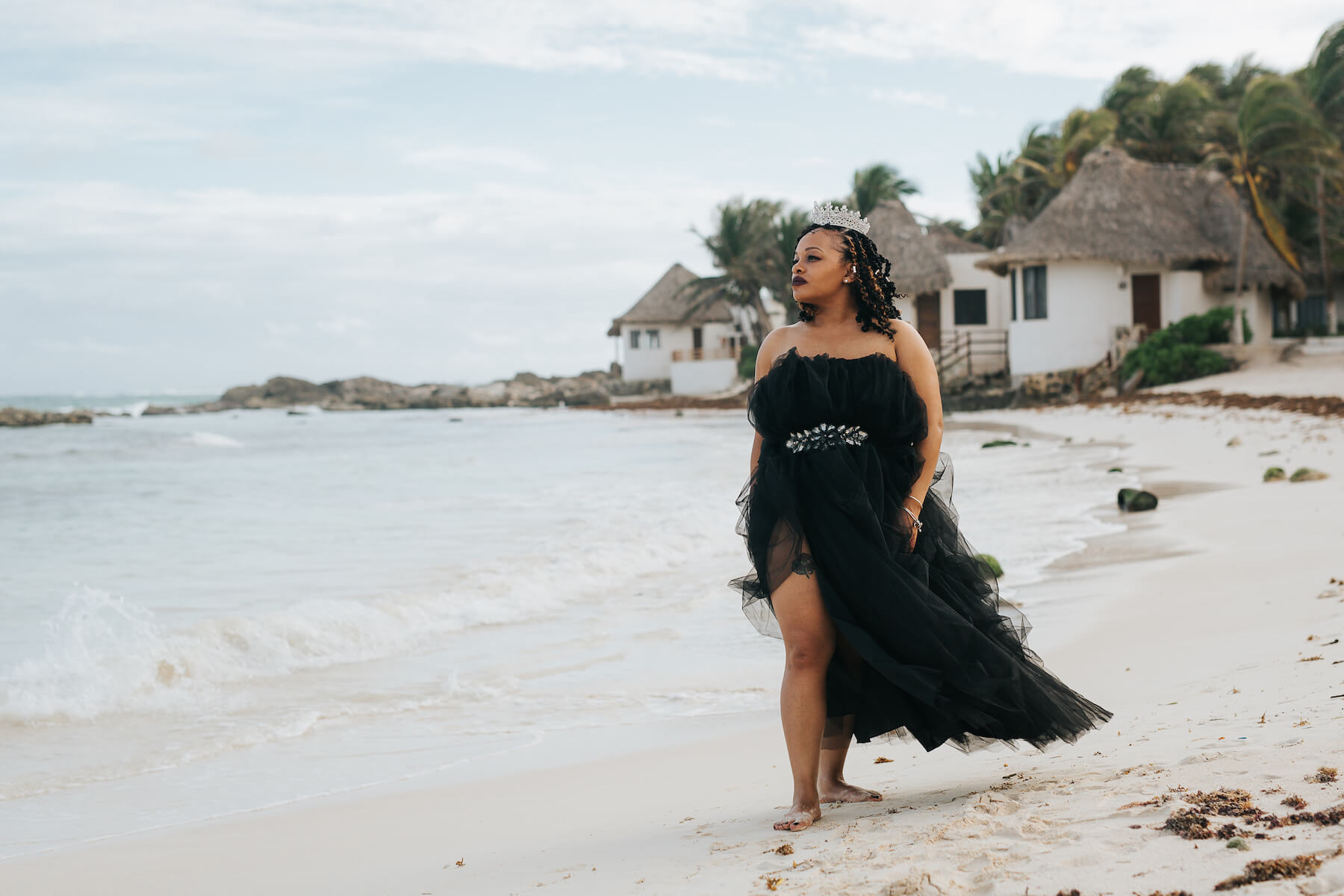 5. How to pose for a birthday photoshoot
Sitting or leaning on walls, chairs, logs or stairs can help relax the subject. Adding movement is another hack that reroutes nervousness — whether that's walking, talking or conducting a simple task like tossing a ball or piece of fruit in the air. 💞 
Some other simple and hugely helpful reminders: 
Lean forward with your chin.

No matter how slim you might be, double chins are sneaky and ubiquitous, but that can be solved by doing what pro photographers also call "bringing the ears forward."

Get the arms in action.

This doesn't mean wave them around. Instead, keep them away from the body — just a little bit is enough to help them look more toned and the person less blob-like!

Mind the nose.

If you can keep the subject's nose within the frame of their face—and not sticking out—it will make it look much more natural, and not like a rogue iceberg. 

Work the shoulders.

It'll amaze you what a little tilt away from the straight-on portrait can do to make the subject look more engaged.

Hair is a powerful piece of the portrait

… so if there's long hair in play, arrange it well and experiment with different looks!
6. What props to bring for a birthday photoshoot 
There are essentially endless things that can enter into the equation here, from rose gold jewelry to gold balloons 🎈, birthday cake to to birthday gifts, confetti to contraband. 
OK, the last one is just to make sure you were paying attention, but the idea — whatever the prop — is that it can relax the subject and add texture to the shoot. 
One way to think about it is to consider what activities, passions and/or hobbies is the individual into at this point in their life? Bringing along the harmonica, the basketball, a bottle of Champagne 🍾 or a pen and paper can do wonders for a powerful portrait. 
7. How to make a birthday photoshoot fun
Birthdays are fun. Birthday parties are fun. Birthday photoshoots should be too, and not just because the photos will be that much more radiant. 💃  They can also be intimidating. Bring your best pals along for a fun friends photoshoot to pass the vibe check. Fortunately, our Flytographers are thoroughly gifted and equally passionate about doing your next birthday or next birthday celebration, whatever shape it takes, with maximum poetic justice. 
Capture your next birthday
There's a reason people around the world adore our team: because they love taking beautiful photos, and the resulting images speak for themselves. So close your eyes, blow out the candles, and make a wish that you'll have a wildly memorable birthday photoshoot. Or play it a little smarter and book Flytographer. 📷