The best family photo ideas
Family photoshoots have transformed from the obligatory yearly commitment of stiff poses and smiles to something much more precious. They're opportunities to not only capture memories, but make them in the process too. We've gathered 10 family photoshoot ideas that start with fun and end with high-quality keepsakes to treasure for a lifetime.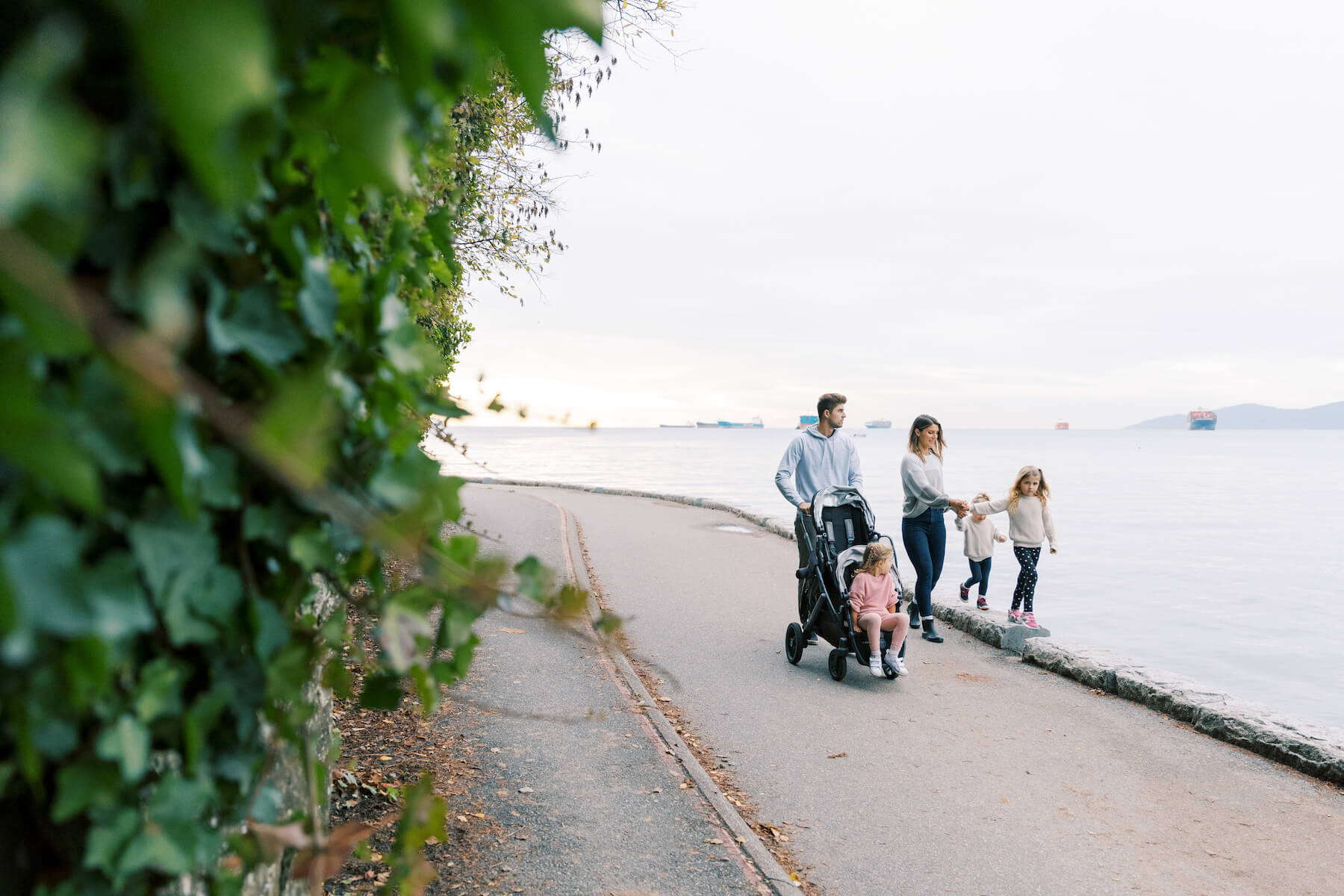 Family Photo Outfit Ideas
If you're ready to book a photoshoot, but the question "What the heck should we wear?" is holding you back, we have some easy tips to make coordinating a breeze!
Coordinating over matching. Choose a basic colour scheme, such as cool blues and greens, or warm earthy tones, and pull clothing items from there. You don't have to be wearing the exact same outfits to coordinate. If you like a matching look, go for it! Our top tip is always the same: stay true to your family.

Balance the patterns. The focus of the photos should be your loved ones, not the outfits, so we recommend limiting distracting patterns and balancing with solid and neutral clothing. You can add visual interest through different fabrics, shoes and accessories too!

Think about your shoot location. Some spots really shine when paired with certain colours. For example, we love brighter colours for a city shoot and earth tones for natural settings.

See our

style guide

for more helpful tips!
Family photo ideas with babies & toddlers
1. Props, props, props! 
With little ones, especially babies, props are an easy way to show their personality … even if they sleep through the session! A comfortable blanket for everyone to sit on and a toy to cuddle with are two of our favourites to bring along.
2. Get "must-have" shots out of the way
A perfect family portrait of everyone smiling at the camera is often the hardest to capture with a rambunctious toddler in tow. We recommend taking your must-have photos at the very beginning of the session and leaving plenty of time for play and candid moments! Whether it's a tickle fight, playing with a treasured toy or just being silly together, these real-life moments are fleeting. These shots may not be traditionally "picture perfect," but don't be surprised if they end up being your favourites.
Family photo ideas with grade school kids
3. Combine photos with an activity
As your toddlers grow into grade school kids (Where does the time go?), activities reign supreme. Whether it's building a sandcastle during your summer family photo shoot, playing in the leaves for your fall family photo, or a family Christmas snowball fight, brainstorm a fun activity ahead of time! Building up the excitement for photos each session is the secret sauce for a smooth shoot year after year.
4. Let the kids take charge
We also love letting the kids direct part of the shoot, even if for just the last 5 minutes. Dressing up in their favourite costume, telling the adults how to pose or just letting them do the funny faces they've been bursting to make will show off their personality and build their confidence. Kids are endlessly creative, and they may just even come up with the perfect photo idea!
Family photo ideas with pre-teens & teenagers
5. Appeal to their interests
Some teens love the camera and some would rather be doing… well, anything else. For the teens that need convincing, try incorporating their interests into the shoot. The instrument they play, a sport they love, or a book they can't put down are all easy ways to turn them into an active participant and bring out their natural smiles!
6. Get away together
Book a session during your travels instead of at home! Exploring the picturesque streets of a foreign city, enjoying breakfast at a charming outdoor cafe, or taking photos at a place they've been dreaming of visiting are all unique ways to capture your family (and make your family Christmas card the best yet!).
Family photo ideas with recent grads & university students
7. Rep the school colours
Have a recent graduate in the family? Before they jet off onto their next step in life, book a family photo session that's all about them. Try wearing their school colours for extra spirit or capture photos in spots that are meaningful to their childhood. Save extra portrait photography time for solo shots and maybe even have them don their cap and gown once more!
8. Tour the campus together
If your not-so-little-anymore one is graduating from university, consider a portrait session around campus. Graduation represents a big next step in life, so memorialize their college years through a short campus tour around their favourite spots. (We'll bet their study hall won't be making an appearance.) This is also the perfect opportunity to capture a fresh headshot as they enter into their working years!
Family photo ideas with the whole family
9. Create depth with levels
If you have multiple generations and extended family together, it can be daunting to capture everyone at once. Consider bringing a chair, a bench, or use what's around you for a more creative pose than everyone standing in a single line. Height differences can help bring visual interest to a large family photo. Your professional photographer will make sure everyone is visible and looks amazing! One of our photography tips: if you can't see the camera, the camera can't see you.
10. Embrace shared experiences
You can only take so many photos of everyone standing and smiling at the camera before attention starts to wane. Activities aren't just for young ones, they're for all ages! Roasting s'mores and sharing family stories over the campfire, taking a walk through the neighbourhood together, or even helping the grandkids write letters to their grandparents to read during the shoot are surefire ways to capture real emotion and special candid moments.
Capturing memories with the fam
Great photos of your family are just a click away! Try these family picture ideas for your next photo session to capture memories you'll never want to take off the wall. Just don't forget to add a little extra to your picture frame budget! 😉