Best places to take photos in Palm Springs, California
Tucked away in southern California, Palm Springs is an oasis for nature-lovers, mid-century modern design fanatics, and those looking for a celebrity-style weekend getaway. This colourful destination is more than just a city — it's a lifestyle. Keep your camera on standby at all times because every around every aesthetically-pleasing corner is a new opportunity to capture the perfect shot. Here are the best places to take photos in Palm Springs.
Begin exploring the expansive Joshua Tree National Park at dawn to catch the sunrise glow peeking through the saguaro cacti and Joshua trees dotting the desert landscape. Unsurprisingly, temperatures here soar quickly, so if you're booking a photo shoot, opt for golden hour to beat the heat. This beautiful national park is an easy day trip, but entering this natural gem feels like stepping onto another planet … and a very Instagrammable one at that! The easiest route from Palm Springs is starting at the west entrance and leaving through the south entrance with plenty of stops along the way. Rock climbers flock to the stony terrain, but if you prefer to keep both feet firmly planted on the ground, there are dozens of trails for hiking, biking and even horseback riding. Hidden Valley, Pleasant Valley, Ryan Mountain and Keys View, which is the highest point in the park with views of the Coachella Valley and the Salton Sea, are some of the popular locations to explore. Don't miss the Cholla Cactus Garden (be careful not to prick your finger!) or the Cottonwood Springs Oasis, too.
Haven't gotten enough of the desert? This privately-owned arboretum has been sharing the unique beauty of desert plants since 1938, from tiny to towering trees, plants and cacti. Housed in their estate, the Moortens have truly created a living museum where everyone is invited to explore. Make your way along the winding nature trail to view a collection of more than 3,000 varieties of plants. This stunning botanical garden may be small, but it is packed with different desert habitats. The Moorten's even coined the world's first Cactarium: a greenhouse filled with rare cacti and succulents and an ultimate photo spot. Be sure to check current opening hours before you go!
If you're looking for quaint wooden windmills from a classic storybook, we suggest booking a flight to Amsterdam, because you won't find them here! These modern and colossal wind turbines dotting the hillsides of the San Gorgonio Pass harness enough energy to power nearly all of the Coachella Valley. The desert's hot air rises and the cool coastal air rushes in to replace it … so our advice? Don't forget a hair-tie because it's always windy! When the windmills were originally planned, politicians fought against the installation thinking they were simply big eyesores. Ironically, they've turned into iconic symbols of the Coachella Valley as both a famous Instagram spot and an advanced source of alternative energy.
Lovers of midcentury design, natural beauty, sublime dining, endless boutiques and a vibrant nightlife have been drawn to the Coachella Valley for years. It's no surprise that this desert paradise has become the ultimate resort escape for both locals and visitors alike. Now a global destination, Palm Springs still retains its laid-back attitude and sophistication. Whether it's the colourful architecture, the friendly people, the scenic vistas or a combination of everything, this diverse city charms everyone who walks its streets. Just down the road, Palm Desert is Palm Springs' slower-paced sister. If you're looking for a more local experience, this is your spot. Hundreds of golf courses are available for tee time, and shoppers won't want to miss the "Rodeo Drive" of Greater Palm Springs — El Paseo.
5. Palm Canyon Drive
Palm Springs' main drag is a treasure trove of eye-catching architecture. You could easily spend hours meandering along the sidewalks photographing countless mid-century modern buildings. The palm-tree lined road passes directly through the heart of downtown, making it literally unmissable. The distinctive Palm Springs Visitor Center welcomes you as you exit Interstate 10 on your road trip as your introduction to more unique buildings down the road, and the backyard of Koffi offers stunning views of the San Jacinto Mountains as you sip on your freshly brewed latte. The Bank of America inspired by Le Corbusier, the Plaza Theatre, and the Architecture and Design Center are all must-sees for architecture aficionados as well.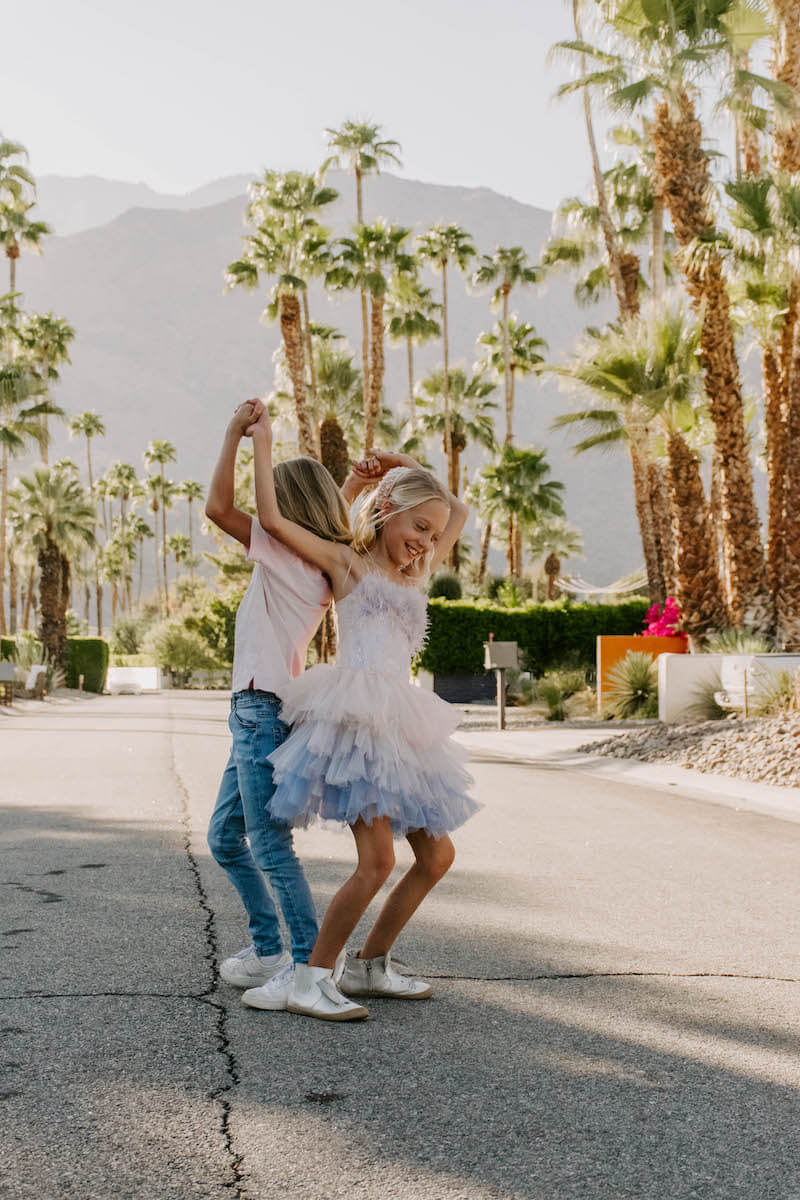 Photo: Caroline in Palm Springs for Flytographer
PSP Airport Code Crew For You and Your Crew
Use the code PSPCREW10 to get 10% OFF on your
Flytographer Airport Code Crew for you and your crew.
Hidden in plain sight in the Coachella Valley, this 20,000+ acre reserve is a sanctuary for the endangered Coachella Valley fringe-toed lizard, as well as a home to many other native species who live within this fan palm paradise. Because it sits on the notorious San Andreas fault-line, the fault causes the underground spring waters to rise to the surface, creating a cool oasis that was utilized by native peoples dating back over 1,000 known years. Conveniently located just a short drive outside of Palm Springs, this location is prime for those looking for Insta-worthy shots with a backdrop of swaying palm trees. 
7. San Jacinto Mountain
While the upscale shopping, hotels and dining scene are generally geared towards adults, there are still plenty of kid-friendly activities in Palm Springs. Taking a ride on the Palm Springs Aerial Tramway is as cool as it sounds — board the world's largest rotating tram car for a 2.5 mile ride over the breathtaking Chino Canyon. The tram rotates slowly during your 10-minute ride up to the Mt. San Jacinto State Park, offering panoramic views and photo opportunities of the amazing desert landscape to every rider. Once you enter the state park, you'll find miles of easy hiking trails, observation decks, a natural history museum, picnic tables and many beautiful places to enjoy the year-round perfect weather.
8. Instagrammable Hotels
Treating yourself to a stay in a top-notch and aesthetically-pleasing accommodation is part of the experience when visiting the Coachella Valley. The Saguaro Palm Springs Hotel is a retro-chic hideaway modeled after Palm Springs' classic mid-century motel culture, and it isn't just for bloggers. Vibrant pops of colour mark every room, and it all centers around a buzzing pool scene and plenty of sunshine. La Quinta and Rancho Mirage are high-end, luxury resorts that you'll never want to leave. Spectacular vistas, starlight casitas, and poolside service are just a few of the amenities you can expect during your stay. 
Palm Springs has easily become a favourite laidback getaway packed with design-forward, mid-century modern apartments, cabins and bungalows.  Planning on renting an Airbnb or private residence while visiting Palm Springs?  Book us for your fun photo shoot in the comfort of your mid-century oasis. 
Is the allure of the desert calling you? Book a photo shoot in Palm Springs to capture the magic of this oasis in one of the best places to take photos here in Palm Springs.