Dubai's combination of old and new, quaint and modern, city and desert is a must-see experience for all travel addicts. Our Dubai Flytographers have let us in on their favourite photo spots around Dubai. Read on for the details:
1. Dubai Desert
"Nothing beats the desert in my opinion! The vast dunes are so inviting for wide shots in particular and the texture of an untouched dune is just magical. It's often windy out here and that combined with the perfect light gives the images a lot of life. Family shoots are particularly beautiful as the kids can run around and you get a lot of movement shots." – Flytographer Akemi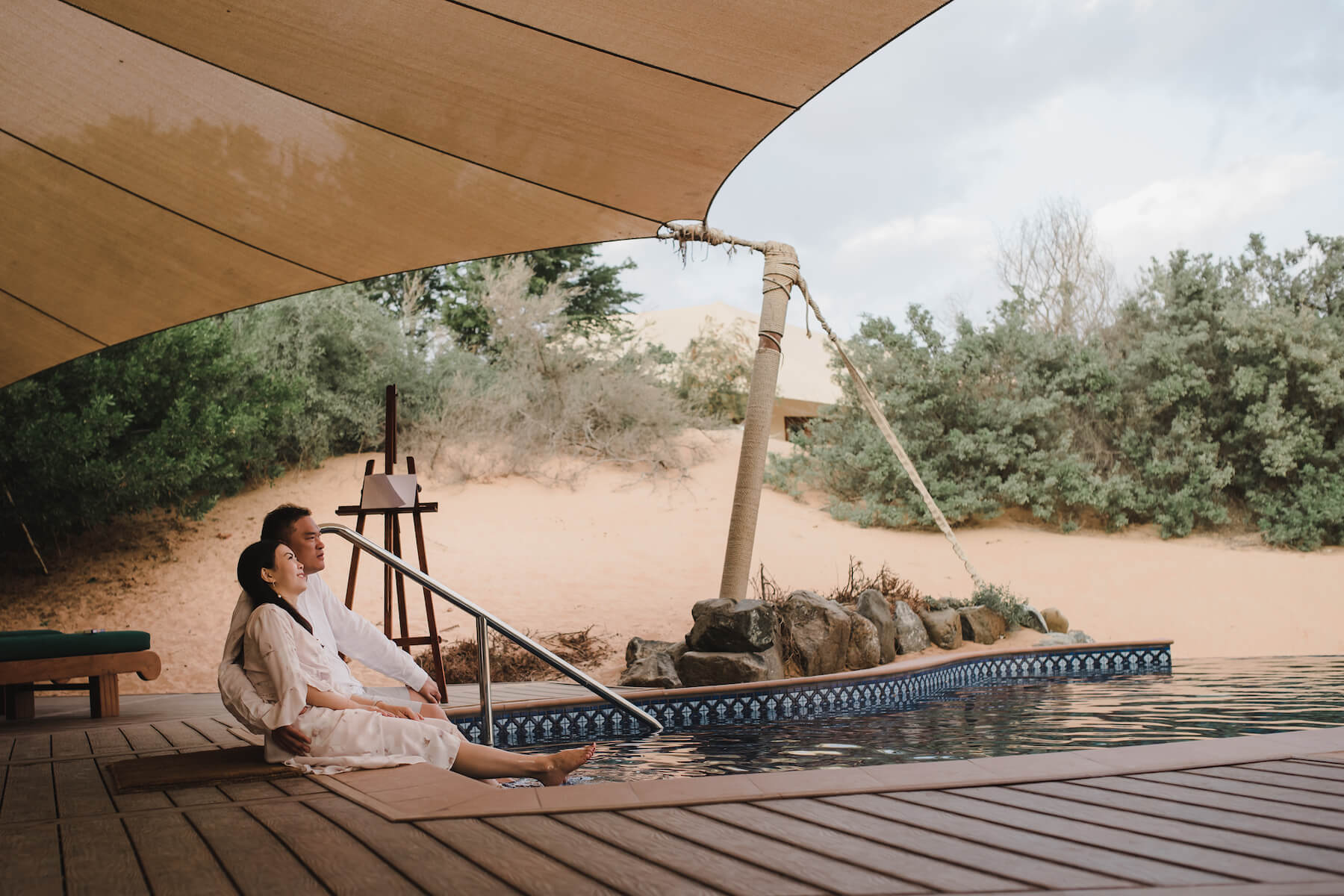 Photo: Lidiya in Dubai for Flytographer
2. Public Beaches
"Similar to the desert, the public beaches here offer beautiful opportunities for wide shots. Again, the wind and light lets you play around with movement and still shots. One beach in particular has a wonderful natural curve in the bay and the option of having the Burj Al Arab in the faint distance. This beach also has some rocks and a fishing pier/jetty which allows for some variety." – Flytographer Akemi
3. Old Dubai
"This area is a must see for all visitors to Dubai, I think, as it offers a more authentic picture of the traditional Dubai. The Bastakia Quarter in Bur Dubai has been declared a heritage site. Many of the restored buildings feature the typical wind towers and in addition to the mosque, there is the center of cultural understanding, some courtyard cafés and lots of narrow alleyways to roam around. The nearby Spice and Textile Souks are very popular with visitors, as well. Taking an abra (local wooden taxi boat) over to the Gold Souk area or simply along the Creek is a peaceful break and offers a different perspective." – Flytographer Akemi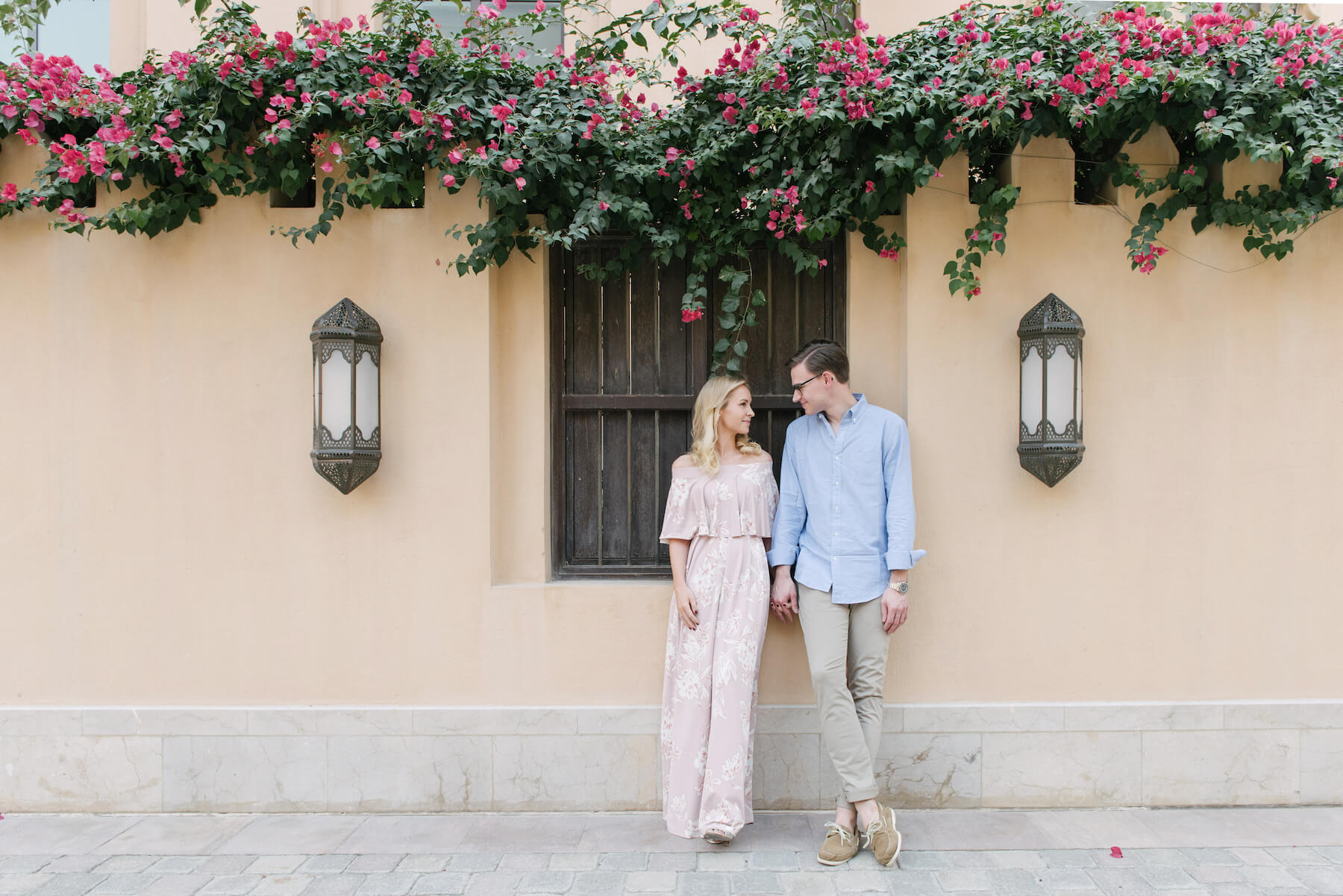 Take better everyday photos with your iPhone
Take your photos from "ok" to "WOW!" with our new course featuring our expert photographers from around the world.
4. Dubai CityWalk
"This new spot in Dubai is a modern self-contained shopping and dining area that is more of a community rather than a mall. There are a lot of open spaces, water fountains, street art, textured walls and colourful facades. It's supposed to be more of a European town centre and is very popular with the local residents. A great place for a fun and colourful shoot." – Flytographer Akemi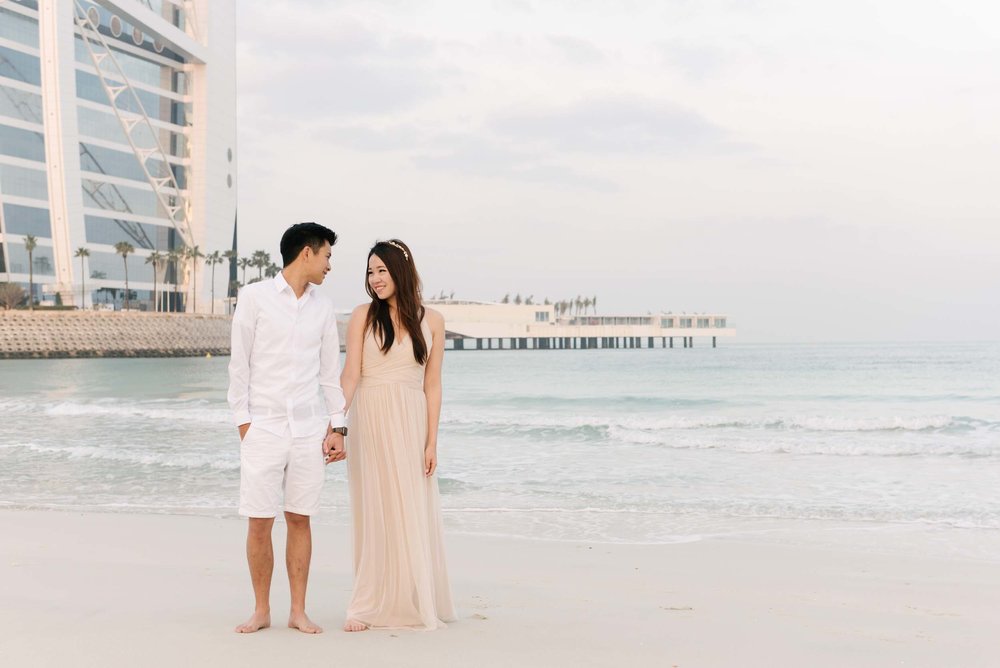 5. Dubai Creek Harbour
"Another new spot is the Dubai Creek Harbour promenade, which offers one of the best skyline views of Burj Khalifa and downtown. It's not a huge place and quite a distance away, as it is on the other side of the creek, but because of the entertainment options (music, retail, food trucks) and the stunning view, it is a very happening place." – Flytographer Akemi
6. Jumeirah Beach Walk
"This boardwalk near the Dubai Marina is a lovely location offering various backdrops (the ocean, cafés and restaurants, water fountains, residential high rises and hotels, cute food trucks, stylish beach cafés, etc). Very popular with locals and tourists alike." – Flytographer Akemi
7. Dubai Miracle Garden
For a truly stunning display of the intersection of man and nature, visit Miracle Garden, the world's largest natural flower garden. The expansive garden sprawls over 72,000 square meters. In addition to the over 45 million flowers planted there, over 15,000 butterflies reside in the butterfly garden.
8. Kite Beach
The aptly named Kite Beach is a popular spot for kite surfing, but even if you're not there for sports, the beach's pristine white sand and gorgeous views of Burj Al Arab make it a popular spot. Families, especially, will appreciate the play areas along the beach.
9. Al Qudra Lake
If you're yearning to get out of the city to some solitude, the man-made Al Qudra Lake in the Saih Al Salam Desert is for you. There, you'll find many exotic birds, but most of all, the peace and quiet of a beautiful landscape.
Flytographer: Lidiya in Dubai
10. Dubai Desert Conservation Reserve
Dubai is known for its progressive architecture and affluent lifestyle, but a jaunt outside the city centre will bring you to a completely different landscape. The Dubai Desert Conservation Project is protected land honouring the biodiversity of the desert, and here you can safari via camel, commune with the once-endangered Arabian Oryx, or off-road into the dunes to have dinner at a Bedouin camp.