Ideas for friend photoshoots 
If you are looking for a new and fun activity for you and your best friends forever, friend photoshoots are a great way to capture the laughs and love between you all. It creates dozens, or maybe even hundreds, of memories for you all to look back on in the years to come. 💕
But how do you have cute friend photoshoots?
We've got you! Here's your go-to guide with 5 tips for cute best friend pictures. 
Here's what we cover:
Occasions for friend photoshoots

Where to shoot

What to wear

How to pose and best friend picture ideas 

What props to use
1. Occasions for a friends photo session
While you never need a reason to dress up and take pictures with your besties, if there is a special occasion on the horizon, snapping some BFF pictures is a great way to celebrate!
Here are a few different occasions to have a best friend photography session:
Birthdays – Is your birthday coming up, or one of your BFFs? This would be a great way to make them feel extra special! Take a combination of solo photos of them, one-on-one photos, and group photos to commemorate their birthday. And then, of course, post the pictures to Instagram and other social media platforms to share the special day.
Bachelorettes – Matching robes? Champagne? 🥂  All your besties/bridesmaids in one place? You are practically obligated to take a million pictures!
Girls trips – A large group of your friends on a road trip to the spa, beach, mountain, or some other exciting destination is the perfect occasion for a photoshoot with friends. 
Reunions – If some of your BFFs live far away, but you have a reunion finally coming up, you have to take some pictures. Save the moment because you might not know when you will see them next!
Mood booster – What better way to hype yourself or one of your friends up if someone needs a mood boost? A best friend photography session will make almost anyone cheer up!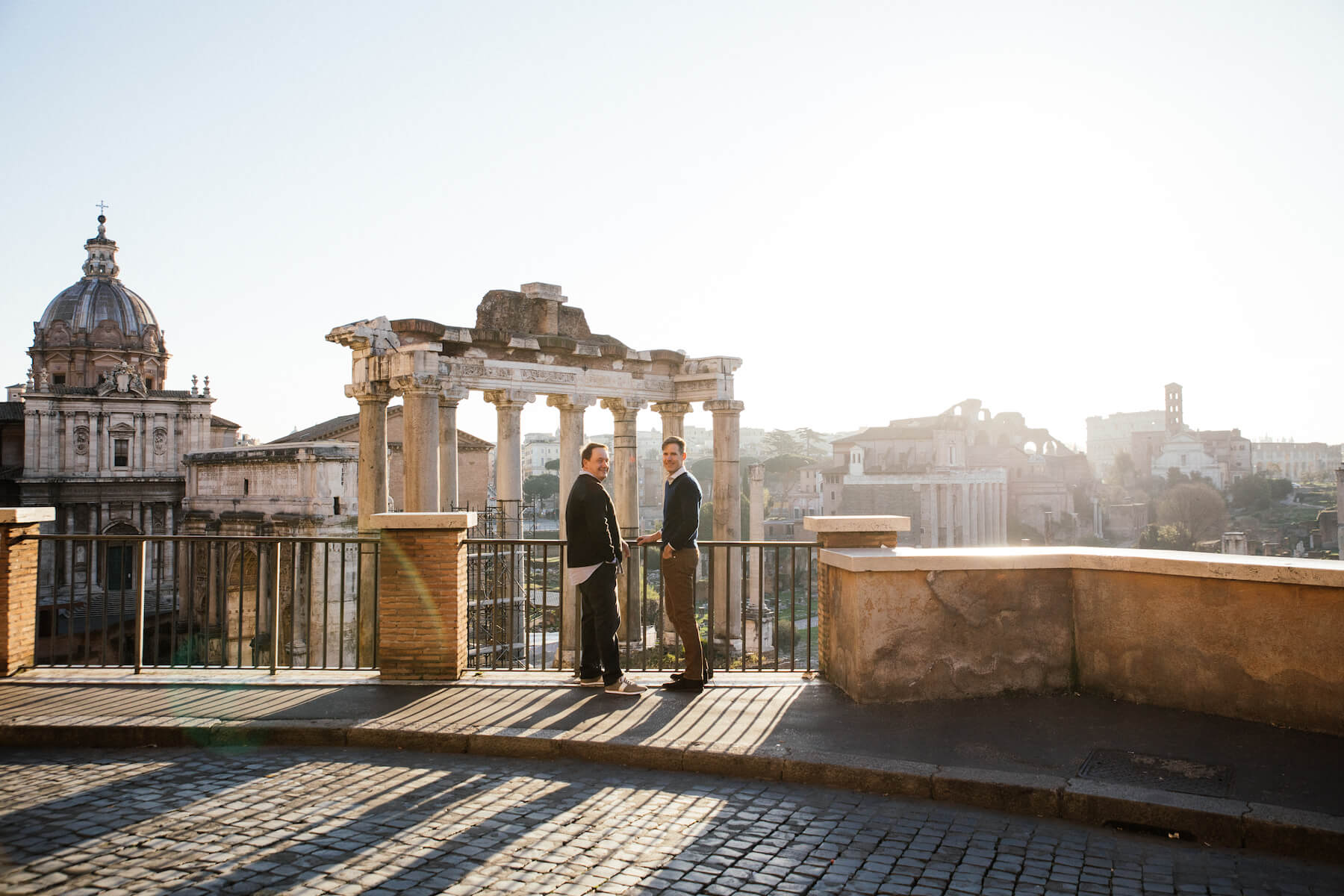 2. Where to take pictures with your friends
A photoshoot is a perfect way to discover new places around your town or city while trying to find the most backdrop-worthy locations for your session. And, just maybe, you will even find your new favourite spot while on the hunt for the most picturesque place!
Outdoor locations result in the best photos because natural light always trumps studio lights. 🌞
Here are some ideal locations for outdoor photo sessions:
Waterfront – Your local beach or lake is a great place to snap some pics, especially on a sunny day or at golden hour. 
Alleyways – Back alleys are gems, and perfect for backdrops, whether it's an alleyway with exposed brick or a beautifully painted mural. While tight alleys can be better for solo pictures or selfies rather than a group of friends, they are still fun to pose in front of if you can all squeeze in!
Gardens – Even if it is just your backyard garden, you can't go wrong with colourful flowers and greenery as your background. If you don't have a garden, however, Google search for "Gardens Near Me" to find a beautiful local garden.
Local ice cream shop – Something sweet always brings out a smile. If you have a restaurant with a retro look, even better!
Local coffee shop – Similar to the idea above, local coffee shops always have an atmosphere that is great for pics, whether it is of your latte or of you and your friends! 
https://flytog.me/book-friends
3. What to wear for a friends photoshoot
One of the best parts of a friends shoot is that you get to dress up. You can dust off the fancy dresses you maybe rarely ever get a chance to wear and swap your dirty Converse for some heels — or you can go casual too! 👗
Our best tip is to wear whatever makes you feel good. You want to feel confident in front of the camera and the right outfit and make-up can help you do just that.
Here are some outfit ideas for you and your friends:
Matchy match – If you have a large group of besties joining the shoot, matching your outfits can make for some really fun photos (and avoid any outfit clashing).
Evening attire – Do you and your friends have fancy dresses that only see the light of day maybe once a year? Bring them out and bust out the red lip for a golden hour shoot. 
Black & white – You can't go wrong with the basic black and white outfit combo. Oftentimes with large groups, it's safer to go with a neutral theme to avoid colour overload. 
Check out our Style Guide for a more in-depth guide to choosing outfits that will help you feel your best in front of the camera.
4. Posing ideas for friend photoshoots
When the camera is on you, it's normal to feel panicked and just throw up a peace sign because what in the world are you supposed to do with your hands? 
Unless your job is to pose for a camera, it doesn't come naturally. It's really a lot harder than it looks!
Don't worry! Here are some picture ideas for cute best friend poses:
The "Better Together" – This is a great pose for two friends or a group of friends. All you do is walk side-by-side and link your arms together … and of course, flash a smile or laugh for the camera!
The "Charlie's Angel" – Inspired by the Charlie's Angel franchise, an awesome TV show and movie, this is a girl boss pose to do with two of your BFFs. So, how do you do it? First, you need to stand next to each other. Second, you all make finger guns with your hands. The two people standing on each end will point their fingers up to the side while the person in the middle holds theirs upwards. This is a super fun pose for any trio!
"The Beatles Walk" – Based on the famous album cover of The Beatles, "Abbey Road," this is a great photography pose to do with a larger group of friends. I'm sure you know it, but just for a refresh, all you need to do is find a crosswalk and walk across it. Make sure you look both ways first! 
For more posing inspiration for friend photoshoots, check out our Happy Best Friends Day! blog post.
5. Props for friend photoshoots
Do you know what makes taking photos even more fun and cute? Props! 🕶
When it comes to props, get creative! There are opportunities here to run to the general store for some quick ones or even assemble your own DIY props.
If you're not sure what props to bring to your shoot, here are a few ideas:
Confetti – Make sure to pick a smart location for this prop because as you can expect, it gets messy. 🎊  (Another item to bring alongside the confetti is a broom!) 
Ice cream – We know by now that local shops make for a great shoot location! Order a vanilla cone, slide into a booth and pose.🍦 It's nice and easy … and sweet!
Tiara or crown – Flash not only a smile but some bling during your shoot. Whether it is someone's birthday, bachelorette party, or not, a tiara will be a powerful statement in your pics. 👑
Bubbles – No matter how old you are, bubbles stay fun. They also happen to look stunning in photos! There is a variety of poses you can do with bubbles: you can blow them at the camera, at your BFF, or up to the sky. Once again, this saves you from not knowing what to do with your hands when the camera is pointed at you!
Capturing memories with friend photoshoots
These photoshoot ideas will help you capture memories with your best friends forever. 💗
However, the one problem that remains with trying to get an amazing group photo of your best friends all by yourselves is that unless a stranger is milling around and willing to take your BFF pictures, there is always someone left out! 
When you book a Flytographer, you are ensuring that every one of you and your friends is part of the fun. Nobody is left behind.
Not to mention, you are also guaranteed to get amazing high-quality photos — none that are overexposed or blurry, or have a sliver of a finger covering the camera. 😉  Only beautiful results from a pro.