Best places to take pictures in Charleston
Do you have an upcoming trip planned to Charleston, SC? Are you the type of person who loves to curate memories of your travels by staying in the cutest Airbnb and taking lots of photos? 📸  If so, congrats — you've picked the right place to go! This historical city is best known for its cobblestone streets and pastel 🌈  heritage houses, which will make for some stunning backdrops in your photos. 
Below find our top 10 places to take photos in Charleston, SC. Let's go! 🙌🏼
This storied neighbourhood is a must-visit for any Charleston tourist. The French Quarter District is filled with a kaleidoscope of churches ⛪️  and houses that will having you pressing your camera's shutter button non-stop.
Don't miss the Pink House, an art gallery that is one of South Carolina's oldest buildings. Along the way, you'll find even more colourful locations to stop and pose at. 🤳🏾 Trust us! 
Afterwards, don't forget to check out the famous 19th-century Charleston City Market for artwork, crafts, and clothes all made by local vendors. 
The Joe Riley Waterfront Park is located right in Downtown Charleston, which means you have no excuse but to visit this famous park. It's a popular photo spot with its gorgeous views of Charleston Harbor's blue water and the pineapple fountain. 🍍
While there are plenty of photo ops during the day, make sure you come back at night when the pineapple fountain is all lit up! If you want some romance in your images, this is the ideal place to come with your partner.
When you're done snapping some photos along the water and at the fountain, go for a stroll down the palm tree-lined walkways 🌴  for a few more awesome photos, or take a break and enjoy a picnic at the park.
This Instagrammable street is bursting with colonial history that will shine in your photos. While strolling down Broad Street, you'll find 18th-century mansions and gardens that will lend a majestic feel to your solo or group photos. 😁
After exploring the shops and architecture along Broad Street, make sure you pop over to South of Broad. This exclusive neighbourhood is full of luxury and southern charm that would be a crime not to take photos in. 📷
South of Broad is also home to White Point Garden where there's an adorable gazebo and a magical-looking forest full of old oak trees. ✨ It also offers gorgeous views of Fort Sumter and Charleston Harbor. The number of ideal photo spots here is never-ending!
Looking for the best things to do in Charleston?
Explore tips from Flytographer customers on the best places to eat, drink and visit!
Downtown Charleston is home to many famous and beautiful landmarks. Make sure you have your iPhone ready, or even better, one of our Flytographers when you're walking down this street! 📱
Wander down the cute cobblestone streets of downtown. You'll reach one of Charleston's hotspots and popular photo-taking locations: Rainbow Row, 🌈  a row of restored colourful historic homes. These blue, green, pink, purple, yellow, and red houses will make your Instagram feed pop! 
Another excellent photo spot you won't want to miss is St. Phillip's Church. This beautiful stuccoed brick landmark was built in 1836 and is just a short walk from the cobblestone street of Chalmers.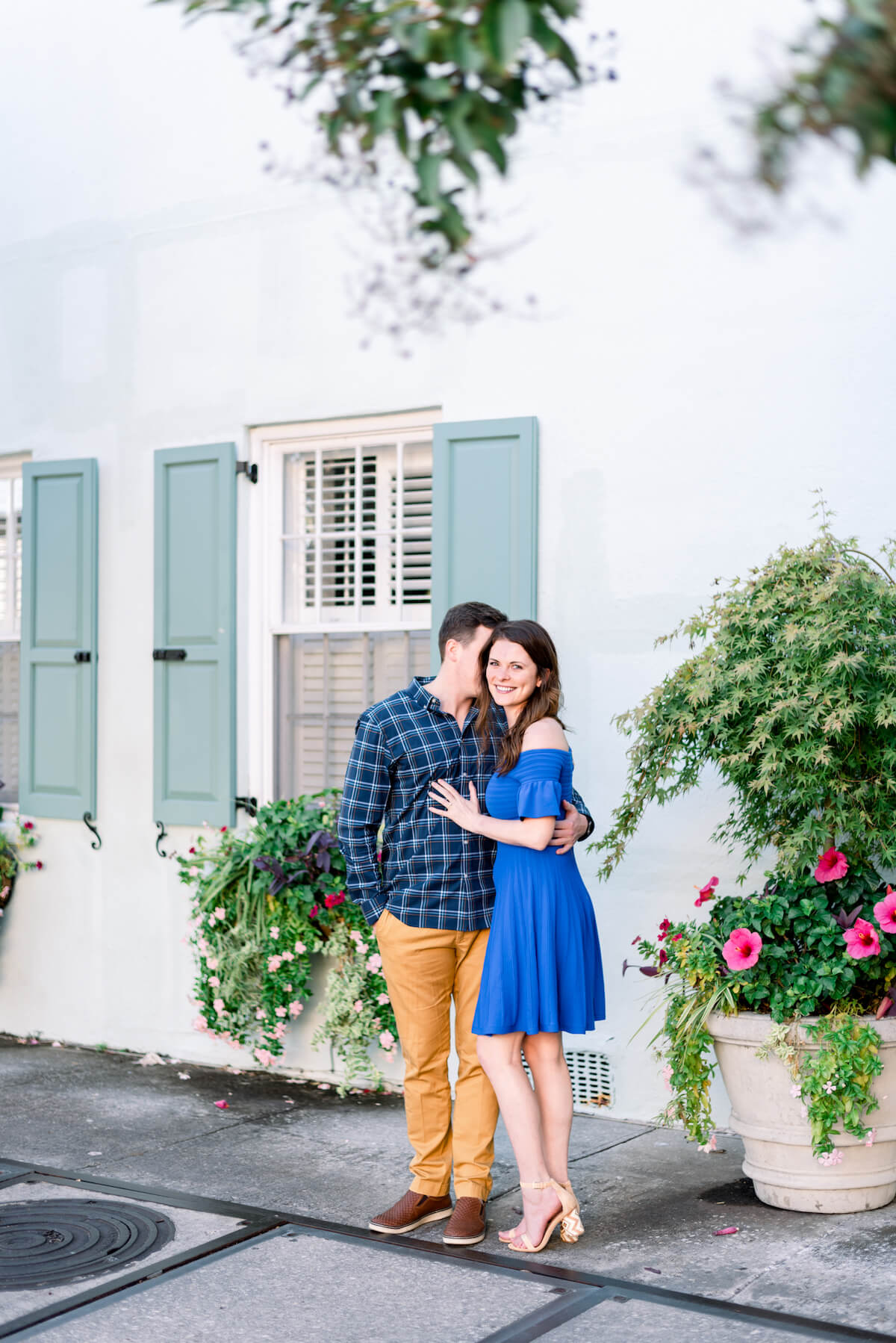 5. The Battery & King Street
The Battery is a defensive seawall built during the American Civil War, making it a bucket list item for any history buff. Over the years, however, it has become a famous landmark for taking photos because of its beautiful location along the Charleston peninsula. 🏝
After you're done checking out The Battery, and you've exhausted every angle for a photo there, take a stroll along the ocean or meander down King Street. This famous street is also lined with pastel houses and local stores that you can pose in front of for some cute pics. 💗
If you want to capture the southern charm of Charleston, this street is the place to do it! And when you're done snapping photos, be sure to support the local shopkeepers along the way. 
6. Ravenel Bridge
This cable-stayed bridge offers excellent views of the Cooper River, the city line of Downtown Charleston, and the green suburban town of Mount Pleasant. 🏡  You can take every type of photo you want at this location.
Make sure to head back to the Ravenel Bridge after dinner because when the sun sets, it lights up! 🌉 The soft yellow light and pink sunset create the perfect spot for a romantic photo session for you and your partner. 
But whether you stop here for some pictures or use this bridge to get from downtown to Mount Pleasant, you won't be able to resist the beauty of Ravenel Bridge! We guarantee it will become one of your favourite sightseeing spots in Charleston. 
7. Fort Sumter
Built on an artificial island to protect Charleston during the American Civil War, Fort Sumter is perfect for both taking photos and learning about South Carolina's rich history. 📖 It offers excellent photo ops with its views of the Atlantic Ocean and the charming city of Charleston.
If you're downtown, you have no excuse but to check out this historic landmark! It's easy to hop on the Fort Sumter Ferry for a 30-minute ferry ride ⛴  to the island and then enjoy a tour of this cool landmark. 
Don't forget to capture the memories with some photos of you with your family or friends posing against the ferry's railing or along the island's edge with the city of Charleston behind you. 📸
Capture memories with a local Charleston photographer
8. Sullivan's Island
Ideal for your next beach vacation, Sullivan's Island sits at the entrance of Charleston Harbour and has stunning beach views everywhere you turn. 🏝
While it's small, there is enough beauty and charm on this island to fill dozens of photos. It's a must-visit for every tourist and is filled with things to do, from watersports like kayaking and fishing 🎣 to dining at local restaurants. 
Capture the history and folklore 🧜🏾‍♀️  of Sullivan's Island with a photoshoot because these are memories you won't want to forget!
9. Folly Beach & Island
Located on Folly Island, Folly Beach 🏖 is ideal for an energetic day out and a fun photo session. The best photoshoot attraction is the Folly Beach Pier, which stretches more than 1,000 feet into the Atlantic Ocean. 🌊  Pose for a few photos with your family or friends on this must-see attraction or at the Lighthouse Inlet Heritage Preserve, which offers superb views of the historic Morris Island Lighthouse.
When you're done snapping some pictures, enjoy a picnic on one of the many grassy areas while enjoying the wildlife that inhabits this area. This island is perfect for a beach getaway 🐚  and is often in competition with Sullivan's Island. If you can visit both, however, do it! You won't be disappointed and will leave both islands with dozens of fond memories and photos.
10. Mount Pleasant
This suburban town feels like home to almost everyone who visits. From its farmers' markets to festivals, 🎊 and must-visit attractions like Mt. Pleasant, Boone Hall, and Magnolia plantation and gardens, there's an endless number of things to do in Mount Pleasant.
Plantations like Boone Hall and Magnolia are beautiful places, making them perfect for photo sessions. They are surrounded by oak trees 🌳  dripping with Spanish Moss and full of bushes and trees that bloom bright pink flowers. They look like they're straight out of a fairy book! 🧚🏼‍♂️
The photos you take here will add a pop of colour to your Instagram feed for sure and will have you wanting to come back to Charleston as soon as you leave.
Capture memories in Charleston, SC
Now that you have your go-to travel guide filled with the top 10 places to take photos in this South Carolina city, there's one more thing you need before setting off on your trip … your go-to professional photographer! 🌟
Capture the stunning landmarks you'll see and the memories you'll make in Charleston by booking Flytographer today. 📸