Thinking of proposing? New York City is one of the most magical places to celebrate your love, and, in particular, it's the perfect location to pop the question! 💍 Here, at ​​Flytographer, we easily connect people with trusted photographers for fun photo shoots and have captured over three million memories worldwide. Today, we asked our local photographers to share their perfect proposal tips and the best places to propose in NYC! 🫡
For more ideas on how to make yours the perfect proposal and to find our top five best places to propose in the city, read on! 👍
TLDR
(A little sneak peek just for you! 😊)
Best time of day to propose — Typically, mornings are preferred for privacy and beautiful lighting. But early-morning shoots can be hard to pull off as a surprise, so keep an open mind and talk to your local Flytographer to select the best time of day for your proposal.
Best proposal locations in NYC — They're all good, but these five areas are extra good!
Brunch spots for two in NYC — Brunch is a quintessential meal any day of the week and the best fuel before or after your perfect proposal!
Dinner spots for two in NYC — NYC dinner spots are romantic and plentiful – you're sure to find anything you could dream of in this city!
Rooftop bars in NYC to celebrate — There's no better way to celebrate your engagement than from a rooftop bar, and there isn't a bad rooftop in the city!
Best time of day to propose
Timing is everything – we all know that! ⏰ Proposal shoots require additional planning, which means you'll need to consider other factors (and be pretty sneaky) to pull it off without a hitch (no pun intended 😜).
Typically, mornings are the preferred time for photos in busy touristy destinations like New York City since they provide great lighting and fewer crowds. Often, the desire is for proposals to have at least a bit of privacy. 🤫 But pulling off an early-morning proposal can be more challenging if a photo shoot isn't on your soon-to-be-fiancé's radar; early mornings can feel particularly early due to jetlag 😴 or some vacation partying the night before. 😉
Photo shoots and proposals in the evening, at sunset, or even mid-day will likely be quite beautiful. But, if you want to do it in front of one of New York's iconic landmarks, know that it'll probably be crowded. Fear not! There is never a bad time, just an ordering of priorities; keep that in mind as you narrow down your options. ❣️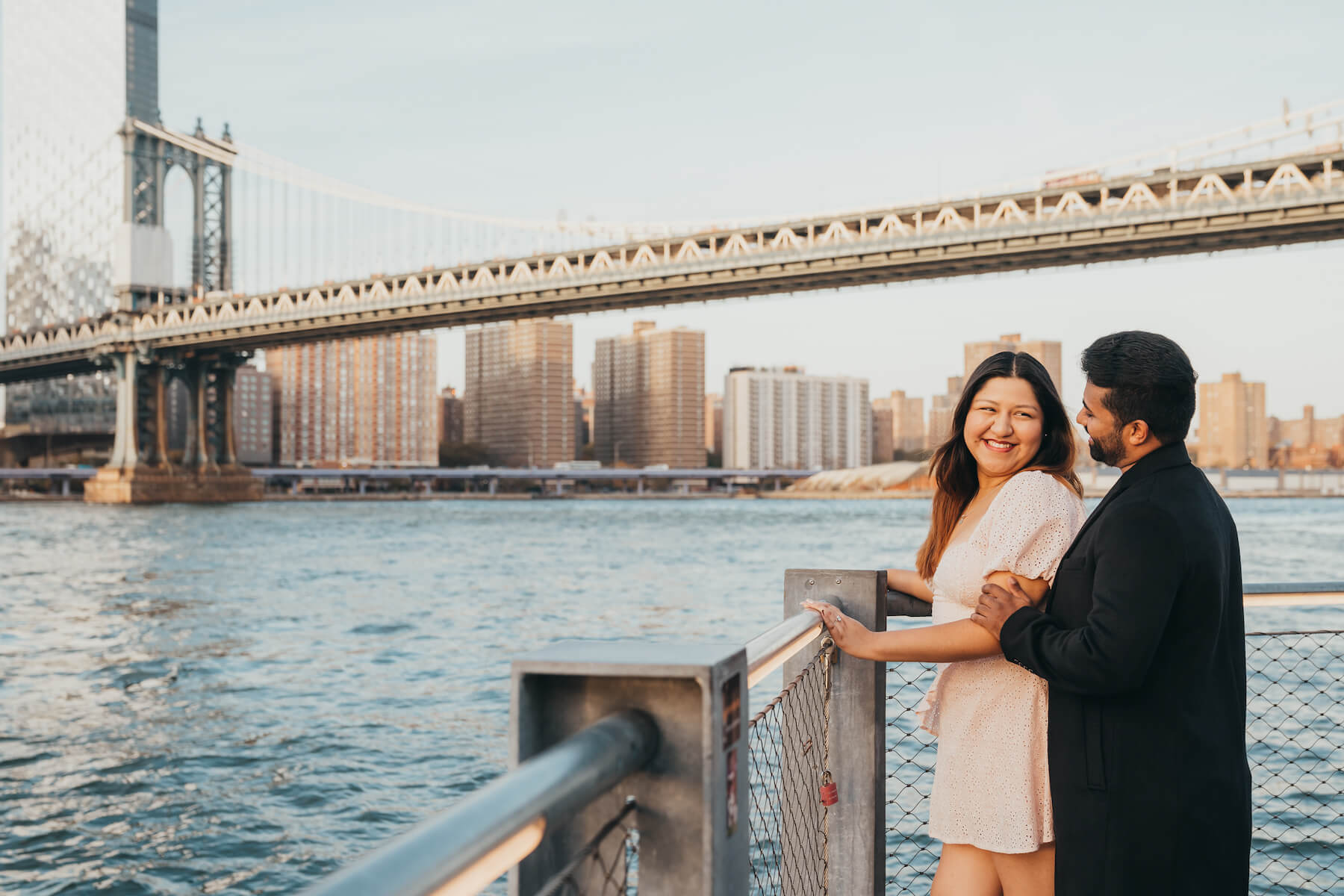 Best proposal locations in NYC
Think about what will work best for you as a couple: the timing, your travel situation, and which New York City area feels most authentic for your proposal backdrop. And now, without further ado, here are our top 5 🖐 best places to propose in NYC:
1. Central Park – Bethesda Fountain & Terrace
Central Park is the heart of Manhattan. An 840-acre respite with countless iconic, picturesque backdrops, Central Park is one of the best places to propose in NYC. It can be challenging to wrap your brain around just how many options there are in Central Park alone, so we'll focus on three main areas today, starting with Bethesda Fountain and Terrace! ⛲️
Zooming into the near-centre and most popular part of Central Park, you'll find the Bethesda Fountain and Terrace. This area has been featured in countless movies and shows and offers a ton of angles and options for your proposal. This is also an ideal spot if the weather is looking questionable! Bethesda Fountain is beautiful from every angle, and the iconic Bethesda Terrace, with its stunning arches and decorative tile, is amazing regardless of season or forecast. 🌧
2. Central Park – Bow Bridge
A marriage proposal on the world-renowned Bow Bridge is anyone's dream come true. 😍 With lush trees, Central Park Lake, and hints of the city skyline – namely, the Upper West Side's architectural gems, the Dakota and the San Remo – you get the best of both worlds here. Bow Bridge can be quite busy, but the views and photos here are unbeatable.
3. Central Park – Gapstow Bridge & Skyline
If you want a dazzling Central Park backdrop that includes the tall Manhattan skyline, look no further than Gapstow Bridge. This proposal spot makes the city seem larger than life and totally accentuates the city surroundings alongside your dropped knee!
As a final note, Central Park is literally filled with romantic backdrops – from private, scenic lookouts, long and winding pathways, the Conservatory Garden, the (temporarily-closed) Boathouse and rowboats, Belvedere Castle, the ice-skating rink (/roller rink in the summer), and dozens more romantic places. Central Park can't be beat. 💝
Be sure to touch base with your Flytographer to make sure the spot you choose is just right for you and your partner. 📸
4. Greenwich Village
The lovely, brownstone-lined streets of Greenwich Village truly offer it all when it comes to gorgeous backdrops. From urban to historic to charming, NYC truly shines in Greenwich Village. If you want a proposal location that feels "New York-y" minus the typical fanfare, Greenwich Village might be the one of the best places to propose in NYC for you. 👏 Greenwich Village is also one of the best spots in the city for food and people-watching, so once you get past the anxiety of "Yes!" take time to enjoy the neighbourhood.
Look amazing in photos
Get 50+ insider tips on how to prepare, what to wear, and easy posing ideas for your next photo shoot!
5. Brooklyn Bridge & DUMBO
No visit to the Big Apple should be complete without Manhattan views from the Brooklyn Bridge and Brooklyn Bridge Park. Narrowing down your proposal spot based on our Brooklyn Bridge & DUMBO route gives you a plethora of dreamy backgrounds: city architecture, bridges (the Manhattan Bridge is right here as well), waterfront piers and boardwalks, street art, and even a carousel (Jane's Carousel, to be specific). Proposal locations along the DUMBO waterfront and/or on the Brooklyn Bridge are one of a kind. 🏙
With the East River separating Manhattan and Brooklyn, the Brooklyn Bridge is one of the most iconic backdrops. You can easily spot the Statue of Liberty from most angles – a romantic proposal here can't be beat. 🗽
Each NYC neighbourhood is very different, so be sure to check out as many as you can, and, preferably, do it by foot! 🚶‍♀️ Also, be sure to read this post about our Top 5 New York City Neighbourhoods to Explore and this one about our Top 10 Places to Take Photos in New York City!
Brunch spots for two in NYC
New York City is a stellar brunch destination. 🍽 You don't have to look far before finding some outstanding brunch locations, wherever you are in the city! Don't be afraid to wander – head to a neighbourhood, like the Village, and start walking; let your eyes and nose do the choosing.
Favourite brunch spots for two include: Jack's Wife Freda (with a handful of locations in NYC), Jacob's Pickles (portions here are not for the faint of heart 😛), Bubby's (top-notch carbs 🥞 to fuel up for lots of walking), La Mercerie (don't forget to window shop at Roman and Williams Guild while you're inside), and Rosemary's (the eggs here are positively mind-blowing).
Dinner spots for two in NYC
There's no better way to celebrate your proposal than dinner at a super romantic spot in the city… and there's no shortage of fine dining locales in New York City! Now that the big question has been popped, the next big question is where to celebrate! It's scientifically proven that engagement rings sparkle even brighter when they're resting on a candle-lit dinner table across from the love of your life, right!? 🕯
Some of our favourite spots for a romantic dinner include One if by Land, Two if by Sea in the Village, Lilia in Brooklyn, Tavern on the Green in Central Park (although the food isn't the best, best, there's no match for the landscape, especially on summer nights), and Grand Central Oyster Bar, to name just a few.
Rooftop bars in NYC to celebrate
After the stress of getting that engagement ring through airport security, hidden away from your now-fiancé in a tiny hotel room, and the actual logistics of officially proposing are out of the way… you probably need a drink! 😅 Finding unbelievable city views is often at the top of every NYC visitor's list. Breathtaking vistas are a hallmark of New York City. If you've visited the top of the Empire State Building, the Top of the Rock, the Edge observation deck, One World Observatory, or one of the city's other tippy-top views, you know what we're talking about. Day or night, rooftops are a must.
It's important to remember that, despite the number of rooftops in the city, it's harder than you might imagine to visit many of them! 🏨 Our first tip is to check with your hotel – many hotels offer their own rooftop bars and restaurants, often with perks or special reservations for hotel guests! If that isn't the case for your accommodations, here are a few other faves:
Uptown near Lincoln Center, the Empire Rooftop bar is exceptional. Another favourite uptown locale is the Cantor Roof Garden Bar at the Met. Visiting the Metropolitan Museum of Art (the Met) rooftop requires museum admission (and some navigating to actually get to the rooftop); this is a spot to enjoy in the earlier hours (the bar closes at 8:30pm on weekends, weather permitting), but the views are STUNNING. As is the art. 🖼 I mean, it's all unbelievable.
In Midtown, be sure to check out the Refinery Rooftop. The Skylawn Bar is another fave – and home to outdoor movie nights! 🎬
In Lower Manhattan's Meatpacking District, you'll find the Gansevoort Rooftop with 360-degree views of the Manhattan skyline and the Hudson River. 👀 We also like Mr. Purple at Hotel Indigo (side note: they have a rooftop pool, too).
If you're in Brooklyn, we love Westlight at the William Vale and Harriet's Rooftop at 1 Hotel Brooklyn Bridge (perfect post-Brooklyn waterfront proposal).
Reminder: wherever you're going, reservations are kind of a big deal, so make sure to look into making them as soon as your travel dates are set! 📆
Capturing your proposal in New York City
Capturing proposals is one of our specialties here at Flytographer, and there isn't much our team loves more than helping to commemorate this insanely exciting occasion for you and your love. 💍 We have a proposal photographer for you, perfect for your surprise proposal in NYC.
Make sure you save this post, and this one, too, for tons of real-life examples from Flytographer customers and stories about their New York City proposals. For tips on what to wear and even more proposal ideas, be sure to read this one as well. ❤️
We can't wait to celebrate with you! 🥂
"Amazing! I booked Monika for my proposal and she did such an amazing job! Such a sweetheart worked with us and our pet has a great eye for photography and got amazing shots, completely satisfied and hope to book her again. Book with Monika! If you're in the New York City area and want a photo shoot, 10/10 recommend her, amazing photographer!"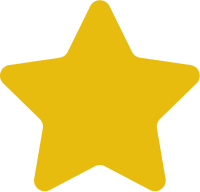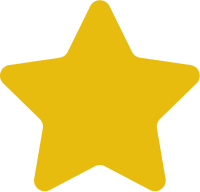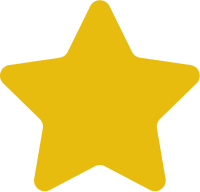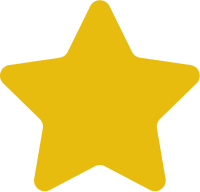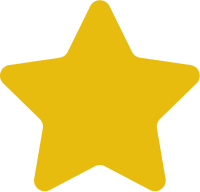 Hernan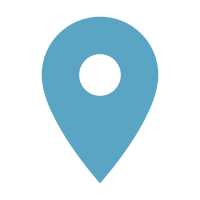 "Anna was amazing! I am not much of a photo person and don't really like taking pictures. Therefore I was really bad at poses and ideas. I had talked to Anna a few times and she made sure she not only directed the poses for the photo but took amazing natural shots of my girlfriend and me. I wanted this day to be super special and Anna was there to make it even more spectacular!"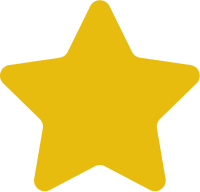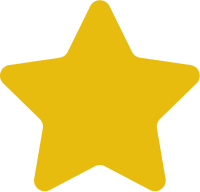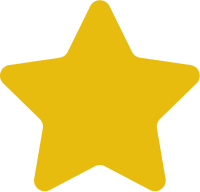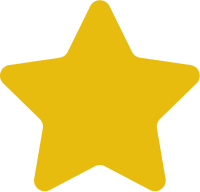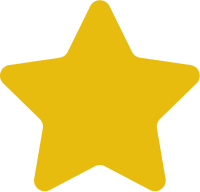 Marcia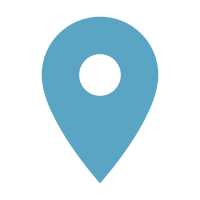 "Johnny was fantastic. When my girlfriend and I showed up to the designated spot, he was ready and waiting, and played right along with the "Hey random photo guy will you take our picture?" ruse. After the big ask, he was easy and fun to work with, and gnu exactly the right spots to go to take pictures. He was really helpful with helping us know what to do, but also allowed us the freedom to try our own ideas for poses and spontaneity. Overall Johnny was very friendly and kind, and the photos he took are phenomenal. I would absolutely hire him again!"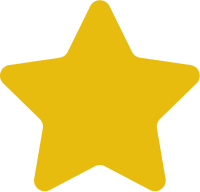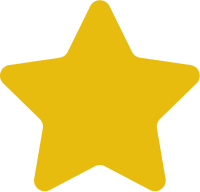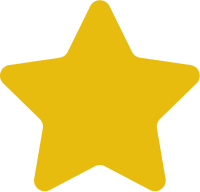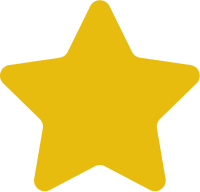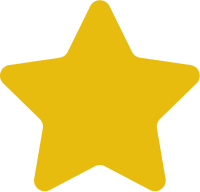 Aaron