One of the most important aspects of Flytographer is our local, on-the-ground photographers in Southern Italy and beyond. We have a rich network of awesome people that don't just take your photos, but act as your host to show you around their city. Naturally, we love to tap them for their Rome travel tips and insight every chance we get, and this week we reached out to Guido, one of our Flytographers in Rome, for his best tips on what you absolutely must do when visiting Italy's Eternal City as soon as you touch down at Fiumicino (FCO) airport. ✈️
3. Hit the Trionfale Market
Flag down a taxi driver, or save money by purchasing bus tickets or a Roma Pass for trams and public transportation, and head to Trionfale Market (Mercato Trionfale as they say in Roma). 🚎 This is a massive, year-round indoor market in Rome's downtown off the Via Andrea Doria with more than 270 stalls of food, fruit, cheese, meat, veggies and vino (what else do you need?). This is most definitely where the locals shop and the most authentic "food tour" experience you will find in Rome. Be prepared to gesticulate while bargaining and keep at least one hand free for sampling olives and salami. 🫒 Speaking of hands, there is no way you could come out empty-handed. "Walk, get lost, and don't rush!" advises Guido. 
4. Take a city tour
So much of Rome is lost on the casual observer who doesn't know the history and didn't pack comfortable shoes. 👟 That's why it's imperative that you take a self-guided tour, on foot, on bike or on a Vespa, and make sure your route takes you to the charming and cobbled street of Via Margutta. Guido says this is one of the streets of "la dolce vita" and it's where Audrey Hepburn lived in the timeless cinematic travel classic, Roman Holiday. If this is your first time to Rome, consider a tour guide so you can learn about the rich local history. If you are travelling at peak season, be wary of pickpockets and don't forget your water bottle with drinking water! Being among the sweetest of all Rome travel tips – one way to cool off from your adventure in the hot Italian sun is with a little gelato. 🍨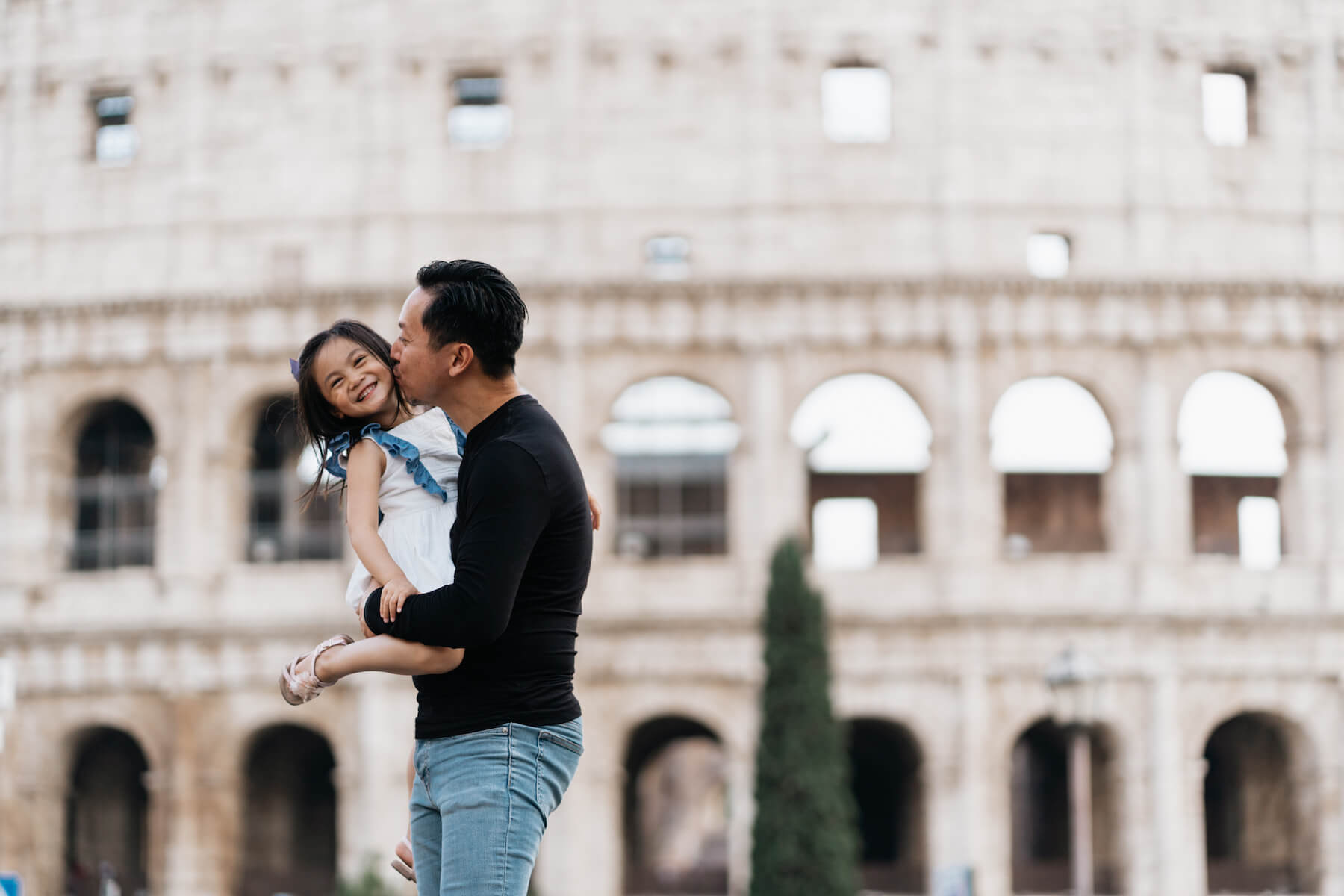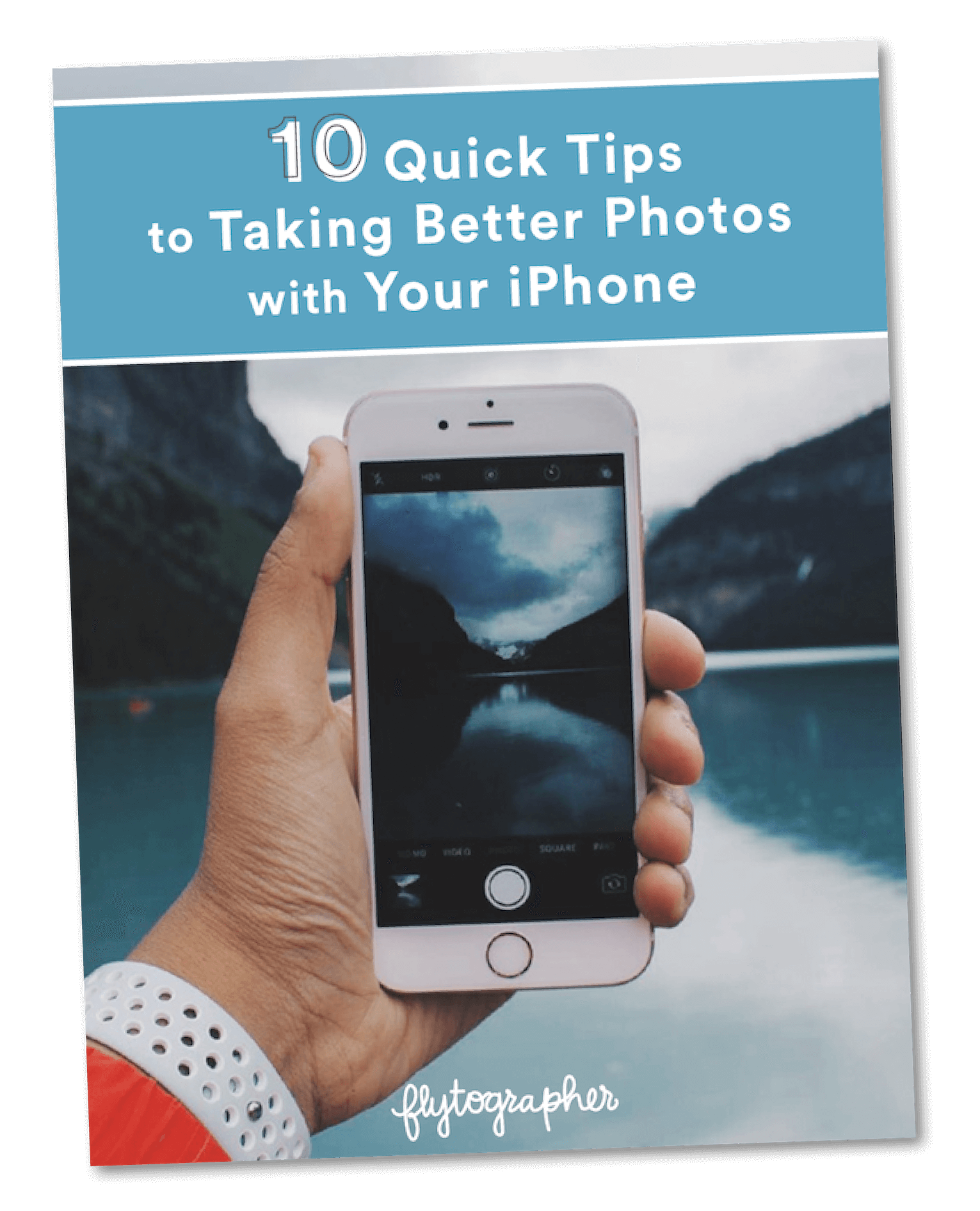 Get 10 Free iPhone Photo Tips!
We made a downloadable cheat sheet just for you with our favourite iPhone photo tips! Sign up for our mailing list and get your download instantly.
7. Best places to take photos in Rome
Roman Forum: "

My favourite place to shoot is Capitoline Hill, one of the seven hills of Rome. It's a semicircular square designed by Michelangelo," says Guido. "In the morning at dawn, there is a magnificent light. In such a small space there are many possibilities on where to shoot—columns, terraces, statues, stairs. Then when you stand looking out of one of its terraces and dominate the entire Roman Forum, with the Colosseum in the background, for me there is no doubt that this is one of the most beautiful places in Rome." Another opposing view of the area is Palatine Hill, which lies on the opposite side of the forum. 📸

Trinità dei Monti, the Pincio & Villa Borghese:

Start at the church of Trinità dei Monti at the top of the Spanish Steps and immerse yourself in the beautiful 16th-century architecture. Afterwards, take a stroll down the gardens of Galleria Borghese, 🌸  which contains not only flowers and eye-catching greenery but museums and other attractions. These gardens are right by the Pincio, where the best views of Rome are visible, making for some great photo backdrops. 

Trastevere:

During the day, Trastevere is a colourful and lively neighbourhood that oozes Roman charm and Instagrammable places. At night, Trastevere is somehow even more of a photogenic site with its warm, golden lights on the cobblestone streets. After you take some photos, enjoy the many bars 🍷 and restaurants in the area. Or even choose to stay in one of the AirBnbs or hotels to take advantage of everything this trendy location has to offer.
Your camera roll will thank you after you've visited Guido's top Rome photo spots!
Bonus Rome Travel Tips
Are you feeling inspired to live as the Italians do? Grab our Ultimate Rome Travel Guide and book those tickets! 🇮🇹 On your next trip to Europe or Rome — whether it's your first visit or tenth — experience the magic of meeting a local and celebrating your story with a Flytographer shoot.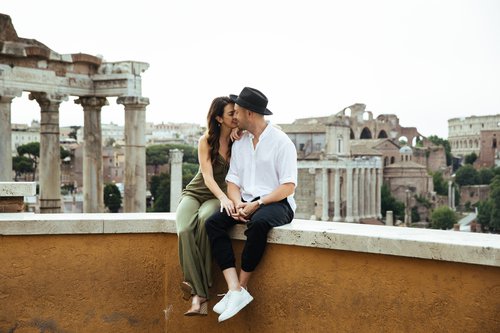 Katherine's Travel Tip for Rome
"Absolutely do a private golf cart tour when you first arrive in Rome! It's an amazing way to get the lay of the land, see a lot of different spots, and then decide where you want to spend more time. We were there in July so it was really hot and the golf cart was such a nice way to get around instead of a walking tour."
Barret's Travel Tip for Rome
"The best advice is to wake up early and go to see the main attractions (Pantheon, Trevi Fountain, Colosseum, etc) as the sun is coming up. There are very few people out and you will be able to capture beautiful sunrise photos."
Marina's Travel Tip for Rome
"Our favorite restaurant was "Pizza in Trevi". I ordered the caprese pizza and it was delicious! We went back the next day! A tip to pass on would be to wake up very early before the crowds and see Rome from a not so crowded tourist perspective. It is absolutely breathtaking."
Flytographer in Rome