Paris | May 1 – 5, 2023
Celebrating 10 Years
This spring, Flytographer celebrated 10 years of capturing memories! 🎉 Did you know the idea for Flytographer was born in the streets of Paris, on a trip with two best friends? What better place to host our 6th annual Global Meetup than the City of Light ✨ – back where it all began!? 
Needless to say, this was a very special year for us as it was our first meetup after a long hiatus due to the chaos of the last few years. (See our past events in Santorini, Lisbon, Florence, Barcelona, and our very first official meetup in Paris back in 2015!) 
Let's wind back to the beginning of the week, when 33 of our photographers and some of our HQ team members touched down in the magical French capital to celebrate our amazing community. 🥰
Day 1
Monday, May 1st
Our kick-off event was a stunning red carpet sunset river cruise on the Seine (a whole lot of adjectives that still deserve at least a handful more to try and explain what a special night this was)! 💃 Just before we were scheduled to gather, a huge thunderstorm rolled through Paris, yet somehow cleared just in time for us to enjoy the most spectacular sunset and skies. We were relieved, enthusiastic, and quite appreciative – a life lesson in gratitude and timing for sure!
The boat, the balloon wall, our Flytographer team together celebrating after too-long apart… and of course, the views! Ahh! So much excitement was in the air. 💞
We also really enjoyed hosting our special guests and Flytographer faves, Jillian Harris and husband, Justin Pasutto, who came with us to Paris to celebrate as well. We love you, Jillian!
Our boat cruise was full of hugs, laughter, catching up, dancing, celebrating, and as you might imagine, taking lotsssss of photos. 📸
Day 2
Tuesday, May 2nd
Our first full day together started off with some classroom time – intros, updates, Q&A, and of course, goodie bags with our fave branded blue shirts and other fun surprises! 🩵 We had a group photo, and then broke into smaller groups for a photo hunt around the arrondissement (which, of course had everyone laughing hysterically because when aren't scavenger hunts an adventure?!). 
On Tuesday night we had a Flytographer gallery showcase at the breathtaking Place des Vosges. During gallery night, a favourite photo from each of our photographers is featured, giving us a glimpse into each of our photographer's talents, along with their local city backdrops. 🌍
Fun fact: our gallery in 📍Le Marais is also the exact neighbourhood where the idea for Flytographer was sparked 10 years ago!
(Can you get over this architecture?!)
Day 3
Wednesday, May 3rd
The crew met back up bright and early Wednesday morning in our classroom space to enjoy workshops, team brainstorming, storytelling, and portfolio assessments with our VIP, Jonas Peterson. ☕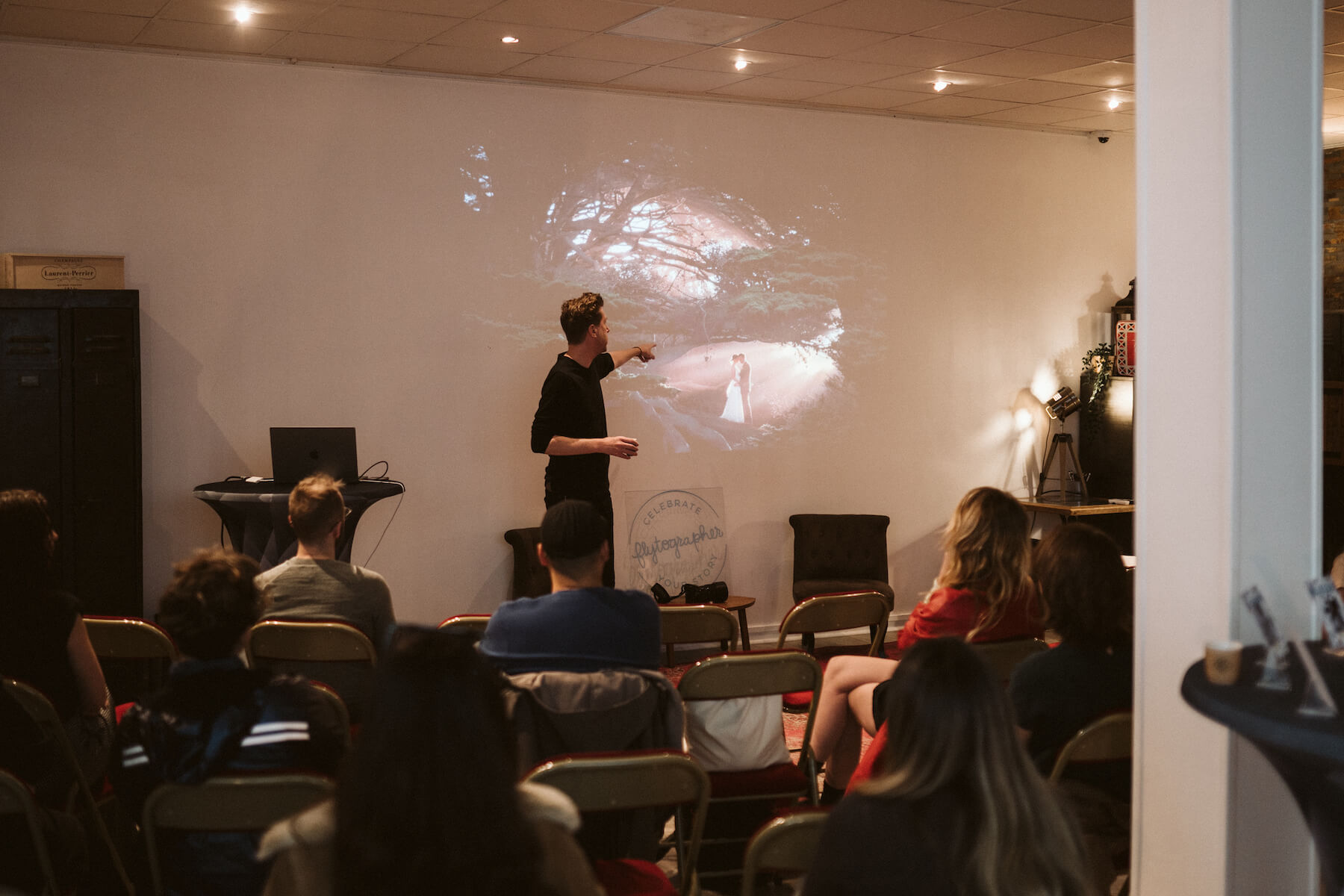 Wednesday evening brought a Fly-photog-fave event: the sunset photo walk! ☀️ This golden hour photo walk is a tradition we've held onto since our first meetup; we gather for a scenic stroll to capture photos of each other while the sun sets. This walk is our time to have fun with our cameras, build even deeper social ties, and to experience a little more of our meetup destination. 
This year we were perhaps a bit overzealous with the ground we thought we could expeditiously cover because walking as a group of 30+ photographers in Paris at sunset is a little like trying to herd a group of kids through Disney on a summer afternoon. 😂 Can you imagine? You can imagine. #distracted #WAITONEMORE!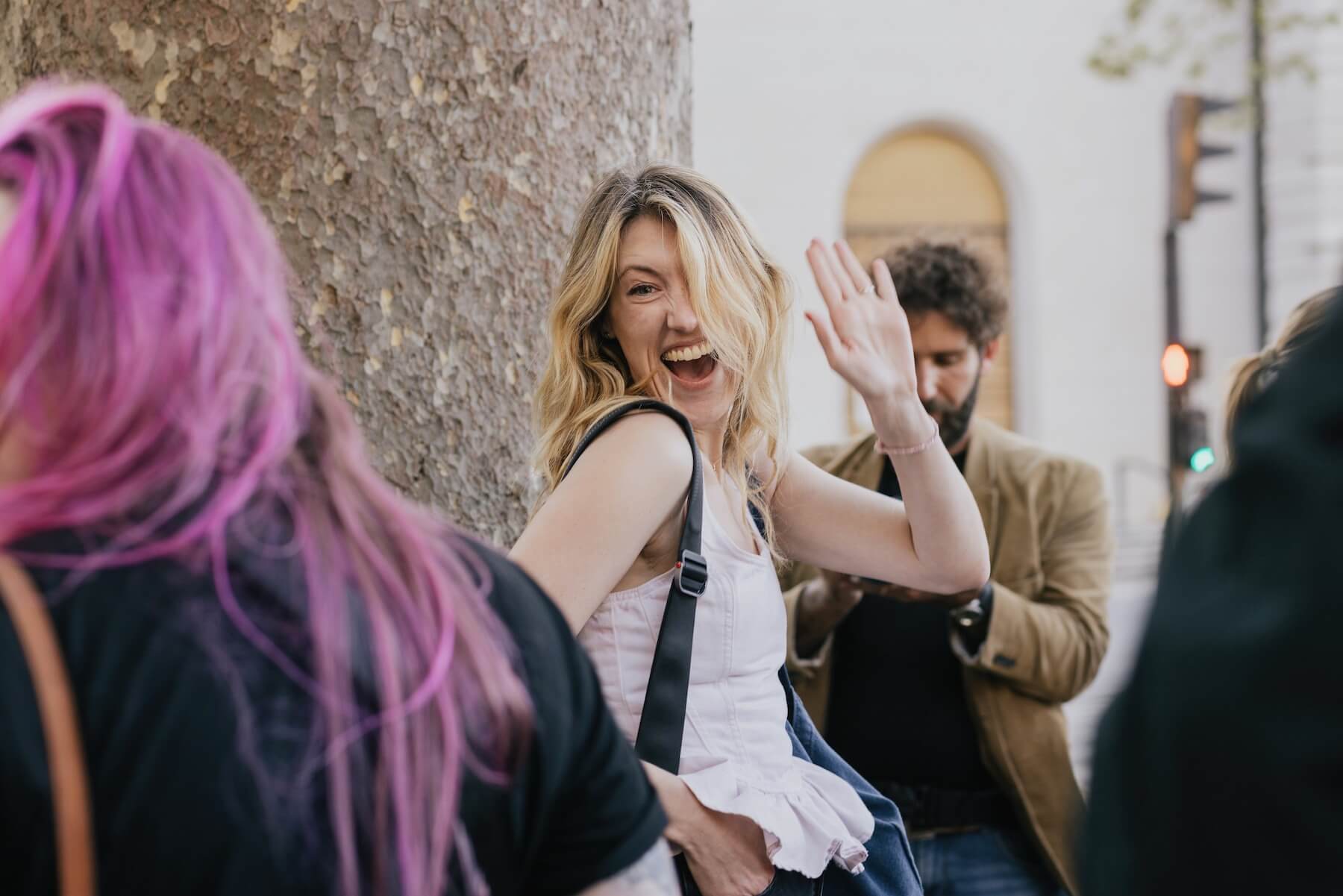 After our picturesque and leisurely stroll (😉), we had "family dinner" together in the 7th. There's nothing like an amazing group meal in Paris – delicious food, incredible views, and awesome conversations.