2. Trips will hold more meaning
A photo shoot is often a way to commemorate a significant moment in people's lives. While travel has always represented a special break from day-to-day life, we suspect that this year's trips will hold even more meaning. Flytographer has always focused on capturing memorable moments while on vacation, but reuniting with loved ones after a significant length of time apart during the lockdown is cause for celebration. In Vrbo's recent survey, "31% say the main reason they want to go on their next trip is to spend quality time with family."
The following chart breaks down our vacation photo shoot inquiries for 2021 thus far by customers' selected travel occasions. Unsurprisingly, "family trip" holds a large chunk at 31%, and special occasions, which includes honeymoons, babymoons, birthdays and more, comes in at a slightly larger 33% (see figure 1.2, below).
"Based on the new findings, more than half (60%) of Americans have reevaluated the importance of the role travel plays in their lives and now deem it more critical than they did before the pandemic, having realized how central it is to their emotional well-being." – Fortune 
Figure 1.2    Global Travel Trends 2021 – Vacation Shoot Occasions
3. Domestic travel continues to lead
While many continue to dream of far-off getaways and international destinations, there are still many travel restrictions in place for foreign visitors that can present roadblocks. "We are unlikely to see all or even the majority of international markets that were served from the United States fully opened during the summer season, despite the best hopes of the airlines," said John Grant, a senior analyst at OAG, which provides global travel data (New York Times). This rise in domestic travel, likely in part due to travel restrictions in many destinations, is reflected in Flytographer bookings. In 2019, the most-booked city for photo shoots was Paris, France, while in 2020, Jackson Hole, Wyoming took the top spot. Despite travel picking up again in 2021, Jackson Hole remains in the top 3 cities receiving inquiries for vacation photo shoots in the coming year (see figure 1.3, below).
Pre-pandemic, the top travel destinations were disproportionate to the same places: iconic tourist destinations like Paris, New York City, Rome and London. While these cities will inevitably recover, Americans' minds have been opened to new destinations that are often just a road trip away or perhaps even within their local communities. Not only is this trend driving business to more local destinations, but it's also reducing the impact on popular cities previously feeling the impact of over-tourism. "I believe that we are undergoing a profound, possibly once-in-a-century paradigm shift in travel." – Brian Chesky, Co-founder, Airbnb (Monocle 24: The Entrepreneurs). It seems to be a sigh of relief for both sides. 
Figure 1.3    Global Travel Trends 2021 – Domestic Shoots Lead
4. International bookings on the rise
When we look at Flytographer bookings for 2021, 74% of inquiries fall within the USA. Mexico and the Caribbean follow with 7% and 6%, respectively, and finally with Europe, Canada and the Middle East & Asia at 5%, 4% and 3% respectively (see figure 1.4, below).
While domestic travel is by far the leader in booked trips, there is still hope for international travel, and companies are ready to act. Patrick Quayle, the vice president of the United Airlines' international network, said, "If [a destination] were to open up, we can put our aircraft in the sky quickly" to allow travellers to … well … travel.
For those feeling European wanderlust, the EU is planning to open travel to fully vaccinated Americans (that have a negative coronavirus test result) in early June. This would apply to countries with low case rates with the added safeguard of a potential emergency brake (The Guardian).
Figure 1.4    Global Travel Trends 2021 – Photo Shoot Destinations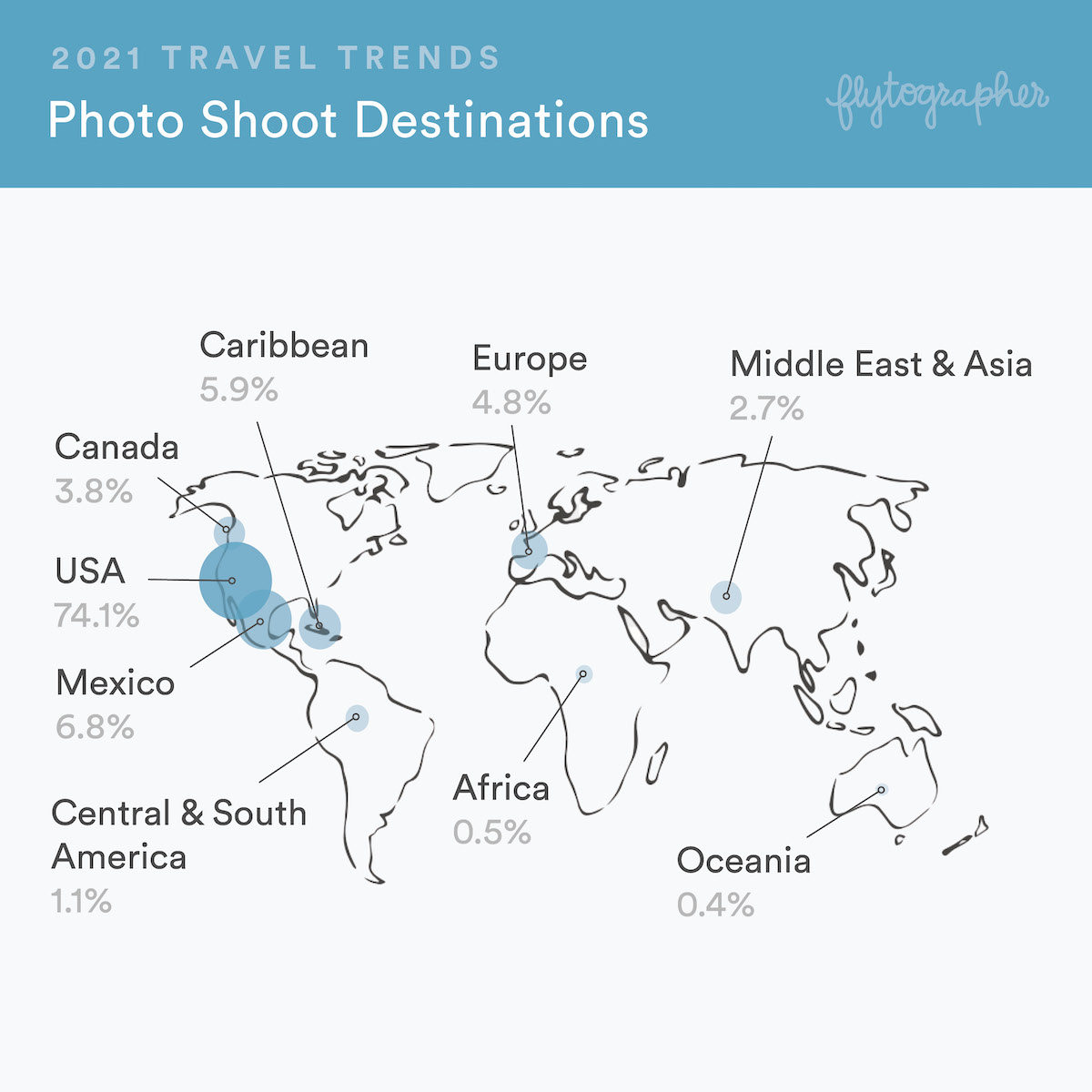 5. On the road to recovery
While it's not breaking news that the travel industry, including Flytographer, has taken a major hit during the pandemic, we are seeing a trend towards recovery. At the beginning of 2021, Flytographer saw approximately 30% of bookings compared to the last normal year, 2019. At the end of the first quarter of 2021, that number has increased to 60% and continues to climb (see figure 1.5, below).
"With pent-up demand for travel and increased distribution of vaccines, we expect leisure travel to continue to lead the recovery," said Amy Weinberg, Hyatt's senior vice president of loyalty, brand marketing and consumer insights (New York Times).
Figure 1.5    Global Travel Trends 2021 – Vacation Shoot Recovery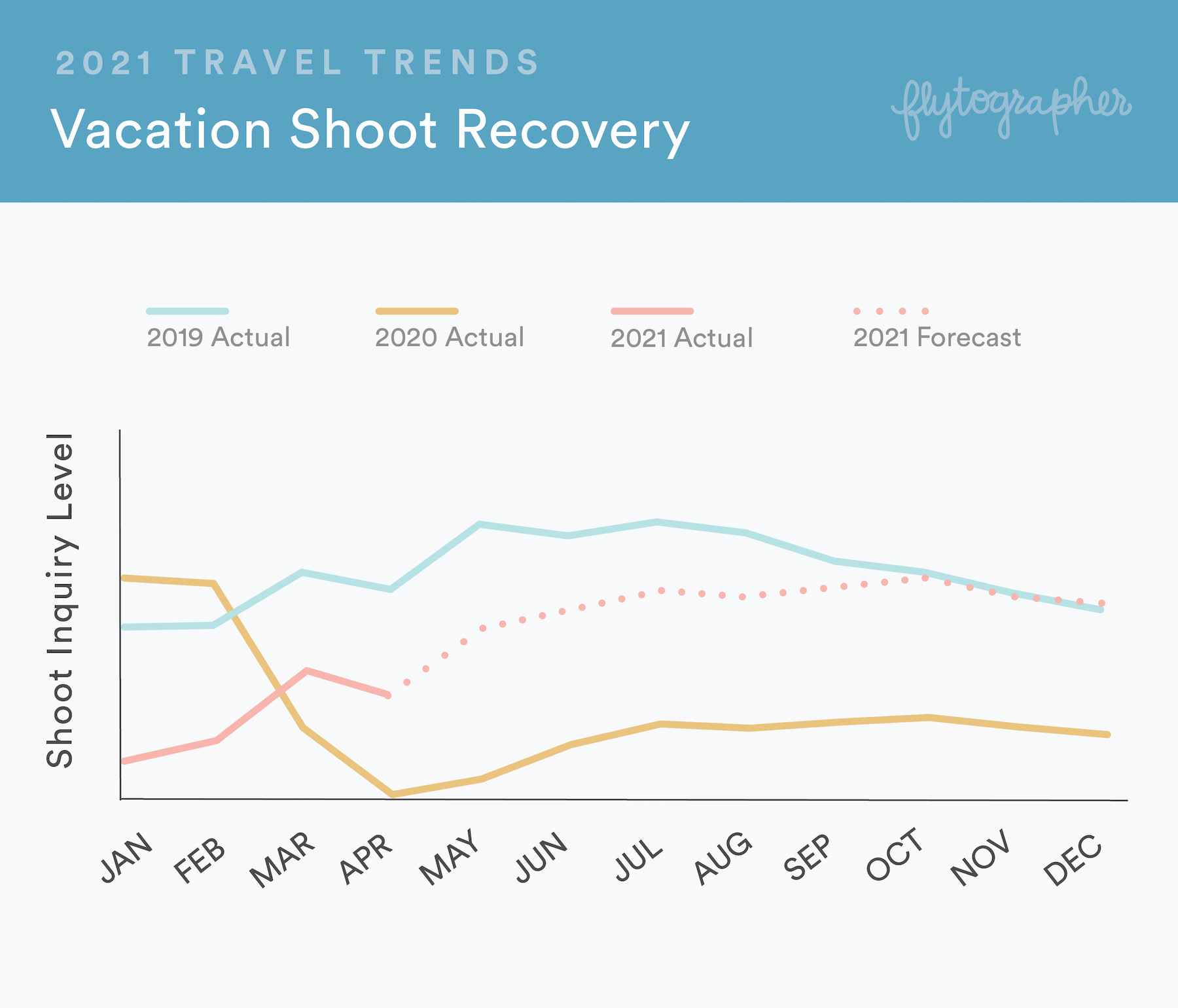 This chart shows the level of requests for vacation photo shoots Flytographer has received, comparing the years of 2019, 2020, and 2021. Last year's drop in bookings aligns with worldwide lockdowns of 2020, but Flytographer's predicted recovery reflects the future trips and travel experiences people are ready to take. Vrbo's survey shows that travellers are ready to go all out for 2021. "65% plan on traveling more than they did pre-COVID, 33% are willing to spend more than they traditionally would, and 54% say they are more likely to take their bucket list trip."
Photo: Peter in Jackson Hole for Flytographer
Photo: Cheryl in Miami for Flytographer
Photo: Flytographer in Kona
Photo: Flytographer in Honolulu
Snapshot of future travel
If the past year has taught us anything, it's that travel is truly a gift. Wanderlust is at an all-time high as the world begins to reopen, whether these long-awaited getaways are taking travellers across international borders or just down the road. While the travel industry is far from fully recovered, the steady increase in photo shoot bookings with Flytographer is reflective of the important role trips play in travellers' personal lives. We're reuniting with loved ones, reuniting with travel, and documenting it all along the way.