Stunningly beautiful and iconically photographed, even the shortest of Santorini stays will have the island stealing your breath — and your heart.
The romance capital of the world, Santorini is the honeymoon destination if there ever was one, and is the perfect place for travellers of all kinds looking for a little luxury on their next Greek getaway.
Set your sights on this tiny wonder, and plan the perfect stay with some of the best things to do in Santorini this summer.
Best Restaurants in Santorini
Savour Santorini's seafood at Taverna Katina
Don't leave the island without sampling the bounty of the surrounding sea that will make you wonder if you've ever really tasted seafood before.
A 2-for-1 dinner and a show, Taverna Katina is serving up some of the finest seafood in Santorini with stunning sunset views to cap off a picture-perfect day.
Eat with the locals at Kantouni Cafe
Skip the crowds and eat like a local at this inland gem where you'll find nothing but delectably simple Santorini classics.
A can't-miss dish, tomato fritters are Santorini's ode to their prized bites of joy that will make you see just why Santorinians enjoy these fruits for breakfast, lunch, and dinner.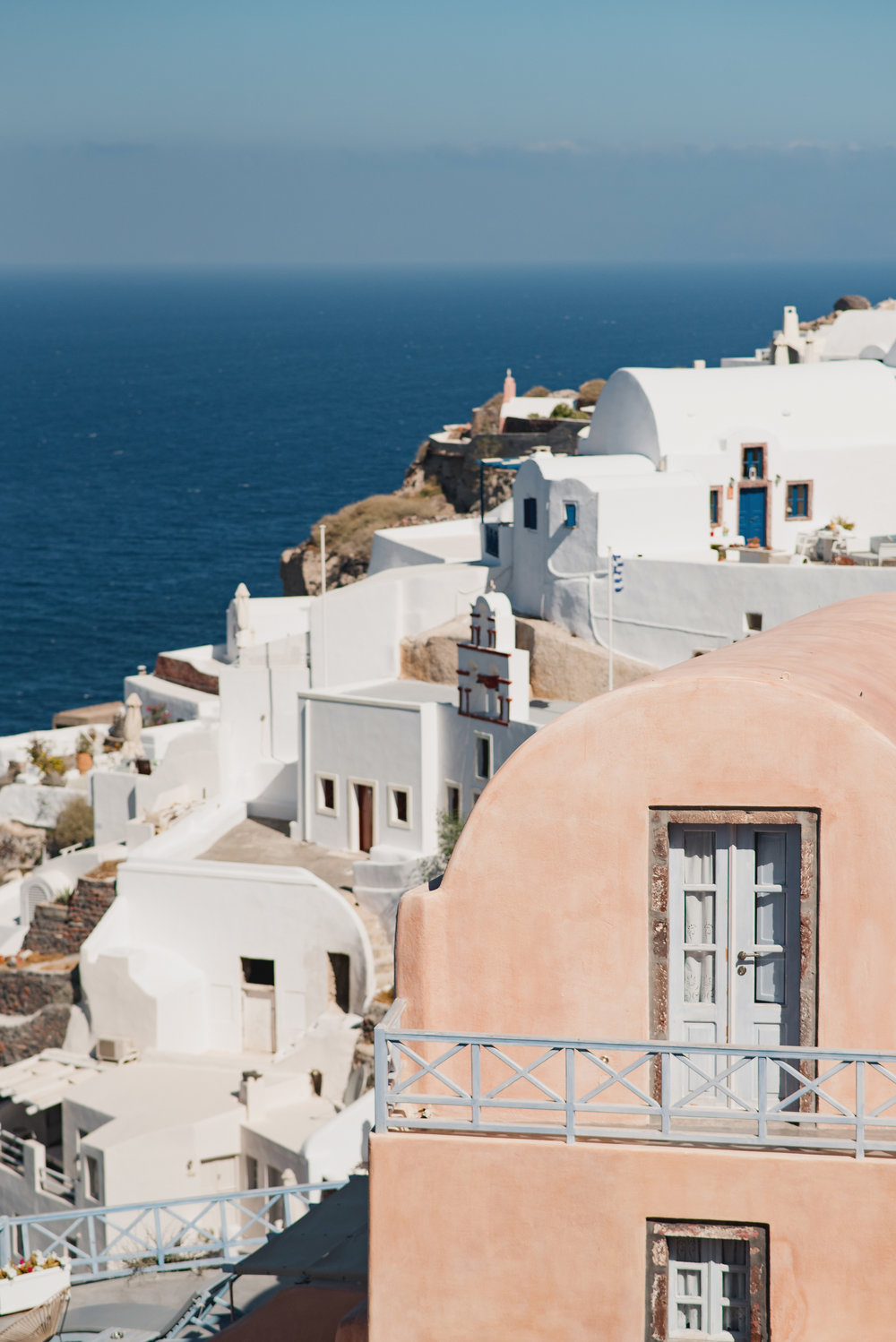 Must See Attractions in Santorini
See it from the sea.
After seeing all the island has to offer on the famed hike from Fira to Oia, get a different perspective and take to the sea to see the island from a whole new angle.
Sail through the caldera on a morning or sunset catamaran tour to find out how the red and white beaches got their name, and see the sparkle of the Mediterranean up close and personal.
The most beautiful sunset you'll ever lay eyes on
Endless shades of red, and pink, and orange, the Santorini sunset is one of the most unfathomably beautiful sights you'll witness in your lifetime.
Though Oia is said to boast the most stunning sunset views in Santorini, you'll be hard-pressed to find anywhere along the island's western coast where the splendour of the sinking sun doesn't steal your breath away.
Things To Do in Santorini
Take a dip in the salty seas of the Mediterranean
Take advantage of island life and spend a few hours frolicking in the blue-green waters of the Aegean Sea to cool off from the volcanic heat of the black sand.
For your daily dose of adventure, cannonball off a catamaran and swim to a hot spring, or cliff dive from Amoudi Bay for a heart-hammering shot of adrenaline.
Get a little boozy on a Santorini wine tour
With grapes sprouting in curiously unique patterns from the volcanic ash, even the most knowledgeable wine connoisseurs will learn a thing or two on a tour around the island's best and oldest wineries.
Drink in the sunset on an evening tour, or share a toast with new friends on an early afternoon tasting, because it's always 5 o'clock in Santorini.
Flytographer: Kimon in Santorini
Is your Santorini schedule already maxed out with amazing activities? Don't sweat it.
We promise you'll love Santorini so much, you'll be booking a repeat vacation before you've even parked yourself on the plane home.