Where is the best place to travel solo?
No travel buddy, no problem. Back in the day, solo travel wasn't nearly as mainstream. Travelling alone typically took one of two forms: a zen-like spiritual pilgrimage, a la Brad Pitt in Seven Years in Tibet, or an uncomfortable "ditched"-cation because your friend or partner bailed last minute, like when Rachel from Friends ended up going on Ross's romantic honeymoon trip by herself. But solo trips are top choices for many because they have so many advantages, like choosing when, where and exactly what you want to do on vacation. Compromise is not a word you'll have to look up in your Spanish-to-English travel dictionary, chica! And just in time for Trip Planning 2020, Conde Nast Traveler has released its list of top destinations to travel solo this year.
Photo: Jimie in Bali for Flytographer 
Customer Travel Tips

"I've been traveling solo forever and am only now able to share the joy I find in it, and have tangible memories for myself. I was in Bali for a yoga/meditation retreat. I know that nature restores my "soul," so visiting the Sacred Monkey Forest before my retreat began was a no brainer!

Travel tip: Mingle with the locals. Balinese culture is beautiful and so full of love and positivity it's contagious." – Tianna
CN Traveler names Bali as one of their favourite places to disconnect from the busy, noisy demands of everyday life. Hike through stepped rice terraces, walk the Sacred Monkey Forest Sanctuary, and bath in the temple pool at Tirta Empul before retiring to your Dream Beach Hut under the Bali sky. This is how Stella gets her sleep groove back.
Photo: Bayu in Bali for Flytographer
Customer Travel Tips

Favourite Memory: "Karsa Spa was absolutely magical. Monkey forest was also quite an experience, and I loved Tibumana Waterfall, scuba diving, and snorkeling too!" – Megan
You may have got to Mexico by yourself, but your solo trip can be about giving back, that's the tact with Mexico's popular eco tours. From helping emerging baby sea turtles get their cute little butts to the ocean, to helping support tour programs dedicated to the conservation of local whale sharks, to witnessing the great Monarch Butterfly Migration in the Herrada Stone Reserve (with partial proceeds going towards one of the most important Monarch Butterfly sanctuaries in the world), eco tours in Cancun and throughout the Mexican Riviera offer you a chance to see a whole different side of Mexico, and maybe yourself. 
Photo: Conie in Cancun for Flytographer
Customer Travel Tips

"My trip to Cancun was inspired by the sense of ultimate freedom that comes along with throwing some clothes in a backpack, grabbing your passport, and heading out to see what adventures the world has in store for you. An unforgettable memory from this trip was the feeling of community and sense of home I felt when a group of local friends took in this shy solo traveler and did everything to show me the beauty of Mexico and the genuine hospitality of their people. It's times like that when you realize how much good there is in the world and how important it is to get out there and find it! While in Cancun it can be easy to get caught up in the nightlife but I think the "must do's" snorkeling in the majestic coral reefs, seeing the history of the Mayan ruins, and absorbing the culture of Isla Mujeres." – Anna
Just like CN Traveler points out, Japan is the queen of pod hotels, which are perfectly suited and priced for one, and in Tokyo you're going to get your PICK. Tokyo (with a population just north of 9 million) is a megacity and yet it feels so safe and the people are so nice to any lost travellers. Daytime sightseeing can include anything you fancy, like the Tokyo Skytree, the Tokyo Tower, the Sensoji Temple, the Meiji Jingu Shrine or you could just spend most of your time shopping. Dining is also a breeze alone, with many spots set up for dining solo, like ramen bars, sushi restaurants (with the cool conveyor belts!) or you can just get what you need from a vending machine. 
Photo: Daniel in Tokyo for Flytographer
Photo: Keith in Tokyo for Flytographer
Customer Travel Tips

Favourite Memory: "I decided to take advantage of a long weekend and turn it into a week in Japan. It's somewhere I've wanted to go to for a long time, but had never been. It seemed fitting to start the trip in Tokyo before continuing on to Kyoto and Hakone. One of my favorite things about traveling solo is that people seem more likely to strike up conversations with you and you get to meet interesting people along the way. There's no way to avoid the crowds, so embrace them." – Katie
Kyoto is another tourist favourite and a fantastic destination for solo travellers. The safety factor means you can travel alone without stress, and chances are you'll run into lots of other travellers from around the world. Eating is high on the list of priorities here, and you'll find any and every option from fine dining to market stall delights. And the local sights are all comfortable and enjoyable to take in on your own, or with a new traveller friend, like the Kyoto Gyoen Imperial Palace Park, the Kyoto Botanical Gardens, the Kamo-gawa's riverside, or you can put your sturdy shoes on for a hike in one of the city's surrounding mountain trails.
Photo: Lucas in Kyoto for Flytographer
Customer Travel Tips

Favourite Memory: "I've wanted to come to Japan since I was 10 years old. We learned about it in school and I thought, "Wow! Now THAT'S a place!". I finally made my dream come true. The stunningly unique architecture that continued to take my breath away around every corner. Gion is a must see. If there are any shrines that you want to see and take pictures of, go really early in the morning and you will have the place all to yourself." – Ronnie
From the opulent Grand Palace to the bustling Chatuchak Street Market to the natural Chao Phraya River, Bangkok, a.k.a. The Venice of the East, has something for every solo traveller's itinerary. Had a long day stomping across the city visiting national museums and temples? This is THE place to indulge in a (cheap) and aaaah-mazing Thai massage.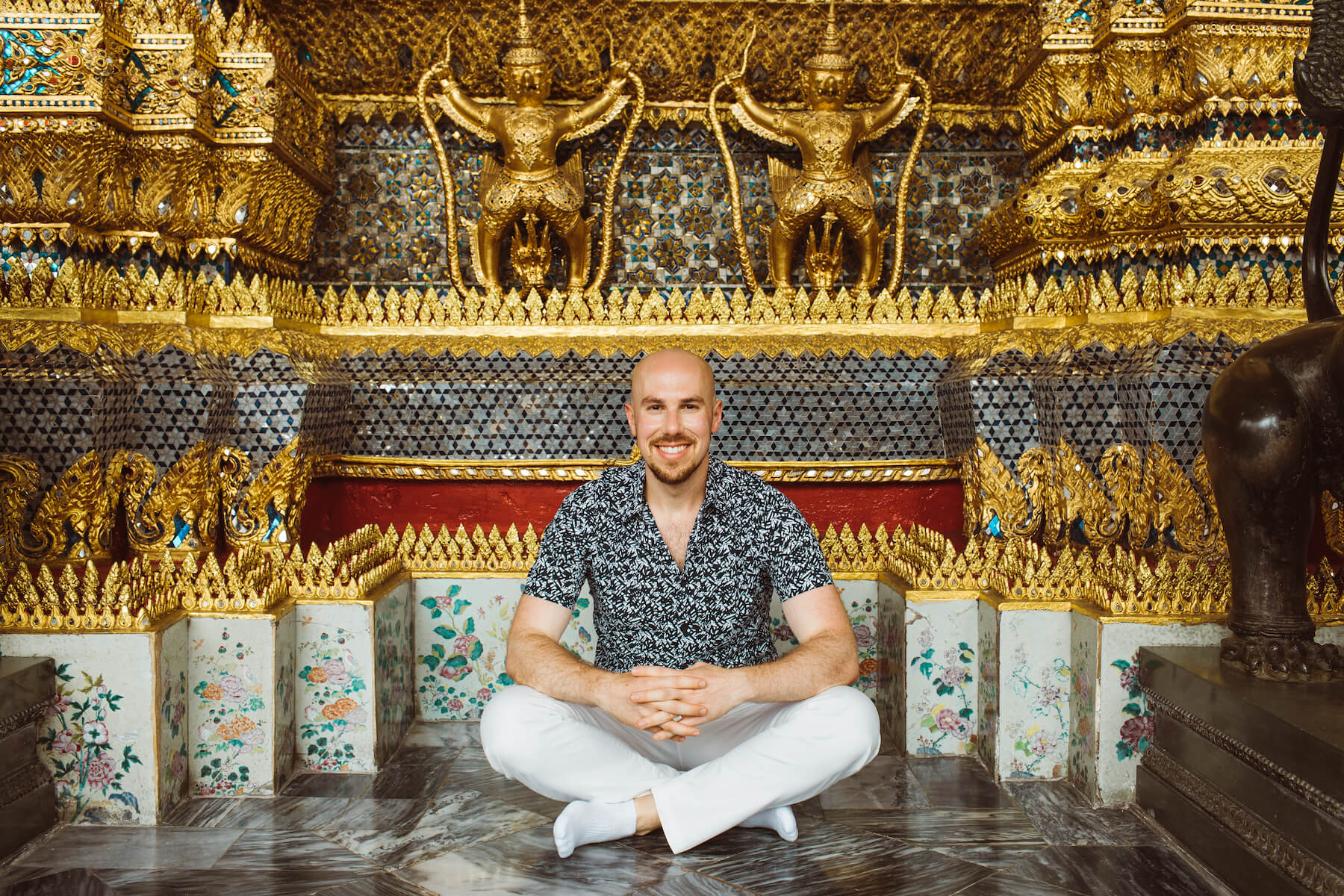 Photo: Tom in Bangkok for Flytographer
Customer Travel Tips

Favourite Memory: "Experience another part of the world! This is my 2nd time to Asia and the 1st time last year (Vietnam & South Korea) was an amazing experience. The people! Thai people are so nice and friendly. They will genuinely help you. Don't be afraid to try new things- whether it's a food or an activity in Bangkok." – Paul
Introduce a friend to Flytographer, earn $25!
For every friend you refer, you keep earning $25 in Flytographer credits towards your next photo shoot.
Everyone knows the Emerald Isle is a gleaming shamrock gem of natural beauty. And while the surrounding countryside of Dublin can offer treks through rolling fields and close encounters with the local goats, the city is the perfect home base for taking in historic sights and traditions. Stops to put on your list: the National Gallery of Dublin (free!), the Archaeology Museum and the Museum of Decorative Arts and History, the latter of which is right inside former army barracks. But while you're at it, order a rich and foamy Guinness in Temple Bar, take a by-donation walking tour through downtown and pick up something at Dublin's 250-year-old book store, Hodges Figgis.  
Photo: Aoife in Dublin for Flytographer
Customer Travel Tips

Favourite Memory: "Aoife was the most AMAZING part of Dublin that I found. My photos turned out beyond what I ever could have dreamed of. She was so much fun and knew all of the fun places to go. It wasn't just a photoshoot, it was a touring experience. Loved her!! Book her now!! You wont regret it!!" – Courtney
According to CN Traveler, Colombia has some fantastic facilities for the world's digital nomads. If you already work at home, why not take that mobile office abroad? And while you absolutely can work from various wifi-flush cafes and hotels in Cartagena, it's also an off-the-beaten-track travel destination (right off the Caribbean coast) that you won't forget. The historic Old Town district, walled in brick, is a mecca for colonial architecture, bumpin' bars and local-flavour restaurants. But you should also walk the passageways at the Castillo de San Felipe de Barajas (an impressive Spanish-built fortress dating back to 1639), bathe in the "mud volcano" (a.k.a. El Totumo), and take a food tour to introduce your tastebuds to Colombia's local flavours. 
Photo: Juan A. in Cartagena for Flytographer
Customer Travel Tips

Favourite Memory: "I am so happy with how my photos in Cartagena turned out. Juan is a pleasure to work with, and his artistic abilities are out of this world. He gave me just the right amount of direction and made me feel comfortable for the entirety of my shoot. I couldn't be happier!" – Danielle