How to guarantee a des bonnes vacances with the whole brood
Don't let the café au lait, wine and cheese, Louis Vuitton side of Paris fool you, it is fantastically well suited for visits with your kids of all ages. Ample transit (and Uber) makes it an easy city to get around, and even if you're on a budget, you can still see all of the city's top monuments for free, (or whatever it costs to ride the metro—about €1.90). Anchor your trip around a few main sights and activities from our list below, and your whole crew is sure to learn about what makes Paris so special while having a great time together. 
Photo: Rachael in Paris for Flytographer
The Eiffel Tower
Seeing the Eiffel Tower is a fab choose-your-own-adventure activity that you can cater to your family's exact preferences. For low-key and easy, pick up some snacks at your local supermarché and have a picnic on the sprawling, room-for-everyone lawn in front. Another great viewpoint for spectacular shots of the iron lady is the Trocadéro, just across the Seine from the Eiffel Tower. Your whole family could even do a photo shoot here; it's a great way to engage the kids, get a local guide for a half hour or more and capture lasting photo souvenirs on your family trip (visit this link for a list of photographers in Paris). If you want to go up the Eiffel Tower for views of the city, you've got two options: the elevator or the stairs. The staircase has the smaller line (kids love to wait around, don't they?)—but there are also plenty of skip-the-line ticket options (try and book these well in advance). 
The Family Tour
Tours are a fantastic way to take a bit of the pressure off parents and put it on the paid entertainment professionals to keep the iPhone-enthralled generations engaged. A few options: there's the classic Hop-On, Hop-Off bus tours that hit all the big sights (saves little feet from getting tired and you from having to organize transit across the city). Highly recommended is a private Louvre tour just for families. There will be compelling get-their-attention storytelling,  scavenger hunts, and there are a ton of tours to pick from that will sneakily teach kids (and adults) a bit of art history. Fat Tire bike tours are another good time guaranteed. These safety-first private tours take your whole family around a circuit of major monuments and museums, entertaining with fun facts all the way. Because it's a private tour, you can even add a lunch in the Tuileries Garden or a hot chocolate break at the famous Angelina's Tea House. 
The Macaron Cooking Class
Top Chef Junior: Paris Edition anyone? Take your budding pastry chef to a hands-on, kid-friendly macaron making class in the heart of pastry country. No previous helping-with-the-parents cooking experience required, this two and a half hour class is a tasty way to introduce your petits enfants to the wonderful world of baking. Kids ages six to twelve are welcome along with their parents or guardians, and the classes use easy recipes (you can recreate at home) to cook up two macaron flavours each (chocolate, raspberry, salted caramel or white chocolate with lemon). Bonus: you get to eat your work at the end of class and take away the leftovers (if applicable). (For more info, visit Cook'n with Class's website.)
Photo: Olga in Paris for Flytographer
Parc de la Villette
This place is nothing short of kid paradise (with learning thrown in!). This futuristic nature park has gardens, interactive spaces, outdoor creative performances, workshops and more. Plus, this park is where you'll find Cité des Sciences et Industrie (an immersive science museum which also has a planetarium and a movie theatre) and Cité des Enfants (a permanent exhibition built especially for kids ages two to seven, it has three major themes to develop children's physical, cognitive and spatial skills). And while la Villette's outdoor La Geode IMAX theatre is currently closed for shows, the glass-mirror exterior (it looks like a giant steel marble) is the coolest part for kids to see. On-site there is also a 50-metre-long decommissioned military submarine (L'Argonaute) to check out. Visit the website for updated info on free shows and events.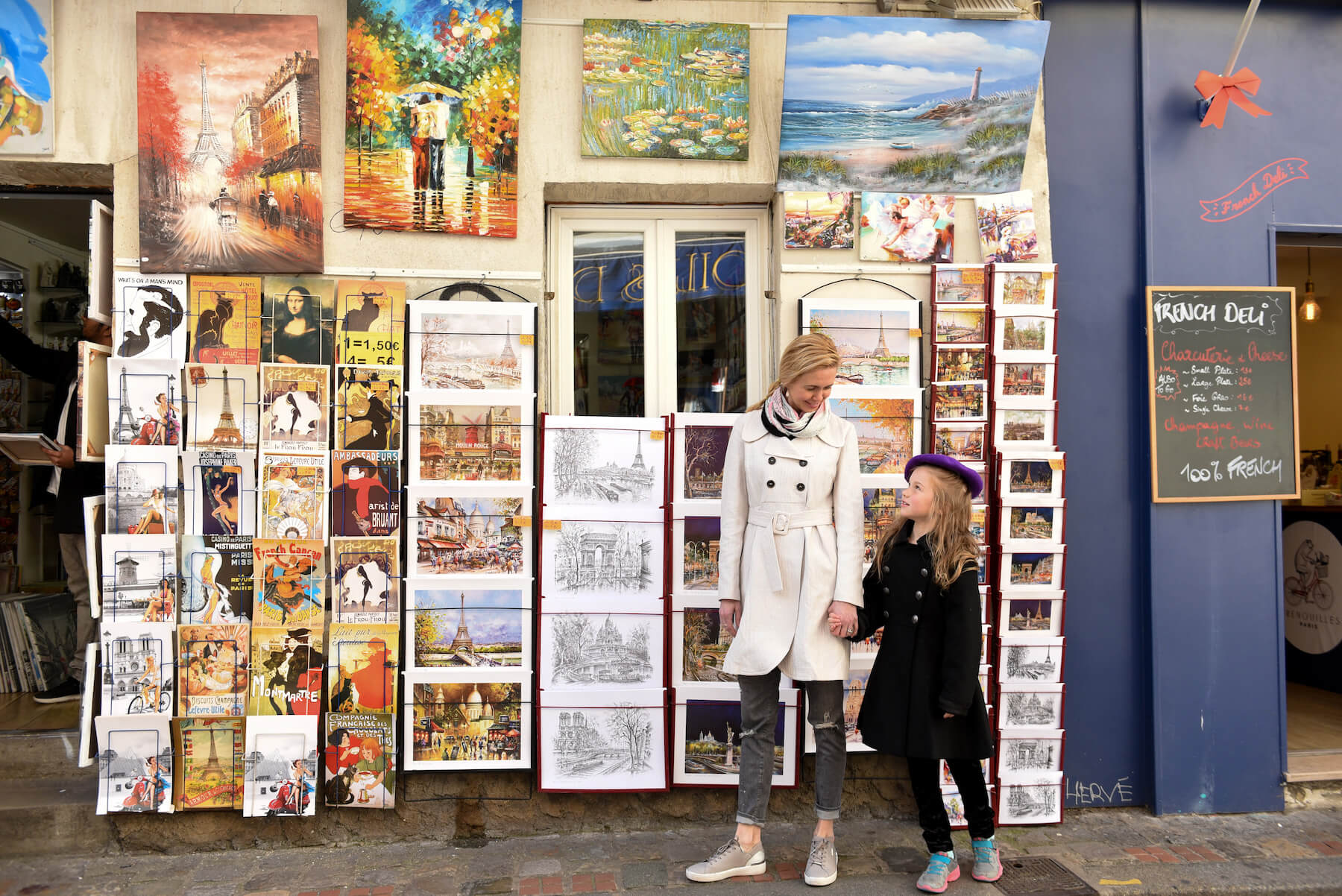 Photo: Krystal in Paris for Flytographer
Jardin d'Acclimatation
Care for a trip to a Napoleonic-era theme park? Don't mind if we do. Napoleon III and Empress Eugenie first opened the zoo in 1860 with zebras, kangaroos, cheetahs and giraffes, but now the Jardin d'Acclimatation has been converted into a family leisure park with a focus on kids, kids, kids. There are mini rollercoasters, swing rides, an archery range, a house of mirrors, a water park, mini-golf, a science museum and an art museum. Plus, there is an on-site aviary where kids can hold birds, a Korean pond garden with boat rides, a corsican mouflon and alpine marmot habitat and even an apiary (many of these activities are free and all ages). Take that, Disneyland Paris! For more details, visit their website here.