Looking for an epically romantic Airbnb that lives up to the amazing vacation you have planned? Read on for our 10 favourites.
When planning your dream honeymoon or the perfect romantic getaway, it's the details that can make the difference between an average vacation or an unforgettable experience. Choosing where you stay is an important detail that shouldn't be overlooked. Here, we have put together a list of our top 10 favourite romantic Airbnb rentals in some incredible destinations around the world – perfect for keeping the love alive.
Courtesy of Airbnb
A clean design aesthetic punctuated by bold pops of colour and charming antiques throughout isn't the only reason we love this charming Lisbon Airbnb. We're eyeing it for its amazing terrace, perfect for breakfast with a view and wine under the stars. Located in Bairro Alto, one of Lisbon's hippest neighbourhoods, this is the perfect home base for your adventures.
Courtesy of Airbnb
You'll have a few extra bedrooms at this incredibly romantic Airbnb in Chiang Mai, but we're sure you'll figure out some way to use them. Decked out with wood from floor to ceiling, an outdoor shower, and plenty of gorgeous outdoor lounging spaces in the lush garden, this open-air space is a dream. Bonus: every bedroom is equipped with air conditioning, so you can keep cool even when things get steamy.
Courtesy of Airbnb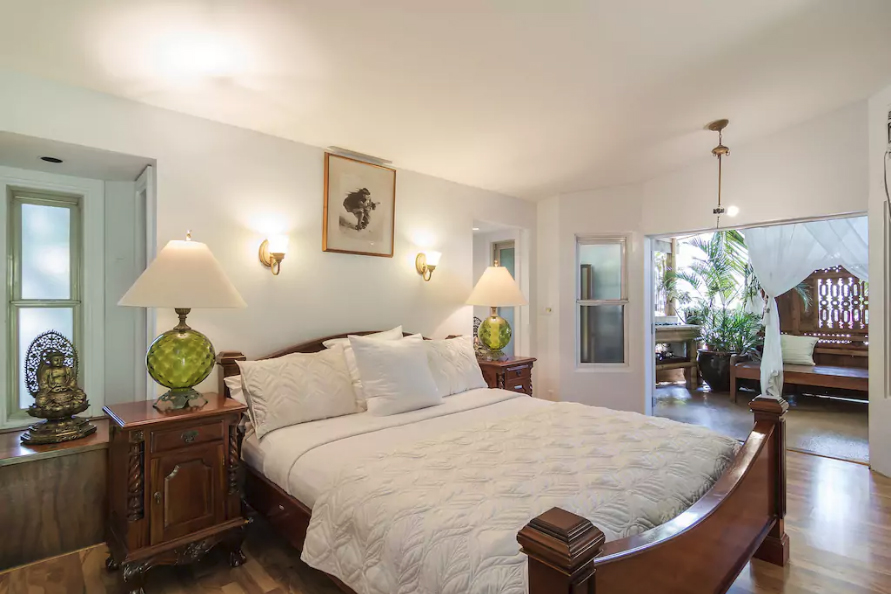 A loved-up Hawaiian escape just begs to be enjoyed from the comfort of a stunning indoor-outdoor space, and this romantic Airbnb is basically bringing our dreams to reality. Just a three-minute walk to the beach, this stunning accommodation boasts a king size bed and a picture-perfect outdoor dining space. The only downside is that a place this beautiful will make it that much harder to go home.
Courtesy of Airbnb
Voted Ireland's most unique listing in 2016, it's not hard to see why. This gorgeous Old World stableyard has been converted into a romantic Airbnb, complete with private sauna and swimming pool, which just so happens to overlook Dublin's tranquil Phoenix Park. The peaceful setting will make you feel like you've been transported to the countryside, but don't be fooled — Dublin's city centre is conveniently located just 10 minutes away.
Courtesy of Airbnb
The interior of this apartment couldn't be more perfectly Saigon. Exposed brick walls coupled with dark wood and bold pops of colour draw inspiration directly from the streets of this unique city. A cozy balcony overlooking Saigon's bustling streets means you'll never be too far from the city's exhilarating activity.
Courtesy of Airbnb
When it comes to having a romantic Airbnb experience, it's kind of hard to top this cave house carved right into the side of Santorini's caldera cliff. Oh, and did we mention the private terrace with plunge pool overlooking the sea? Total vacation goals.
Courtesy of Airbnb
The attentive staff at this Spanish colonial villa will ensure that all you have to worry about is enjoying the property's rooftop pool. This uber romantic Airbnb calls Cartagena's Getsemani neighbourhood home. Venture out of your new home away from home and you'll discover a lively area filled with bustling town squares, vibrant murals, and a hip nightlife scene.
Courtesy of Airbnb
A getaway with your loved one in breathtaking Positano deserves an Airbnb as stunning as its surroundings. This gorgeous private villa has its own swimming pool overlooking the sea. Venture inside and the colours of the sea seamlessly dominate the decor bringing the beauty of the outside in. This just might be the perfect Positano spot for all you Amalfi Coast lovebirds.
Flytographer Olga in Paris
Courtesy of Airbnb
Experience one of the most romantic cities in the world from this hip Montmartre loft designed by artists. The loft's industrial vibe and creative design elements make this the perfect place to stay in Paris' artists' enclave. Stroll through the cobbled streets of Montmartre hand in hand and discover the neighbourhood's many charms. Here, you'll find classic Paris: intimate cafés, hip eateries, dimly lit lounges, and an unmistakably romantic ambience surrounding it all.
Courtesy of Airbnb
Escape to the countryside for a holiday focused on wine and relaxation in this romantic Airbnb that started life as a barn house. The quaint exterior leads to a stylish and spacious interior perfect for cozying up to your honey in between wine tastings. Don't be surprised if you're greeted by a few of the farm's friendly resident animals while enjoying the evening on the property's beautiful terrace.
Now that you have the perfect place to stay, take a look at tips for The Best Time to Take Vacation Photos.