Worth a thousand words
Photographs have a special ability to transport you back to a specific time and place in your life. We have hundreds of photos locked away in our laptops and iPhones… but being able to experience memories in your home without looking at a screen is priceless. Are you searching for inspiration to start printing the photos from your greatest adventures? Starting is the hardest part but you have come to the right place! This blog post will serve as a guide for you to start to turn your home into your dream travel oasis. 
Relive your memories with an inspiring gallery wall
Whether you lean more towards eclectic or minimalist, adding a statement wall in your living room, staircase or hallway will add zest and style to your home. Use your beautiful travel memories that are locked away inside your screens from your adventures to design your custom gallery wall and keep your love for travel alive! By honouring your travel memories with high-quality photo prints and arranged with purpose, you can relive your best adventures every day. 
Visit our Wall Worthy Gallery Walls Board on Pinterest to be inspired and find your style!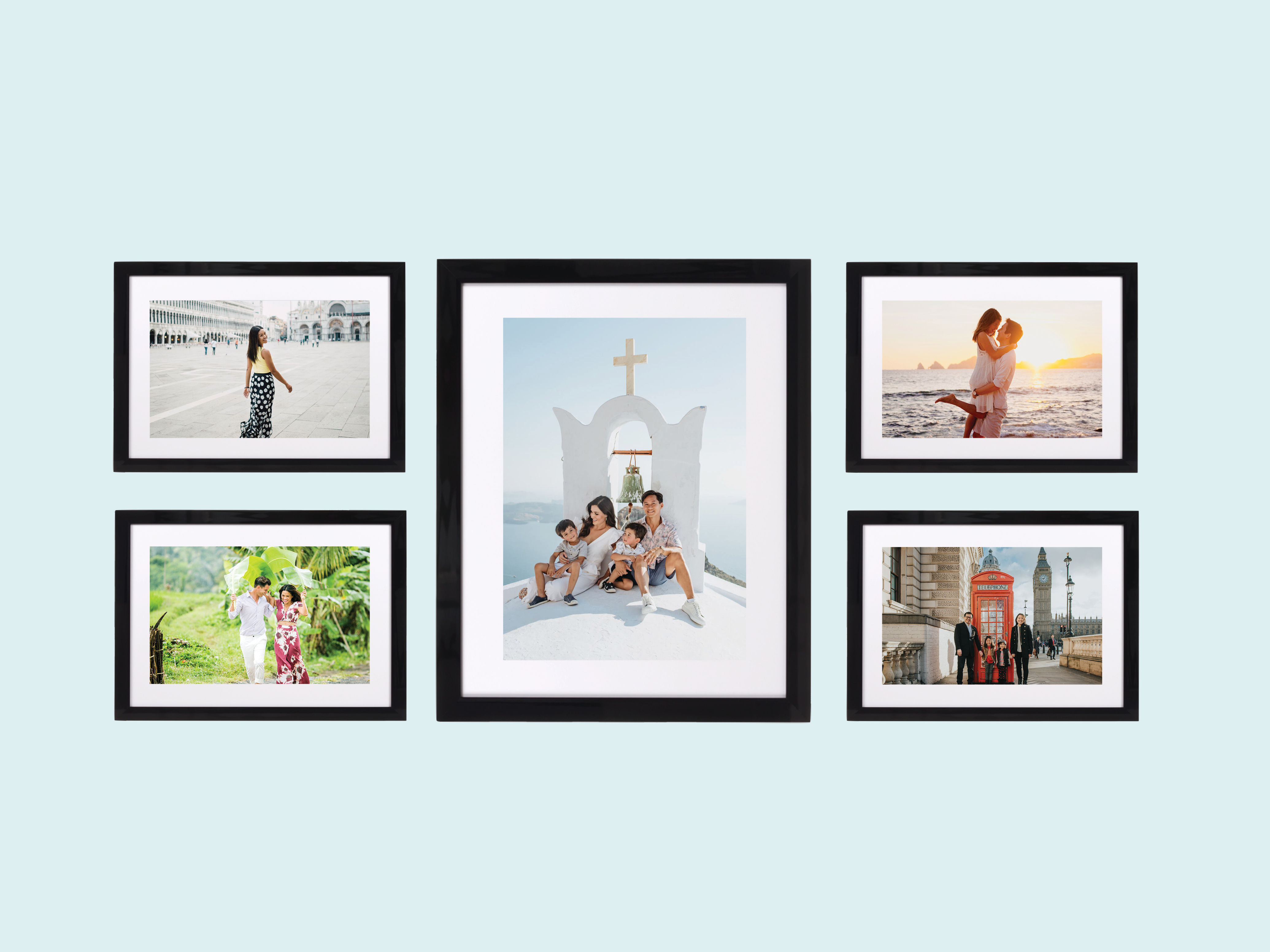 It all starts with the BluePrint
If you plan best with a tape measure in hand, browse the BluePrints below for spatial inspiration in your home. A gallery wall can be the perfect ensemble for an open concept living room, staircase or dining room. Using your Flytographer galleries will allow you to put together a wonderful collection of memories from your travels. 
Hmm… what if I don't own a hammer?
If you live in a space that is not conducive to hanging photos on a wall such as an apartment, or if you are not the nail-and-hammer type, there are plenty of other ways to print your travel memories. Here are two of our all-time favourites:
Bookshelves to wall shelves:

Use this time to clear space on your shelves for a collection of framed photos. This option is simple, easy and timeless. Even if you only have one frame, print a few photos and rotate them every month for a refreshed look.

Order a photo book: No time? No worries! Get your Flytographer photos into a beautiful, high-quality

photo book

 that you and your family can enjoy every day. This professional-grade lay-flat album will be lovingly built by our creative team and mailed right to your home.

📚
Photo on Puzzle: Vito in Venice for Flytographer
Step-by-step guide to printing your travel photos with Flytographer
Step 1: Capture your memories with Flytographer
Step 2: Choose your style and inspiration from Pinterest
Step 3: Pick your layout using the BluePrints above
Step 4: Print your photos & select your frame
Step 5: Display them in your home!
You have already invested in your memories by capturing them while on vacation, but displaying your travel photos in your home will help you relive these magical moments. Being able to glance over at your greatest trips on your walls and shelves in your home ignites feelings of the past and helps inspire future adventures. We are so happy to be a part of helping you relive your travels every day! 
For a limited time, all prints* are 30% off
Use code: daydream30
*Excluding puzzles. Get $10 off puzzles with the code: Puzzle10