Juliana and Tati's Love Story – "Wait, are you proposing right now?!"
"We met through a mutual friend. From the first day we hung out, I knew she was the one."
Special Location 
"We have both always dreamed of going to Santorini. I wanted it to be a place that we held dear to our hearts."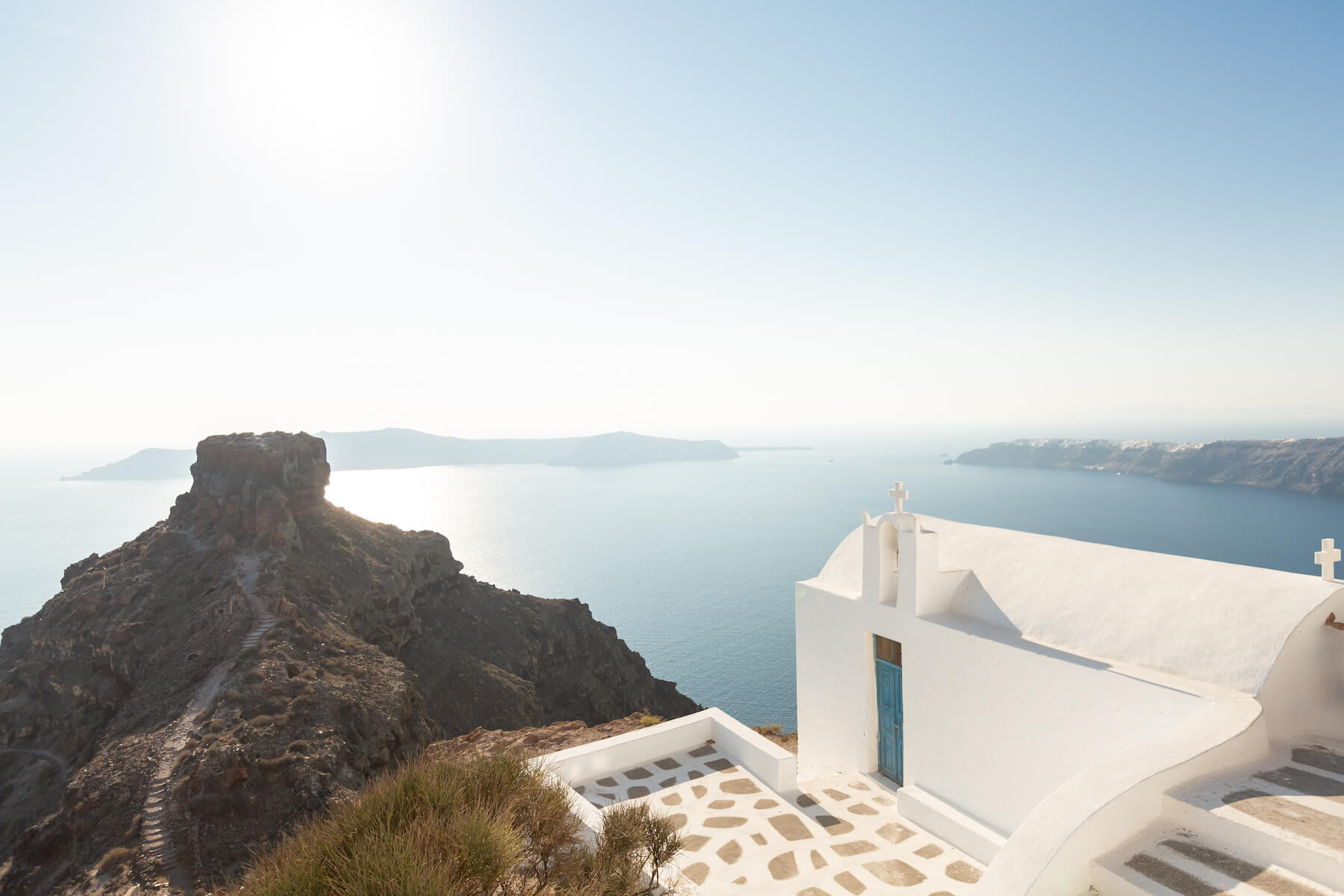 The Big Day
"I began planning my proposal to Tati months before we embarked on our trip to Greece. I knew this moment had to be perfect. I hired a photographer @flytographer, and began looking for the ring. Once I found the ring, I was informed the ring was no longer available and there was only 2 left. I was in a bidding war with a stranger, who happened to be Tati, for the SAME RING! After a few weeks of going back and forth with @bluenile, the ring arrived to the house. I asked Tati's mom to hide the ring for me, without knowing Tati had asked her to do the same.
We finally arrived to Santorini and I anxiously waited for the planned proposal date to approach. I kept reminding myself to play it cool so Tati wouldn't catch on. The day arrived and throughout the morning, I kept insisting that we head back to the hotel in order to freshen up before heading to Skaros Rock to see the sunset. We arrived to the location two hours early, so we headed to a rooftop bar to grab a few drinks before it was time to head down to 'see the sunset.'
Finally, Kimonas texted me to let me know that we should start making our way down to the location slowly. With every step I took, my heart began to palpitate vigorously. I needed our Santorini proposal moment to be everything Tati had ever dreamed of. We reached the chapel in front of Skaros Rock and Kimonas was there pretending to be a tourist. I asked Tati to take a selfie with me to signal to Kimonas that I was ready to propose. He asked if we would like him to take a picture of us on my phone, then asked if we would like him to take a picture with his camera. I quickly said yes.
We got into position for the picture and that's when I looked at Tati and said, 'You know I love you, right?' Tati immediately caught on and asked, 'Wait, are you proposing right now?' I kneeled down and said, 'Yes, will you marry me?' She quickly reached in her purse and pulled out a ring box and said, 'Only if you marry me.'" – Juliana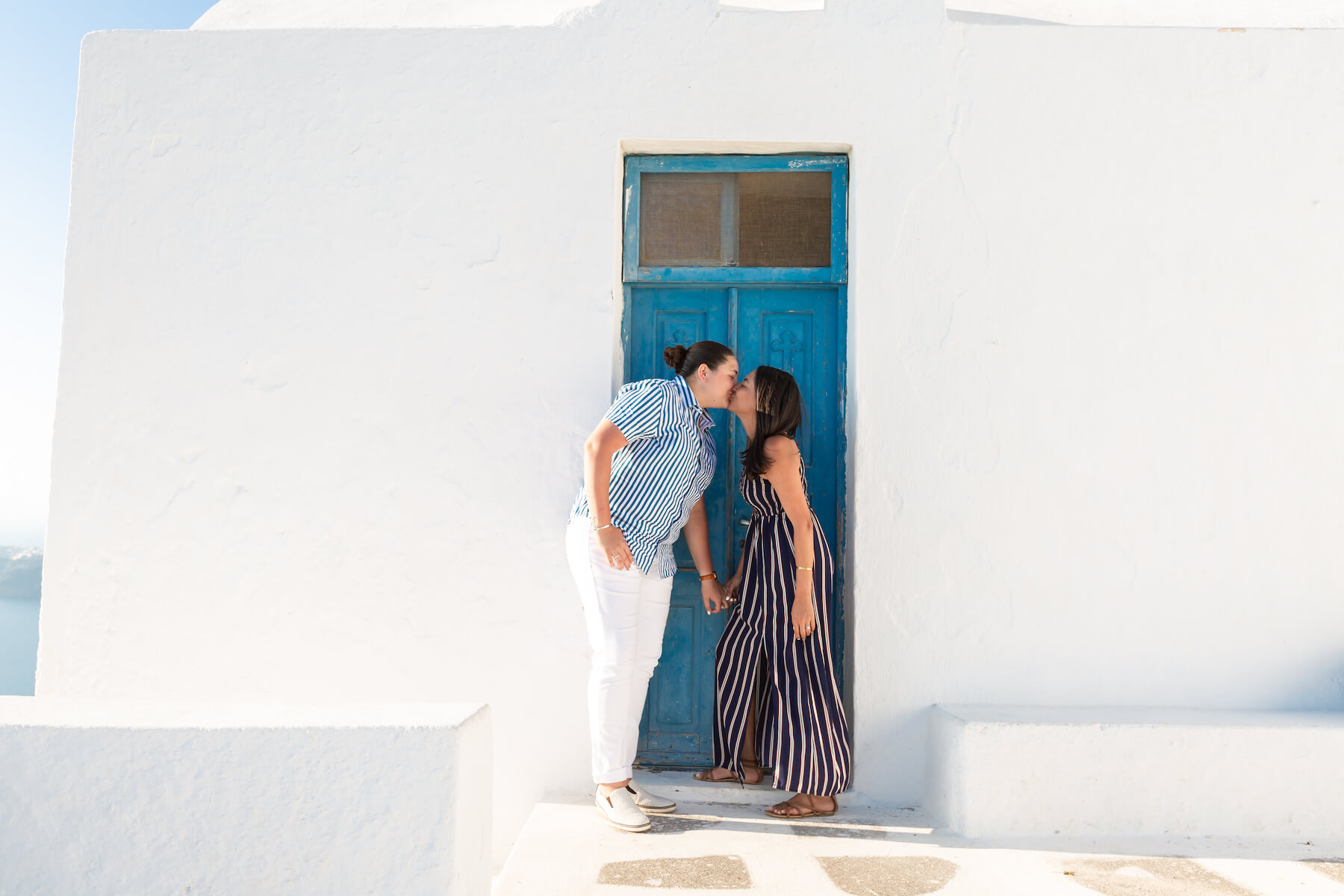 Larry and Isabella's Love Story – He knew she was the one
"It was love at first sight."
Special Location 
"We originally decided to visit Greece to cross off a bucket list item. Santorini is considered one of the most beautiful places in the world and so I had to take advantage of the beautiful sunsets and scenery!" 
The Big Day
"With the help of Fiona (Flytographer Concierge) and Kimon (photographer) we came up with the perfect game plan. I pretty much followed the shoot details. Isabella was under the impression that we were going to a fancy lounge for drinks. The proposal took her completely off guard. Kimon played the "friendly tourist" role very well and we had a great shoot." -Larry
Photo: Kimon in Santorini for Flytographer
Gurjit and Kathryn's Love Story – They met at 16 years old
"We have known each other since we were 16 years old. We have always been friends, but at the time, we were both in relationships. Things didn't work out in both of our relationships and she had a child with her ex in 2011. Our small circle of friends helped to bring support and we became closer. I just wanted to help her, look after Alfie, and be a shoulder to lean on. Fast forward to now, seven years later: our son is nearly 7, we bought our first house together last year, and proposing was the final piece to the puzzle."
Special Location 
"Santorini is beautiful with views that go for miles and miles, have a sense of romance when you look at the pictures and culture, which is important. I loved the place and always wanted to go, likewise with my fiancée. So thought it would be ideal to create a surprise proposal in Santorini."
The Big Day
"I had always planned for the proposal to be outside of the UK, but I needed to get her out of the country without alarm bells ringing. I told her three days before that we were going for a spa day near London, where we would be stopping over.
On the morning of the surprise holiday I still had to pack the main suitcase, whilst she was in the shower and get it into the boot before she got out. Everything went to plan and then spend 6 hours on the road due to traffic, and nearly giving me a heart attack. So the satnav was set to take us to a meet and greet parking 10 mins away from the airport, where the first surprise was knowing that I would be taking her away. On arrival she was clueless, and looked petrified but I reassured her that we were going away for a couple of days. Not revealing the location until before we board the flight.
So we got to the airport and checked in the main suitcase (after she checked what I had packed) then we just had to wait for the gate number to appear. When it did, I realised that this was just the start, and when she finally did see where we were going the tears could not be contained.
On arrival to Andronis Boutique Hotel, where we were staying.  I had already set up a fake competition with chief concierge weeks prior.
Upon check-in, we were offered the chance to enter a competition to win a photo shoot. Of course, we would be the only ones entering the contest. A day later, the hotel posted a congratulatory letter to our room, the night before the shoot. It completely worked — she believed everything.
So the day of the shoot, we were told it would be a afternoon shoot, we would be getting picked up at 4:20pm, and we would be taken to the photo shoot designation (I prearranged this also).
We felt instantly at ease with our photographer Kimon. He took us to stunning locations, finally leading us to the proposal spot. I stood there looking into her eyes … I was ready to make her my fiancée, my future wife." – Gurjit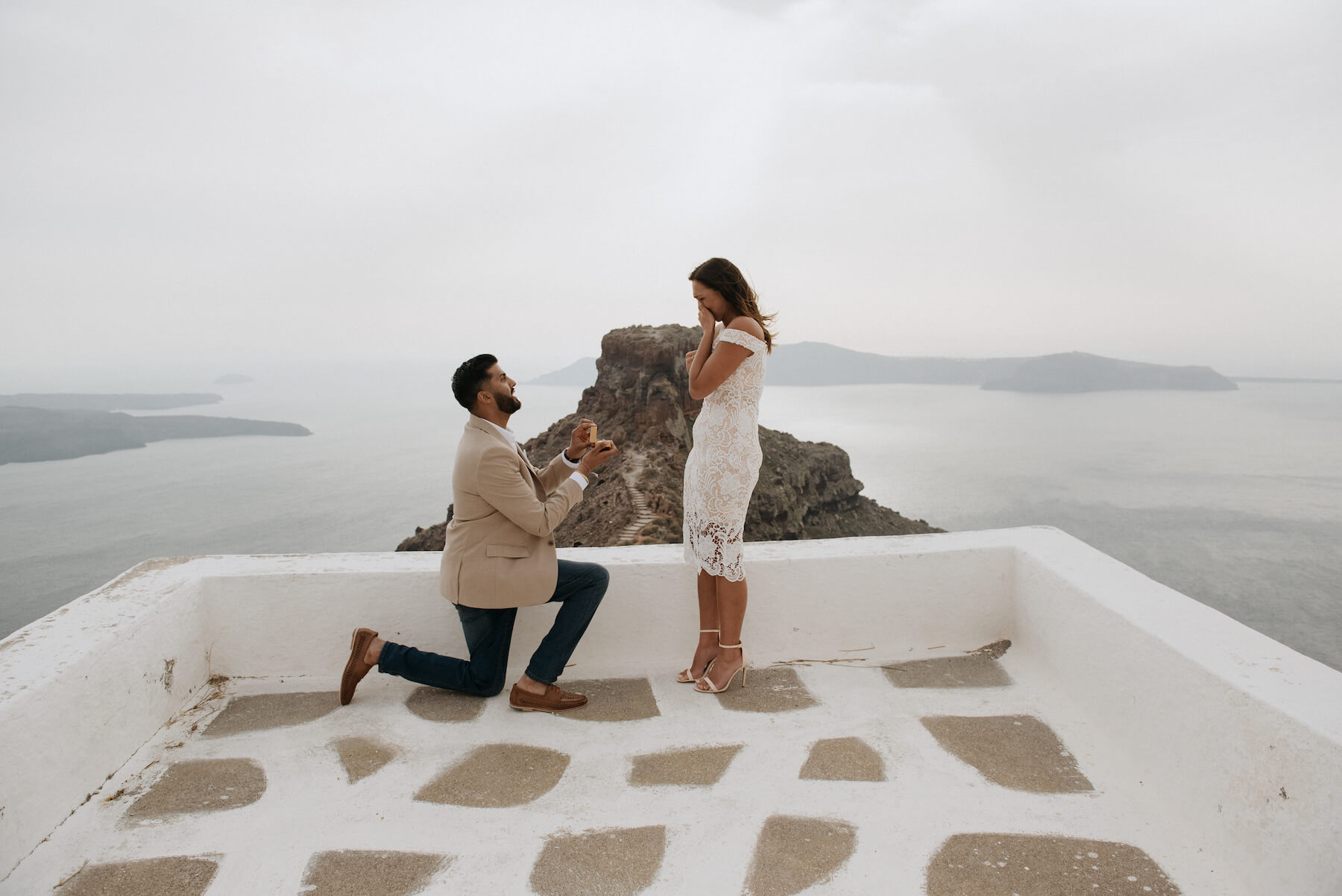 Photo: Kimon in Santorini for Flytographer