Porto Photo Spots
By the waters of the Douro River in northern Portugal sits the beautiful city of Porto, the second-largest Portuguese city. The name might ring a bell; this is where the world-famous port wine was born. Still, the city is also known for its azulejos — the white and blue tiles that compose mesmerizing murals — dramatic baroque cloisters and for being the starting point for incredible day trips around the Douro Valley. Porto City is also a paradise for pics and one of the most beautiful places in Europe. With countless historical buildings and amazing views, the city has been stealing attention from Lisbon as the "coolest" Portuguese city, attracting more and more visitors every year. The scenery is so magical that it even inspired the most successful fantasy tale of our times: Harry Potter by J. K. Rowling. Are you ready to fall in love with this Portuguese fantasy-like city? Let us be your travel guide with this blog of the top 10 places to take photos in Porto, Portugal. 🇵🇹
1. Praça da Ribeira
Part of Ribeira's district, Praça da Ribeira, also known as Largo da Ribeira or Ribeira Square, is one of Porto's oldest squares and a perfect starting point to explore the city centre. By the docks of the Douro River, the square offers fantastic views of the riverfront and the exquisite Dom Luís I Bridge.
Walk toward its centre, and you can see a monumental 18th-century fountain incorporated into the incredible stone-carved facade of a three-story building adorned with Portugal's coat of arms and a statue of Saint John the Baptist. ⛲
More stunning architecture surrounds the square, including charming buildings in pastel colours and Fonte do Cubo, a contemporary fountain that adds contrast to its beautiful surroundings.
Sitting in one of the many cafes in the square is an excellent idea for drinking some port wine and people-watching. The place comes to life in the evenings with live music and lots of locals and tourists enjoying a night out. 🎶
2. Ponte de Dom Luís I
One of the most recognizable symbols of Porto and one of the city's best photo spots is the charming Dom Luís I bridge. It was built at the turn of the 19th century to connect the central Ribeira district with Vila Nova de Gaia, the city's port wine hub, where most of the port wine cellars are located.
The double-decked structure is open to pedestrians and offers some of the best views of Porto and the River Douro. You can reach the lower deck from the Ribeira district, admire the bridge's beauty and take gorgeous pics of its structure.
However, going up to the top deck is one of Porto's best travel tips. Take the Guindais Funicular to the upper city and walk for two minutes until you reach the bridge. Forty-five meters high you'll surely be mesmerized by the view featuring the city's skyline. Everything is visible from up there, including Porto Cathedral, the famous Clérigos Tower, and the imposing Mosteiro da Serra do Pilar. On a beautiful day, try watching the sunset from this spot. Porto is even more magical under the golden light. 🌅
For a very different perspective, you can also join a river cruise and admire this spectacular structure from the calm waters of the Douro River. 
Here's a curiosity: some people think the structure of Dom Luís I bridge reminds them of the Eiffel Tower because of its metalwork, especially its enormous central arch. Well, the similarity is not a coincidence! The bridge was designed by Théophile Seyrig, a business partner and disciple of Gustave Eiffel, who created the French icon. It's iconic and one of the best places to take photos in Porto.
Small world, isn't it? 🌎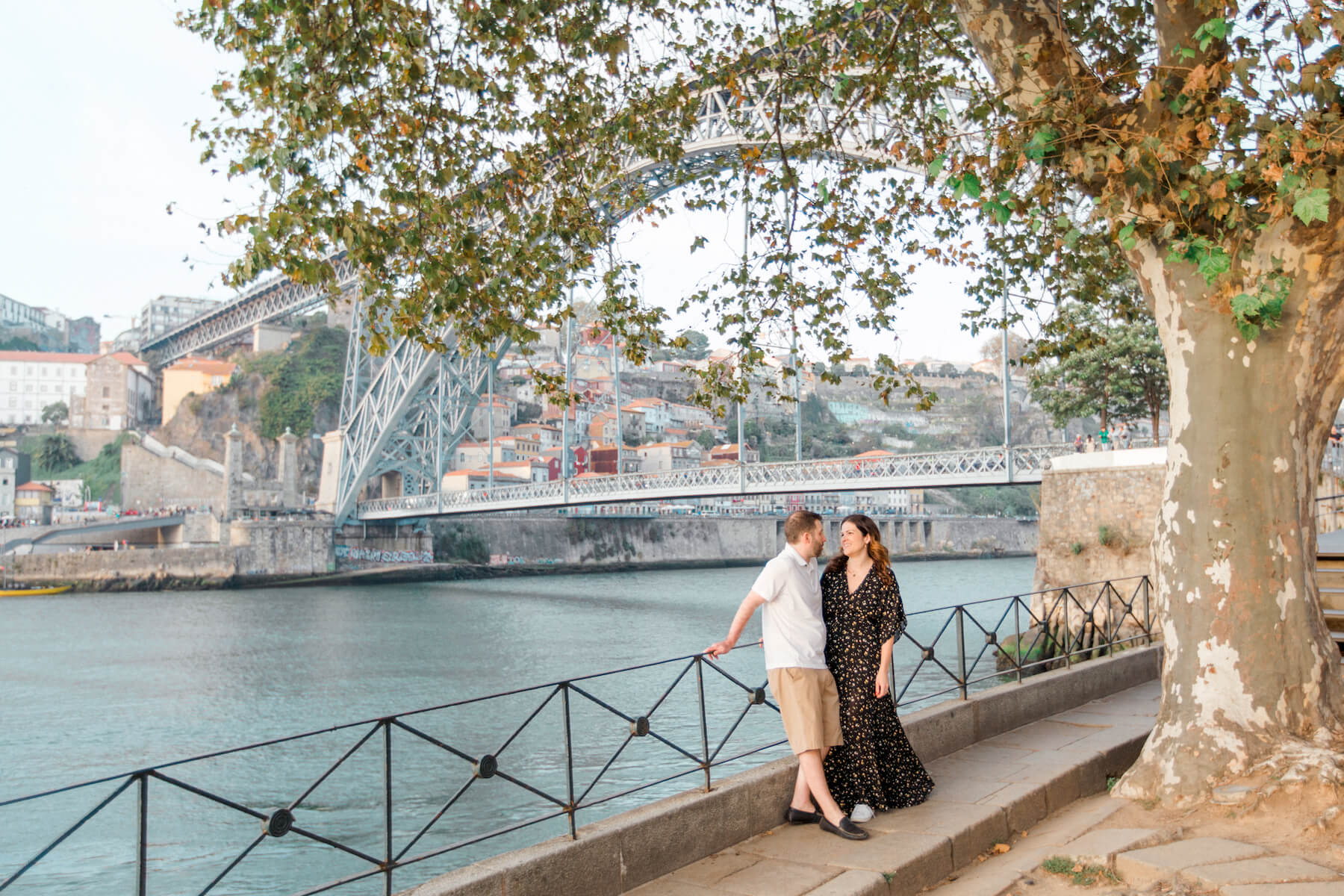 4. Fonte do Cubo
Amongst its many celebrated monuments, Porto has a somewhat controversial structure that brings a whiff of modernity to the surroundings — and your pictures. Standing on one of its vertices in the middle of Ribeira Square, Fonte do Cubo, or Cube Fountain, is a cube-shaped sculpture made of bronze that was recently annexed to the remains of a 17th-century fountain that was uncovered through maintenance excavations.
Some people might think the previous fountain should have stayed untouched. However, the sculpture is one of the best places to take photos in Porto, especially if you capture the lovely and colourful buildings surrounding it. You'll find many umbrellas surrounding the fountain, under which you can sit and relax, people-watch, and admire this beautiful historic public square. 😉
5. Ribeira do Porto
Sitting by the Douro River and recognized as a Unesco World Heritage Site in 1996, the Ribeira district, locally known as Cais da Ribeira, is one of Porto's oldest districts and home to some of the most emblematic monuments in town.
The riverfront has many cafes, restaurants and shops overlooking the Douro and offering beautiful views of the Dom Luís I bridge and Vila Nova de Gaia. It's also from where many river cruises depart. 🚢
In terra firma, don't miss the Stock Exchange Palace, or Palácio da Bolsa, an important 19th-century neoclassical building erected to impress foreign investors, kings and presidents. It won't fail to impress you, too, with its neoclassical façade and remarkably intricate reception rooms. Guided interior tours are available for you to learn more about its history.
If you're looking for one of the best Porto Instagram spots, this is it. Lose yourself in the sloping medieval alleyway and cobblestone streets. They're replete with colourful old houses and the picturesque spectacle of clothes hanging to dry off the balconies. You can also take the Elevador da Ribeira, a public elevator that takes you up the hill from where you can admire the spectacular view of the city and then make your way down the slopes exploring this wonderful neighbourhood to the fullest. 👌
Look amazing in photos
Get 50+ insider tips on how to prepare, what to wear, and easy posing ideas for your next photo shoot!
6. Pergola at Fonz do Douro
Here's one for the romantics: painted in golden yellow hues and with a stunning colonnade that glows with the sunlight the Pergola at Foz do Douro, Porto's promenade, is a neoclassical structure facing the Atlantic Ocean and an all-time favourite spot for couples looking for some romance. 💖
But it's not all about the looks; the story of this site is also pretty romantic. Rumour has it that, in 1930, Porto's mayor's wife visited Nice on the French Riviera and fell in love with the pergolas she saw there. Back home, she sketched one in a notebook and asked her husband to build it. Voilà! Her request was fulfilled, and Porto gained a slice of the French Riviera.
Around the Pergola, you'll find many more delightful spots with beautiful palm trees and superb sea views that make perfect backgrounds for a photoshoot. During hot summer days, it's very tempting to go for a swim. Praia dos Ingleses and Praia da Luz are magnificent spots to grab a drink, feel the beach vibes and take photos in Porto. 🏖️
8. Jardim do Morro
Accessible by cable car, or, in Portuguese, teleférico, or by crossing the upper deck of Dom Luís I bridge, Jardim do Morro is a hilltop garden and park in Vila Nova de Gaia. This peaceful spot doubles as a miradouro, or a viewpoint, offering more spectacular city views of Porto and its historic buildings. Do as the locals do and enjoy an afternoon lying on the lawn under the palm trees, admiring the panorama. 🌴
You'll spot the Mosteiro da Serra do Pilar from the gardens. In a circular shape typical of the Renaissance and with 36 ionic columns, the building regularly holds exhibitions and other cultural events such as film screenings and plays.
Here's an idea: since Jardim do Morro is in an area known for its wine cellars, why not seize the opportunity to have a Portuguese picnic? Port wine, some cheese and a stunning sunset. What more could you wish for? 🤔
9. Quinta do Crasto
Quinta do Crasto is considered one of the best day trips you can take from Porto: a 135-hectare estate sprawling over the Douro Valley with 74 hectares of vineyards alone. As one of the most celebrated wine producers in the country, the complex offers everything from informative tours through wine cellars and wine tasting to river cruises — with lots more wine, of course! 🍷 An all-time favourite at Quinta do Crasto is the delicious food and wine pairing lunch with the stunning views of the valley.
Even if you're not a wine fan, this is an unparalleled opportunity to understand the rich Portuguese wine-growing culture that was actually introduced by the Romans to the region thousands of years ago.
Note: the tours of Quinta do Crasto are popular experiences which always require a reservation. It's a good idea to book far in advance. 👍
10. Igreja do Carmo
Built in the 18th century in Rococo style, Igreja do Carmo, or Church do Carmo, is one of Porto's oldest and most unusual buildings. Take a careful look at its façade, and you'll notice that there's not just one but two churches combined and a very narrow building between them — something pretty unique. ⛪
The two distinct religious buildings, Igreja do Carmo and Igreja dos Carmelitas, are separated by one of the world's narrowest buildings, the 1-meter wide Casa Escondida, or Hidden House, built to avoid an unsightly gap between the two churches.
Inside Igreja do Carmo, you'll find lavishing golden altars and fine oil paintings, while inside Igreja dos Carmelitas, there are exuberant wood carving details and a remarkable organ. On the side of Igreja do Carmo, there's a stunning hand-painted mural of white-and-blue azulejo tiles that makes for a beautiful photo backdrop.
A three-minute walk from there sits another Instagram favourite spot: Livraria Lello, or Lello Bookstore, considered one of the most beautiful bookshops in the world. The most photographed part of the Neo-Gothic interior is the unusual twisted staircase. Fans of Harry Potter will feel like being inside Hogwarts. In fact, it's said that the bookshop actually inspired J.K Rowling to write her novel as she worked in Porto as an English teacher before achieving fame. 😮
Capturing memories in Porto
There's a lot more to do in Porto. For more azulejos, head to Capela das Almas, or the Chapel of Souls, at Rua de Santa Catarina, right across from Bolhão metro station. This small church from the 18th century is fully covered in Portuguese tiles depicting different religious scenes and passages.
In Porto, there's also room for contemporary tile art. Check the public mural of celebrated Portuguese artist Joana Vasconcelos, a twenty-meter-wide explosion of colour completed in 2017. The work is a collaboration between the artist and the burger franchise Steak n Shake. This site is undoubtedly one of the best Porto Instagram spots.
For more on what to do in town, check travel tips from our community of travellers. To make your trip even more memorable, book one of our local Flytographers and capture all the magic of this Portuguese gem. ✨
"Luis and Marta were so easy to work with, made us all feel comfortable, were very accommodating and the photos turned out great!!"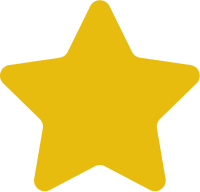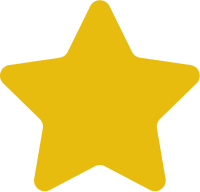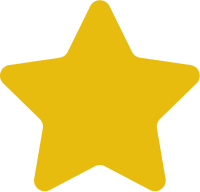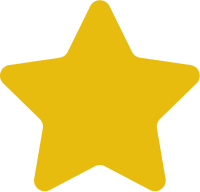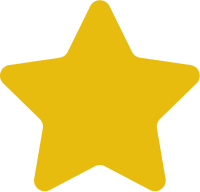 Deepti
"Luis was incredible to work with. He played out the surprise perfectly, and the photos turned out beautiful. He was a joy to work with. He even took the extra step to walk with us to several locations and even gave great recommendations on where to celebrate. Overall, it was a great experience and I couldn't recommend him enough!"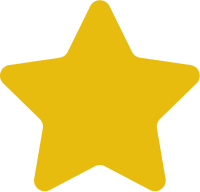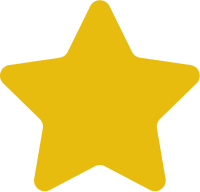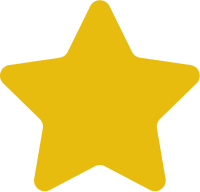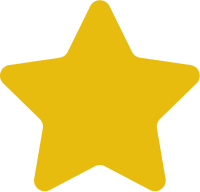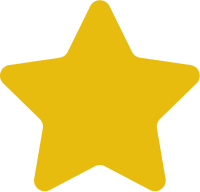 Chad
"Ivo was absolutely wonderful. He was energetic and ready to go from the moment we met. We both needed a bit of direction for the photos but he was patient and we ended up with beautiful photos to memorialize our time in Porto. He is so passionate about Porto as well – he was more than willing to give us tips on places to eat as well as get the best views of Porto."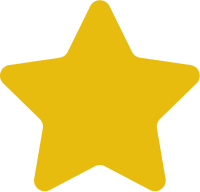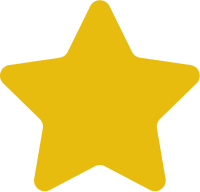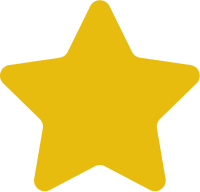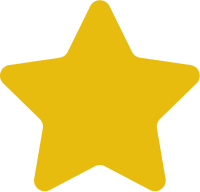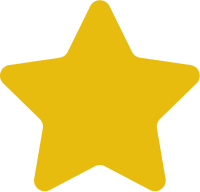 Anne