Where to stay for your ultimate NYC honeymoon getaway
Private members-only parks in the heart of the city, rooftop pools with skyline views and the most romantic dining you'll find around the world—this could be your unforgettabble honeymoon stay in New York City.
Photo: Lauren in New York City for Flytographer
Did you think you could be chilling poolside on your NYC vacation? Dream Hotel Downtown has a 50-foot heated glass-bottomed pool, which includes the only sand beach in Manhattan, along with two straight-out-of-Cote D'Azur chaise lounges and private cabanas (the perfect location for your couple's massages). More pluses like an in-house hair salon (so you're looking camera-ready for all those honeymoon trip candids), unique and funky Art Deco-meets-1960s-chic porthole rooms, three eateries that tickle taste buds with everything from California cuisine to Beijing dumplings, and designer lounge bars push this hotel high up on everyone's bucket list.
Photo: Louis in New York City for Flytographer
Photo: Natalie in New York City for Flytographer
This stately redbrick icon is a cherished piece of New York history. Originally called Temple Court and built in 1883 (the same year as the Brooklyn Bridge), this was one of New York city's first original skyscrapers. It was fully restored and reimagined as the Beekman Hotel in 2016, and walking in you'll be struck by the lavish turn-of-the-century decor. Marble mouldings sit above chocolate-coloured wood panelling in a lobby filled with vintage Persian rugs, antique glass lamps and sumptuous velvet furnishings. Everywhere you look is like taking a step back in time. Suites feature custom furniture and Carrara marble bathrooms with rain showers, while the dining is where the building's heritage really shines. The Bar Room is in a nine-story Victorian-era atrium that's quintessential Old New York. The menu is by Top Chef judge and star Tom Colicchio, who also is the chef at Temple Court, the hotel's fine dining restaurant that offers reinvented classics like Maine Lobster with chanterelle mushrooms and Tarte Tatin with sun gold tomatoes and peaches. This will be the "I've died and gone to heaven" meal you'll remember long after the honeymoon.
When it comes to NYC hotels, this is a once-in-a-lifetime stay that clocks off-the-charts romance. The room choices are epic. Eighty-eight options, from suites with fireplaces, original wood panelled reading nooks and spa bathrooms to options like the Greenwich Penthouse (it's like a private farmhouse cottage perched uptop among the city rooftops) and the TriBeCa Penthouse, which opens up through French doors to a whole terrace garden with trees and a jacuzzi and patio seating that's most definitely been sat on by the world's most famous celebrities. All guests have access to the beautiful, secret-garden-esque open-air courtyard that's tucked in between buildings. It's a world away and it will feel so special to stay here amongst the brick and the garden decor.
Photo: Mayleen in New York City for Flytographer
Speaking of green space and special NYC-only experiences, there's nothing quite like Gramercy Park Hotel in Manhattan. Gramercy Park is an exclusive inner-city refuge and two-acre park filled with trees that's only accessible to its local residents and New Yorkers who have a key. Members of the Players Club, the National Arts Club and Gramercy Park Hotel (which has 12 keys) all have access, but Gramercy's unique charms don't stop there. The hotel's rooftop terrace overlooks the park, while the Renaissance-revival rooms, each with a different design and furnishings, are as bold as they are beautiful (Italian linens, feather beds and Aesop goodies in the bathroom, don't mind if we do!). Plus, this hotel, like many of New York's high-end set, feature a rotating collection of famous 20th Century artwork—from Jean-Michel Basquiat to Andy Warhol.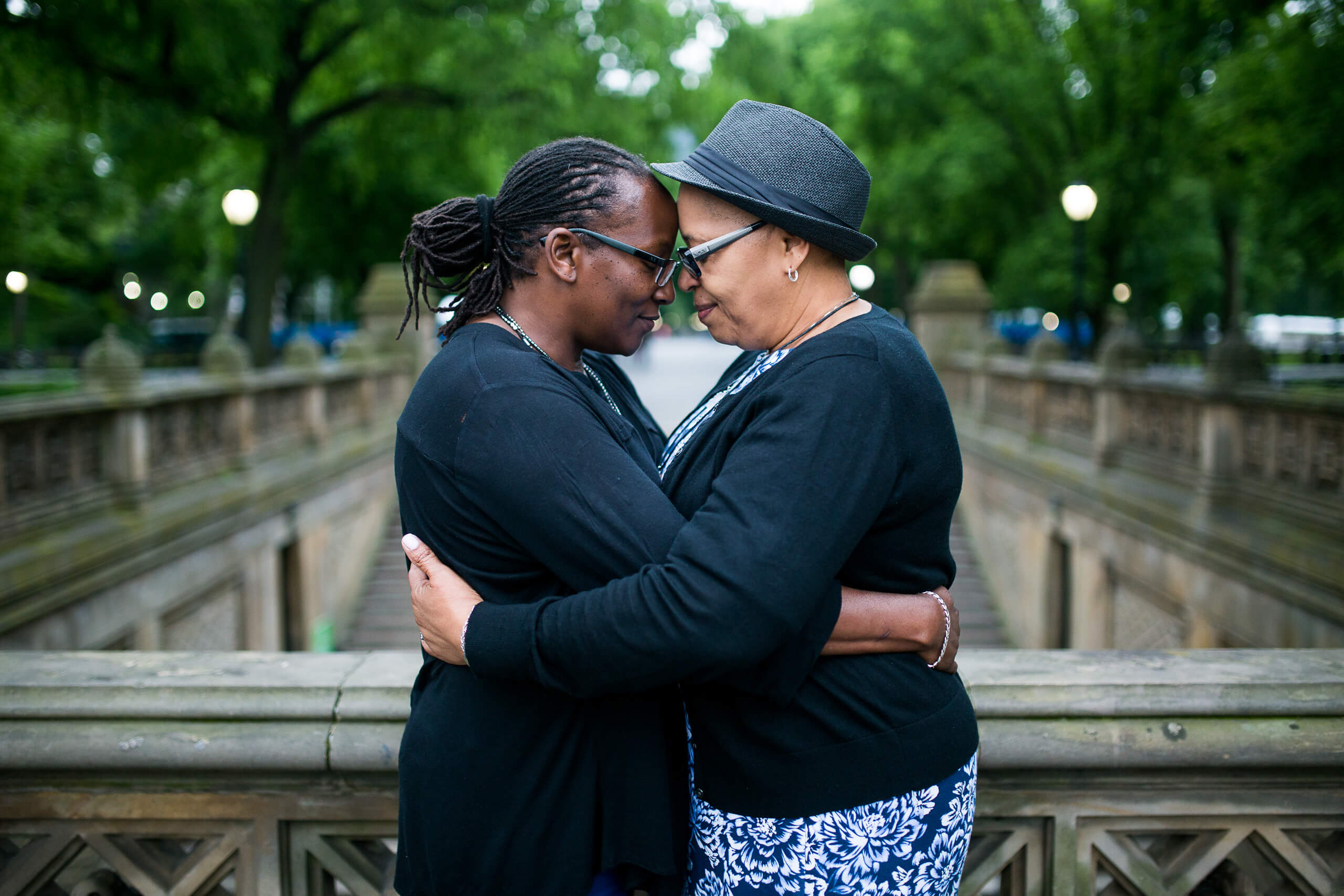 Photo: Johnny in New York City for Flytographer
First off, you've gotta see this pool. There are lounge chairs around the 60-foot-long watering hole (the longest in greater New York City), but it's the intimate sofa cabanas framed with greens and rolling shades that bring that vacation paradise feeling right here to Brooklyn. (Ditto that for the canapes and light bites served poolside from the hotel's award-winning winning chef, Andrew Carmellini.) The rooms are mod, fresh, and dare we say hipster—it's everything cool, mid-century modern chic and refined you'd expect from Brooklyn. Each room has floor-to-ceiling windows and open-air balconies with stunning city views—our favourite suite is the Vale Garden Residence, by far the most deluxe room the hotel offers. It's 1,320 square feet over two floors with panoramic views of the city, but the honeymoon special feature is the outdoor space, which has a massive private walnut deck for lounging and entertaining that steps down into a custom-built wood cube jacuzzi that (of course) overlooks the city. Brooklyn itself is so walkable and it's filled with cool markets with food trucks and makers, coveted pizza joints, park space, boutique shopping and industrial coffee shops. The hotel has its own stellar Italian restaurant in-house and a giant rooftop bar on its 22nd floor, in case you're still not sick of the New York views.
Dying to book your getaway to the Big Apple ASAP? What are you waiting for?! And if you're looking to capture memories from your trip, here's our list of stellar NYC photographers.