You can hardly contain yourself.
You're getting married!
The invitations have been sent. You've got your dress. The rings have been engraved.
The honeymoon?
Still working on it, hm?
We know that planning even the simplest of weddings can be hectic. You deserve to top off your nuptial celebrations with a holiday you and your honey will remember forever.
Not sure where to travel? Take our quiz to find the honeymoon that's right for you.
---
The Quiz
Your plane has landed and the happy couple is all checked in! What's the first — okay, maybe second — thing you and your spouse plan on getting up to?

A. Grabbing an ice cold cocktail and relaxing poolside
B. Getting your bearings and scoping out the local scene hand-in-hand
C. Jumping right into the action by checking off some major bucket list items

It's Day 3 of your week-long honeymoon and everything has been picture perfect thus far. What's on the menu for dinner tonight?

A. The catch of the day topped with a tropical salsa
B. The latest stroke of genius from a Michelin-starred chef at the most romantic spot in town
C. You don't know what you just ate, but it sure was delicious!

Your romantic holiday is coming to an end! How do you spend the last few hours in paradise to end your trip on a high note?

A. Soaking up the sun with a final frolick in the sea
B. Sharing a coffee and a pastry as you people-watch in your new favourite square
C. Trekking up through the greenery for one last hilltop kiss
---
The Results
Flytographers: Bayu & Ivony in Bali
Mostly A's: Beach Bum Lovers
It's been months of planning the perfect wedding, the perfect reception, the perfect everything.
Now that the vows have been exchanged and the bouquet has been tossed, you're ready to bathe in wedded bliss from the comfort of a white, sandy beach.
You want the swim-up bars and the oceanfront service.
You want stunning, crystal clear water views from your hotel room and the bali bed you spend your days lounging in with your brand new hubby.
You want romantic walks on the beach, secluded sunsets, and serene surroundings.
You want to return home with a sunkissed glow so that your outside can match the joy that is bursting at your seams.
Where to go
The ultimate honeymooner's paradise.
Sink your toes into the fine, white sands that line the Balinese coast of the Indian ocean, or spend your nights dancing oh so close to the pulse of Kuta, the island's nightlife capital.
The definition of luxury, Bali should top the bucket lists of beach bumming honeymooners everywhere.
Heat up the honeymoon on Mexico's Caribbean coast.
Take an underwater swim in turquoise cenotes, zoom up and down the coast on the back of a moped, or get a dose of history by exploring ancient Mayan ruins.
Oh, and we hear they have some of the most beautiful beaches in the Riviera with their soft sand and lukewarm waters — if you're into that sort of thing.
All glamor and flashing lights, Nice is perfect for those who want to take their beach getaway to another level.
Live the life of luxury lazing about the French Riviera, and feel like royalty dressed in show-stopping threads, with your gold bands glittering in the Mediterranean sun.
Live 'La Dolce Vita' in the Amalfi Coast
Take a drive down the winding edge of the Amalfi Coast, and bask in the old Hollywood glamour of this famous region. Camp out on a lounge chair at one of the many famous beaches, and explore the colourful cliffside towns. Spend your days laying on the beach, and your evenings taking in the sunset on a fabulous patio!
Flytographers: Mary & Maurizio
Flytographer: Rita in Lisbon
Mostly B's: Big City Lovers
You're craving a bit of metropolitan magic.
You want to hold each other tight as you get lost in a sea of people and places you've never seen before.
You want to picnic in luscious, city-center parks, or dine on some of the best food you'll find anywhere in the world.
You want to hop from one subway car to the next, and run for cover from the rain, laughing, panting, and soaked to the bone.
Want a change of scenery? You're just a train ride away from your next adventure.
 
Where to go
There is no destination more iconic, or romantic, than Paris. Explore museums, elaborately designed gardens and castles, and get lost on the cobblestone streets that charm anyone who visits.
A city known for it's food, art, and culture, there truly is something for everyone – the best way to practice compromise as newlyweds!
After locking eyes from across the table over a bottle of vino verde, get lost in the incomparable Portuguese nightlife, or swoon over the world below when your lips lock from atop a quiet lookout.
Hungry? Twenty-one Michelin-starred restaurants make it hard to get a bad meal in Lisbon, so get set for unbelievable food served up with mesmerising cliffside views.
See what Down Under looks like up close and personal by immersing yourselves in museums and art galleries, or skip the admission fees by taking in the hard-to-miss street art.
Cool down over a chilled glass of Australian wine after a long day's walk, or exchange cheeky smiles over a cocktail from one of the trendiest spots in town.
Need a change of pace? Park yourselves on the must-see Melbourne beaches, just a 20-minute drive from the city center for a day of fun in the sun.
Live the dream in New York City
This quintessential big city experience and culinary capital of the planet will give you a taste of the world in just one bite.
Squint up at the unbelievable heights of the city's notorious skyscrapers, or peer down at the world from atop your honeymoon high at the Empire State Building.
---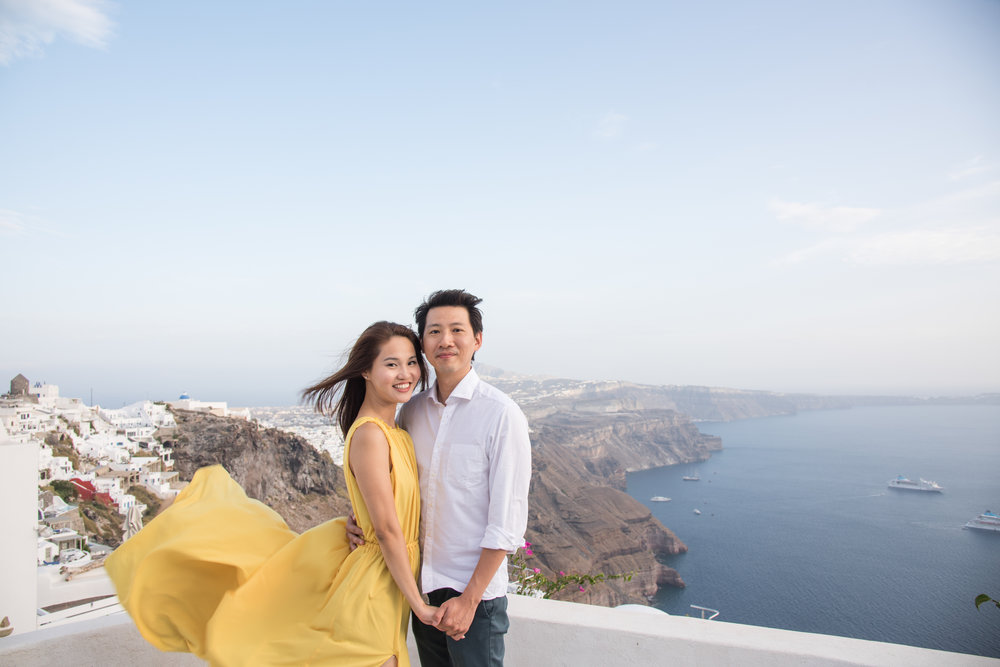 Flytographer: Ioannis in Santorini
Mostly C's: Adventure-Seeking Partners in Crime
For as long as you two have been together, you've barely sat still.
Whether you were hiking through hills just outside the city center, or taking week-long road trips to parts unknown, adventure has been the glue to an already rock-solid relationship.
And a couple of weddings rings doesn't mean you're about to stop any time soon.
You want to zipline through rainforests and scale icy mountains.
You want to skydive from unimaginable heights and plunge into the deepest depths of the ocean.
You want to go somewhere you've never been before, because you never need to worry about "spicing things up" when everything is always exciting and new.
Where to go
Head north for views that no camera can do justice and marvel at the Aurora Borealis from the panoramic windows of your quiet, isolated slice of frozen paradise.
If you want to escape the cold, heat things up in thermal bath for a steamy swim, any time of day.
Stunning mountains to one side, endless ocean to the other, and a host of culture and creativity in between.
Toast your love with the finest wines in all of South Africa, or share a bite at one of the city's hundreds of restaurants.
Looking for some real adventure? Kick that racing heart into overdrive with a shark dive in the South Atlantic Ocean.
Hike through the Canadian Rockies for humbling, awe-inspiring mountain views, or paddle through the still beauty that is Bow River.
Round out the evening by cozying up in a mountain lodge and watching the magical, northern sky sparkle with color all through the night.
Soak up the scenery in Santorini
From stunning views of the Mediterranean Sea, to black sand beaches and the iconic white buildings, Santorini is as varied as it is beautiful. Take a drive or walk from village to village, and explore all of the natural beauty and history this tiny island has to offer!
So what will it be, nearly newlyweds?
A beach in Bali? The stunning architecture of the Big Apple? A private viewing of the northern lights?
Let us know your dream honeymoon destination in the comments below!