Baby on Board! Tips for bringing your kids along on your adventures
They say that if you want to instill certain values in your children, you have to start 'em young. Well, we think traveling is no exception! While your babies may not remember their early adventures, traveling together is an amazing bonding experience, and you don't have to put your travel plans on hold while you wait for them to grow older. In fact, traveling as a new mom is the best way to take advantage of the few short years you have before your kids start school and require routines that keep them at home for longer. If you're feeling overwhelmed at the prospect of traveling with young kids, we've gathered the best tips for making travel easy, breezy and fun!
Photo: Claudia in Lisbon for Flytographer
Ready for takeoff
If you can brave it, an early morning flight is ideal because everyone (including the kids) are more likely to sleep through the flight. Opt for a nonstop flight instead of multiple connections to get where you're headed faster. Most major airlines allow kids under the age of two to fly free if they're on your lap, so be sure to take advantage of this two for one deal. While you may have packed plenty of showstopping outfits for your adventures, choose comfortable clothes without lots of buttons or laces and slip-on shoes to breeze through security. If you bring any snacks for your kids, make sure they're TSA approved to avoid unnecessary delays.
Photo: Guido in Rome for Flytographer
It's time for our flight briefing
Setting expectations for kids ahead of time is a proactive way to prevent meltdowns later in the day. Remember that young kids thrive on routines, so traveling can be an overwhelming experience. By explaining exactly what they should expect ahead of time, they'll probably be less nervous and confused about these changes in their day. Traveling can also be a great educational experience for them as they learn more about how the world works!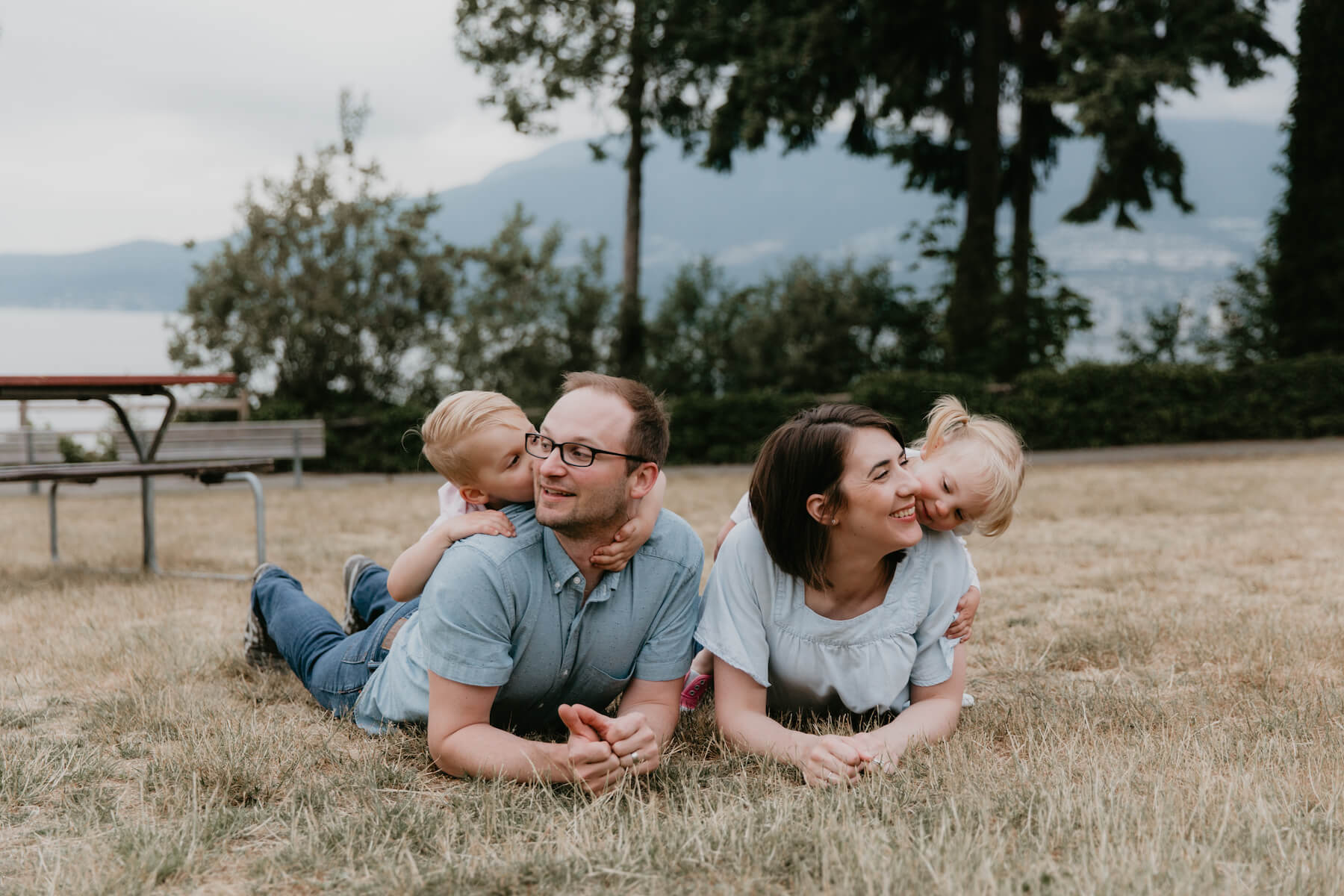 Photo: Christie in Vancouver for Flytographer
We've reached cruising altitude
Anyone who has flown before likely knows the pain of un-popped ears as the pressure changes during takeoff and landing. Giving kids a bit of candy to suck and chew on is an easy way to relieve the pressure and save your sanity. This is also a great distraction if they're scared or nervous fliers. Young kids' concentration span ranges from 5-15 minutes, so choose the slow release method when bringing out toys and games to keep their attention occupied for longer. You can also pre-download kid-friendly games or movies onto phones and tablets, and buy a pair of kid-sized headphones, as the travelers around you likely aren't interested in listening in.
Photo: Fernanda in Cabo San Lucas for Flytographer
Prepare for landing
Congratulations, you made it to your destination! If traveling without your stroller is unfathomable, we suggest packing a compact model that can either fit into an overhead compartment or is easily gate checked. If your trip involves a lot of time in the car, bringing a car seat is probably your best option, and most airlines will allow you to check it with your baggage or gate check for free, as well. If you can't bring it along, many rideshare and taxi services also allow you to request one. Be sure to call ahead to your hotel, as many hotels can provide a complimentary crib for you to ensure a good night's rest – you deserve it!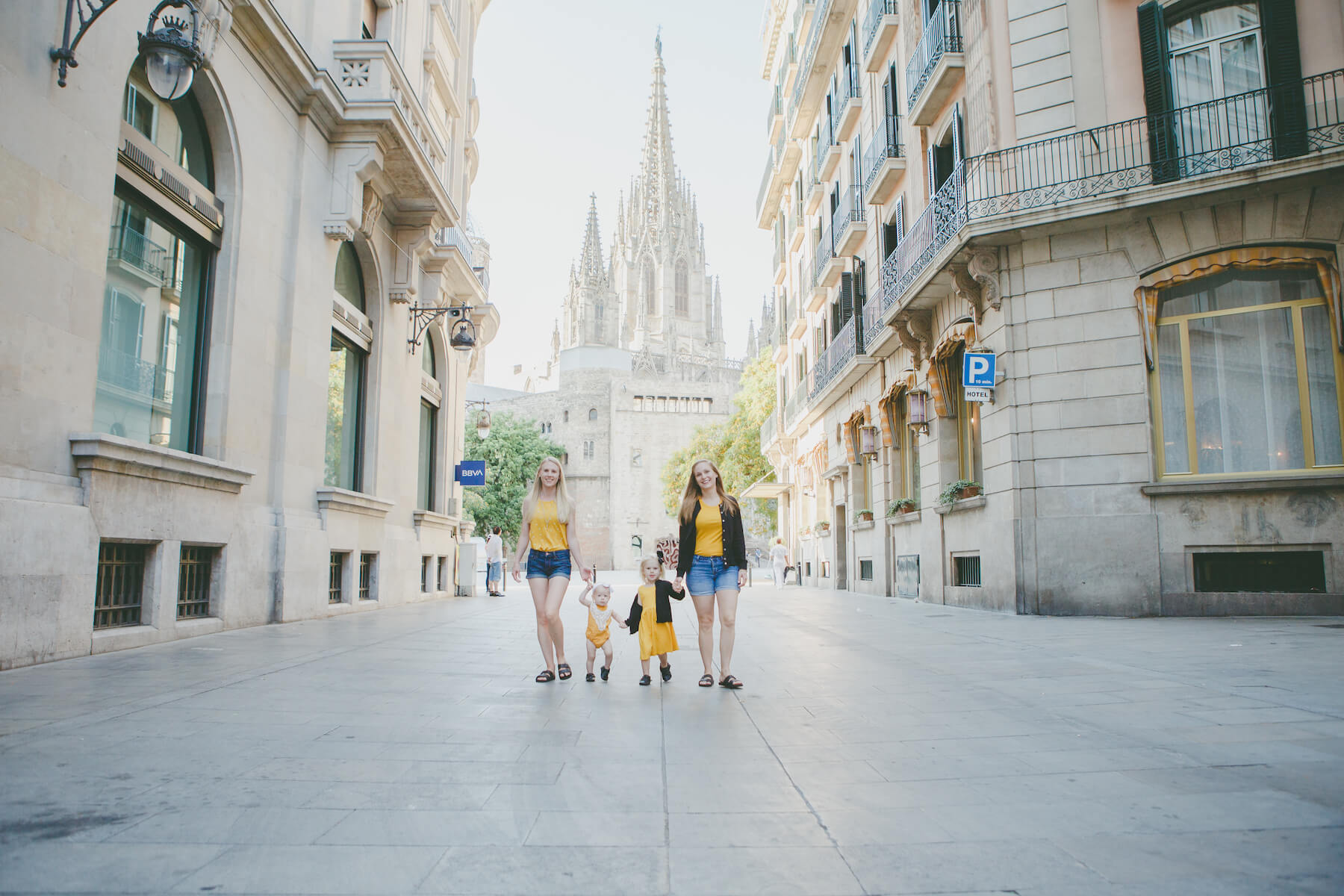 Photo: Ramon and Sonia in Barcelona for Flytographer
What's next on your bucket list?
Now that the travel is taken care of, the only question is where to go next! We love the idea of spending all day playing in the sand in Maui, or exploring every magical corner of Disneyland in Anaheim. How about a glass of wine for you and milk for them in Venice, or cruising in a bright red double-decker bus in London? Wherever you choose, capture this fleeting but beautiful time you have with your kids with one of our incredible local photographers around the world.
Photo: Marie in Maui for Flytographer