The 2020 Travel Forecast is in!
As we bid farewell to 2019, now is the perfect time to reflect on where you've been, what you've seen, and to start planning your dream trips for 2020. Where do you want to go this year and what adventures are calling? Spring break will be here before you know it, and whether you have a week or two to spend with friends and family come March, the earlier you get brainstorming, the better! To jumpstart your list of ideas, here is our forecast for the top 10 trending destinations for spring break:
As food tourism reaches its peak, an all-you-can-eat trip to Japan's Osaka is high up on many a bucket list. Known as the "Kitchen of Japan," Osaka is originally one of the main merchant towns that's made the most of its access to seafood and fresh ingredients. Try classic dishes like takoyaki (deep-fried doughnut with octopus and mayo) and okonomiyaki (savoury pancakes), and visit the Dotonbori Bridge, the neon-lit epicentre of bars and restaurants in Osaka. Other top sites include a Kabuki theatre with a craft brewery (Osaka Shochikuza Theatre), Japan's first Buddhist temple (built in AD 593) and the beautifully zen Minoo National Park.
Photo: Coo and Yurika in Osaka for Flytographer
Costa Rica has been flying under the radar for years, but people are slowing finding out that its cities offer dream getaways for outdoor adventurers and romantics alike. Manuel Antonio is a small village on the Pacific Ocean south of Costa Rica's San Jose. This destination has beautiful golden sand beaches framed by luscious jungle, but also a bevvy of activities at your fingertips, like canopy zip-lining, cave rappelling, sea kayaking, snorkelling and white water rafting. Be on the lookout for sweet, lazy sloths swinging their way around town during the day or take a guided jungle night walk to see Manuel Antonio's diverse wildlife in a totally different light.
Photo: Raquel in Manuel Antonio for Flytographer
This charming and historic port town (in more ways than one) on Portugal's northwestern coast is fast becoming one of Europe's favourite getaways. For starters, you've got an easily accessible adult playground in the port house district just across from Ribeira (put your feet up and watch the action on the Douro River while you sip your port tasting), and at any time you can head back into the city, stop in at any one of the innumerable tiny tapas bars and enjoy an outstanding meal with out-of-this-world Douro Valley wine.
Photo: Nathalia in Porto for Flytographer
Two words: Road Trip. This Hawaiian island is packed with nature preserves, parks, caves, waterfalls, marine life and farms to explore. The Road to Hana is a 64-mile-long highway that snakes east along the breathtaking coastline from Kahului to Kaupo. The trip takes about five hours total to drive, but you'll want to stop to visit the Twin Falls, go for a rainforest walk around the Waikamoi Ridge Loop, take photos at the Garden of Eden lookout (it's one of the best gardens in all of Maui), view a recent lava flow up close at the Keanae Peninsula, take a dip at Hamoa Beach and whatever you do, don't miss the Wailua Falls. Add to this Maui's world-class resorts and beaches and there's nothing you won't love.
Photo: Taena in Maui for Flytographer
If you're based in North America, Mexico City is likely a quick flight that transports you to a whole other world. From colonial architecture to amazing food, it's a destination filled with ample sites and experiences to keep you busy (and now with Uber, it's never been safer to get around). Visit the 10-acre Historic Center of Mexico City to see museums, Aztec temples, cathedrals and the Palacio Nacional (where the President of Mexico works, NBD). And be sure to check out Alameda Central (it's Mexico City's answer to New York City's Central Park), stop at a churro shop for deep-fried cinnamon nervana, and if you have time, drive 40 minutes south to Xochimilco to book a boat ride down a scenic winding network of canals and man-made islands.
Photo: Valeria in Mexico City for Flytographer
What makes a vacation? A lot of times, it's the great people you meet. And everyone who comes back from Belize can't stop talking about how friendly and welcoming the people of Belize are to travellers. You'll find this petite blue-ocean paradise located between Mexico and Guatemala, where the weather is a balmy average of 84 F and 29 C year-round. With hundreds of islands and caves, Belize is going to keep the whole family busy with snorkelling, swimming, diving, boat trips and more. Plus, there's a jaguar preserve, the world-famous natural wonder the Blue Hole, and English is the official language so getting around is a snap.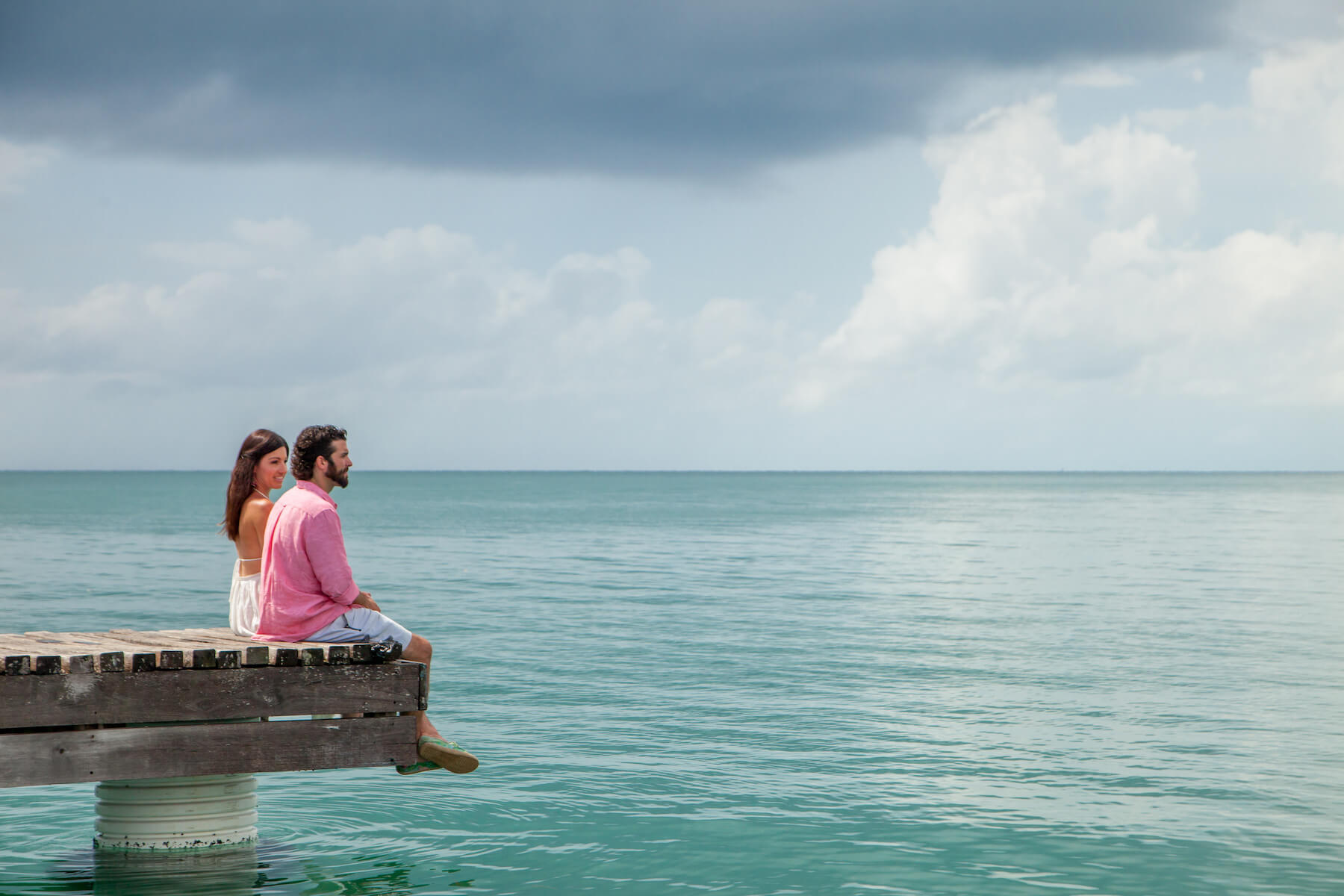 Photo: Ben in Placencia for Flytographer
This beautiful historic city in the Caribbean with its lemon-yellow walls and colonial architecture offers a stunning getaway for travellers looking for something off the beaten path. On the to-do list: see the six-storey cliff-like fortress El Morro; spend a night out in Old San Juan for dancing; shop and wander around Calle Loiza's booming art scene, boutiques and cafes; paddleboard at Laguna del Condado, and listen to traditional bomba drummers on Calle Tance.
Photo: Camille in San Juan for Flytographer
It's a small coastal town with a big heart, and no matter how hard you try, you never really get over how jaw-dropping the views are of Haystack Rock. Vacations here can be as low key as you like, with hikes, viewpoints and tidal pools to explore, but also cozy fires on the beach, a gourmet farm-to-table meal at one of the town's fine restaurants, or enjoying cocktails fireside and a cozy night in. Cannon Beach is a natural beauty that takes relaxing seriously, where nothing is too pressing on the agenda, but the charming local town still appeals with its great vintage shops, wine tasting rooms and crepe bars
Photo: Whitney in Portland for Flytographer
This jewel of a city on Israel's Mediterranean coast is a source of great history and beauty, and Forbes named it the second best place to visit in 2020 for its sandy beaches, culinary delights and modern living. The flea market in Jaffa is a vintage hunter's dream, with stacks of rugs and ancient wares, while the outdoor Carmel Market is a must for foodies. The Port of Jaffa is the old city and hub for fishing, but also a cultural centre that's a must-see. The angular and blocky Tel Aviv Museum of Art is a work of art itself, and no visit is complete without a cruise down Tel Aviv's Yarkon River. 
Photo: Ben in Tel Aviv for Flytographer
Not only does the twin-mountain town of Whistler enjoy one of the longest ski and board seasons in North America, but it's also a real bustling village packed with locals who love to eat out, drink great craft beer and shop, so it has everything you need for a family or friends adventure in the great white north. There are a ton of Airbnbs you can rent right in the village (within walking distance of chairlifts), plus Whistler has year-round heated patios for apres-ski time, an ice room bar, as well as snow-tubing, zip-lining, snowshoeing and a Peak 2 Peak Gondola ride if you need a break from skiing.
Photo: Alanna in Whistler for Flytographer