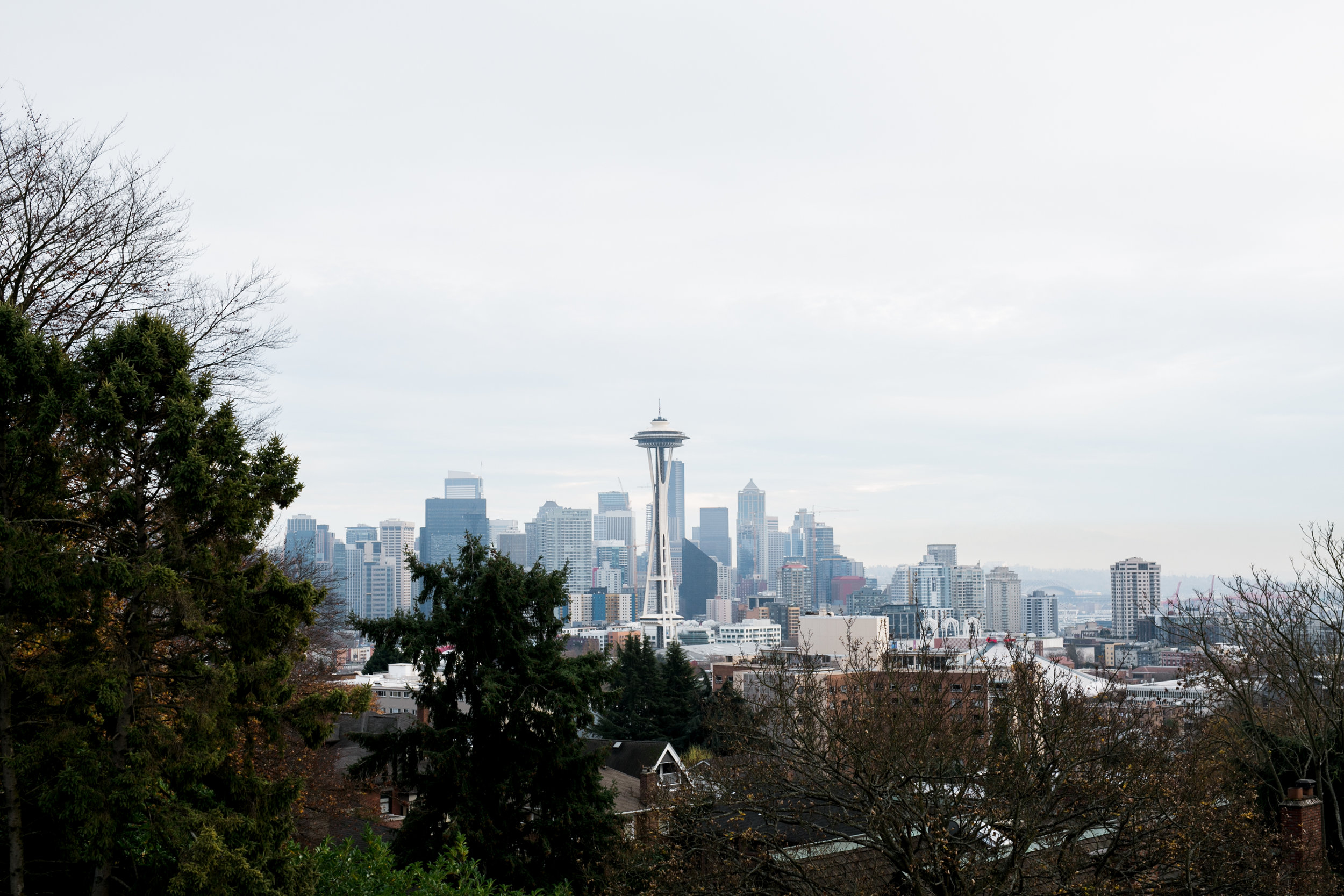 Chad pulled out ALL the stops for this creative, show-stopping Seattle proposal. Read on for all the wonderful details of Chad and Sydney's love story.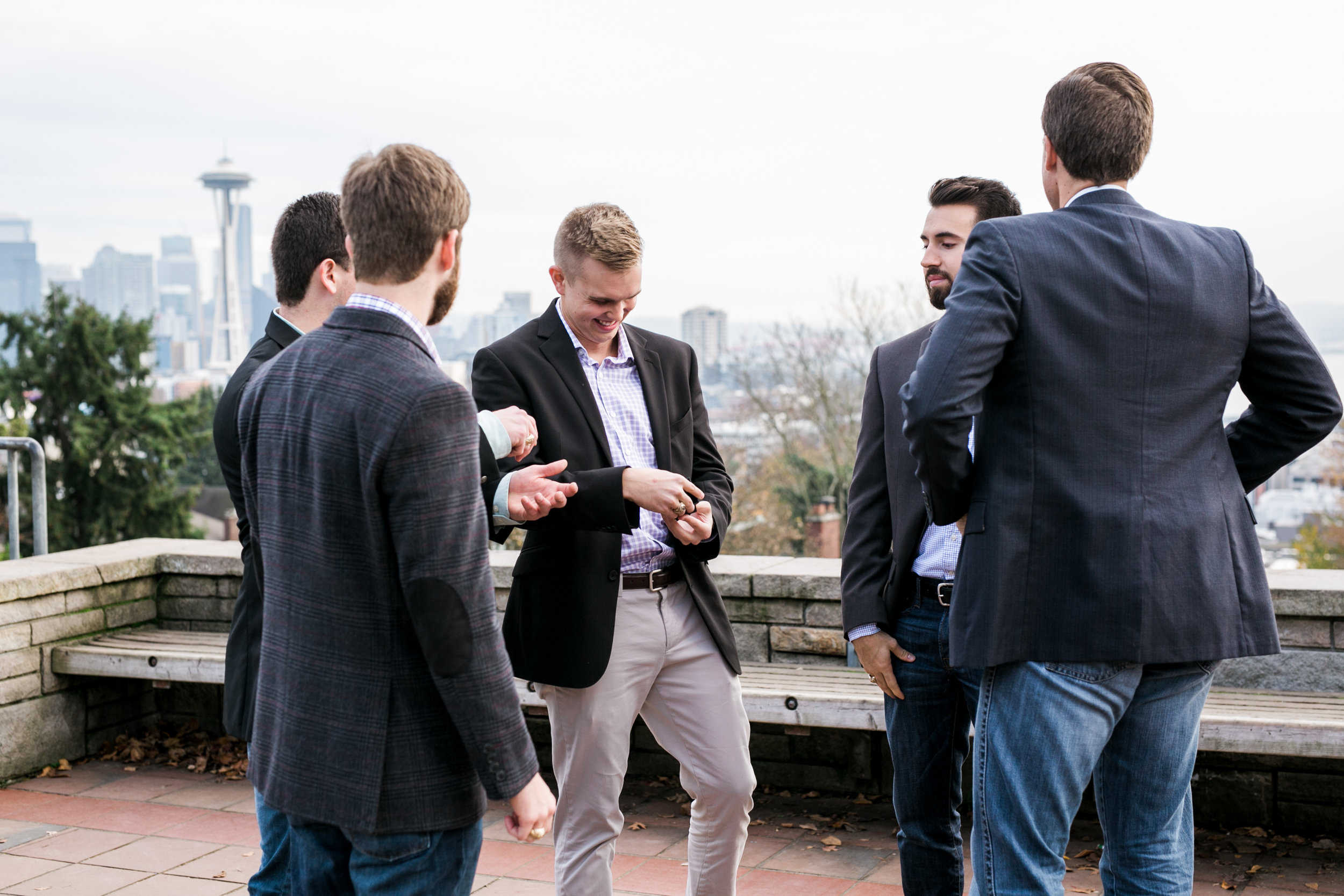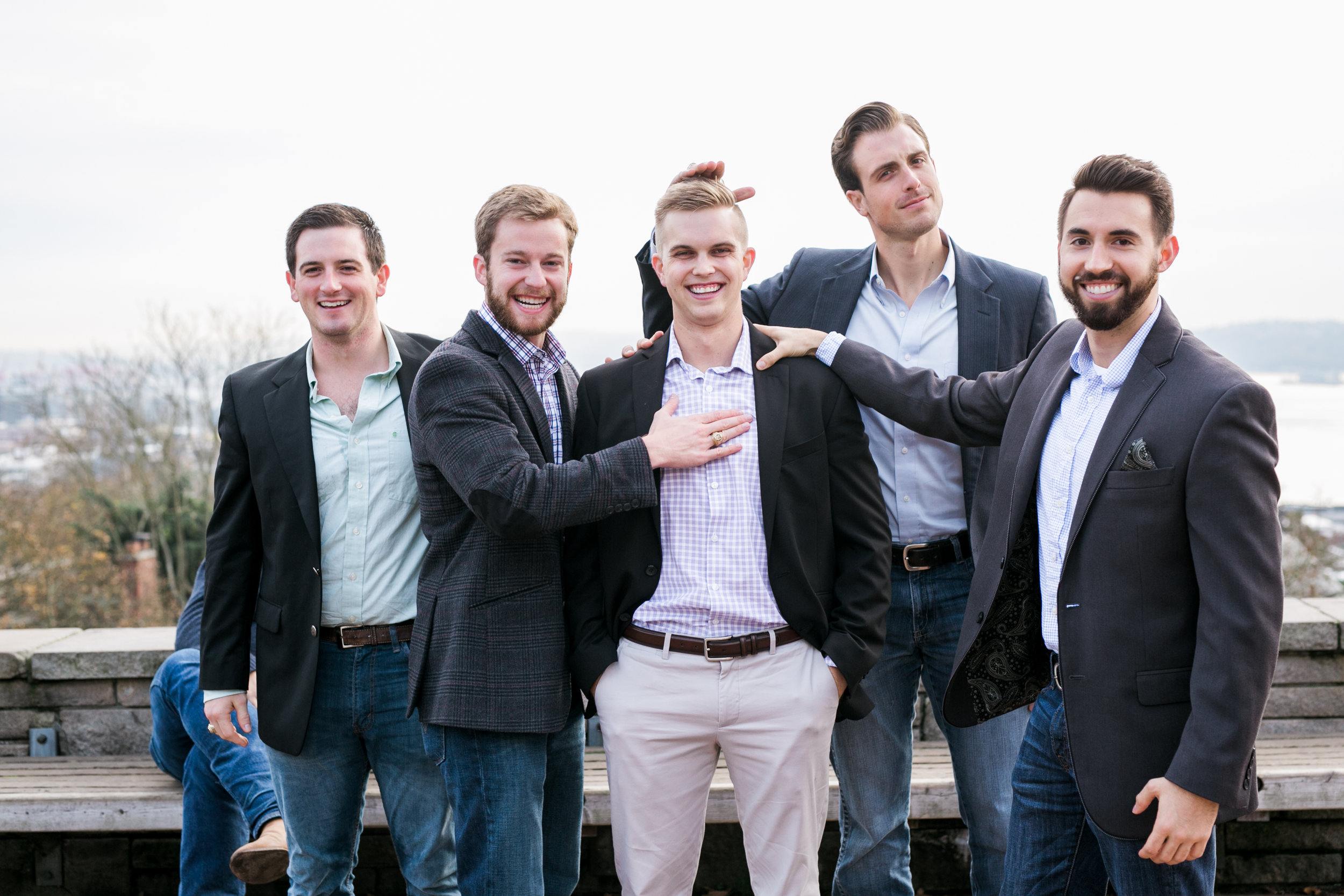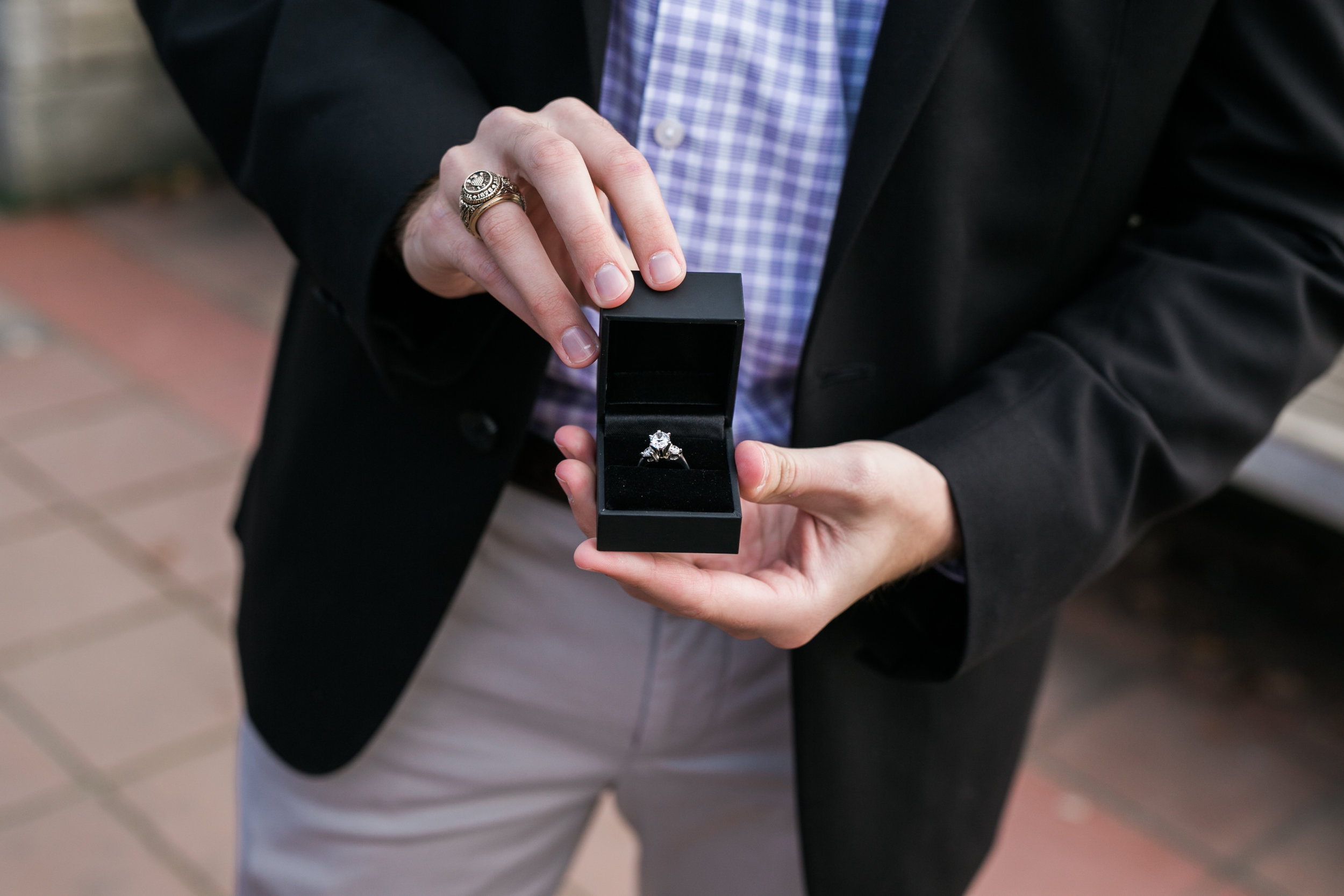 THEIR LOVE STORY
"Chad and I met in uptown Dallas this past January, not that long ago. He had been out with a group of friends and so had I. Somehow, both of our groups ended up at the same Thai restaurant in the area. He and his group were standing in front of us in line to order and after ordering, Chad sat down and started chatting with some of my friends. He and I then started talking and it was one of the most fun conversations I had ever had with a complete stranger. Normally, I would be very wary of a random guy chatting and sitting at our table but Chad was so easy to talk to there were no concerns of 'stranger danger.' I noticed his Texas A&M Aggie ring, a well known symbol in Texas, and mentioned that I attend Texas A&M's Law School. I think we were equally impressed with each other for being Aggies and I somehow attracted him with my 'book smarts,' while he attracted me with his terrible (read: hilariously adorable) puns." – Sydney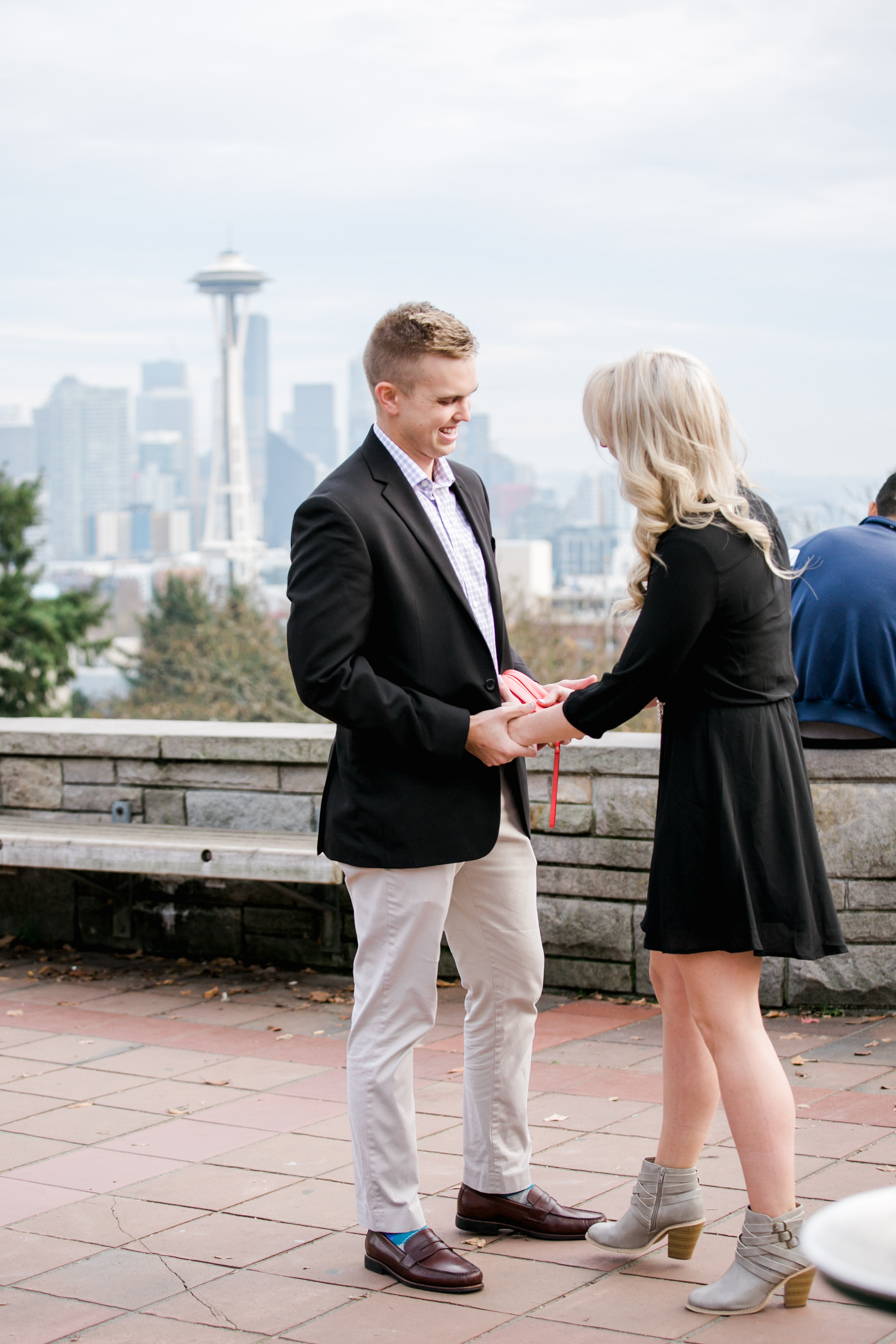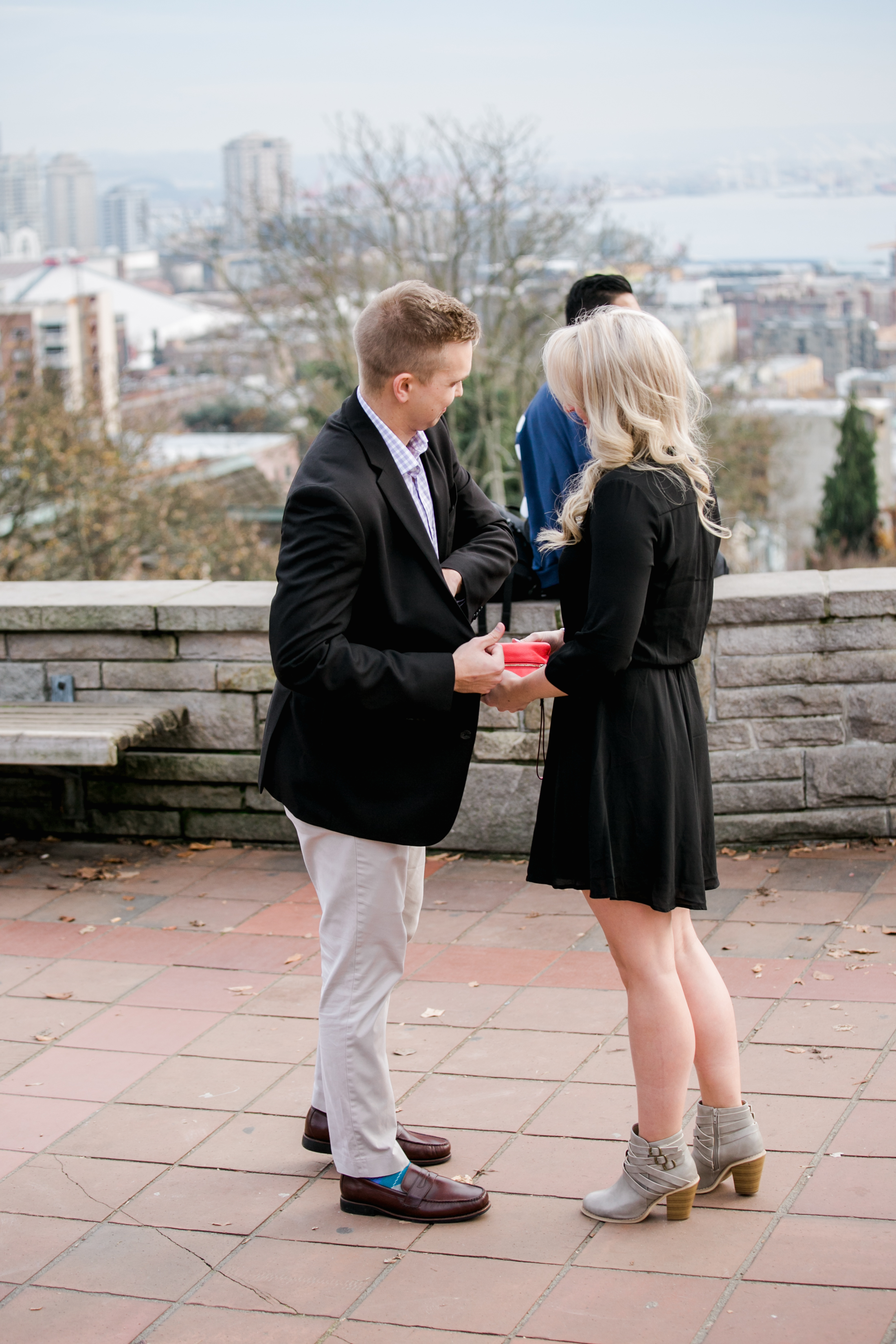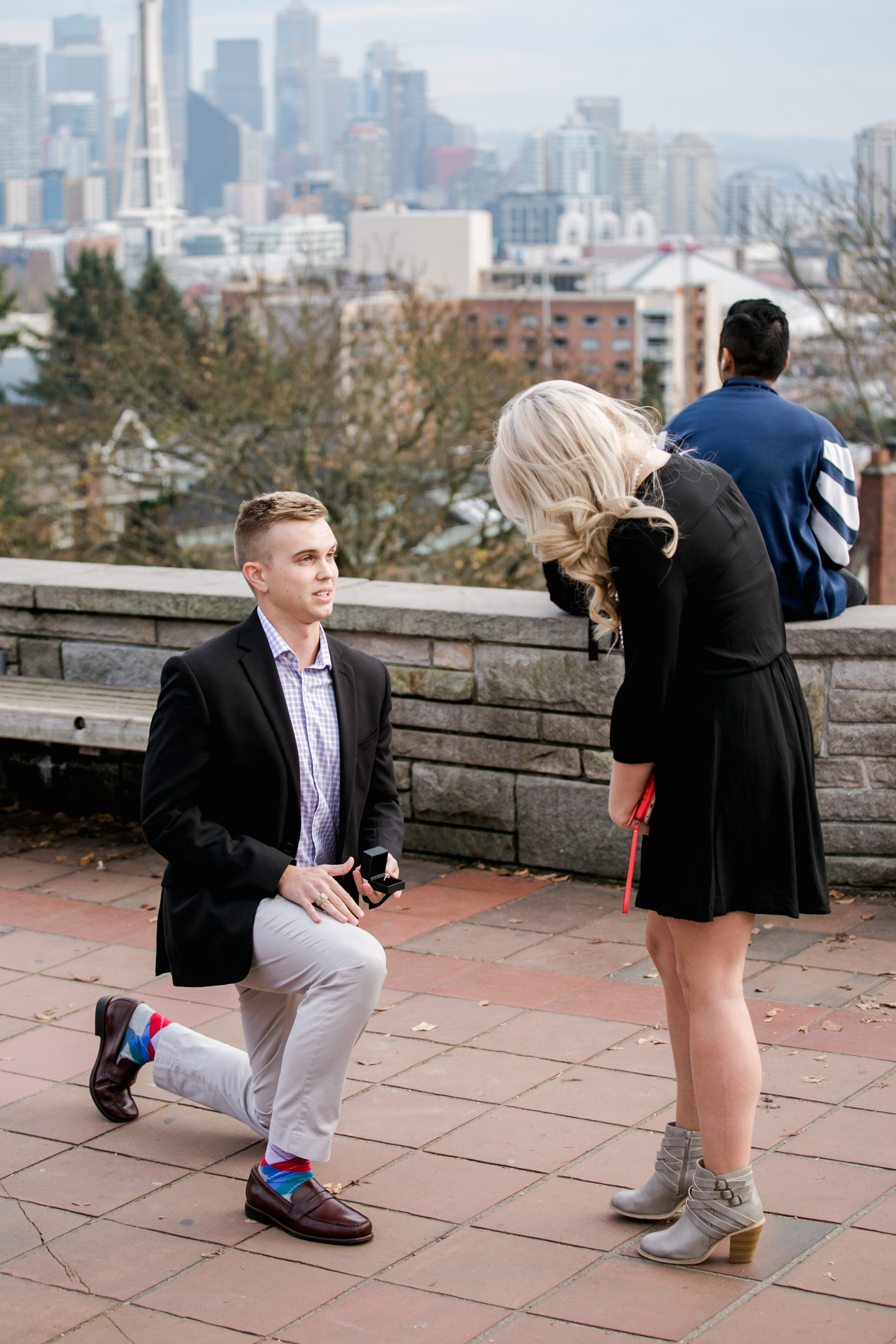 HOW DID YOU KNOW HE WAS 'THE ONE'?
"I knew Chad was my man not that long into our relationship. He showed who he truly was so early on. To actually date a guy who didn't play games or try to act aloof was very new for me. He actually told me how he felt, showed me he cared, was generous, kind, loving, loyal, ridiculously fun and funny and shared all the same values that I did. The actual moment I truly knew that we would be great together for the long haul was when I visited him in Miami. He flew me out to Miami while he was there working and the first night we were there, we went to the beach and had our phones and wallets stolen within an hour of being there. It was a nightmare. In these kinds of situations, I am the type of person to completely freak out and lose my cool in all shapes and forms. Chad, however, kept me so calm and helped come up with a recovery plan for what would be next. Thankfully, the next morning, a man walking on the beach found our discarded wallets with our IDs, cards and hotel keys still in them. I don't think I have ever been so relieved. We ended up having the best weekend in Miami. Going through that kind of rough situation so early in a relationship either makes or breaks you. It definitely made us. I knew then that if we could handle that, we could handle most things life will throw our way." – Sydney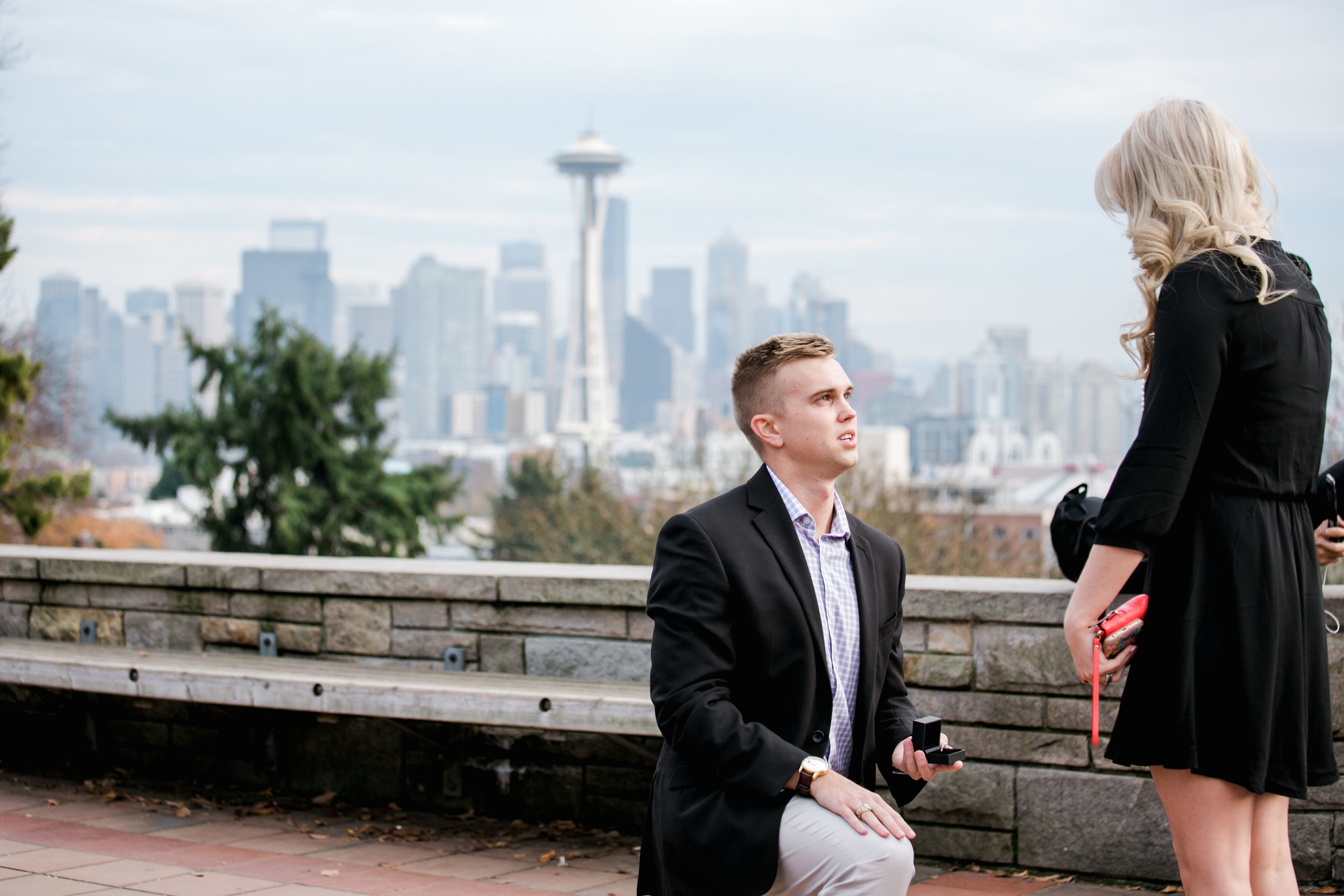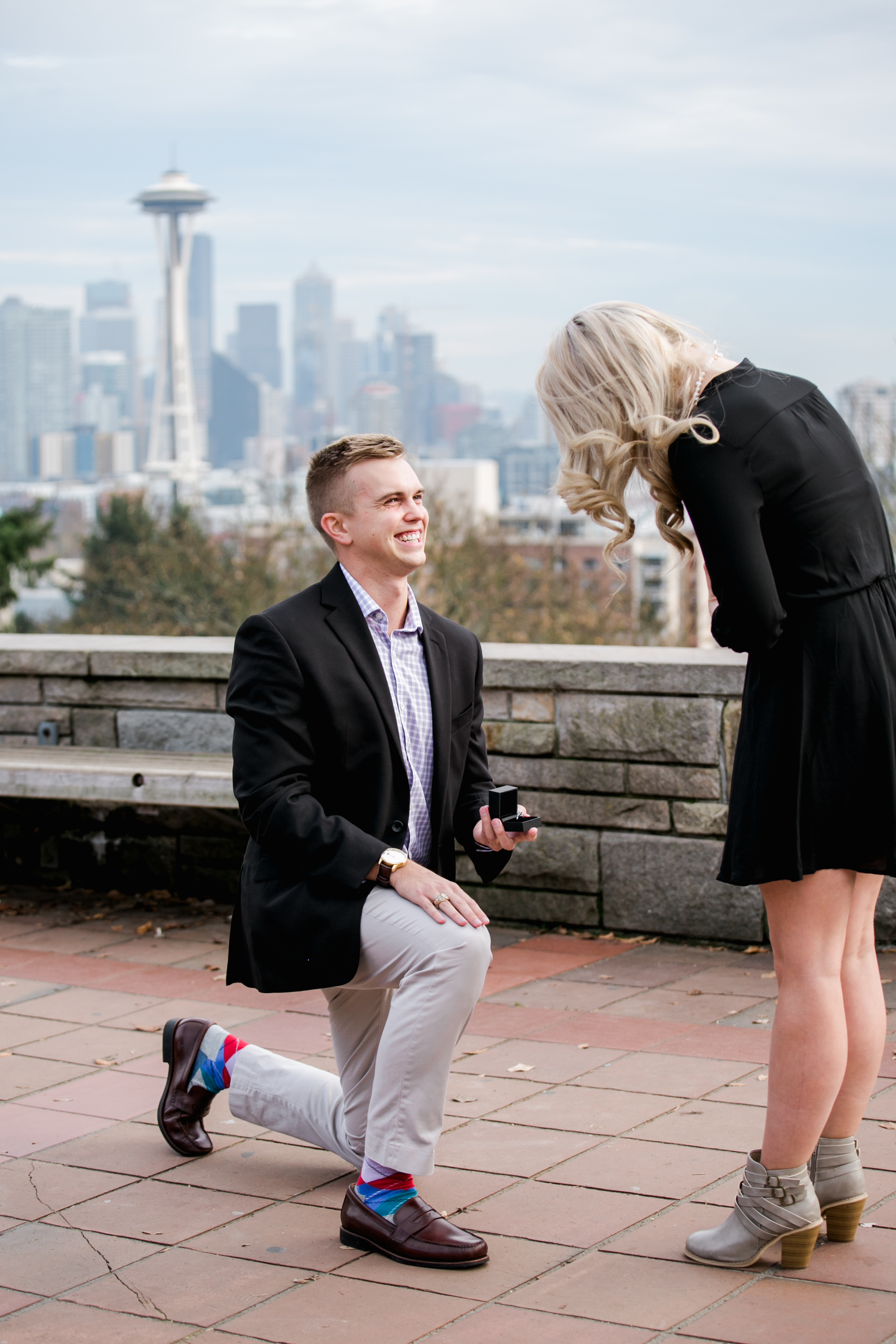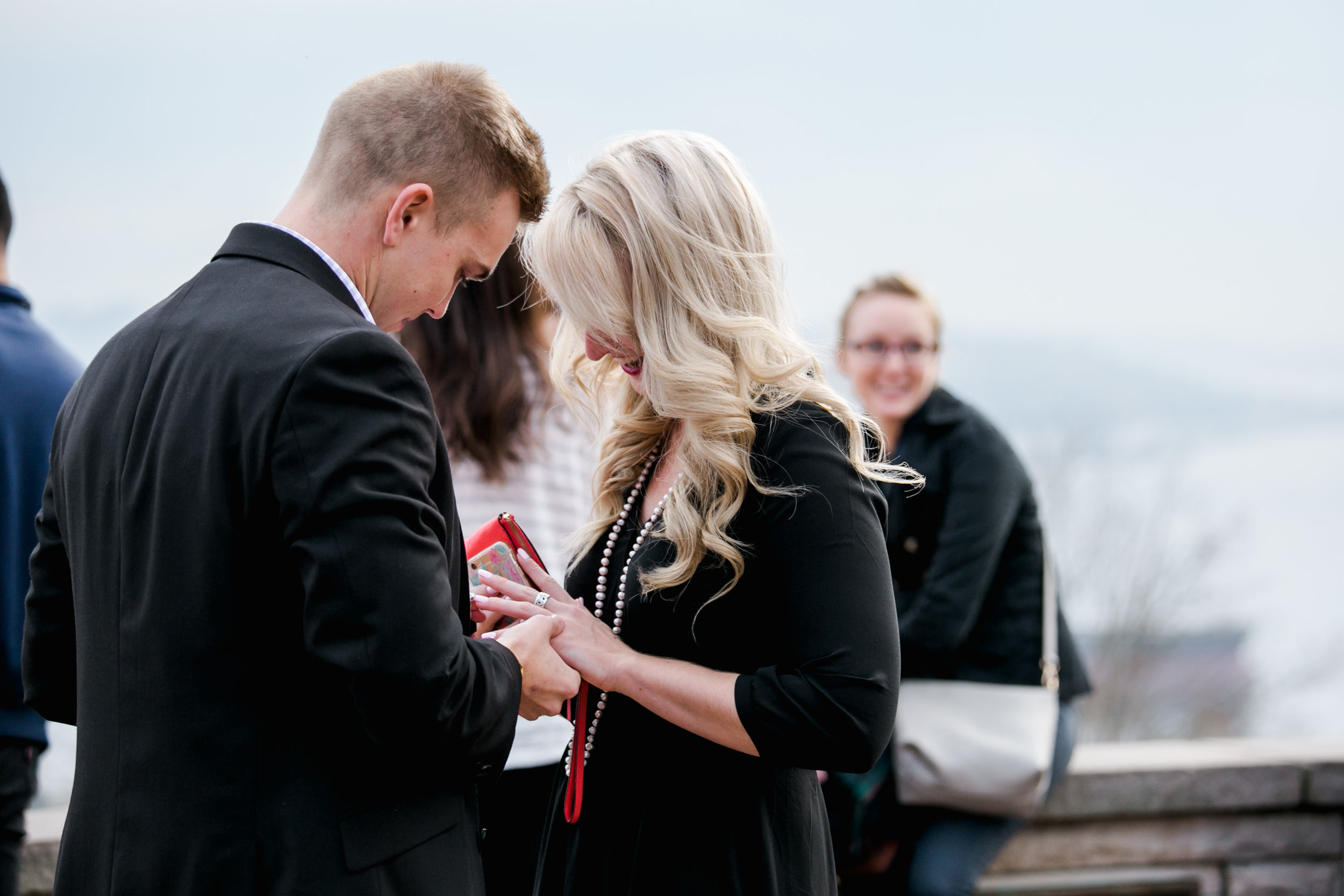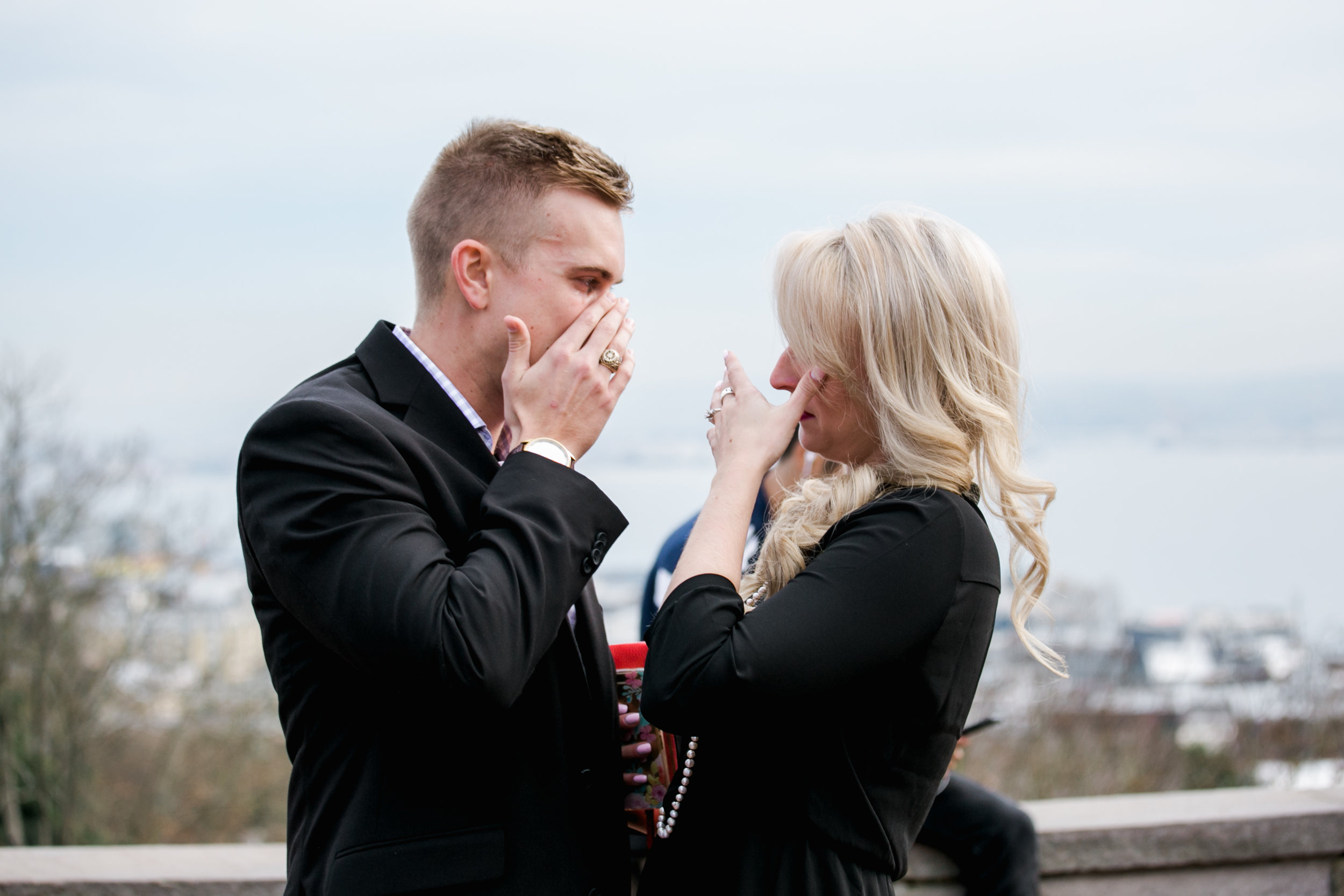 HOW DID YOU SELECT YOUR PROPOSAL LOCATION?
"Growing up as a kid, I had always dreamed of the chance to ask a girl to marry me and to make it a big deal. I've always wanted my wife-to-be to know how much she meant to me and that's what led me to choosing Seattle. About eight months ago, I took Sydney to Miami Beach to ask her to officially be my girlfriend and wanted to take her to the other corner of the country to seal the deal to make her mine. I brought my closest friends from college and one of Sydney's friends to share in the moment and everything went flawlessly. I can't wait to have many more journeys around the globe with Sydney in the years to come!" – Chad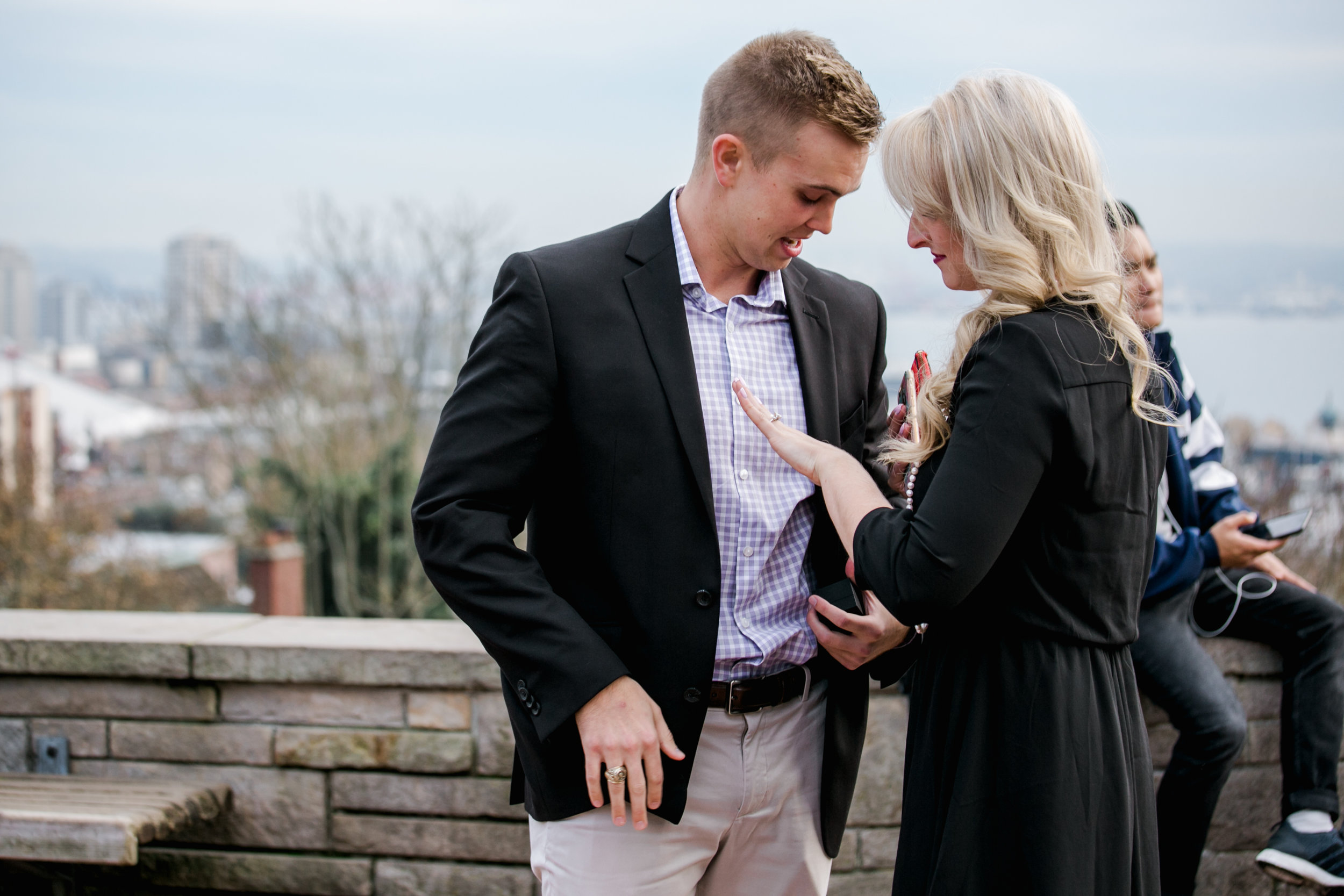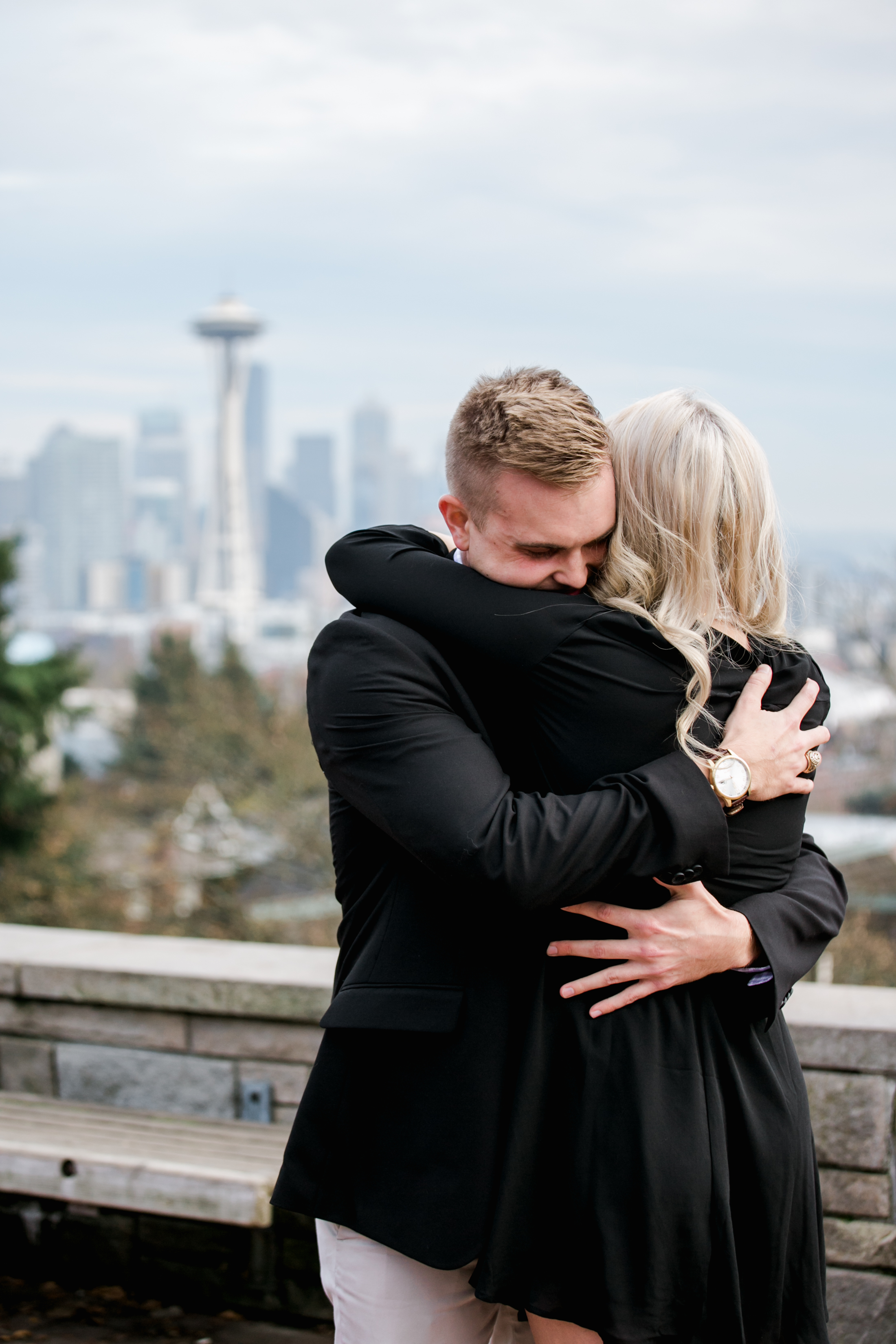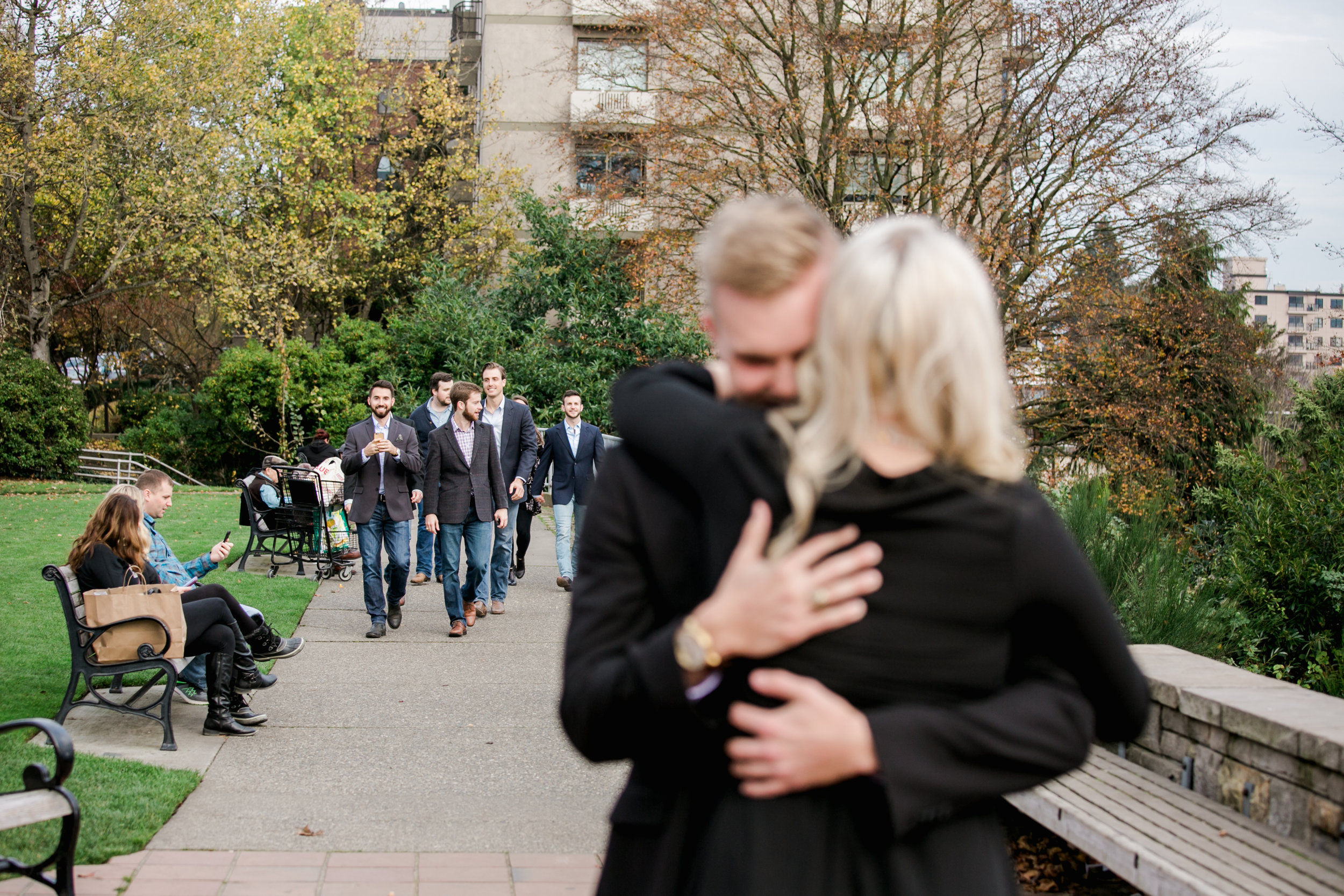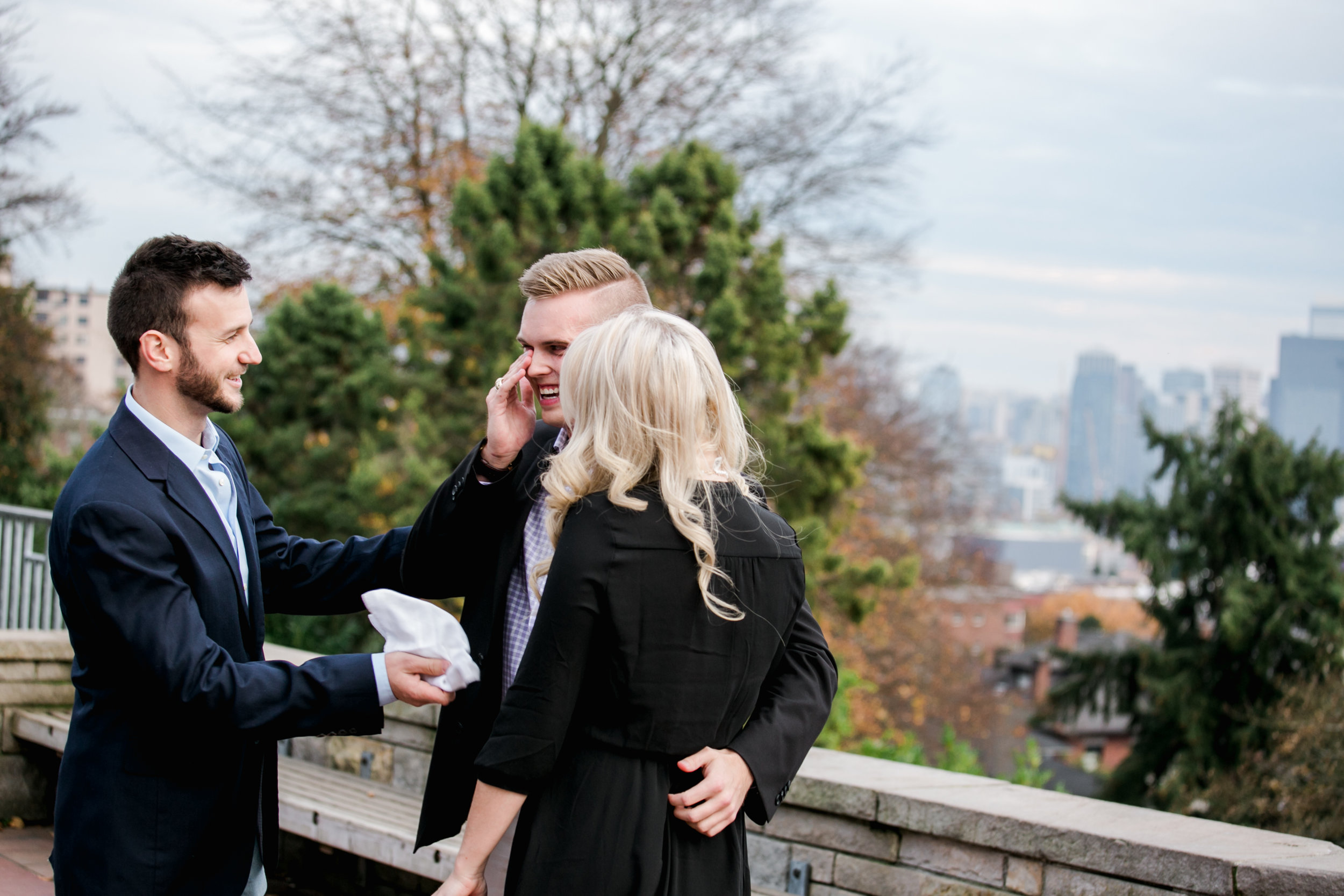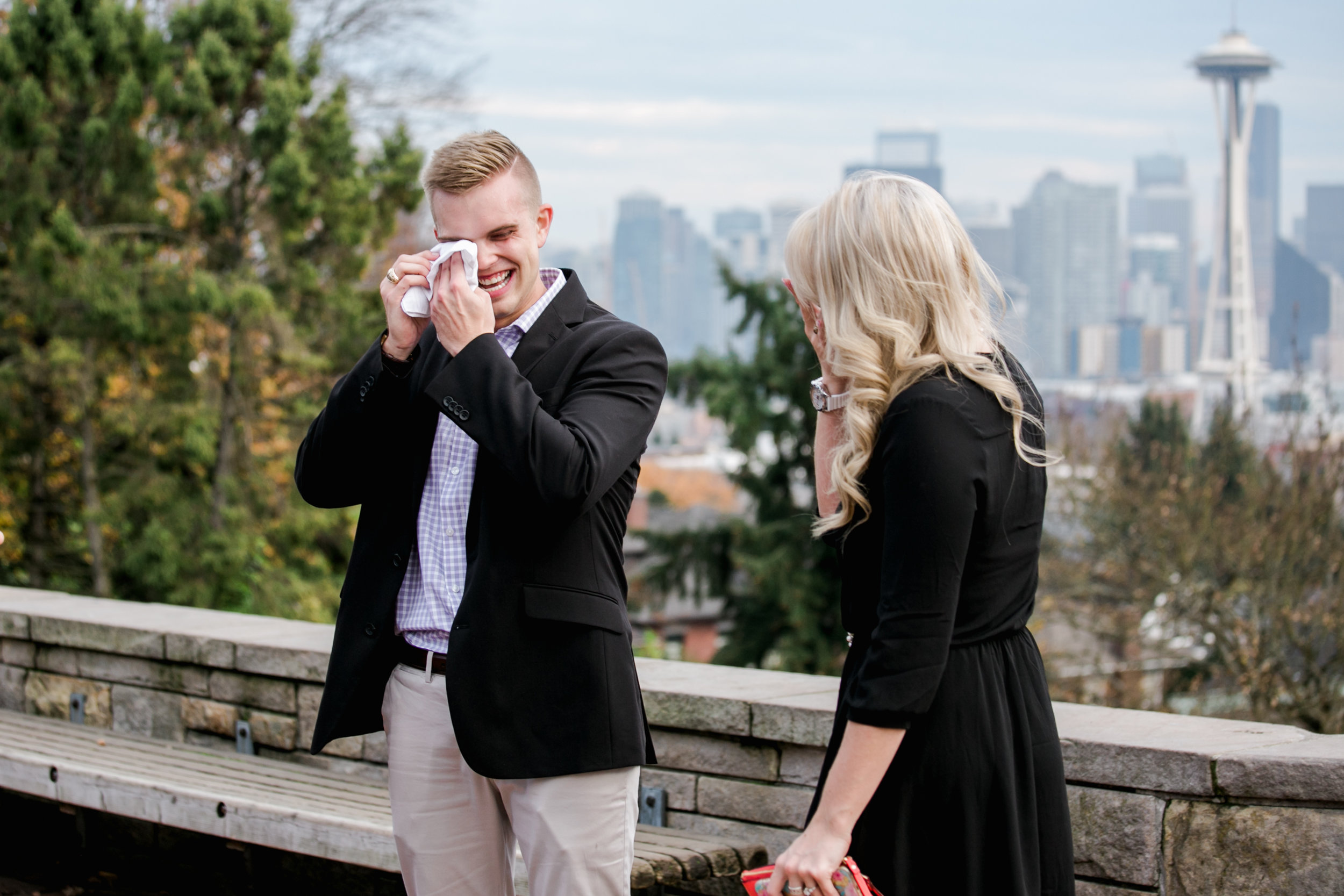 THE BIG DAY!
"I flew out to Seattle from Dallas on a Friday morning. My expectations were as follows: get there, Chad would meet me at the airport along with his two friends who were coming, as well, we'd go to whatever Airbnb we were going to stay at and the weekend would be fun. Nope. As soon as I landed and walked out into the main gate area, I knew my expectations were ALL wrong. When I walked out into the terminal, I saw one of my best friends standing there waiting for me. I had no idea she would ever be in Seattle. She told me the day before when we had lunch that she had to work all weekend. Liar, liar. After saying our hellos and me being somewhat speechless, she gave me letter #1 written by Chad, which explained that Courtney was there for me to have a good friend on an exciting weekend. From there, Courtney directed us to a Greek restaurant downtown I had previously told Chad I wanted to try. The hostess there gave me letter #2, which explained that lunch was taken care of and that he wanted me to be pampered afterwards. With the letter was a gift certificate for two pedicures for Courtney and I at a nearby nail salon. My mind was blown. I expected him to surprise me with fun things this weekend, but not at this level!
"After lunch, Courtney and I went to the nail salon where they gave me letter #3 and a gift bag. While getting our nails done, I opened the letter which stated how excited he was to see me and that we were going to have a good TIME and how he found this ancient FOSSIL he wanted to give me. I opened the gift bag and there was a new white Fossil watch. He had seriously gone above and beyond. From there, Courtney directed us to the house we were going to be staying at for the weekend in Lower Queen Anne. When we got there, there was letter #4 sticking out of the mail slot. It welcomed me to the home for the weekend and told me to follow the pink rose petals inside. After walking in, I followed the petals which took me to the kitchen I found letter #5 and a bottle of champagne. The letter told me to get ready, enjoy the champagne while doing so, and to follow the red rose petals upstairs. I followed the petals into a room where they were all over the bed surrounding a new black dress and a string of pearls with notes telling me to put them on.
"Next to the bed, there was a computer with a video and a note that said, 'Watch this.' I pressed play and it was the sweetest video Chad and his sister put together of a bunch of photos and videos of us throughout our relationship and wonderful songs playing along with it – the happy tears definitely started to roll. I couldn't wait to see him – I was so excited. After the video finished, Courtney told me I had five minutes to get ready. I quickly fixed my hair and makeup, got dressed and ran out the door. We ended up at Kerry Park and my heart felt like it was going to jump out of my chest. Chad was standing there with a big smile on his face. The park was beautiful with an amazing view of the Seattle skyline. I couldn't believe we had gotten so lucky with a sunny day in Seattle of all places. Chad gave me his speech, got down on one knee, and popped the question. It was amazing, overwhelming, perfect – all words that completely understate how wonderful that day was!" – Sydney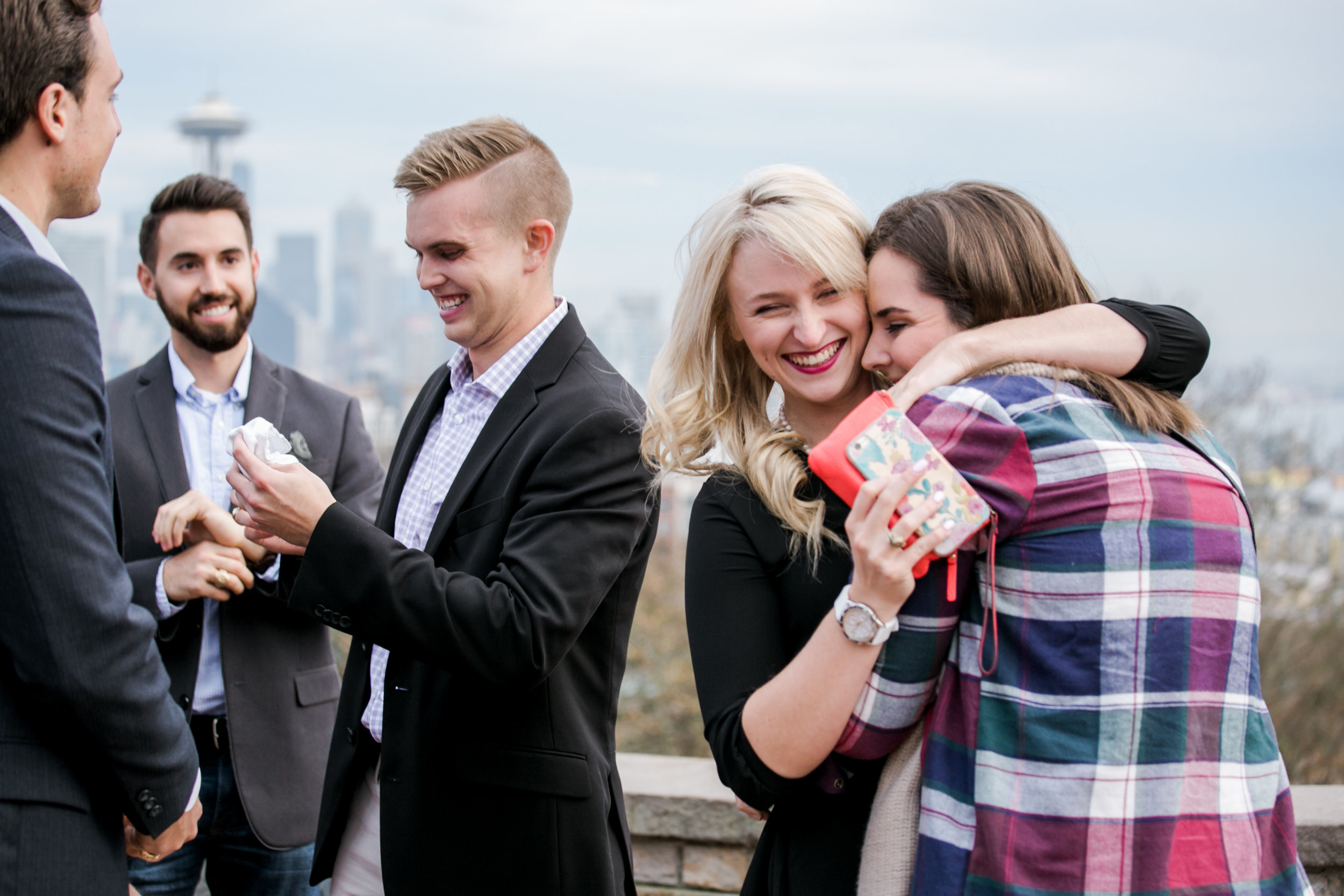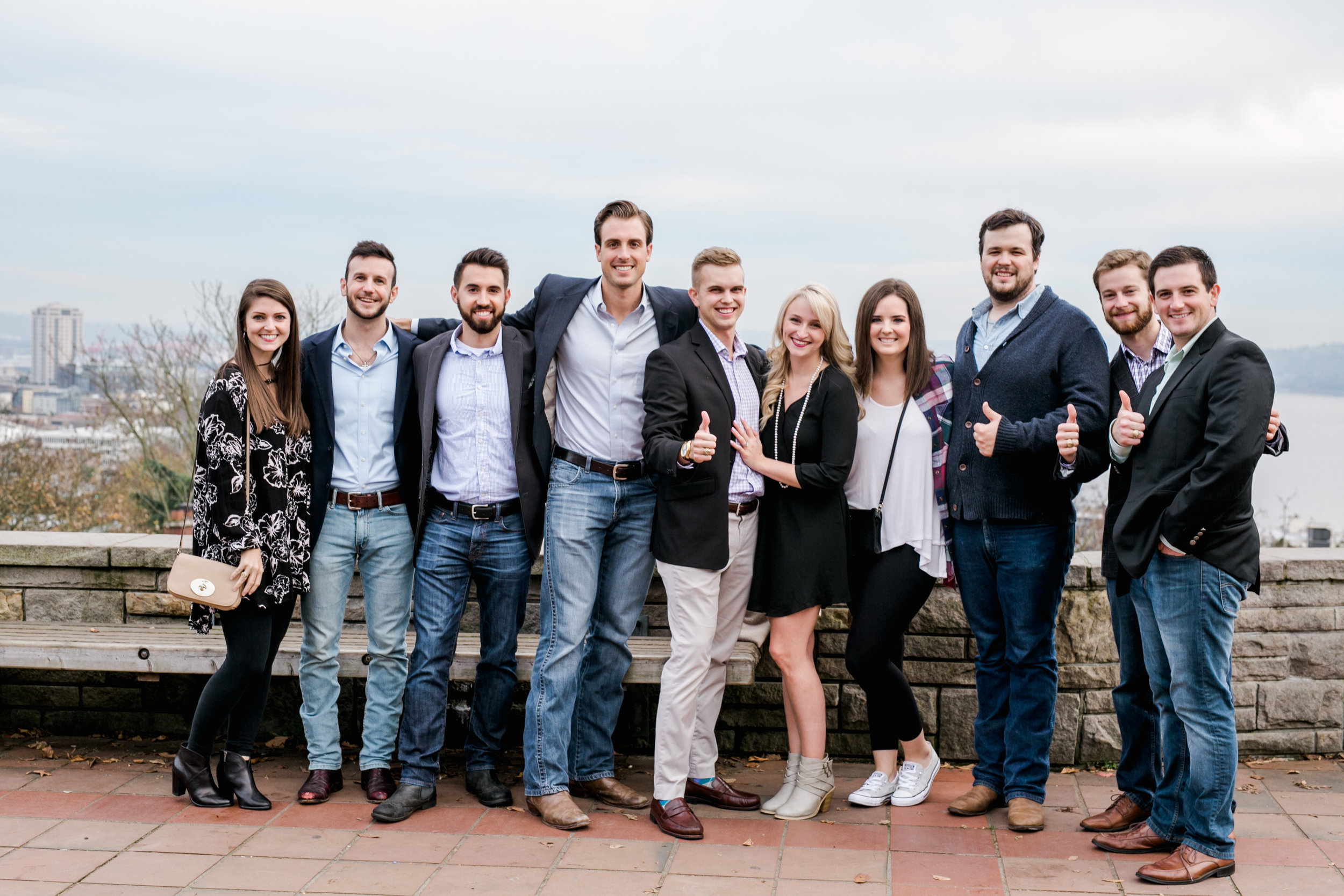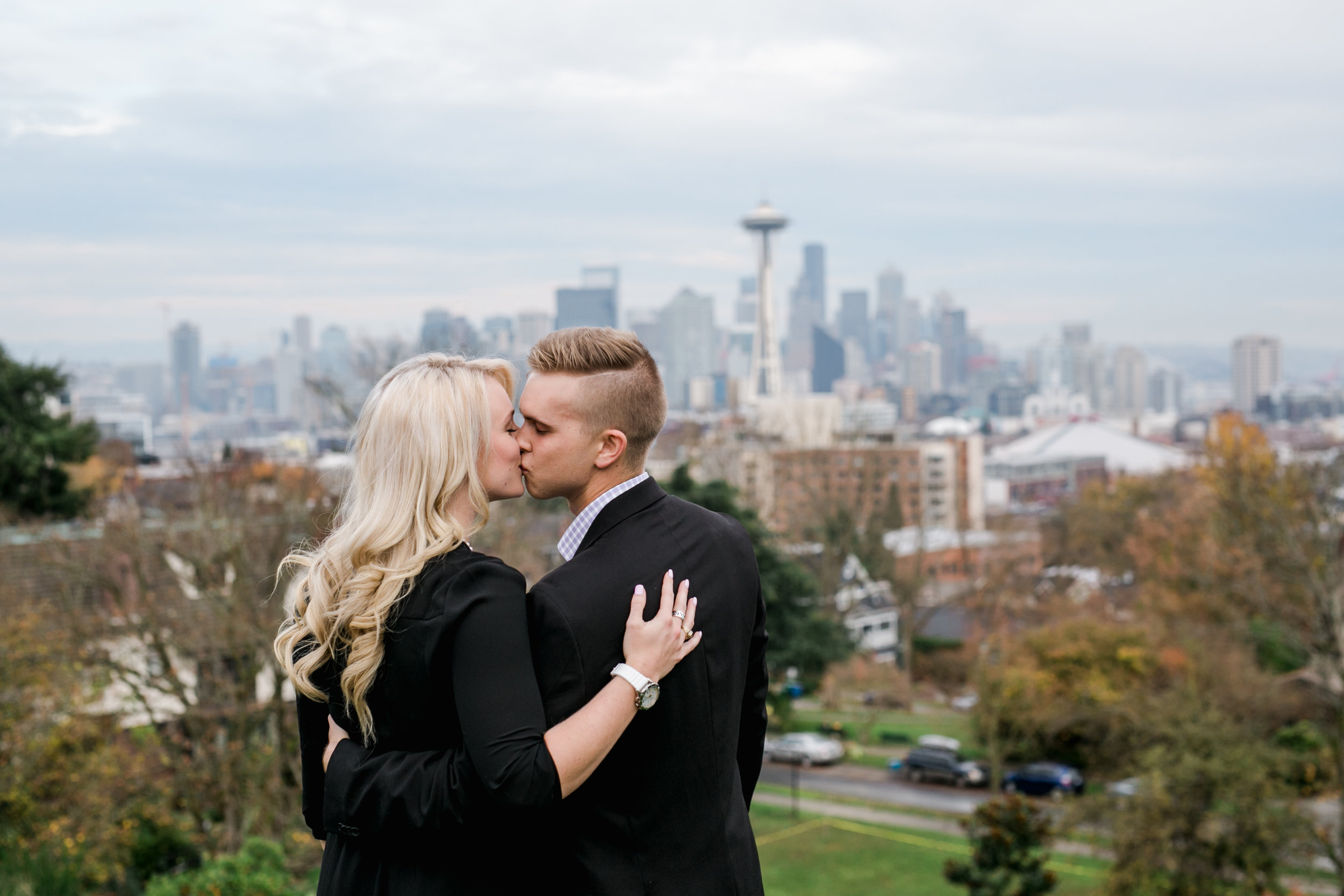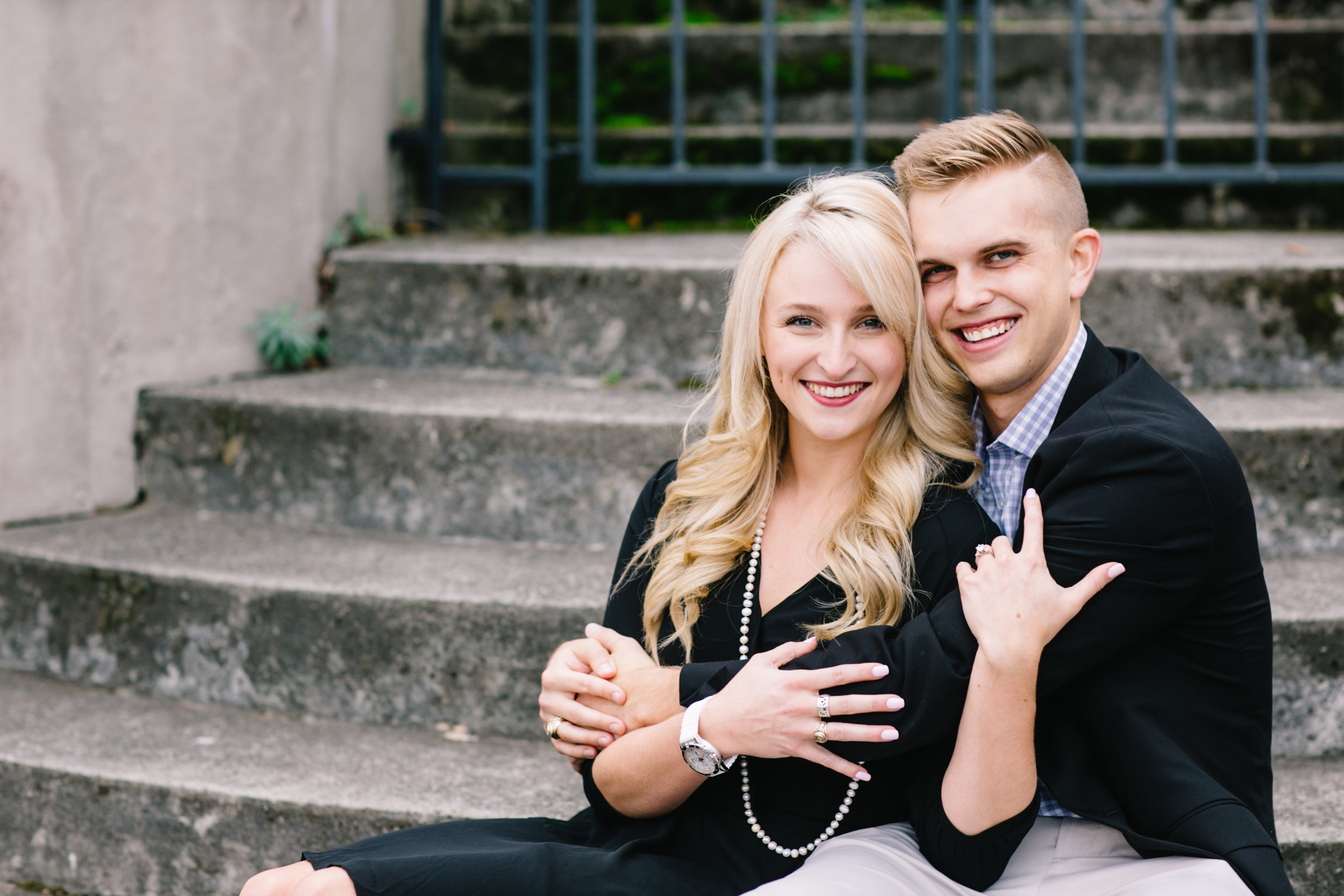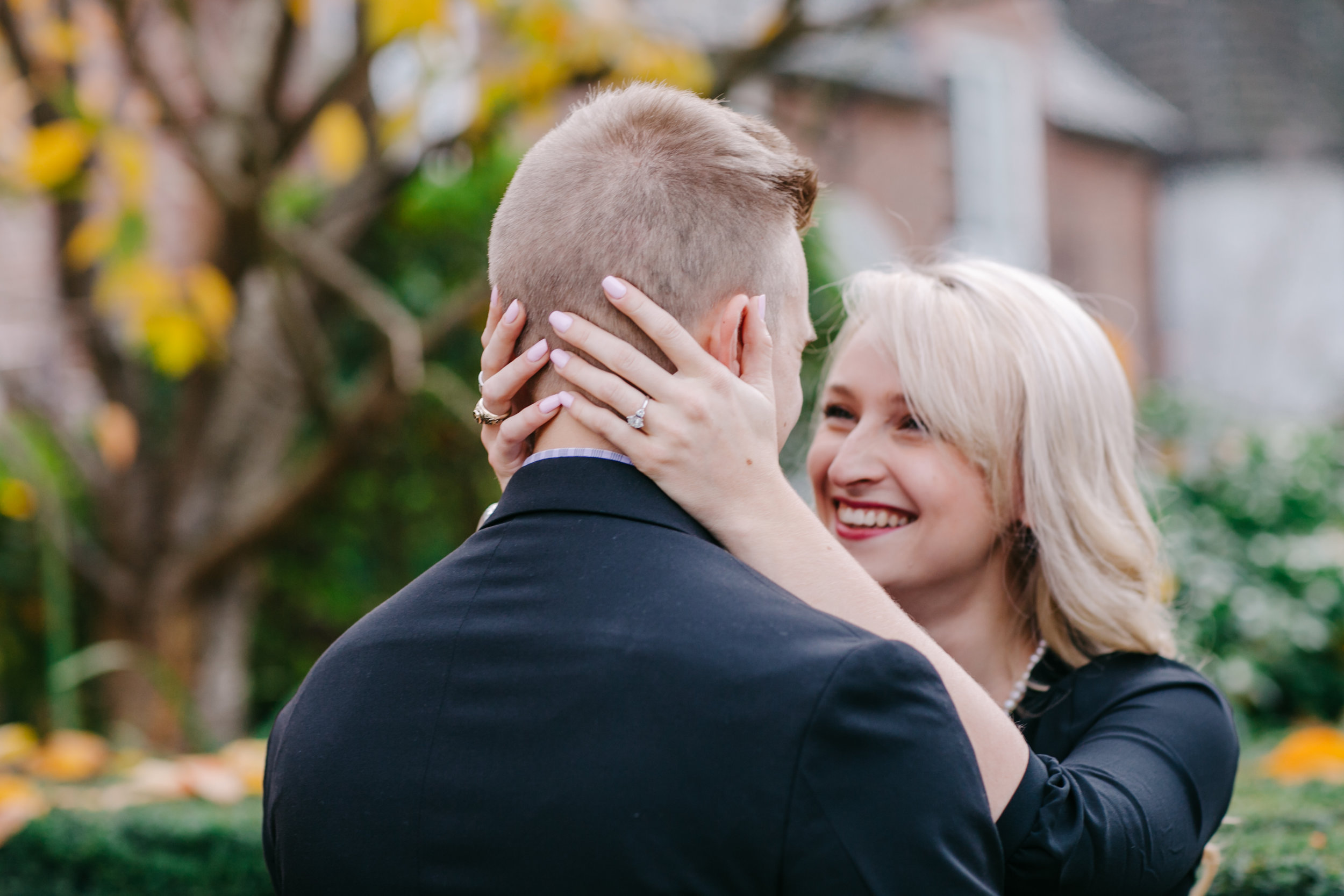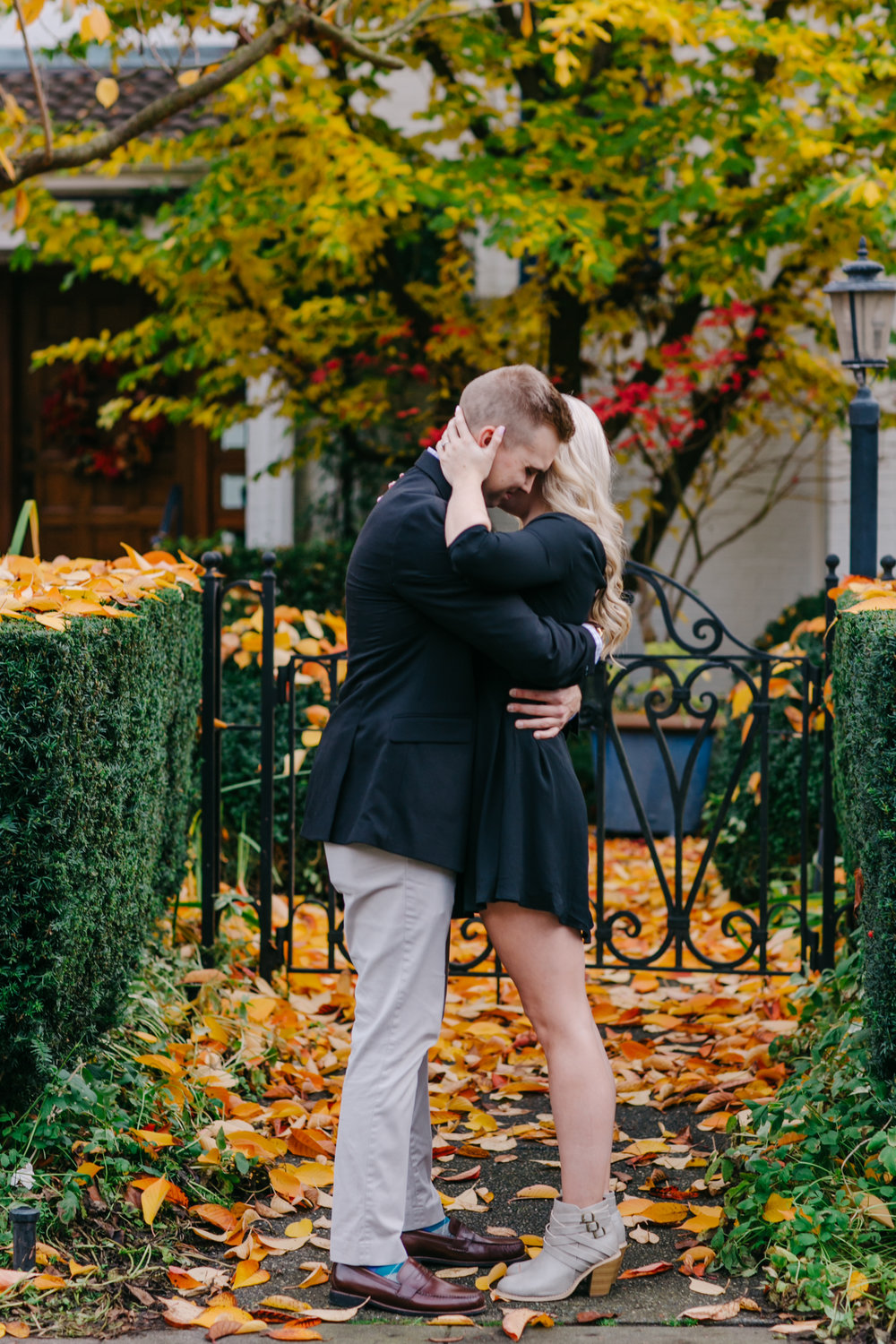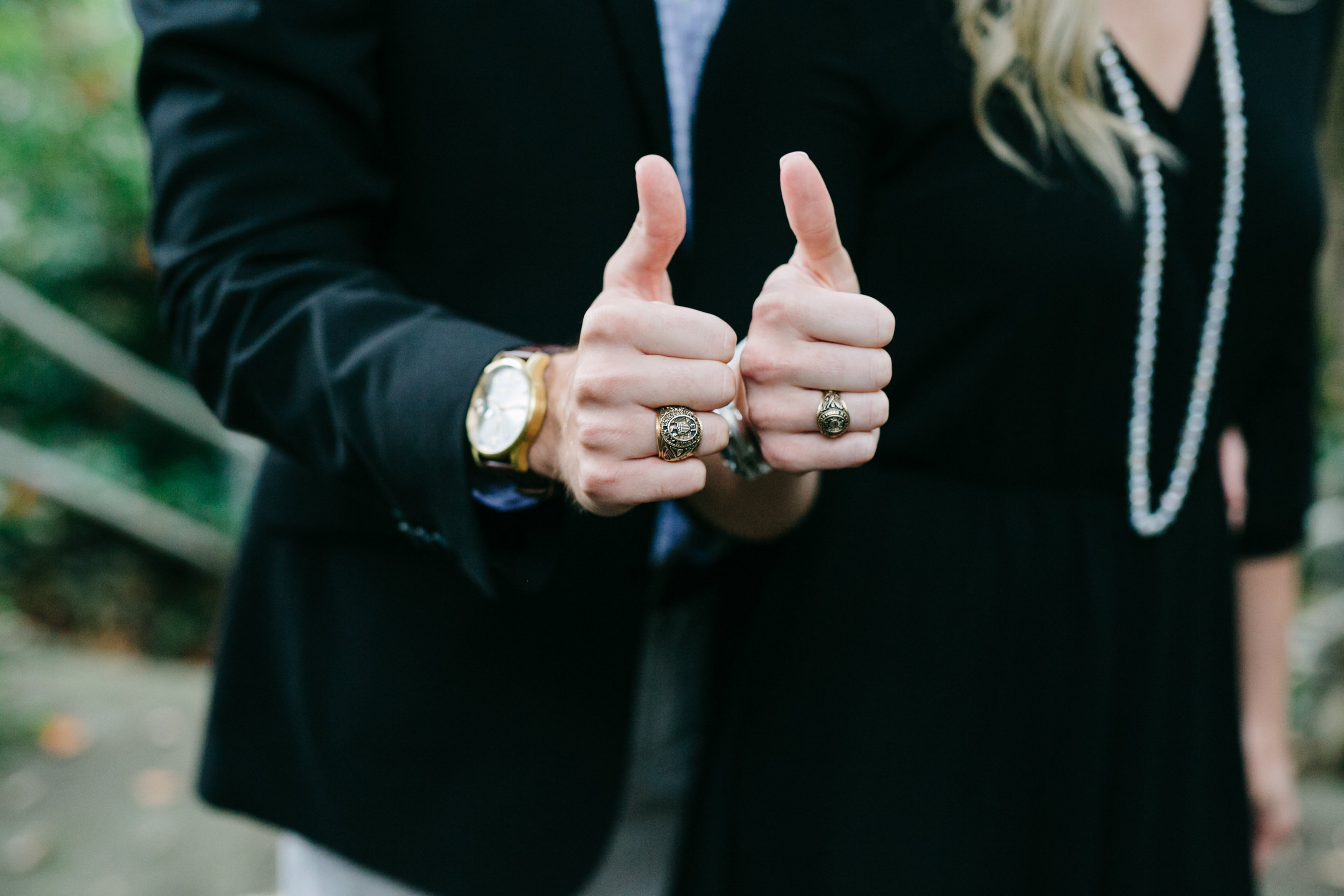 AFTER THE YES!
"After I squeaked out my 'yes,' a group of Chad's buddies, who flew up to be there for us, came out of nowhere and congratulated us. I was so surprised. Our photographer, Kelly, got some great shots of everyone and of the proposal. She then took us around the area and captured some pictures of us with the wonderful Seattle skyline. The pictures turned out AMAZING – she was such a fun photographer to work with. The rest of the weekend was so much fun. We hit all the sights – the Space Needle, Chihuly Garden and Glass, Bainbridge Island by way of the ferry, Pike Place Market, the original Starbucks and, of course, a TON of amazing food and coffee. Chad pulled out all the stops and made our weekend in Seattle and proposal one that I will certainly never forget. I am the luckiest girl in the world." – Sydney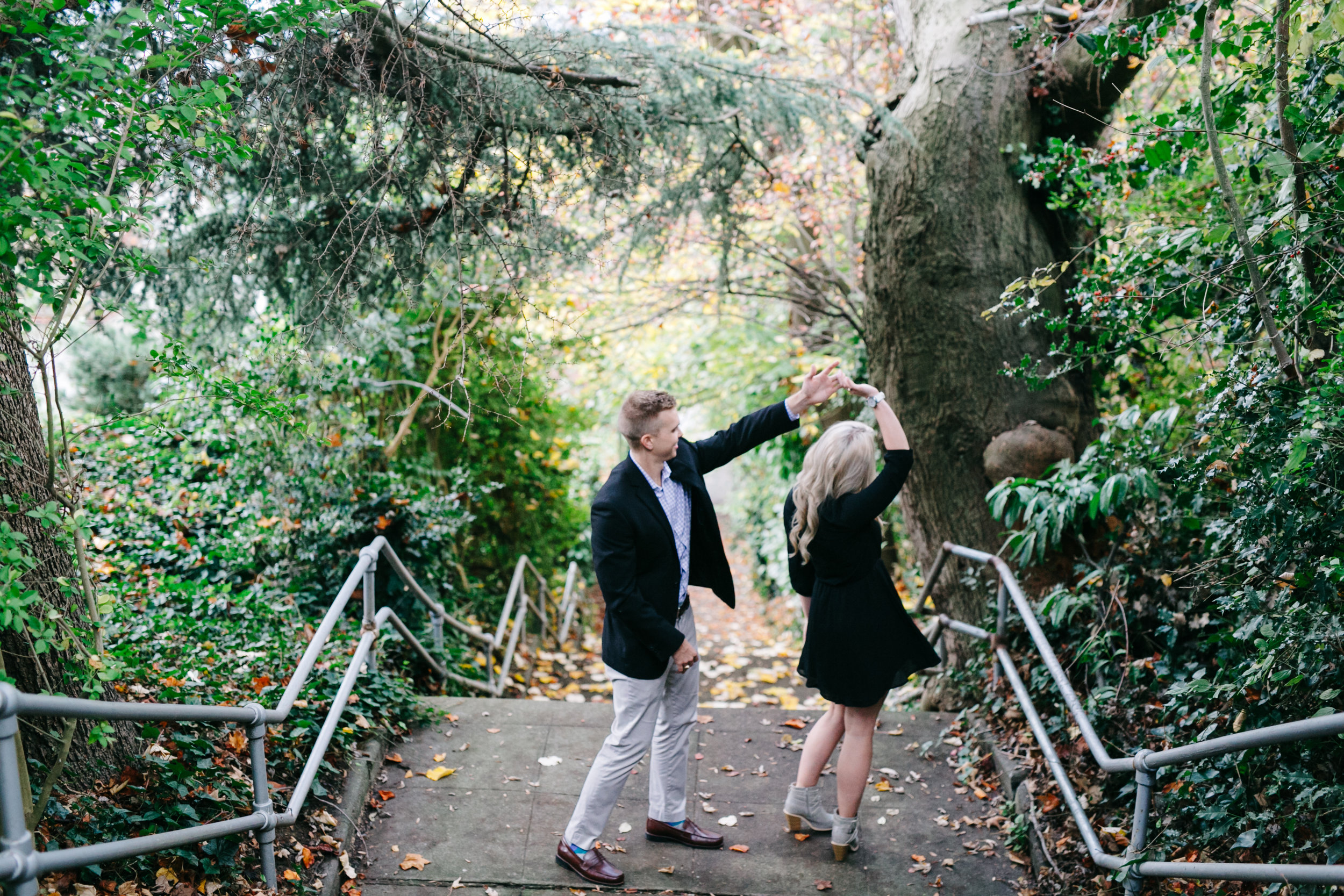 See more: couples – engagement – love – proposal – Seattle