See more: proposal – couples – love – Los Angeles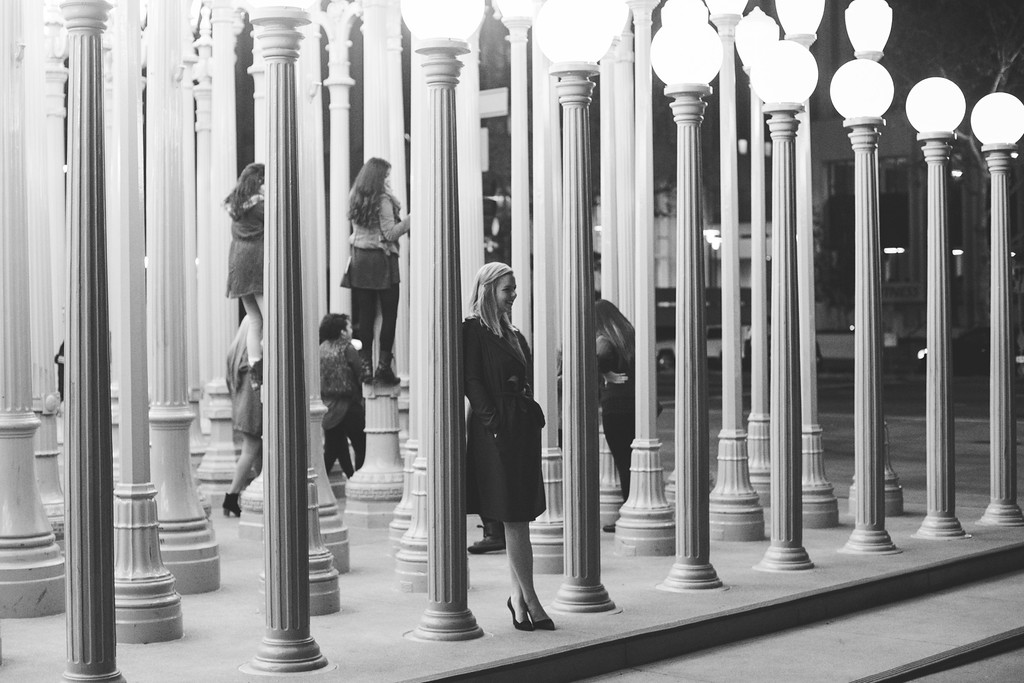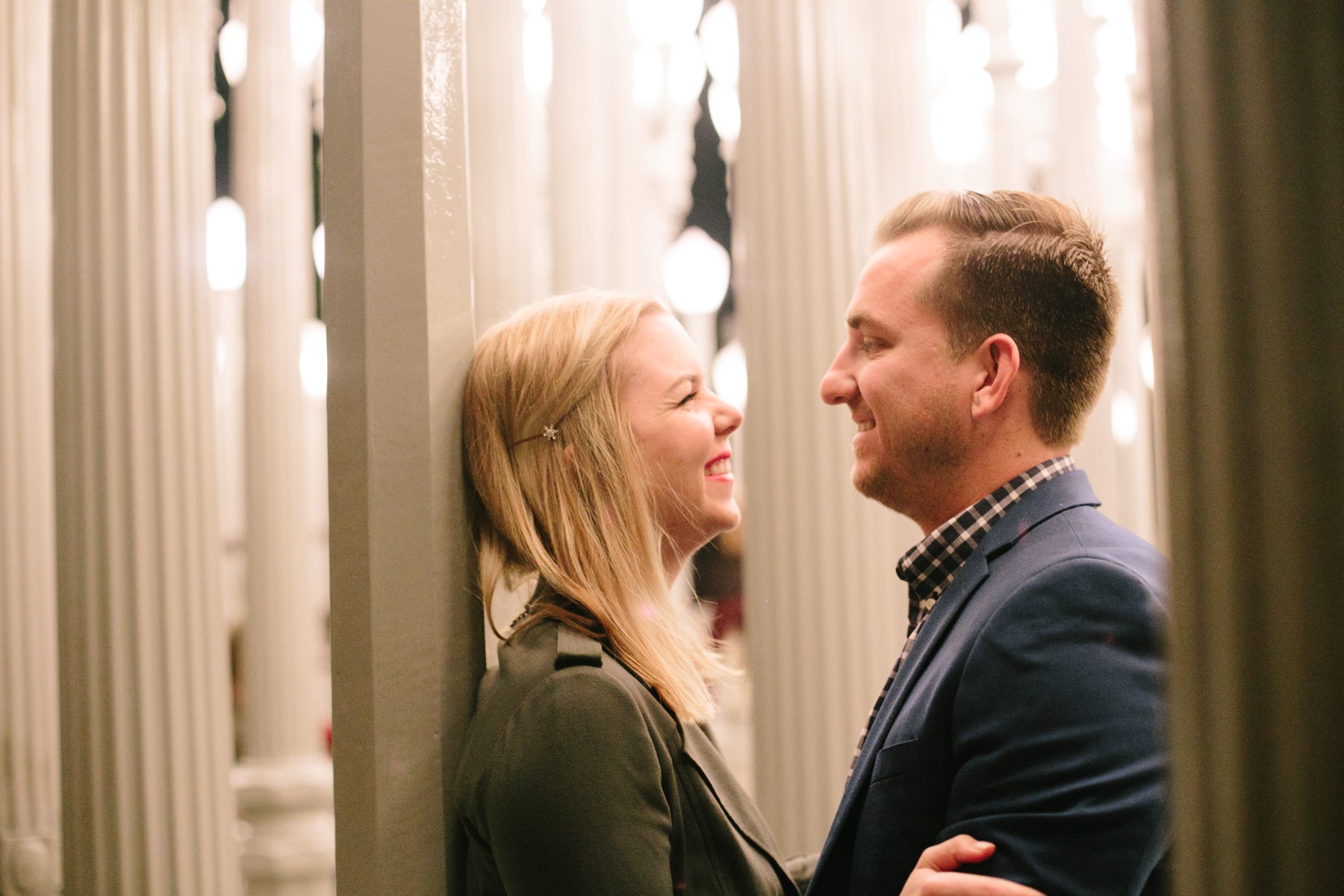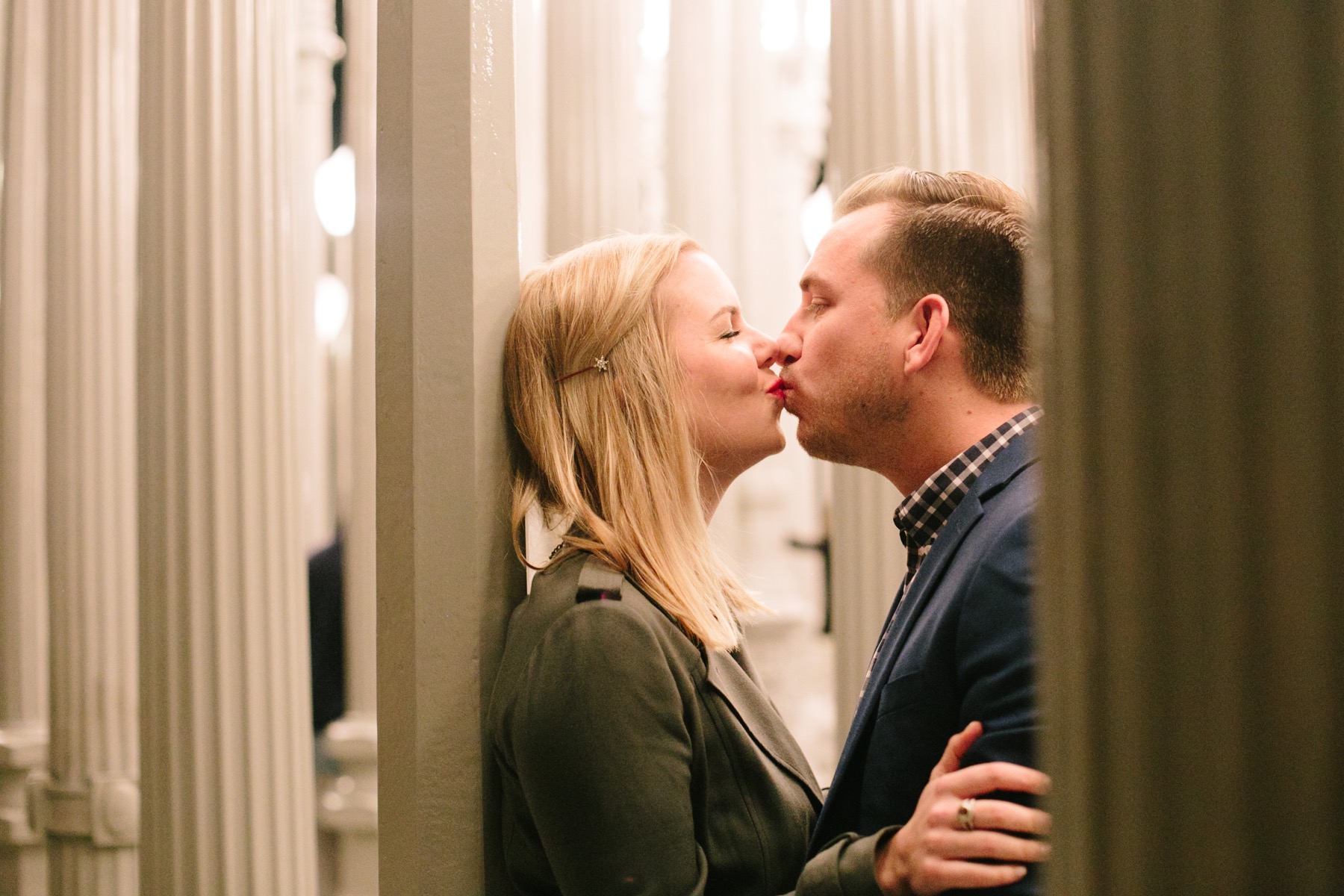 Their Story
Hayden: "My wonderful girlfriend (now fiancée!), Lyndsey, and I have been dating for just short of 6 fabulous years, and I couldn't imagine my life without this woman. I had had the proposal on my mind for several months, but the details had yet to come together. It all started with the ring: luckily she had sent me a few pictures throughout the year of rings she liked, and I am so grateful she did. As we were not ring shopping together, it was up to me to nail the perfect ring. I was lucky enough to have shopped previously with my brother, so I was familiar with the 5 C's [Carat Weight, Cut, Color, Clarity and Certification]. Once I had the ring in hand, I couldn't be any more excited to ask the girl of my dreams to marry me!
I knew I wanted to propose before Christmas for a few different reasons. Number one, I couldn't wait to be engaged to Lyndsey and didn't want to wait another minute. Second, we were going to have a great opportunity to share our excitement with family and friends that would be in town for Christmas and New Year's Eve. I researched several locations in LA for the site of the big question. I was looking for somewhere that would photograph well and also somewhere local where we could go back and visit. When I settled on the LACMA, I was even more excited (all while keeping an even keel on the exterior).
Separately, I had wanted to take Lynds out to see the The Moscow Ballet's performance of the Nutcracker. She had never seen the Nutcracker before, and it was a great opportunity to get dressed up and get into the Christmas spirit. As the LACMA museum was down the street from the Wiltern Theatre where the ballet was taking place, everything started to fall into place. All this planning was bouncing around in my head for a few weeks as we got closer to the date; I knew Lynds would want to have the proposal photographed in some way.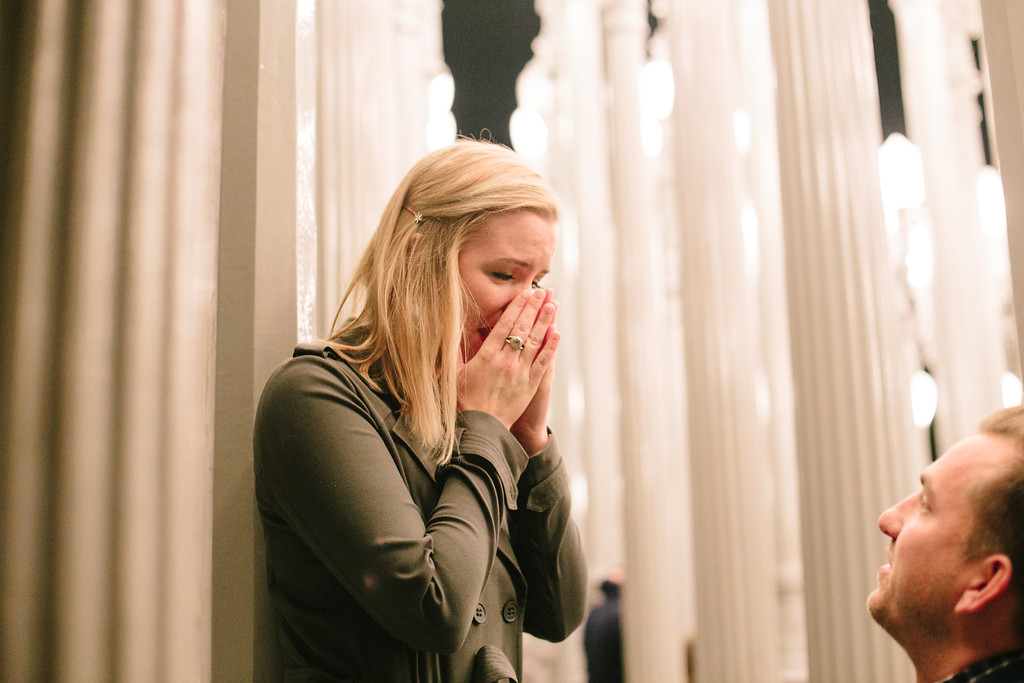 "I reached out to Flytographer to schedule a photographer to capture our special moment. The experience was phenomenal all around. Not only are we thrilled with the pictures that we'll cherish forever, but the planning and follow-up have been beyond my expectations. I loved the video conference with [Shoot Concierge] Jen and Katie, the photographer. After laying out my plan, Jen made some subtle suggestions and eventually walked both of us back through the perfect plan. This was enormously helpful and gave me confidence leading up to the night.
The week before I proposed, I asked Lyndsey's father for his blessing for his daughter's hand in marriage. It was at this point that I revealed the part the family had to play in our proposal. The plan was for our two families to be waiting in Lynds' apartment to greet us when we returned from the LACMA. Little did I know we would end up seeing both families the day of the proposal! Everyone played it exceptionally cool and the surprise wasn't spoiled in the least.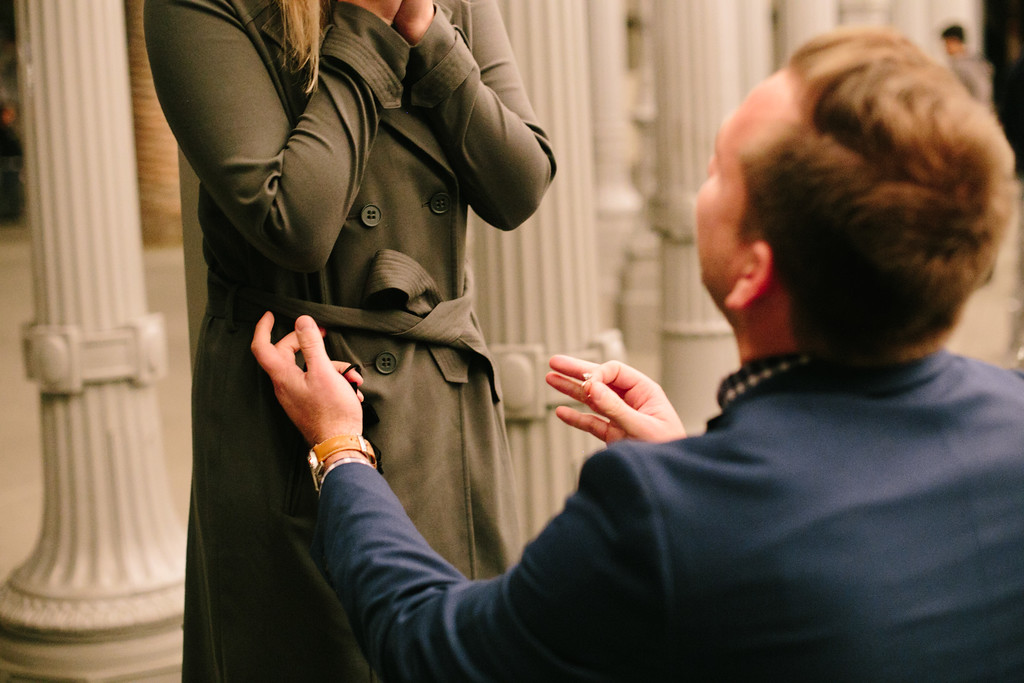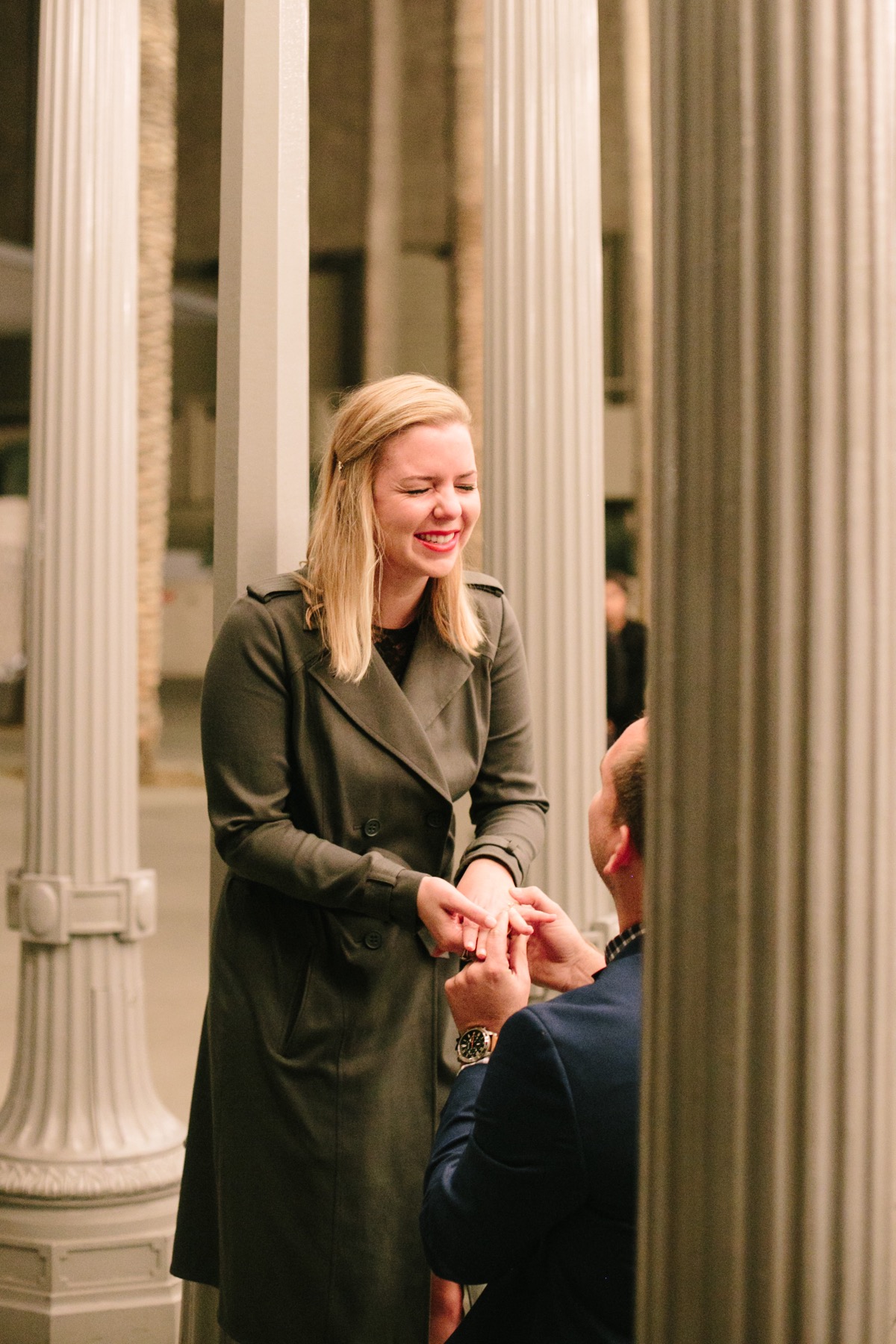 "With the plan in place and all of my little ducks in a row, I was ready to ask the biggest question of my life. In retrospect, I was very calm and normal throughout dinner and the Nutcracker – although I couldn't help my mind from wondering how everything would come together at LACMA or how I was going to get her to agree to stop at 9:30PM on a freezing (for LA) night. It wasn't visions of sugarplums that were dancing through my head! Even though Lynds is typically a very inquisitive person, as fate would have it, those tendencies went out the window for our special night. Several times I felt I had blown the surprise with a slip of a word or a glance at my phone. But she accepted my lousy excuses and we continued with the night as planned.
After two hours of ballet, we were out the door and on our way back. I nervously texted Katie and alerted her that we were about 30 minutes behind schedule. All good, she reassured me. As we were driving down Wilshire Blvd, I begin to point out some landmarks with a strange enthusiasm. 'Oh look – the La Brea tar pits!' I slowed down as we approached LACMA, as I didn't want to accidentally pass it. 'Look Lynds, LACMA!' I made a U-turn to take control of the situation. This was the night we were stopping no matter what! As we pulled over, Lynds asked if she should reapply her lipstick. Cool as ever, I answer with a 'You don't have to, or whatever you think.' As we approached the exhibit, I spotted Katie towards the rear. Lynds was near the front so I had to slowly position us within reach of Katie.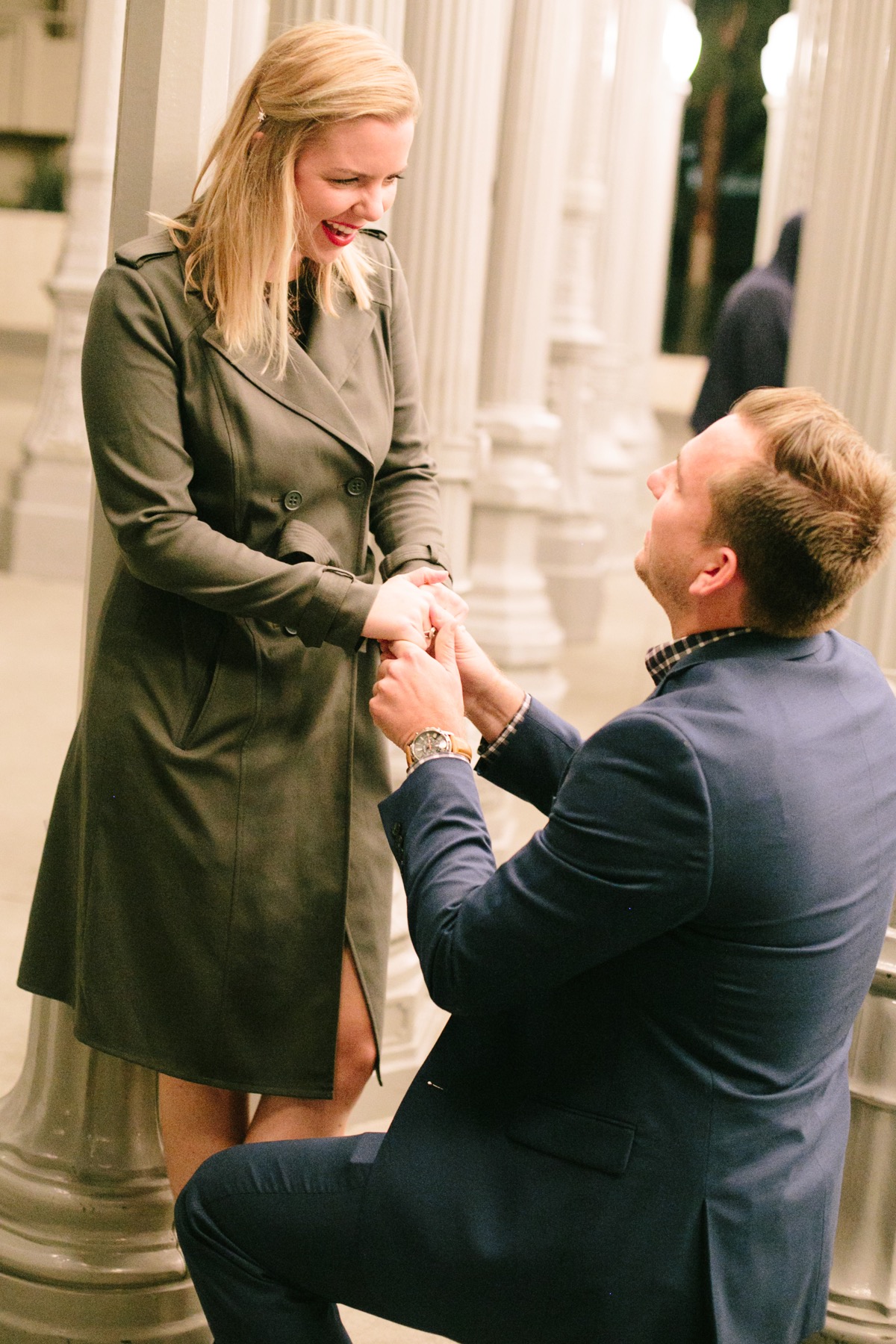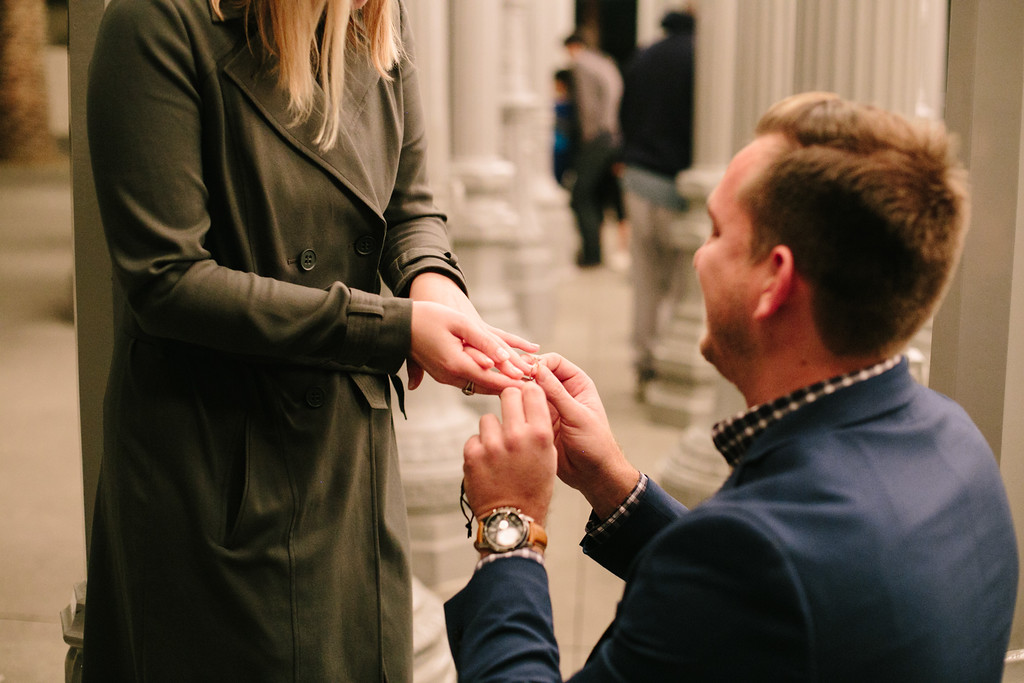 "After we walked through the lights, took a photo, and kissed, I pulled away from Lynds and dropped to one knee. Lynds wasn't sure how to react, asking over and over 'Is this real?' When I started speaking, Lynds' mind started to grasp what was going on. Simultaneously, my mind stopped knowing what was going on. My pre-planned speech went out the window, along with the confidence I had exhibited earlier in the night. I took a moment to gather myself and continued from the heart: 'Lynds, you make me a better person every day. I love you so much and I can't image my life without you. Will you marry me?' As I pulled out the ring, Lynds had a full realization that this was, in fact, 'real.' My girl said 'YES!' and my heart swelled with love.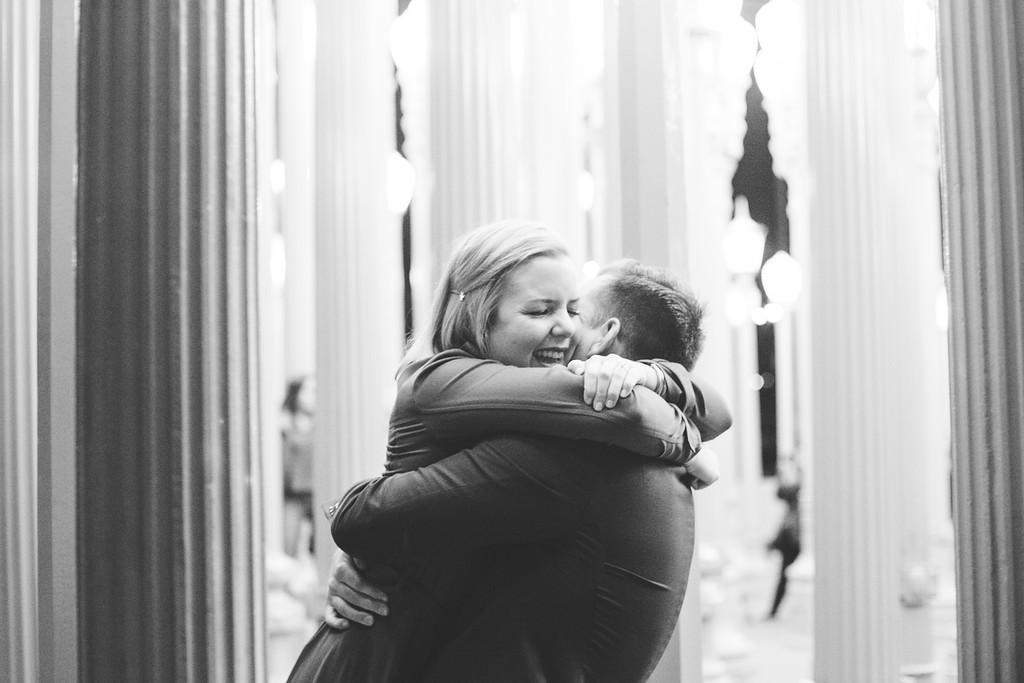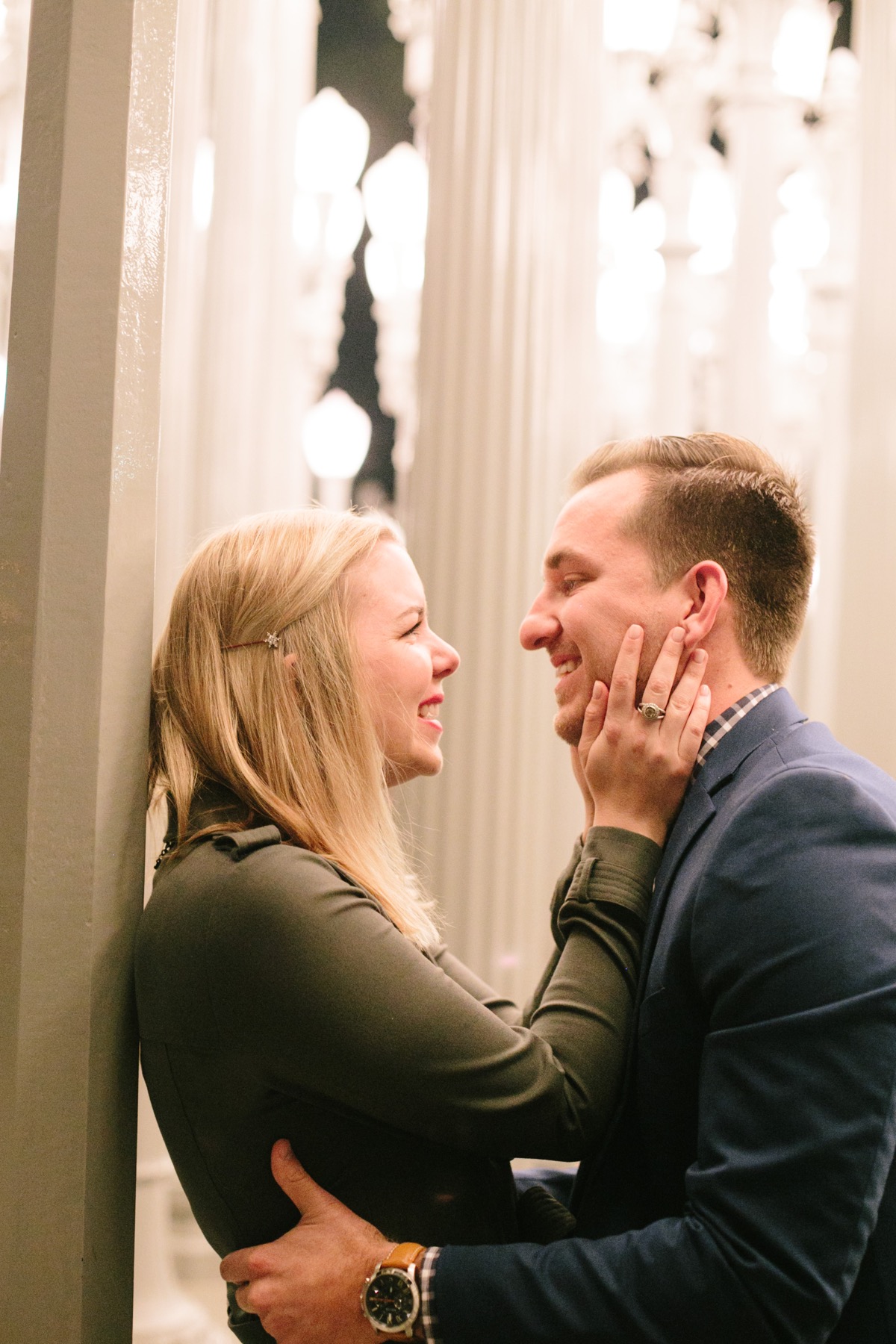 "I was also super happy that the plan had gone off without a hitch! Katie congratulated us and said her goodbyes and we hung around LACMA for a little longer to digest what had just taken place. I mentioned to Lynds that I did have one more surprise for her, but that it was back at her apartment. As we opened the door to her apartment, our families joined in a great yell, 'SURPRISE!' and the look on Lyndsey's face was absolutely priceless! Katie was there to capture that moment and we'll have that photo forever. We took several candids and family group photos before Katie said her final goodnight. We couldn't be more thankful for her work that night. We cheered with champagne and celebrated the beginning of our engagement and the beginning of our new lives together! "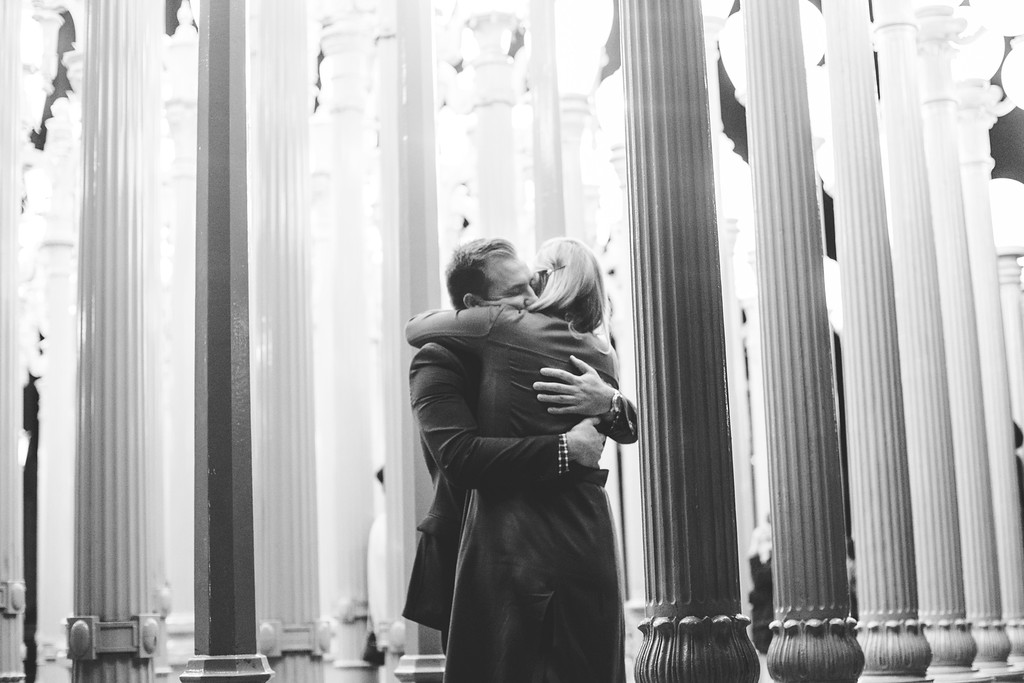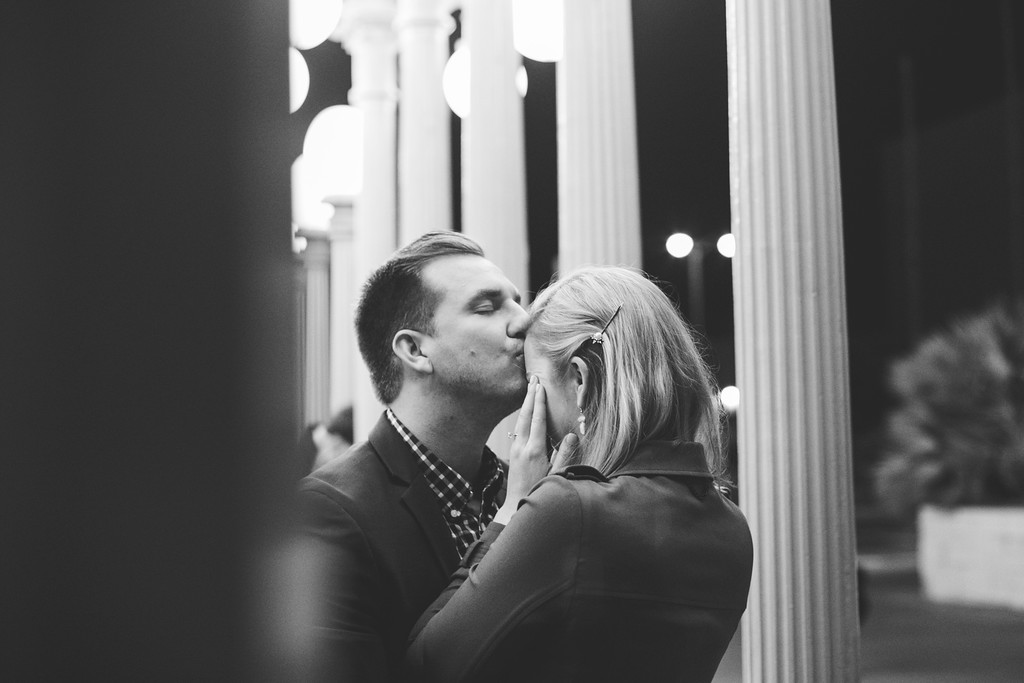 Lyndsey: "In the beginning of December, my fiancé, (yay!) Hayden, had told me that he wanted to take me to a showing of Moscow Ballet's The Nutcracker, since I had never seen it before. I was so excited for a fun holiday date night and to get dolled up and dapper with my guy. The show was for Sunday, December 20th at the Wiltern in Los Angeles. It was absolutely amazing! I was so appreciative of Hayden taking me and making it such a special and festive night together.
On our way back to my place, we 'stumbled' upon the LACMA (Los Angeles Museum of Modern Art). We recently had made a list of places to explore in LA that were 'budget-friendly' and Hayden had added the LACMA to our list, which made me really happy because I had been wanting to go there too. As we were passing the infamous Urban Light Exhibit, Hayden says 'The LACMA! Let's stop a take a picture!' It was about 9:45pm, on a Sunday, and I was pretty tired already, so I was a little hesitant in getting out and taking a picture at that moment in time. I asked him if I should reapply my lipstick and he said, 'No, you don't have to.' Well, thankfully I did, since I had been sucking on a candy cane the entire show! But I wanted a cute picture of us since we were all dressed up, so the lipstick was a necessity.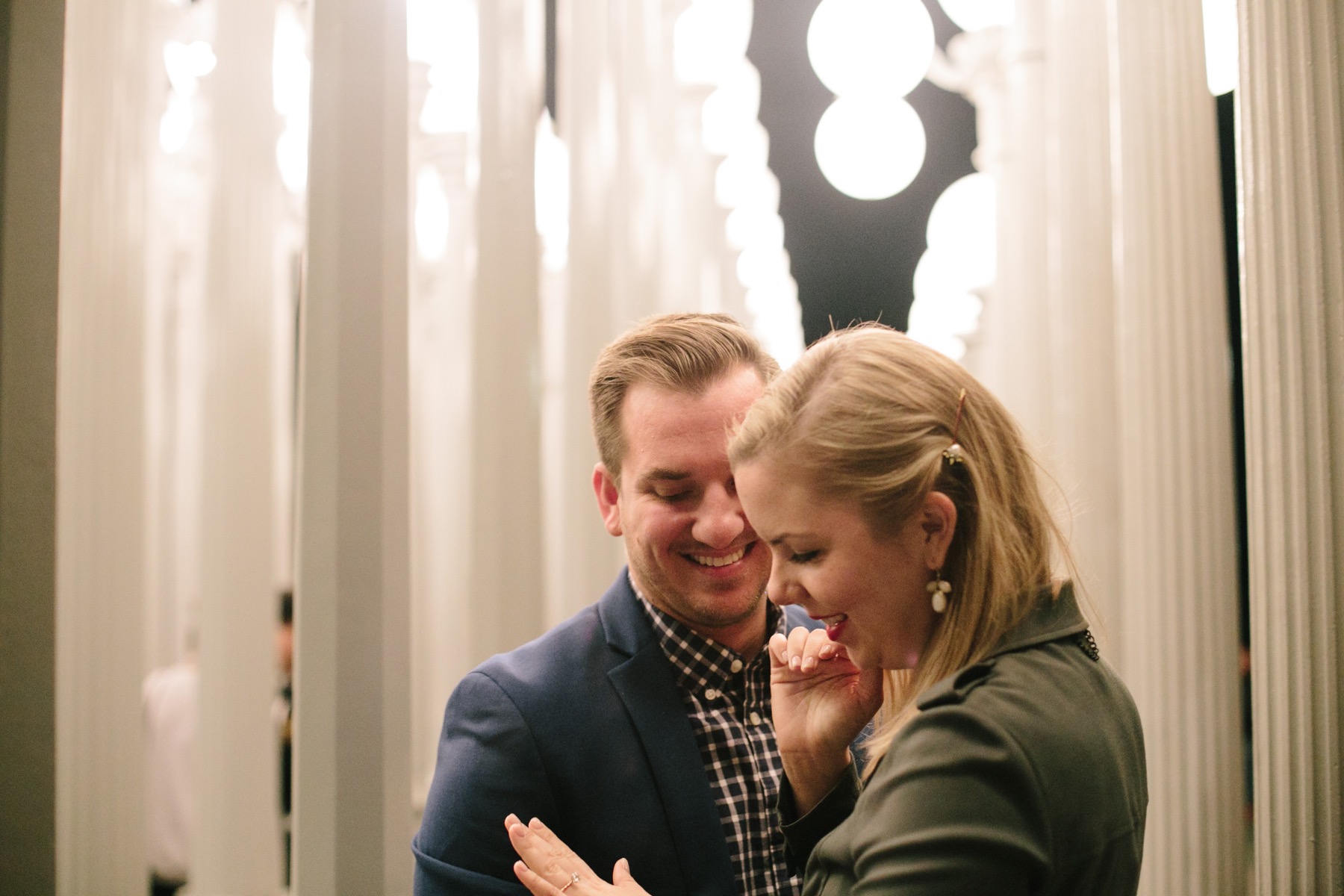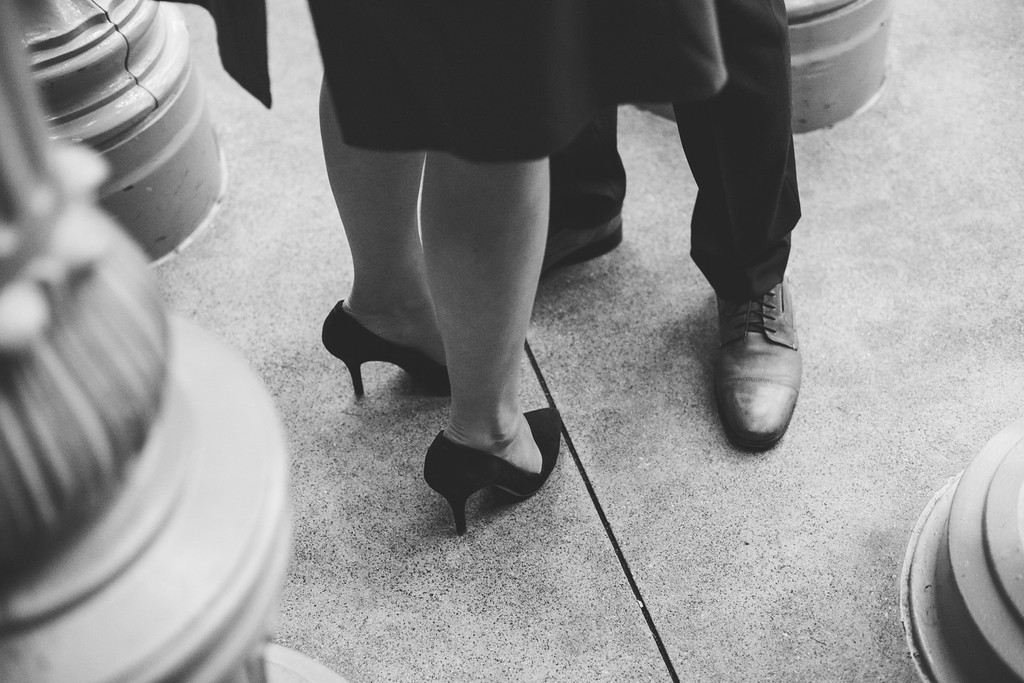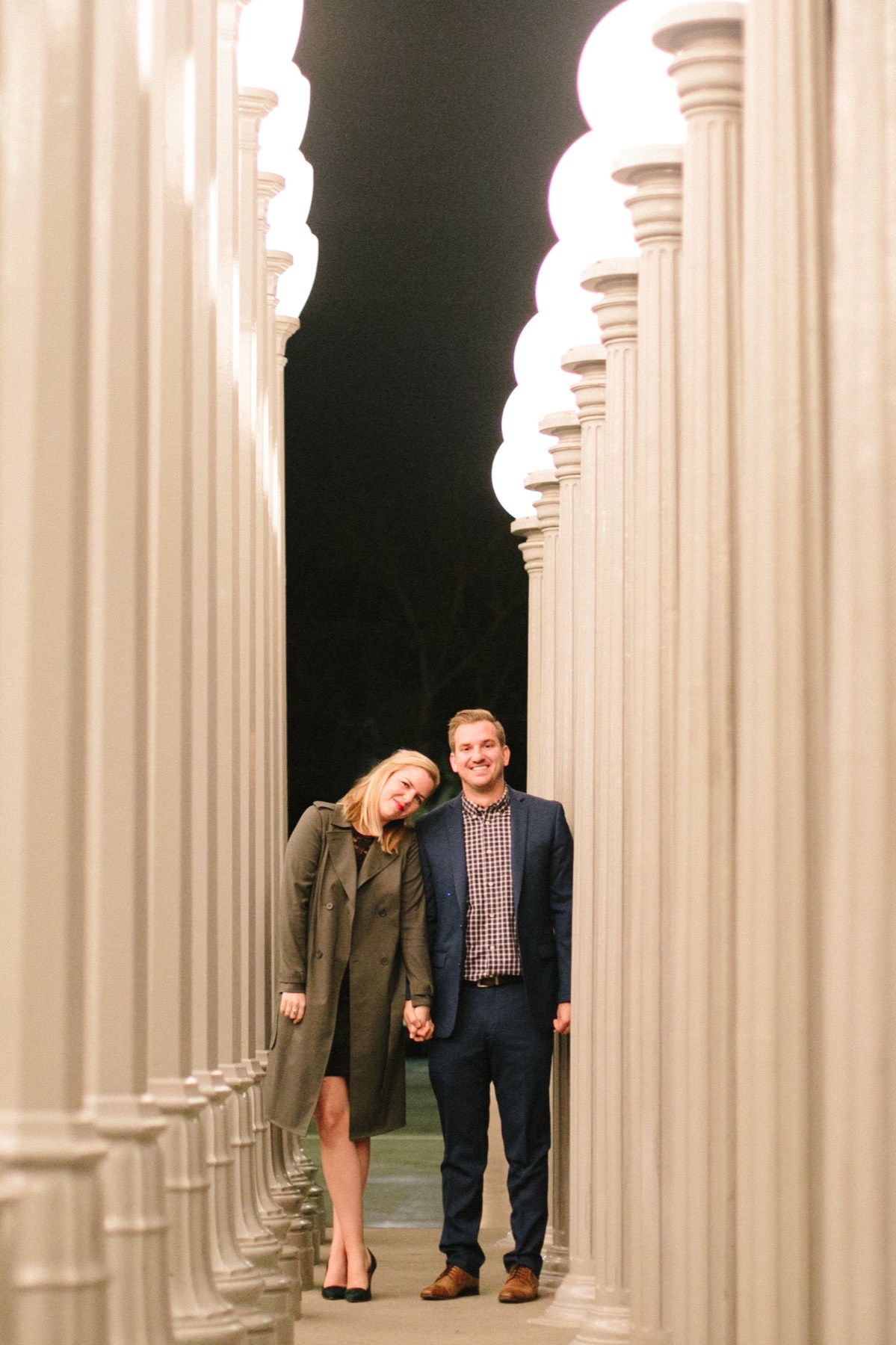 "We walked across the street to the beautiful Urban Light Exhibit and Hayden told me that he wanted to take a picture of us. The next thing I know, Hayden gets down on one knee and I start to lose track of what is real and what is not. I ask him what he is doing, and he proceeds to tell me everything a girl waits to hear. 'I love you so much, Lynds, and I want to spend the rest of my life with you. Will you marry me?' There was much more he said before that, but I quite honestly think I blacked out. I couldn't help but repeatedly ask him 'Is this real? Is this real?' Hayden's response each time was 'Yes, baby. This is real.' He pulled out the most beautiful ring, and that's when it hit me. This is real. At this time, Hayden was probably down on his knee for longer than he expected, as it took me awhile to realize this was actually happening. Of course I said 'YES!'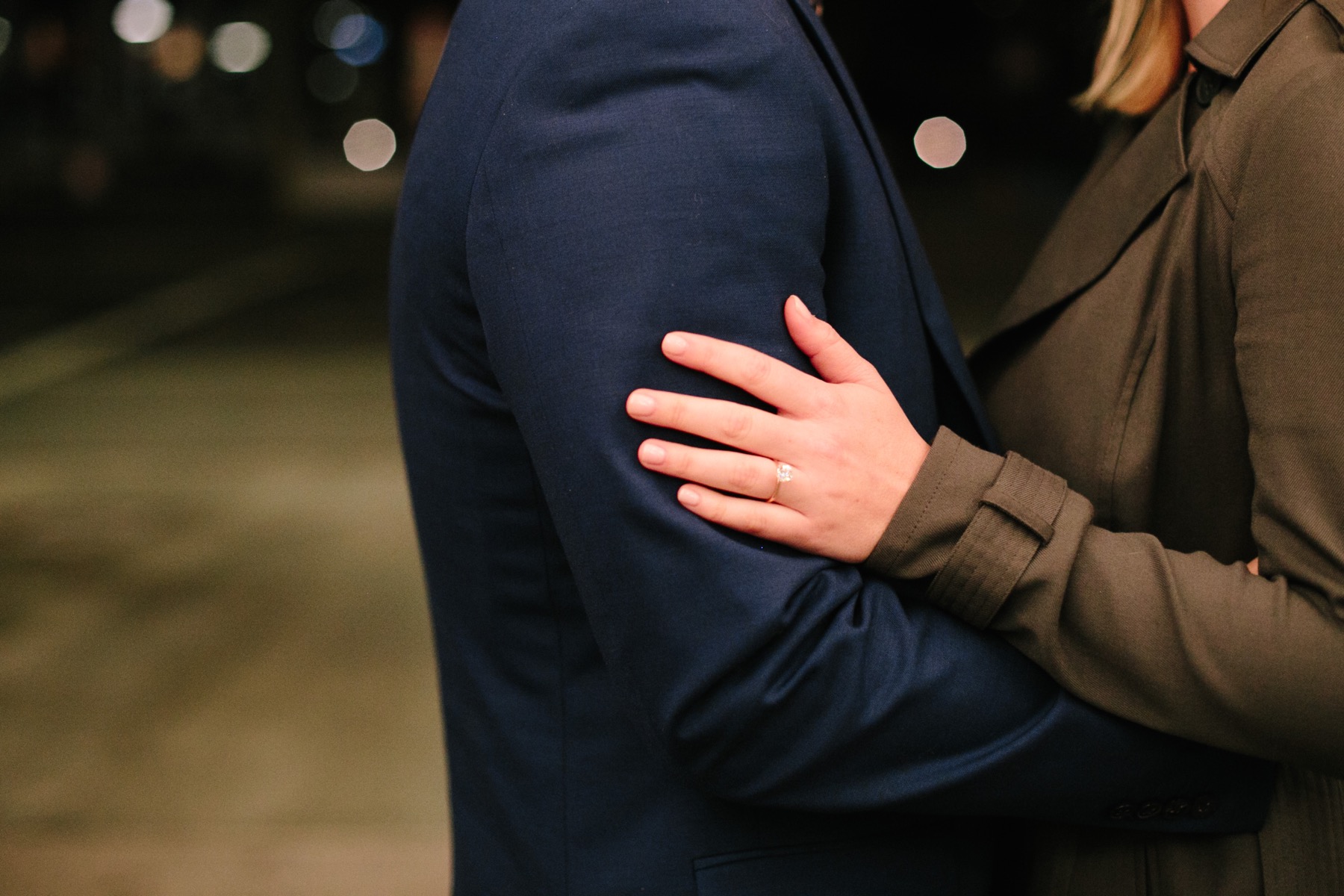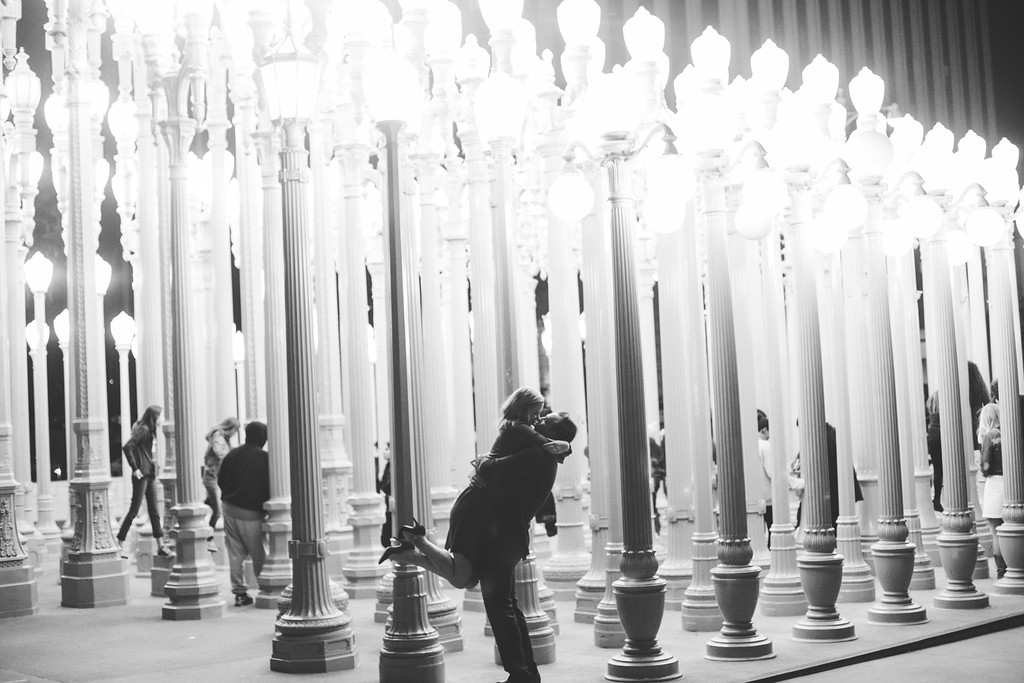 "I later learned that the photographer's name was Katie from Flytographer, and Hayden had hired her to photograph our whole proposal, beginning to end. Each and every emotion, she captured it all. I had discovered Flytographer through Instagram about a year ago and remember telling Hayden about what a cool company and concept it was. Little did I know that he had this in his back pocket this whole time. We said goodbye to Katie and thanked her for everything. On our way home, Hayden told me he had another surprise for me, but it was back at my place. I decided not to call my family just yet, because I wanted to share this special moment with my fiancé and see what other surprise he had for me. About 15 minutes after, we got back to my place and I turned on the lights. All I heard was 'SURPRISE!' My whole family and Hayden's whole family were gathered in my tiny living room at 10:30pm on a Sunday night, to celebrate the happiest moment of our lives. And Katie had conveniently made her way back to my place as well! Tears of happiness streamed down my face as I hugged everyone. Katie, yet again, was there to capture all of these special moments that we shared with both of our families. It was truly the most perfect proposal I could have ever imagined! To my fiancé, you knocked it out of the park! Stay tuned for #thehiattriot in Spring 2017!"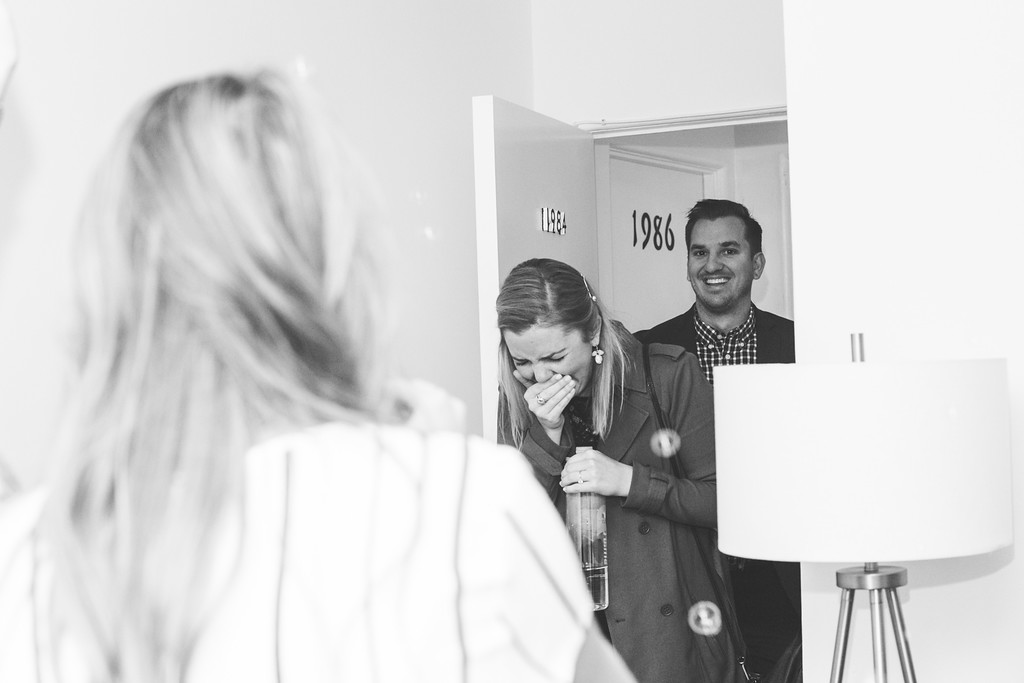 Looking to capture the most important question of your life?