iPhone photography tips for better photos
Whether you have an iPhone 11 or iPhone X, these posing ideas, photo editing tips and camera features will help take your photos to the next level, IOS-style. Long story short, you don't need a DSLR and a telephoto lens to take high-quality photos. We believe that the best camera is the one that you have with you! And more often than not, that is the one we keep in our back pocket all the time (aka, our phones!). These are some simple photography hacks that we love that go beyond wiping your camera screen and utilizing the rule of thirds.
Table of Contents
Posing ideas for great photos
1. Posing tips for people with a height difference
Use perspective to your advantage! Bringing the shorter person to the foreground can bridge the height gap 🌉

Sitting is an easy way to bring your faces closer together for an up-close picture 😍 Use chairs, stairs, and ledges to your advantage!

Stagger using what's around you! Whether it's a curb, rock, hill, or step, get creative! (Hint: the steps don't have to show in the photo if you're shooting up close ✨)

As always, have fun! Genuine smiles are more important than the perfect pose 😄
2. Posing ideas with a jacket
The asymmetric hold: Simply wear your jacket open and with one hand, grab near the collar at the top, and with the other hand, grab closer to the bottom. Look beyond your shoulder past the camera and smile for a super casual candid moment.
Half-on, half-off:

Pull your jacket down off of your shoulders and let it hang with your arms bent. Turn your body away from the camera but look back over your shoulder and flash us your pearly whites!

Over the shoulder:

Now, take the jacket off and fling it over your shoulder while facing the camera. Look at the camera or up and over the lens. Gorgeous!
3. Tips for taking photos in a busy spot
Use

portrait mode

to reduce background distractions

Take photos from a low angle to hide people

Use the Retouch App to easily reduce photo bombers!
4. What do I do with my hands? 
Sometimes it's the simplest tips that can make a huge difference! If you're unsure what to do with your hands, try "washing" them. 🧼
Even bringing just a little movement to your photos will help loosen you up, reduce anxiety you might be feeling in front of the camera, and bonus, it's easy to remember! 😄
We especially love this tip for sitting photos!  💡
5. Easy posing hack for ladies
Even if geometry wasn't your favourite class in school, this posing tip makes looking good easy. Simply create a triangle with your arms or legs! 📐
Creating angles with your body creates flattering angles and leading lines to make your best features stand out! No crazy posing or thought required 💭
6. Creative posing ideas for families
If you want to bring personality into your images, try one of these 5 poses – straight from a professional photographer! Interactive poses like these (instead of "stand still & smile at the camera") are one of the easiest ways to have fun and capture genuine smiles! Because who else can relate to a smile like this 👉😬 when you tell your kiddos to "say cheese?"🧀😂
Jump in the air! 

Tickle party…

Run towards your camera / photographer on three!

Spin your kiddos

Kiss sandwich
7. Tips for taking selfies
If taking self-portraits is easier said than done, we have tips for taking amazing photos of yourself… no "Instagram husband" required 😝
You'll need:
A camera or phone 🤳

A tripod (or a sturdy surface, like a table or stack of books to prop your camera against) 📚

A smile 😄
Use the self-timer function to take a lot (and we mean a LOT) of photos! (TIP: if you have an Apple Watch, you can connect it to your iPhone to take photos from your wrist rather than using the volume buttons!) ⌚️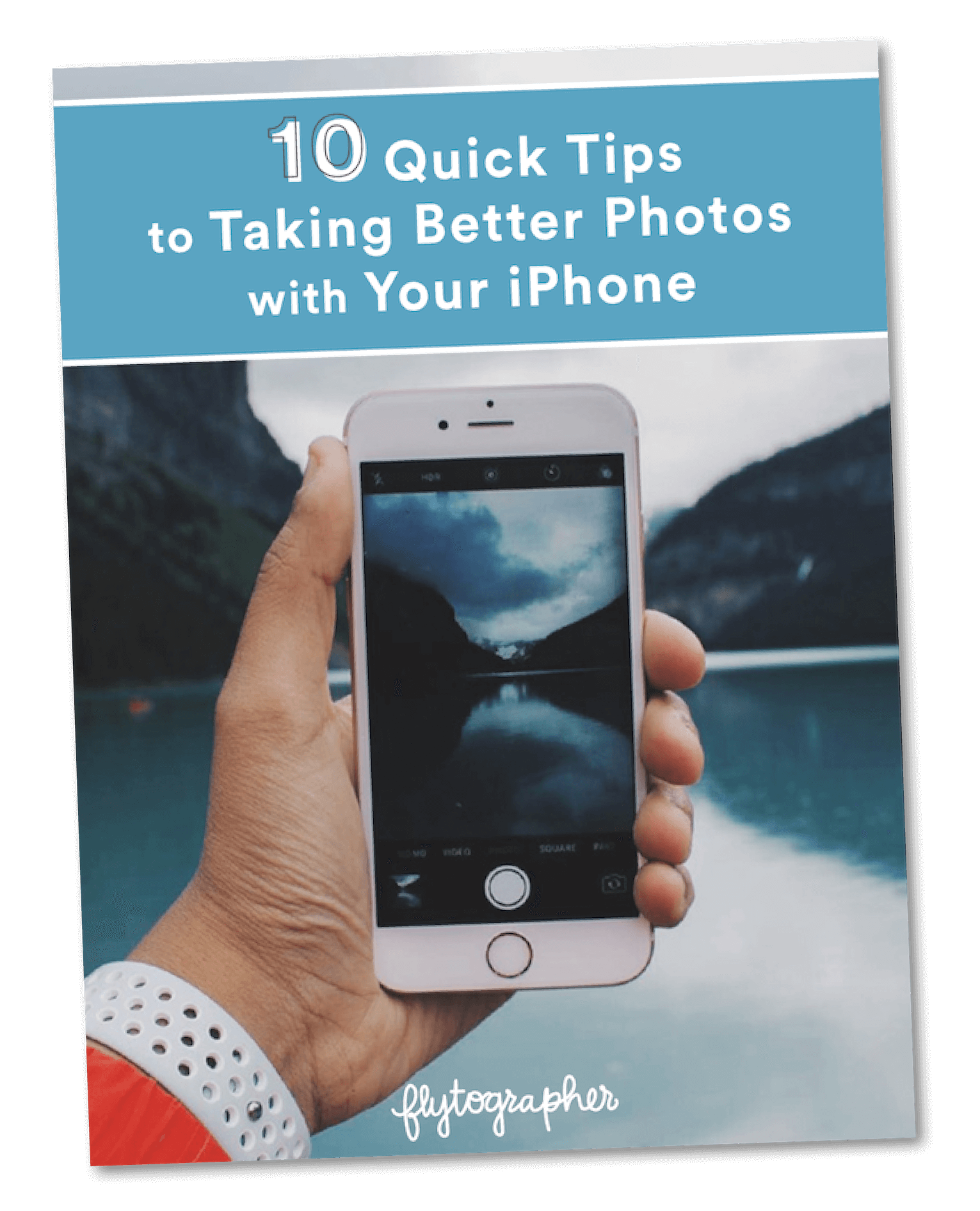 Get 10 More Free iPhone Photo Tips!
We made a downloadable cheat sheet just for you with our favourite iPhone photo tips! Sign up for our mailing list and get your download instantly.
iPhone photo modes & camera settings
8. Photo hack for beach photos (or any moving water!)
Beach photos that will make you say OMG 😍 are just two taps away! Create this beautiful, smooth water effect with the long exposure tool using any live photo 🤳
Step 1: Take a photo on live mode
Step 2: Swipe up on the photo at the bottom of the screen & select "long exposure"
Step 3: Let your phone work its magic 🪄
TIP: want someone in the photo? 📸Make sure they're standing really still, so they aren't blurry!
9. How to adjust the depth of field in portrait mode 
Portrait mode one of the easiest ways to achieve a professional photo look… all from your iPhone camera 🤳🏼✨
But did you know you can adjust the depth of field (aka the amount of blur in the background) even after you've taken the photo? 🤯
Open your photo in your

camera roll

of one taken with

portrait mode

Click "edit" on the

top right

Click the "f" on top left

Adjust the slider on the bottom
✨Presto!✨
10. How to make a key photo from a live photo
This is how to nail your iPhone photos every. single. time. (We said what we said 😎)
Take a "live" photo! It's like a mini-video, and you can choose the split second you like best as your photo! No need for fast-fingers on the shutter button or taking 500 photos in burst mode. 🔥
This is a great hack for:
👀 That person whose eyes are always closed
👧 Wiggly kiddos who only look for a second
💃 Moving poses, like how I swish my dress here
🤳 Psst, it works for selfies, too!
11. How to take higher quality video content with your phone
Did you know you can take higher-quality videos on your iPhone? 🤳✨
First, you have the choice between HD and 4K (in the top right corner, with video mode on). Your phone will automatically choose HD, which is still great, high-definition quality 📸  4K is the highest quality, but note that it will also take up more memory! Second, select your frame rate. This is how many frames per second your video is! Basically, it's like flipping through a book in one second. 24 "pages" per second will look choppier like film, while 60 FPS will be much smoother. 30 is the default ✨ Play around with the settings and tell us if you see a difference 😍
Note: your iPhone will automatically reset to the default settings once you close your camera app 📸
Natural light in your photos
12. How to spot great light for your photos
Did you know that the word photography literally means "drawing with light?" 🧑‍🎨 Without a good light source, you cannot take a photo. When you're photographing a moment, think about your lighting first before you click that shutter! If shooting in low light, try night mode.
We can break light down into two categories: soft light and harsh light. Both have their pros and cons, but soft light is naturally more flattering for portraits 📸
Think of soft and harsh light like a lamp. Do you leave the bulb bright and exposed in your living room, or add a lamp shade to diffuse the light? When in doubt, look for the soft light 💡
See more tips for great lighting on our blog post on natural light photography.
Photo editing tips & editing apps
13. How to create a custom sticker from your photo
Turn your photo into a custom Instagram story sticker for your personal brand using Canva in 5 simple steps. ✨
Import your photo into Canva

Use the Background Remover tool

Export as a PNG file with a transparent background

Save to your

camera roll

Upload to your IG story from your

camera roll
If the ideas are already flowing 💭 but you don't have the photos to go along, book a Modern Headshot session to capture personal branding photos you love.
This is an easy way to tell your story and show the world who you are! ❤️
14. How to add a coloured background to your headshot
Step 1: Pick a colour
Step 2: Canva magic ✨
Use the "background remover" tool in Canva to DIY your own studio-style headshot in 2 easy steps ✌🏼
15. Top editing tips for sunset photos
Have you ever taken a photo of a beautiful sunset only to be disappointed that the colours just don't look like how you remember? 🌅😢
First of all, try shooting in the HDR (high dynamic range) setting. Here is a quick editing tutorial to help bring those magical sunset colours to life utilizing saturation, exposure, contrast, and white balance tweaks ✨ This is the VSCO app, but these tips can be used with any editing app including the photos app. 🤳