Transforming your camera roll into magical memories
Whether you are taking a photo of your sweet kiddo while they blow out their birthday candles or a selfie with your sweetheart, the potential to capture amazing memories with your phone is truly endless. But when you pull it out of your pocket to take that photo, do you feel like you are "winging it" most of the time? If this sounds familiar, it's time to transform your everyday photos into magical memories with a little help from your Flytographer friends! With our new e-course, you will learn the technical features of that powerful camera that you always have with you (your phone), composition tips and editing hacks … and travel through your phone to the cliffs of Santorini, the streets of Paris and the beaches of Hawaii.
Virtually travel while you learn
Your journey to better everyday photos with your iPhone starts with Kimon in Santorini, where you will learn the technical aspects of your iPhone camera and some basic photography principles. Then, you will travel across Europe to meet Krystal in Paris who will teach you all about composition, framing and taking beautiful portraits that tell a story. Next up, you will fly to Hawaii to meet Natalie in Honolulu and learn about how to select the best photos from your camera roll and edit them using the Lightroom mobile app and other editing apps. Finally, you will journey to the UK for a bonus module to meet Jimmy in London who will teach you how to utilize the video features on your smartphone. Buckle up, because our team of photographers around the world have a lot to share with you about taking beautiful photos along with some insider travel tips along the way!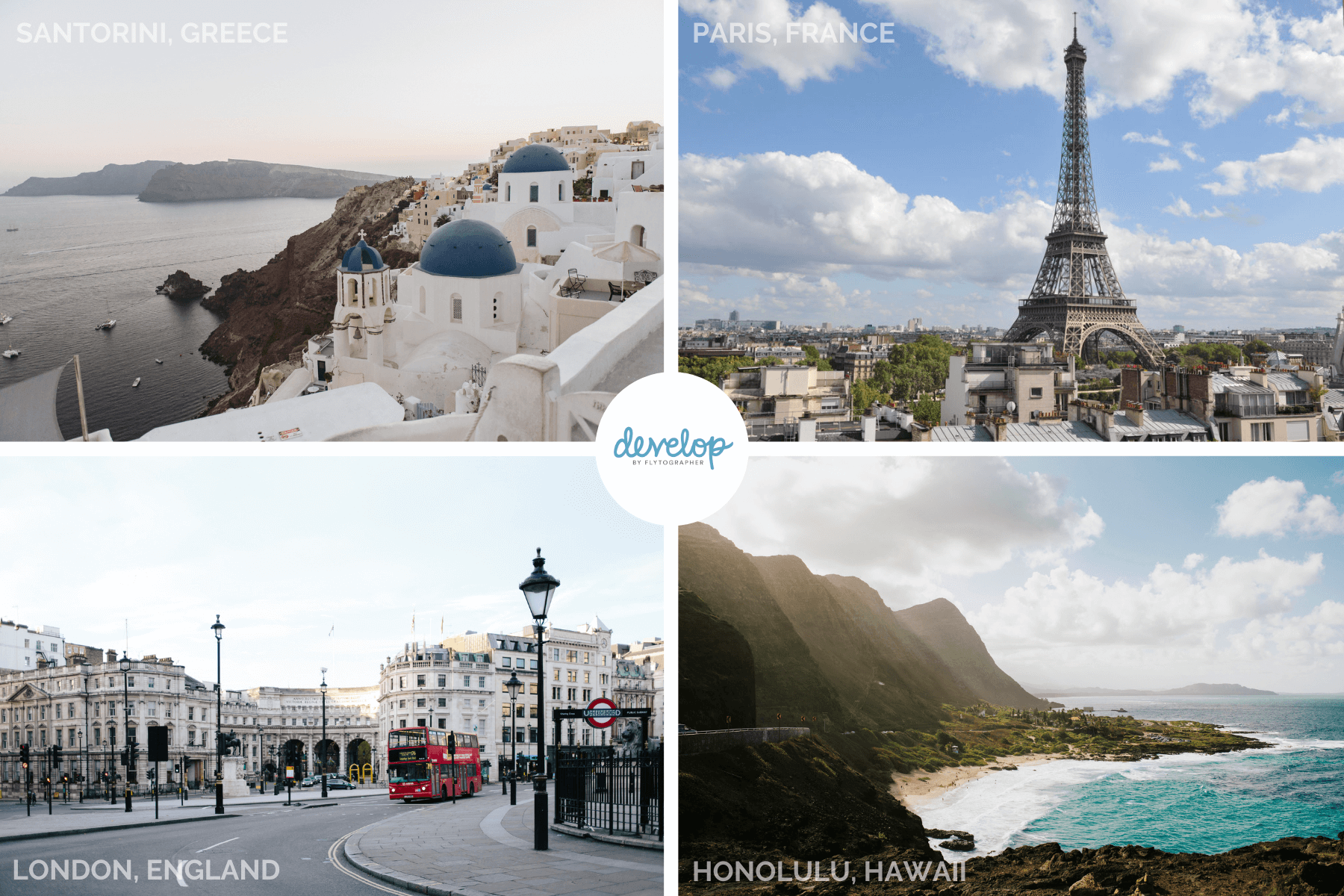 Who is this iPhone photography course made for?
Better Everyday Photos with Your iPhone is a course for everyone who loves making beautiful memories and sharing them with the world. They know they have a powerful tool in their pockets … but they just haven't had any training on how to use it. The course is designed to give bite-sized tips to help you take your iPhone photos to the next level. As an extra bonus, you'll meet our photography experts from around the globe and get insider travel tips to save for your next holiday. So stop winging it and join our Flytographer family for our 2-hour course to learn how to take your photos from "ok" to "WOW!"
What topics will the course cover? 
What kinds of lenses you have on your iPhone and how to use them

How to use depth of field in your photos 

What "zoom" means on your iPhone (and why you shouldn't use it!)

How to use different camera modes

How to capture moving subjects and eliminate blur

What exposure is and how to control it on your iPhone

What HDR is and when to use it

When and how to use flash
Module 2 – Composition | Instructor: Krystal in Paris
Basic elements and principles of design as they relate to photography

What the Rule of Thirds means (and when you can break it!)

Why light is so important in photography

Why cloudy days provide the best conditions for light

Why setting is an important consideration

How bokeh can make your subject pop

Some tips and ideas for posing your subject and making them feel comfortable

Why storytelling is a great way to relive your memories
How to cull your photos and mark them for editing 

What a preset is and how to use one

Best practices for cropping and straightening your horizons

What white balance means and how to use it for colour-correction

The difference between sharpening and clarity and when to use

The difference between file formats raw, jpg and HEIC 

How to find and use your iPhone's built-in editing app

Three of our favourite editing apps and how to use them

How to manage your iPhone library with folders

How to create and organize new albums

How to back up your photos on your computer and the cloud

Ideas and tips for printing
Bonus Module – Video | Instructor: Jimmy in London
How to turn your video on and what the aspect ratio will be

Why it's important to shoot horizontally

The basics of frame rate and resolution and how/when to adjust them

Best practices for stabilizing your camera

Why you only need to record short clips at a time

Why it's important to review all your clips before you start editing

How to use iMovie to edit your clips and build your movie

Recommendations for advanced editing apps
And so much more!
If you've always wanted to know more about how to take, create, edit and organize better photos using your iPhone (and travel virtually to beautiful destinations from the comfort of your home while you're at it), then this course is jam-packed with a ton of great tips and advice to help you level up! Elevate the quality of your iPhone memories … forever.