2017 was a big year for Flytographer – our team at HQ and abroad grew, we captured more vacation memories than ever before, and we received exciting awards and acknowledgements sprinkled throughout the year. Below, we are excited to share our top startup moments from the past year!
Our Muse: Solo Traveler Melany
Every day at the Flytographer office, we have the privilege of seeing gorgeous galleries come in that touch our hearts and fill us with joy and wanderlust. When we saw Melany's photos we couldn't help but be captivated and inspired by her unmistakable joie de vivre!
"My husband died five years ago. I'm 57 and all my friends have partners. I was tired of waiting for someone to be free or interested in travelling with me, so I decided to go alone. I went to Amsterdam to see tulips and windmills. Every single day, I went where my curiosity led me. I saw centuries-old churches, famous paintings, and, yes, tulips and windmills! When I'm an old woman in a nursing home, I will look at these photos and remember my bliss." – Melany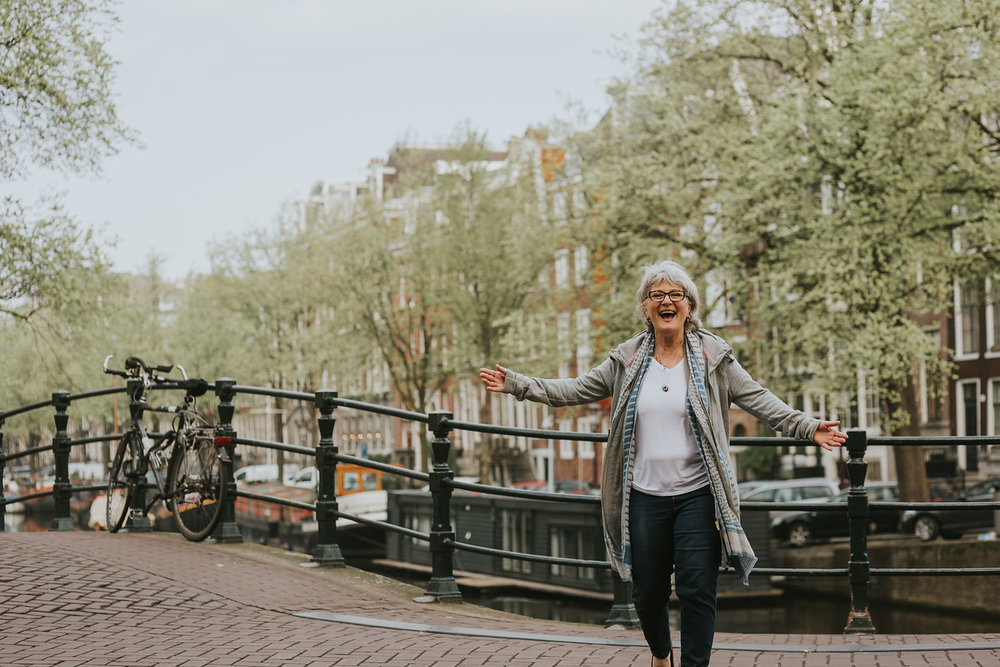 Flytographer: Sylvia in Amsterdam
STARTUP 50 – Top in Canada
In 2013, Nicole Smith founded Flytographer, planning photo shoots around her full-time job from her home in Victoria, BC. Starting with three photographers in three cities, she spent many sleepless nights building the business one shoot at a time. Fast forward to 2017, and Flytographer now has a team of 400 photographers in over 200 cities worldwide, with tens of thousands of customers capturing their vacation memories in each of them. We're excited that PROFIT and Canadian Business named Flytographer as one of the STARTUP50 and the fastest growing consumer services startup in Canada!
200th Destination Milestone
This past summer, Flytographer added the historical French city of Lyon to our global list, crossing the city mark to 200! We're confident Lyon will be a favourite Flytographer destination, with its world-famous chefs (look out Paris!) and UNESCO world heritage site status – not to mention offering quick access to beautiful Provence and the French Alps.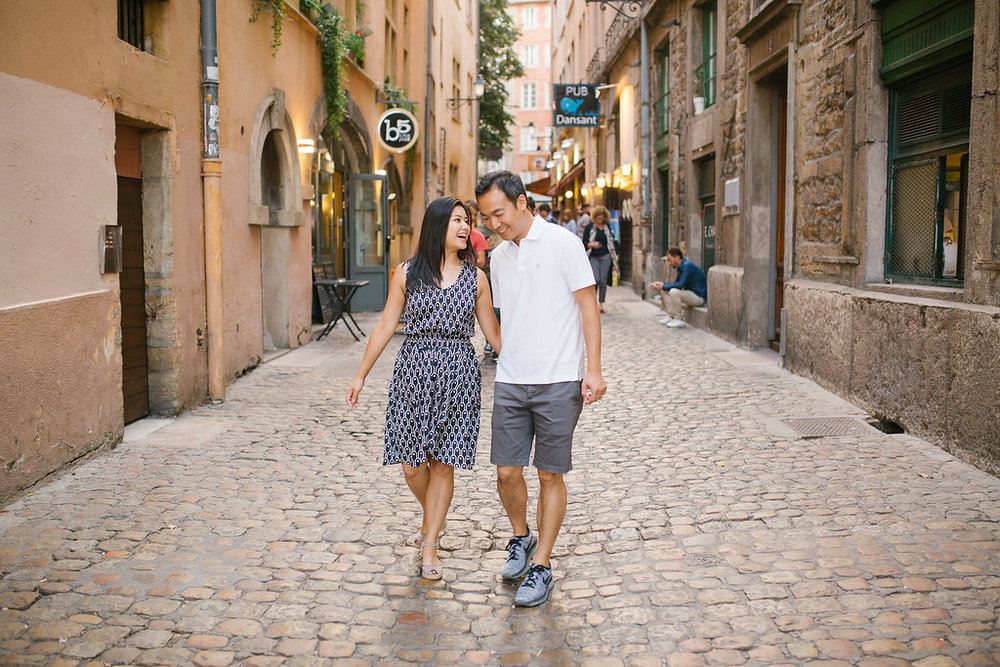 Flytographer: Leo in Lyon
Garden Games
2017 was a year of exponential growth for Flytographer as we reached 400 photographers globally and doubled our staff at HQ to 17. What better way to celebrate than with the launch of our first annual garden soiree filled with lawn games, an al fresco dinner and fabulously fashionable summertime attire?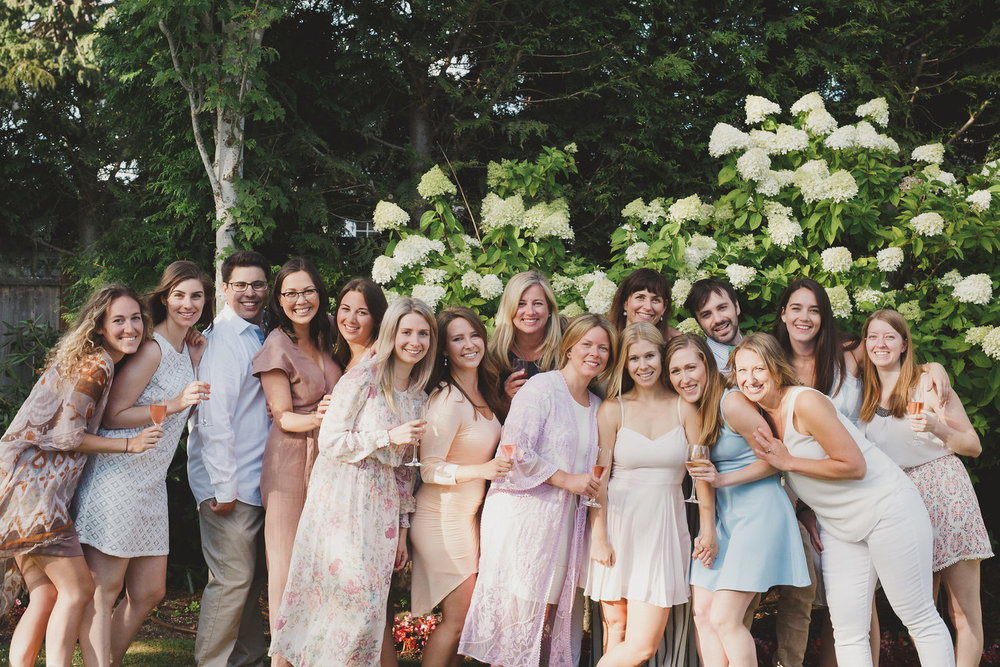 Flytographer: Stephanie in Victoria
Movin' on Up with Lazaridis
On the heels of achieving STARTUP 50 status in Canada, Flytographer was chosen as one of ten companies to join Wilfrid Laurier University's Lazaridis Scale-UP Program – an initiative aimed at scaling our company globally. High-potential companies like Flytographer are paired with some of the most successful tech mentors and experts, with the intent on developing fearless entrepreneurs and driving massive growth.
Flytographer Johnny's 100th Proposal
There is a reason why so many love stories are set in the Big Apple. With countless iconic landmarks – from Central Park to Brooklyn Bridge and Grand Central Station – it's the perfect destination to propose. For our NYC photographer Johnny, this past July marked the 100th time he captured the big question! Here are a few of Johnny's favourite moments (and yes, they all said YES!).
"I've photographed proposals at sunrise, sunset, and every hour in between; in the rain, snow, blistering hot and freezing cold; on a gondola, horse-drawn carriage, and even in a helicopter hovering over the Manhattan skyline. I've posed as a tour guide, a treasure hunt operator, and often just a friendly local to help get closer for the big moment. I've made lasting friendships with many of the couples and feel so fortunate to have taken part in such a significant moment for all of them. I can't wait to see what the next 100 brings!" – Johnny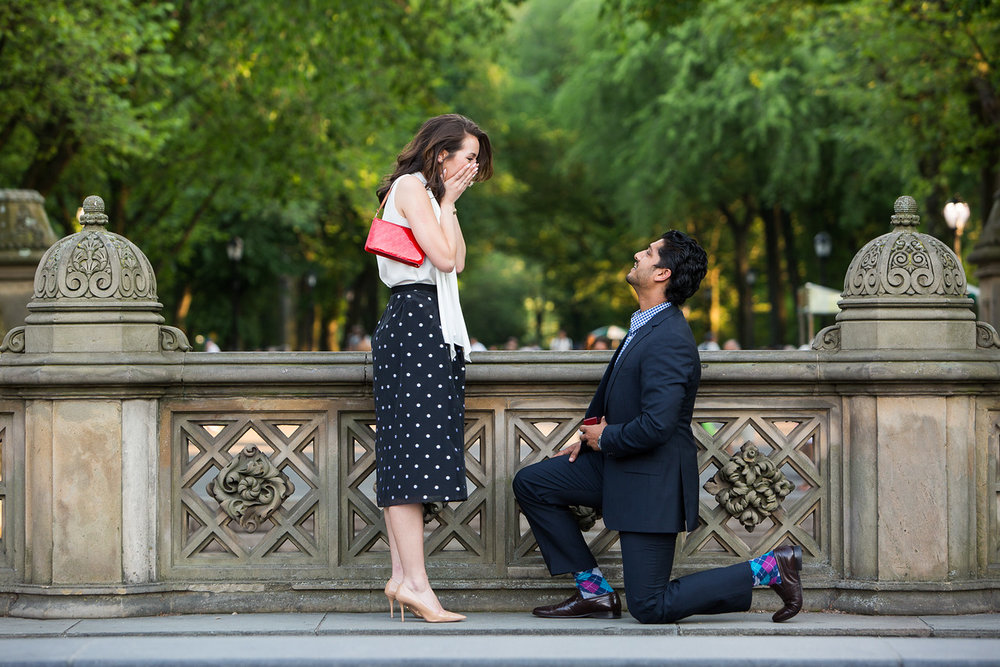 Flytographer: Johnny in NYC
Visit from the Dragons
It was nearly three years ago that our Founder and CEO Nicole Smith appeared on CBC's Dragons' Den (the Canadian version of Shark Tank), pitching the concept of Flytographer. She may have turned down the Dragons' offer, but CBC couldn't resist coming back this year to take a sneak peek at what we've been up to at Flytographer HQ since the show aired.
Picture Perfect with Passport
At Flytographer HQ, we are laser-focused on making our booking process easy and magical for you. So, our team was over the moon excited to launch "Passport," our new custom booking system this past August. You now have a personal dashboard to inquire about bookings, speak directly with your personal Shoot Concierge and plan your shoot with ease – and with all the custom details you want. Passport also keeps all your photos in one place, making it easy to revisit all your Flytographer vacation memories.
Meeting of the Flytographer Minds
This past spring, the beguiling city of Florence was the backdrop for our annual Flytographer Global Meetup. Thirty of our photographers joined us for three days of workshops, photo shoots, friendship, fun and adventure in la bella Firenze!
Flytographer: Mankica in Ljubljana
Travel + Leisure Love
We capped off the year with accolades from one of our favourite media crushes – Travel + Leisure magazine! We've always said that the best souvenirs from any trip are memories. So when Travel + Leisure named us the one of the Best Gifts For Couples Who Love to Travel, we couldn't help but jump for joy!
Here's hoping your 2018 is filled with the magic of travel!
xo, Team Flytographer