Best places to take pictures in Nashville, Tennessee
Nashville is well-known for being the capital of country music and its delicious food, making it the ideal vacation spot for music lovers and food fanatics. If you like country music, hot fried chicken 🍗  and biscuits and gravy, you will fall in love with Nashville. 
There's a never-ending amount of stunning attractions to check out and take photos in this Tennessee city, but don't worry, we got you covered!
Here are the top 10 best places to take pictures in Nashville, Tennessee, according to our local Flytographers. 📸
Since the John Seigenthaler Pedestrian Bridge is our most booked route in Nashville, it'll come as no surprise that it serves gorgeous views and backdrops that are perfect for a photoshoot. 🤩
During the day, the pedestrian bridge is ideal for a family or friends photo session with the city behind you and the Cumberland River beneath you. On the other hand, at night, the lit-up Nashville skyline is a romantic scene for a couples shoot. 🌉
Since no cars are allowed on this pedestrian bridge, you can take as much time as you want to pose, which is another reason it's an excellent setting for a photoshoot.
Experience the music city 🎶  that is Nashville by heading downtown to Lower Broadway. This awesome area is home to the Honky Tonk Highway, a row of "Honky Tonks" that play live music from 10 am to 3 am for free! (For those who don't know, a Honky Tonk is an establishment with at least one stage, cold drinks, and a party. 🎉)
You cannot visit Nashville without witnessing the phenomenon of free live music on Lower Broadway and taking advantage of the photo ops this thoroughfare offers. If you stick around long enough, you might even be able to snap some pics with band members who perform! 🎸
For nightclubs 💃🏾  and speakeasies, Printer's Alley is your next stop. At night, the neon lights of the clubs and bars illuminate this famous alleyway, presenting an abundance of photo-worthy spots. 
Even during the day, the red brick buildings or painted walls are good backdrops for your next Insta post. 🤳🏾 It's no wonder that this alley is beloved by the locals and tourists alike, so make sure you pay it a visit!
Take a break from the city scene of tall buildings and crowds and visit Centennial Park in West End. This park is a slice of peaceful paradise 😌  with greenery for days. 
Make sure to snap some photos in front of the Parthenon replica 🏛 or by the lake. During the spring and summer, the lake is lined with bushes of vibrant blooming flowers that look stunning in photos. 
This place is absolutely beautiful, which is probably why Taylor Swift mentioned Centennial Park not once but twice in her song "Invisible Strings" from her Folklore album. 🧚🏼 This wouldn't be a surprise to any Swiftie, since Taylor Swift got her start in music right here in Nashville!
When you're done wandering around the park, you need to head over to Emma's Flowers. 💐 This cute and admired flower shop is only a quick walk away from the park and past Vanderbilt University, which is another attraction worth the visit.
Enjoy views of the Cumberland River and the charming buildings of downtown while taking a picturesque stroll down the Nashville Waterfront. It's an excellent site for a photoshoot with your family, friends, or partner and is a great way for you to take home a piece of this Tennessee city! ✨
Come back and see the waterfront's gorgeous scenery at night for a glowing Cityline 🌆  and the perfect backdrop for some Instagram photos. 
Find the best things to do in Nashville
Learn the best places to eat, drink, see & do in Nashville fom Flytographer customers!
6. Nashville Murals
For art galleries and murals 🎨 , head to 12th South. From angel wings to rainbows to red kisses 💋 , there is every type of mural you could imagine in this artistic neighbourhood. It's easily the best spot in Nashville to add a pop of colour to your Insta — don't miss the "I Believe in Nashville" mural!
After you're done checking out the murals, explore what else 12th South has to offer, from vintage clothing stores to delicious gourmet restaurants. 🍽  
7. Draper James
Draper James needs to be on your Nashville bucket list if you're on a girls' trip! This retro clothing shop was founded by Reese Witherspoon and influenced by her Southern grandparents. The goal of this adorable boutique is to bring a timeless Southern style to your wardrobe. 👗
Browse the cute outfits in this store and snap a pic in front of the iconic blue and white striped store sign with you and your girlfriends. 👯‍♀️
8. Cheekwood Botanical Gardens
Cheekwood Botanical Gardens in Percy Warner Park will steal your breath away the moment you step into it. There are hundreds of photo opportunities here, from lush greenery to radiant flowers that are every colour of the rainbow. 🌸
Take a long stroll around the botanical gardens and enjoy the serenity that will accompany you. Along the way, you'll notice sculptures in the ponds because these gardens are also part of an art museum! 🖼
9. What Lifts You
Kelsey Montague designed the celebrated interactive mural called "What Lifts You," which is located in the Gulch, an upscale neighbourhood in Nashville. This inspirational mural is a pair of white angel wings with music notes 🎶  and guitars 🎸 painted inside that you can pose with.
If you get a picture with these angel wings and post the photo on Instagram, don't forget to use the hashtag #WhatLiftsYou.
The Gulch is an excellent place to wander around after this photo op. Grab a meal at one of the many trendsetting restaurants or head over to The First Art Museum, which hosts several diverse art exhibits. 🖌 The museum is inside a striking art deco building that you can't miss! 
10. Music Row
Nearby the Gulch is the famous Music Row, a neighbourhood filled with record labels, radio stations, and recording studios. 🎙
Keep your eyes peeled for country artists because legends like Elvis Presley and Dolly Parton ⭐️  used to record here! You can even tour the studio they used to record in: historic RCA Studio B.
Stand for some photos on Chet Atkins Place, Roy Acuff Place, or one of the other streets named after famous country singers. Music Row is truly the heart of Nashville's country music, so don't skip out on this must-see neighbourhood! 😊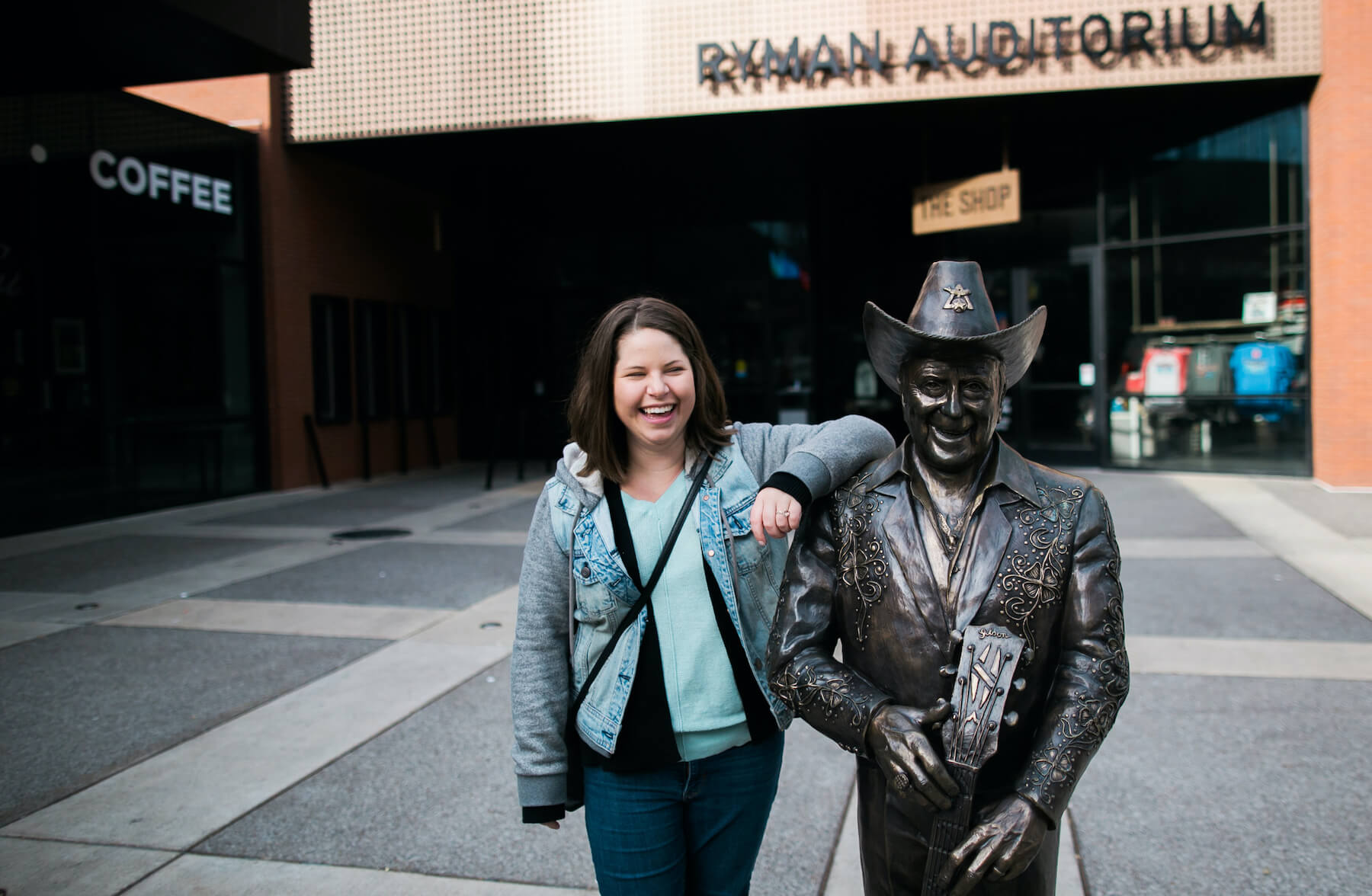 Capturing memories in Nashville
If you visit any one of these Nashville hotspots, you'll want to capture the joy and memories you'll make. Let us help you. 😉 We'll take the weight of getting that perfect photo off your shoulders. Hire a Flytographer so you can truly enjoy those special moments! 📸