Best photo spots in Chicago, Illinois
Located on the crystal blue waters 🌊  and sandy shore of Lake Michigan, Chicago is known for its bold architecture and bustling lifestyle. 
You can explore Michigan Avenue, relax at Grant Park, visit the Lincoln Park Zoo, and so much more. The Windy City has an endless number of things to do (and an endless number of Instagrammable locations!).
Are you looking for the best places to take photos in Chicago? Find the best photo spots now in Chicago from local photographers. 📸
This iconic attraction stretches along the Chicago River, offering stunning views of the river and the city's unique architecture. 🏙  The Chicago Riverwalk is not only a beautiful place for a walk but a photoshoot too. It's no surprise it's one of our most booked routes in Chicago.
For an even better view of the Chicago skyline, ride up to the top of the Skydeck in the Willis Tower. This 110-story skyscraper is the second tallest building in North America! 
The boardwalk at North Avenue Beach is a favourite proposal spot 💍  because of its epic views of Chicago's skyline and the glittering blue water of the river. We're sure you've seen North Avenue Beach as the backdrop for dozens of photos if you've searched up "Chicago photography." When you finally visit it, you'll realize why!
Whether it's morning, afternoon, or night, the skyline views 🌆 will not disappoint. You'll be wishing for its gorgeous scenery when your trip is over, so invest in a photo session here with the water and cityscape behind you. 
Lincoln Park is a fun destination for a family excursion and has many Instagram-worthy areas. You can admire the animals at the zoo, enjoy a picnic on the grass, or wander through the statue-filled gardens of the conservatory. 
During the springtime, the garden blooms with colourful flowers, 🌸 making it one of the most beautiful places to take photos in Chicago. Add a pop of colour to your Instagram feed with some red, purple, and blue petals, and relish in the peace you'll feel when you step into here.
Whether it's spring or winter, the conservatory won't disappoint! It's full of palm trees 🌴 and ancient ferns, making you feel as if you stepped into not only a different city but a different time period altogether. 
I bet you don't need to see a photo of this famous monument to know what it looks like! Nothing screams "Chicago" quite like Cloud Gate — or better known as "The Bean." 
Posing in front of this reflective piece of art is de rigeur for any traveller in the know, located right in the heart of Millennium Park and close by Chicago Riverwalk. 💁🏻‍♀️
After all, if you don't get a photo in front of "The Bean," did you even go to Chicago? 🤔
Right in the hustle and bustle of Downtown Chicago, Millennium Park is overflowing with must-see attractions. ⭐️  It's truly like no park you've ever seen with its unique and odd architecture.
Begin your stroll of this urban park at "The Bean" (Cloud Gate) and end at the Chicago Riverwalk. Keep your phone handy along the way because you'll want to capture Chicago's most famous buildings and the other great views you'll see. 😍
Even better, hire a Flytographer — they know all the hidden gems to stop at and pose in this iconic park.
Find the best things to do in Chicago
Learn about the best places to eat, drink, see & do off the beaten path.
6. Magnificent Mile
For luxury stores and posh hotels, check out Magnificent Mile, an upscale section of Michigan Avenue in Downtown Chicago. 
Along with shopping and dining, 🍽  this neighbourhood presents a series of amazing photography spots too. Experience the urban and historic cityscape up close and capture the beauty of it with a photoshoot! 
Once you explore Magnificent Mile, go up to the 360 Chicago observation deck, which is 1,000 feet above this exclusive neighbourhood and enjoy a panoramic view of the city. 🌃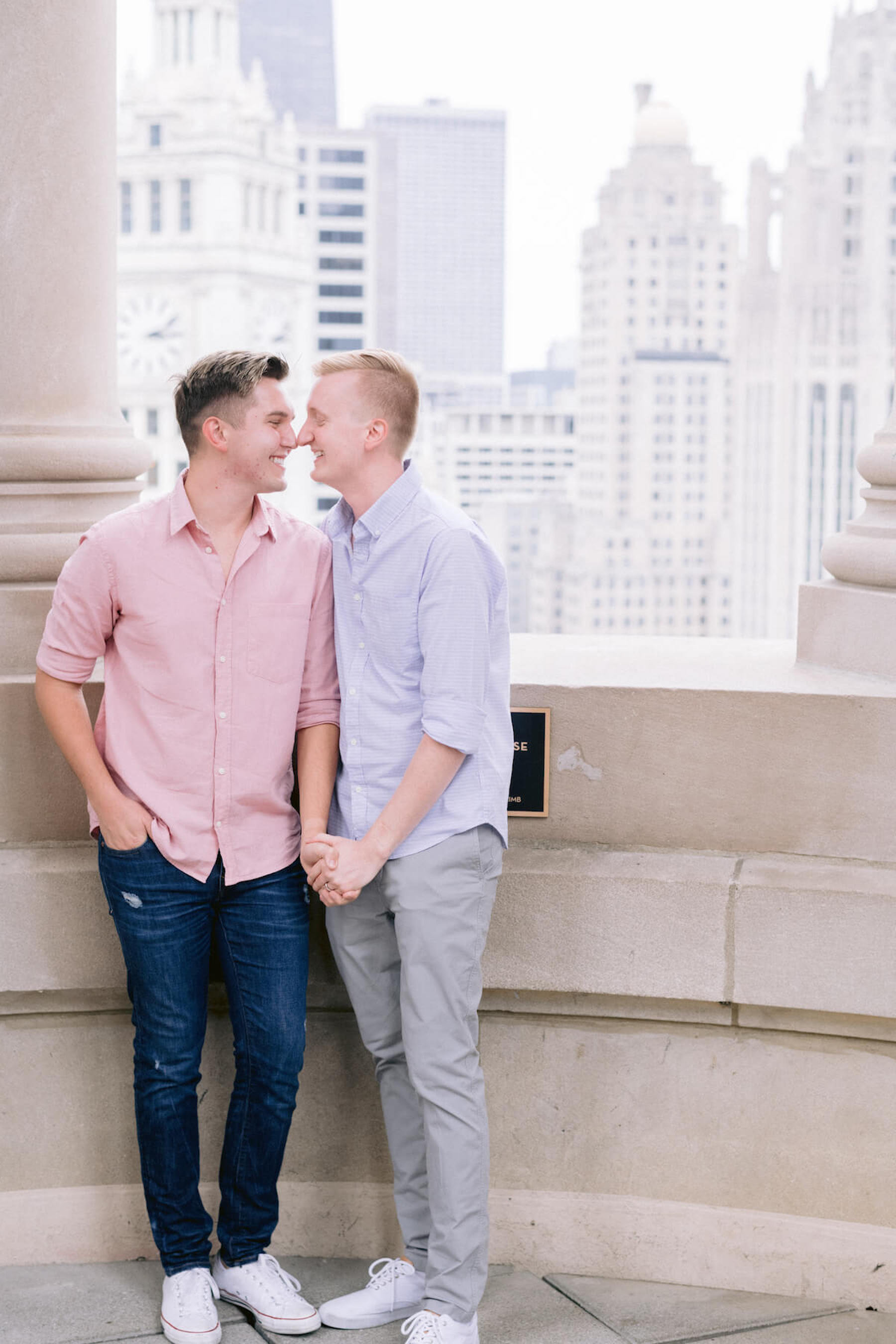 7. Chicago Theatre
The Chicago Theatre, established in 1921, oozes historic charm and is described as an "unofficial emblem of the city."
If you're a movie buff, you probably have this on your bucket list already. 🎥  Even if you aren't obsessed with the movies, you won't want to miss this beloved landmark.
At night, the theatre is lit up from the outside and is an impressive sight for sure. Whether it's night or day, this is a great spot to stop for some photos. (Or to catch a movie!🍿 )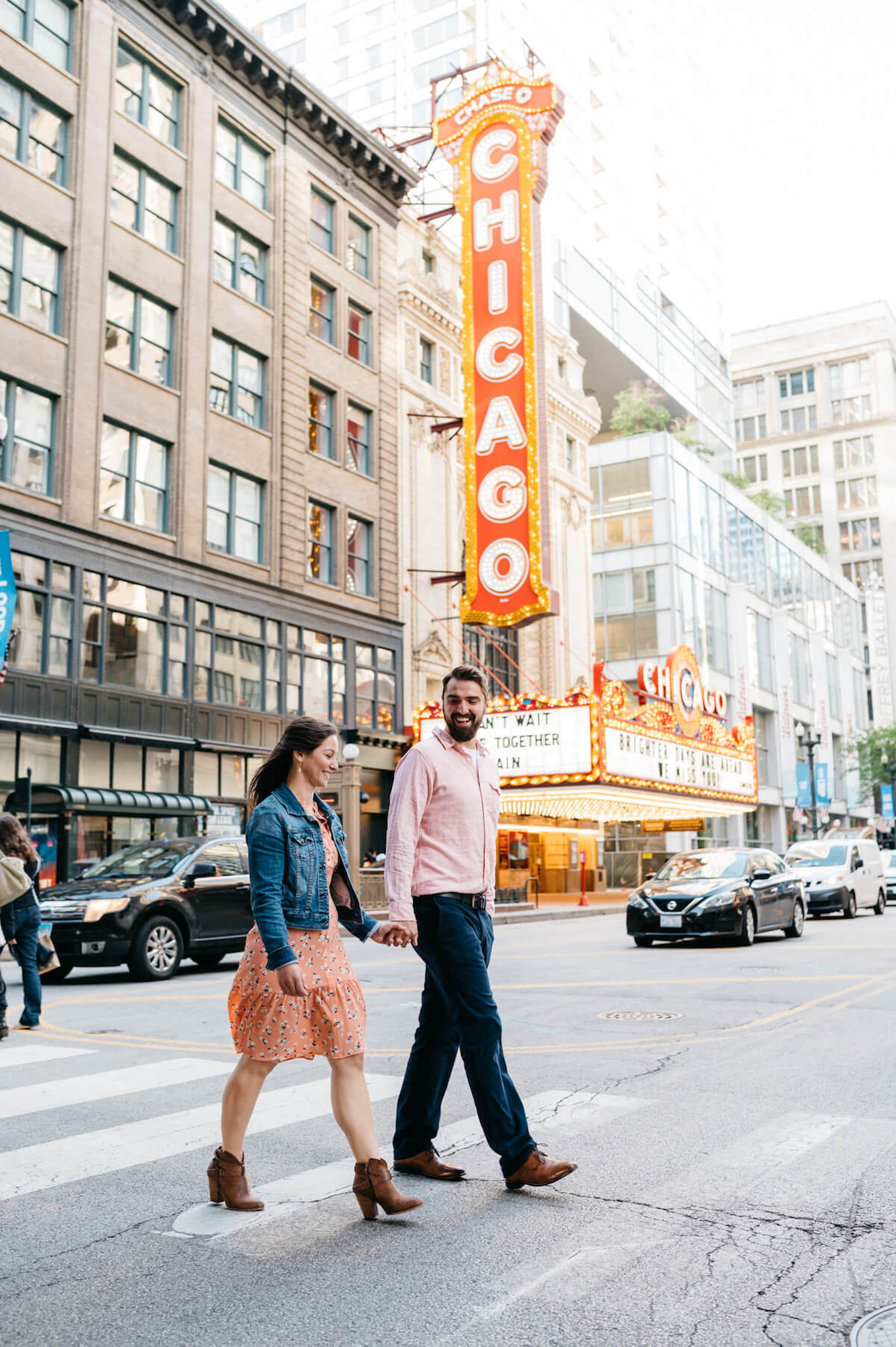 8. Museum Campus & Buckingham Fountain 
Museum Campus is a massive park that sits alongside Lake Michigan in Grant Park, making it hard to miss. 
This park is home to five of Chicago's most significant attractions: The Adler Planetarium, the Shedd Aquarium, 🐠  the Field Museum of Natural History, Soldier Field, and the Lakeside Center of McCormick Place.
Long story short, there is an infinite number of gorgeous places 🤩  to have a photoshoot here! Prepare to spend the entire day sightseeing.
Also, nearby is another attractive feature: Buckingham Fountain. ⛲️  At sunset, this fountain's lights enchant the park and make it an irresistible stop. If you are visiting Chicago with your partner, this is a romantic setting to snap some pics.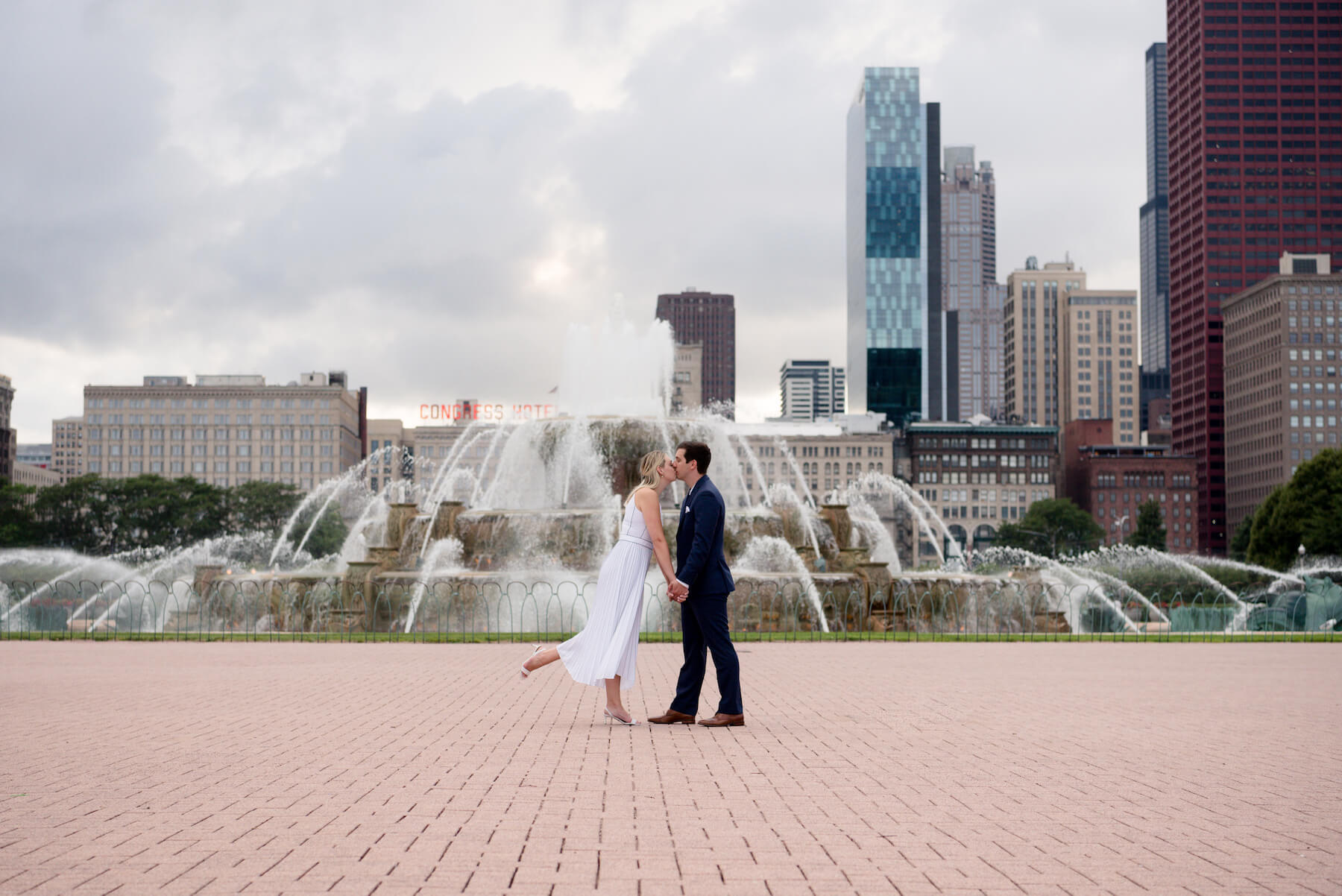 9. Adler Planetarium
Since it is America's first planetarium, this is a must-visit for tourists and Chicago residents alike — especially for the ones who dream of exploring space! 🪐  
If you're on a family trip, Adler is a perfect place to bring the kids. Not only is it an educational monument, but the planetarium's strange, out-of-this-world architecture right on the shore of Lake Michigan makes it an Instagrammable area as well. 🤳🏾
10. Lake Shore East Park
The peaceful and pretty scenery of Lake Shore East Park almost makes you forget you're smack dab in the middle of the city. 
It's a fantastic place to spend the day at whether you're with family or friends. You can wander through the botanical garden 🌷 and take photos in front of the flowering bushes and trees and lighted fountains, and then take the kids at the playground and splash pad 💦  when you're done. 
For stunning photos here, come by at golden hour! 🌇  Not only is the cityscape breathtaking at this time, but it's easy to take your photoshoot down to the water because Lakefront Trail is only 12 minutes away.
Capture memories in Chicago, Illinois 
Any of these remarkable sites are perfect for a photo session with your friends, family, or partner to capture the incredible memories you'll make in this Illinois city.
Book a photoshoot with one of our talented Flytographers for photos that flawlessly capture those memories!  📸