Cancún is a beautiful and popular destination known for its pristine beaches and amenity-filled all-inclusive resorts. However, unforgettable adventures are easy to find right outside of the perfectly manicured hotel grounds.
When you think of a relaxing beach vacation in Cancún, you probably dream of unlimited piña coladas, poolside service and endless turquoise waters just outside of your sea-view balcony. While you could have an incredible vacation without ever leaving the grounds of your resort, there's so much more to do and experience in this vibrant city. From day trips to beach trips, Cancún manages to dazzle every traveller with its personality and colour. We've compiled some of our favourite off-resort activities to experience on your next trip.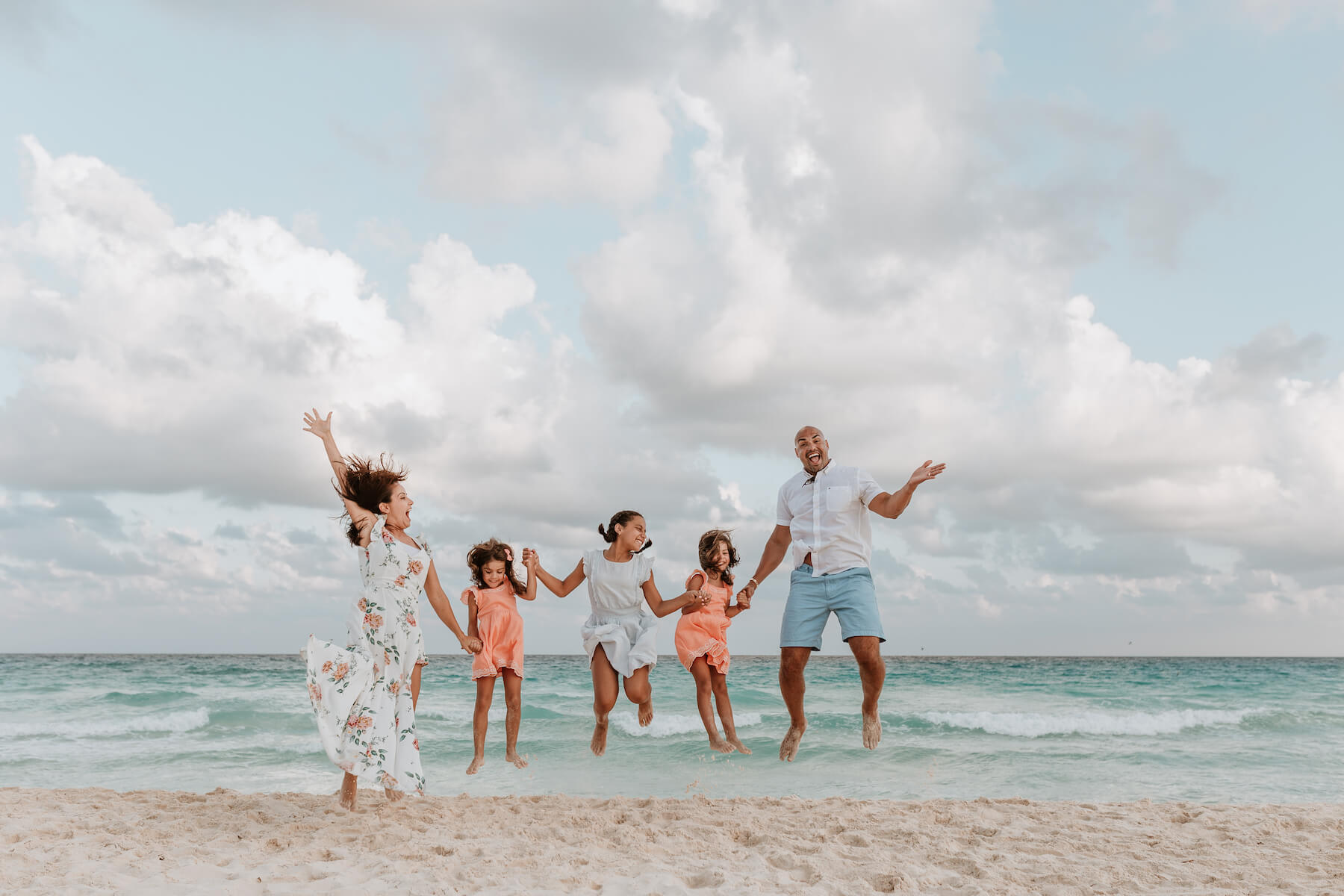 Photo: Claudia in Cancún for Flytographer
Day Trips
Mexico is a country steeped in history, and one of the most popular excursions is a trip to Chichen Itza. These incredible Mayan ruins will give you a glimpse into the past of this pre-Columbian city, and if you want to bring along your Indiana Jones hat for the perfect photo-op, we won't blame you. If you prefer to spend as much time as possible in the water, opt for a reef and shipwreck snorkeling tour. Not only will you indulge in some serious mermaid vibes, but you'll swim among schools of fish, colourful coral reefs and explore underwater ruins like nothing you've seen before. If you prefer to get your heart pumping with an adrenaline-filled afternoon, a zipline + ATV adventure tour is for you. You'll (literally) get off the beaten path by flying above the Yucatan trees or throw up some mud on an off-road circuit before cooling off in a refreshing cenote.
Photos: Claudia in Cancún for Flytographer
Get Outdoors
The climate in Mexico is ideal year-round – just don't forget sunscreen when you're spending the day enjoying endless sunshine! For an casual afternoon adventure, head to Isla Contoy. This idyllic island and nature preserve only allows 200 visitors per day, so be sure to plan ahead. However, the extra work to get here is worth it, as the uninhabited island feels like a hidden secret amongst the heavily touristed areas. Another island worth visiting is Isla Mujeres. At the southern tip of this tropical paradise, you'll discover the remains of a Mayan temple, a lighthouse, and a sea turtle sanctuary. If a boat is where you feel most at home (and let's be honest, makes for some of the best Instagram pictures), book a catamaran cruise. Snorkel, indulge in drinks and snacks, and enjoy beautiful views of the Cancún coastline from a unique perspective.
Photos: Conie in Cancún for Flytographer
Other fun activities
The history buff of the family will love learning more about the fascinating ancient Mayan culture at the Mayan Museum of Cancún. If you prefer to get up close and personal with history, explore the El Rey Archaeological Zone, also known as the "El Rey Ruins." This is the perfect way to see ancient Mayan ruins without taking a full day trip to Chichen Itza or Tulum.
Photo: Arturo in Cancún for Flytographer
For beautiful scenic views, head to the top of Torre Scenica – no sweat or climbing required! You'll effortlessly reach the highest point on the Riviera Maya, as you take a ride on the air-conditioned platform that slowly rotates upwards. Your only job is to take in the stunning panoramic views. 
Avenida Kukulkan is Cancún's hotel zone. This thoroughfare is lined with oceanfront resorts, shopping, dining and nightlife all rolled into one place. Its convenient location and abundance of places to explore means the atmosphere is always buzzing.
Photos: Conie in Cancún for Flytographer
Beaches
Of course, Cancún is best known for its abundance of pristine, white beaches and stunning turquoise waters. We recommend venturing off of your resort beach to explore all that this region has to offer. Playa Delfines, or "Dolphin Beach," is regarded as the most beautiful beach to visit. With no hotels or restaurants crowding the coastline, this beach feels like a blissful getaway, and the clean restrooms, free parking and on-site playground make it a popular, family-friendly spot to call home for the day. 
Puerto Morelos is just 30 minutes south of the city in a quiet fishing village. If you like a slower, calmer pace on vacation, this is the spot for you. Alternatively, if you like to fill your beach days with activities, you'll want to visit Playa Chac Mool. With beachside rentals for watersports and other activities, we guarantee you won't hear the words "I'm bored" from anyone. 
Finally, Playa Tortugas is a quaint beach with a connection to the Isla Mujeres ferry. Because it's protected from stronger currents, it's a great spot for swimming in the calm waters.
Photo: Conie in Cancún for Flytographer
With your flights booked and itinerary overflowing with activities for the entire family, all that's left is to capture the magic of Mexico with a vacation shoot. Our friendly and talented local photographers can't wait to meet you and show you around the stunning city of Cancún.