Carina and Richard's romance reads like it's straight from the movies. Online friends for over 17 years living an ocean apart until one day they meet in person and Richard realizes she's the one. Swoon. Read on for all the romantic details.
THEIR STORY
"Back in high school, 18 years ago, I received a random instant message on AOL from a screen name I didn't recognize. I opened it up and it was Carina, who was living in Germany and wanted to practice her English. So we started emailing, sending letters in the mail, and exchanging pictures. We started purchasing phone cards to call internationally, too! Eventually, we started video chatting with Skype, Facebook messenger, etc. We had a few missed opportunities to meet during and after college with missed connecting flights and me being unavailable when she was in the U.S. or Canada for business. Finally, in 2017, we decided to make it happen, and I booked my ticket over to see her. At this point, we had been Skyping daily. I flew over and met her in person for the first time after 17 years in Kassel, Germany. By the end of my week there, I knew she was the one, but did not tell her at that time."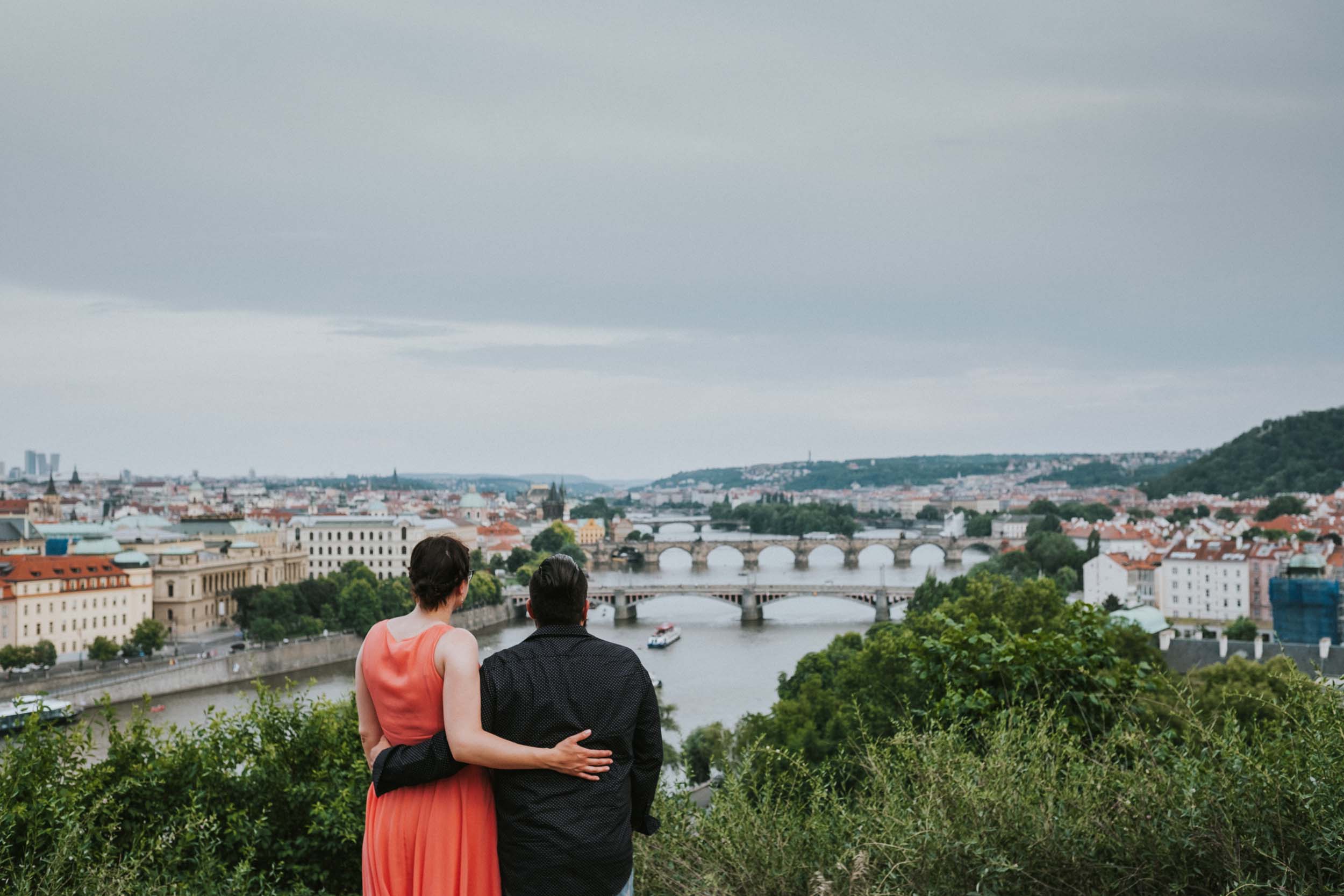 HOW DID YOU CHOOSE YOUR LOCATION/DATE?
"We continued to talk daily and realized that we needed to make us happen, so we began to plan how to do that. I planned my proposal for our road trip through Europe this May and June. I have always wanted to travel to Prague and loved the setting proposing from Letná Park would provide for the background."

THE BIG DAY
"We were 15 minutes late getting to the proposal site because the Uber was late getting to us and we were stuck in a bit of traffic. He dropped us off at the wrong side of Letná Park, so we had to walk a good deal to where we were to meet Eliška! Carina was wearing brand new shoes she had purchased on the trip because she forgot her dress shoes at home! So, en route, she got blisters on her heels and her toes! Once we got to the proposal site, she took time to put bandaids on the blisters, I proposed, and we took some pictures there. She didn't realize we had a full one-hour shoot! She was a trooper and we did the shoot! Eliska chose some beautiful spots in addition to the spots we chose on our planning call and we had a blast!" – Richard
Flytographer Eliška in Prague