The results are in!
With bachelorette planning season coming up, we put out a call on our social channels asking for your top tips and tricks for planning the ultimate bachelorette party, and the amount of comments and emphatic emojis we got back was staggering—everything from releasing baby sea turtles to bourbon crawls to games called "guess the underwear." But after a few clutch team meetings where we vehemently debated the merits and fun points of each ("What about the baby turtles?!" "What about the mystery underwear?!"), we narrowed this list down to our top five extra-special favourites. 
Thank you to everyone who contributed, we loved reading all of your wild and thoughtful activities and games, and we hope to publish more of these creative tips on the blog soon. So keep an eye out!
Wine tasting is a skill that people even go to school for. (Photo: Flytographer Cherlyn in Napa-Sonoma)
1. Learn a New Skill
"Learning something new together is always great. Something like a wine tasting course, a chocolate/macaron making class, or cooking/bartending classes are a lot of fun!"
—Nicole-Ann Poitras
The mountains of Banff make an excellent photo backdrop, too. (Photo: Flytographer Lyndsay in Banff)
2. The Insta Backdrop
"My best idea/tip is, if you're having the party at home OR out somewhere, see if you can hang an Instagram-friendly backdrop for guests to take pictures with. This doesn't have to be expensive—there are a lot online for about $25. But this gives guests a chance to take pics that they can share online and ensures everyone looks great and has fun! You can also give out props or letter boards for people to hold. (Plus, who doesn't like an Insta-friendly pic??)"
—@goaheadfoodies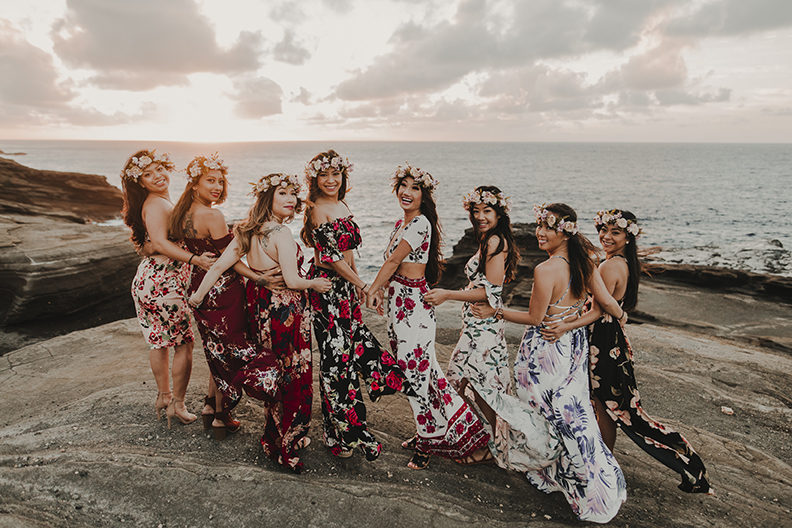 (Photo: Flytographer Trevor in Honolulu)
3. The Case for Dressing Up on Theme
"The best parties I've seen are the ones where there's a dress-up theme. For example: the bride is a huge Harry Potter fan? Dress up as Hogwarts students. Want to do a fancy dress-up night? Everyone puts on their best dresses. This is a great way to bond and it also ensures that everyone is aware of what to wear and no one feels overdressed or under-dressed. Plus, it makes for really great pictures!"
—Ariel Kwan
Something blue? This Mexican swimming pool. (Photo: Flytographer Conie in Tulum)
4. A Classic Game to Get Creative
"Break out into groups/pairs and set a small spending limit of $5 to $10 and find the bride something new, old and blue. See who can find the most interesting/fun items."
—Kelsie Patton
(Photo: Flytographer Ashley in Palm Springs)
5. Shhh! Keep It a Secret!
"I planned two of my best friends' bachelorette parties as their maid of honor. My favorite part was keeping the trip a secret until we got to the airport! The week before we left, I sent them each four packages. Each contained a gift to be packed for the trip and a card with a clue about the destination. It was such a fun way to get them excited for their bachelorette!"
—@mccrilley