Long flights aren't the best.
They're cramped, they're crowded, and okay, maybe hurtling across land and sea at top speed can be just the slightest bit nerve-wracking.
Don't make long haul flights more stressful than they already are.
Here are 5 essentials you need to add to your travel checklist before your next vacation.
1. Plenty of in-flight entertainment to keep you going
On a 10-hour flight hopping from one continent to the next… a movie or two simply isn't going to get the job done.
Think about it — a single 90-minute film won't even account for 20% of your journey!
And if sleep won't come, the best way to make a long flight seem even more eternal is to be stuck staring at the ceiling while everyone around you snoozes the miles away.
Make sure your phone or tablet is packed with a variety of ways to keep yourself entertained.
Download a killer travel playlist and the latest episodes of your favourite show, a mindless game or two that can whittle away the hours, and of course, a good book to get lost in as you travel over the ocean.
2. Essential toiletries and little things that go a long way
Sitting still for hours at a time with no real air movement will leave you feeling tired, groggy, and let's be honest — just a little bit icky.
Feel as good as new with a TSA-approved mineral water spray and your favourite lip balm to keep your skin and lips hydrated whenever they need the boost, and keep your face sheen-free with oil-absorbing sheets to blot away the airplane shine.
And before you land, freshen your breath with a travel toothbrush and mouthwash so you greet the customs agents with a minty smile.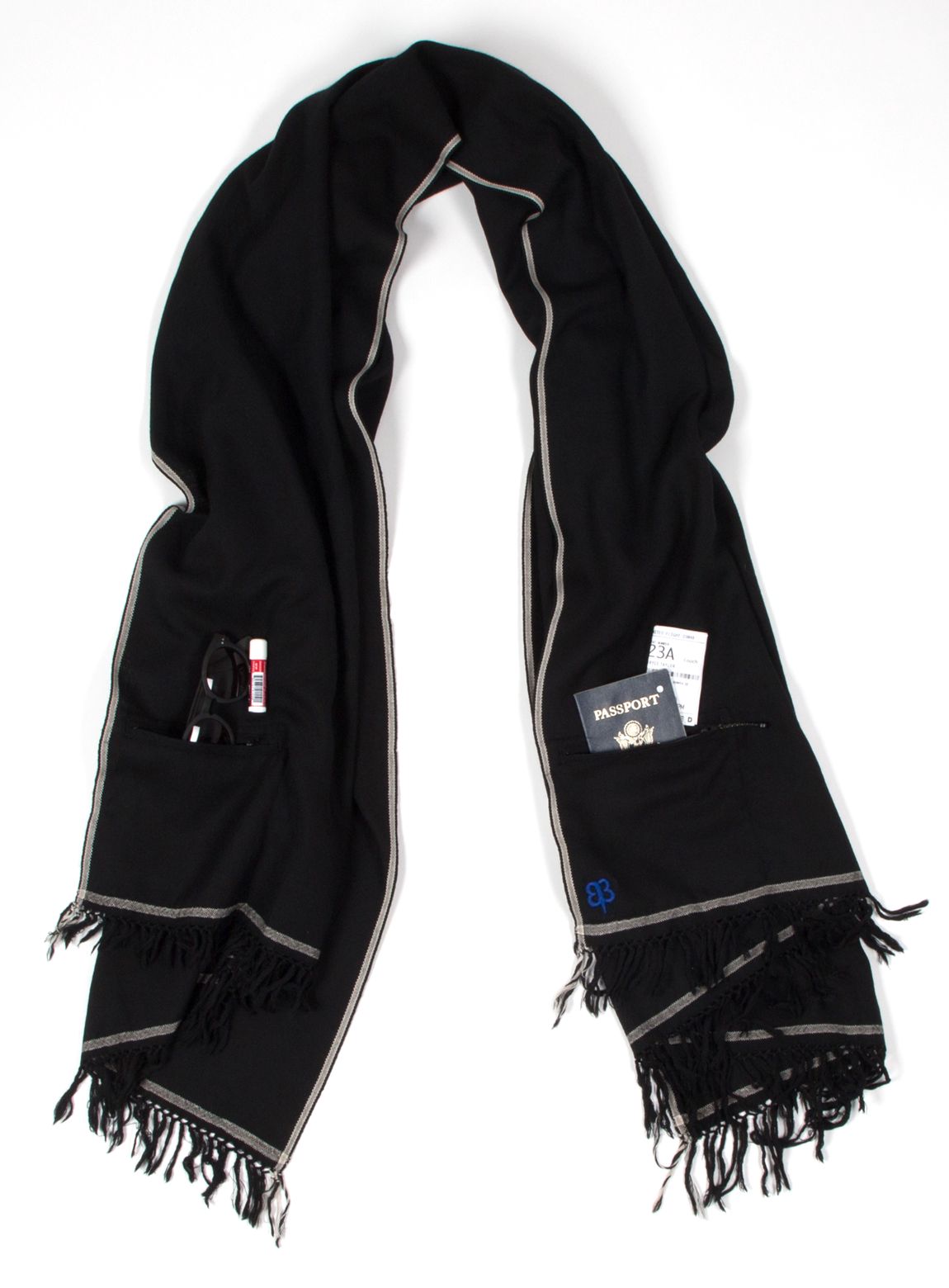 Credit: Betabrand
3. Travel-sized comforts for a good night's sleep
Long haul flights can be quite the pain — literally.
Offering little legroom and only so many ways you can lean your head against the seat without getting a cramp in your neck, the best way to stay comfy on your next flight is to steal the conveniences of home with a memory foam travel pillow for ergonomic bliss.
And as you sink back into that plush piece of paradise, stay warm and cozy with a stylish scarf doubling as a travel blanket for when the cabin temperature takes a dip.
With small pockets at either end of the shawl, you can safely stow away the little things you like to keep close —like your glasses and lip balm — so you're not always reaching into your carry on.
4. An alternative to sodium-packed plane food to keep your stomach happy
Not all of us were built for airplane food.
Keep your energy levels up and your hunger at bay with a few plane-proof snacks that will get you through to your first meal abroad.
Chips and chocolate are great for those sweet and salty cravings, but dried fruit, granola, or a handful or two of popcorn chips are healthier alternatives that are just as satisfying.
And don't forget — staying hydrated is one of the most important steps for kicking jet lag to the curb!
Pack a collapsible water bottle for a carry-on-friendly way to keep your thirst quenched that can be conveniently folded up in your bag before and after your flight.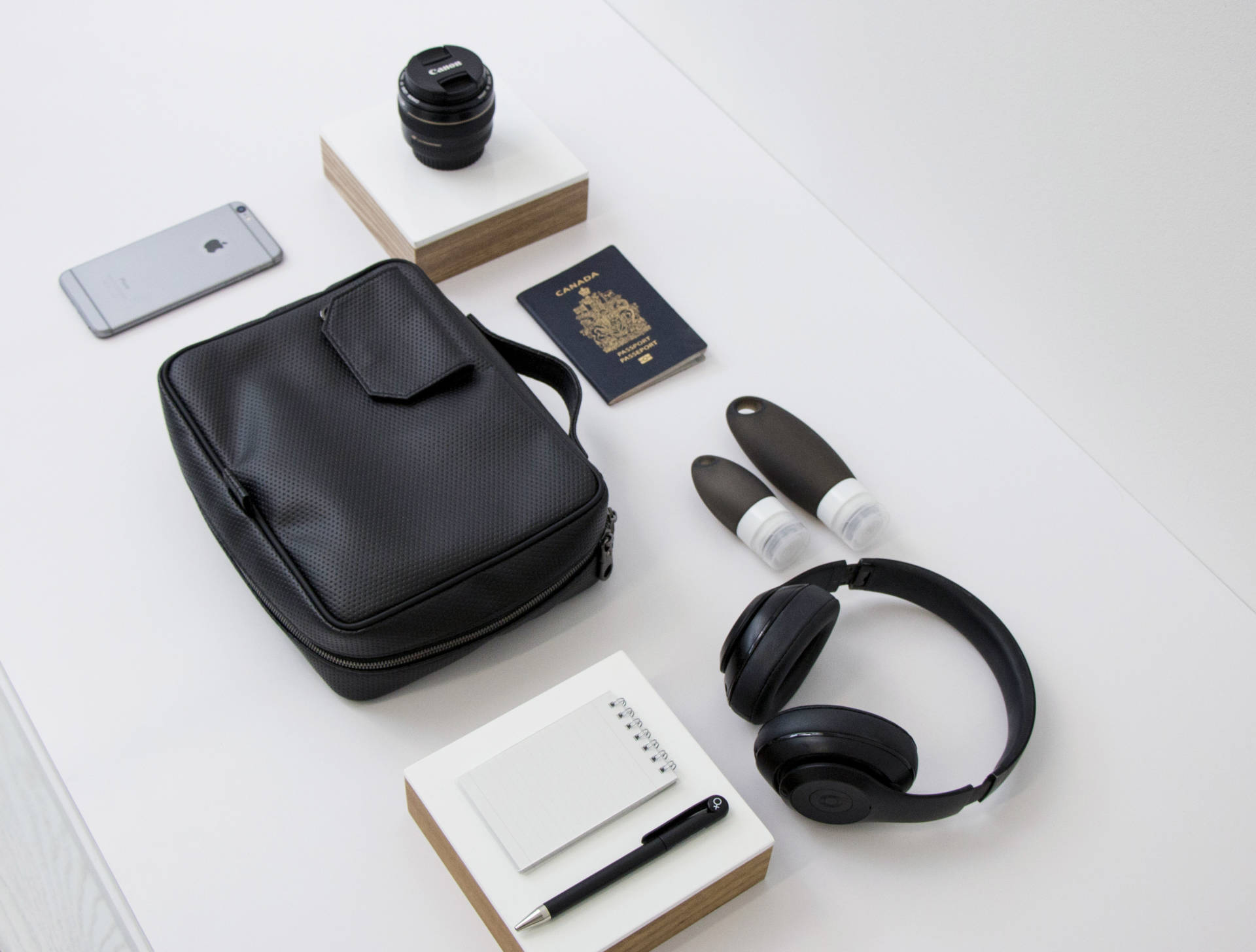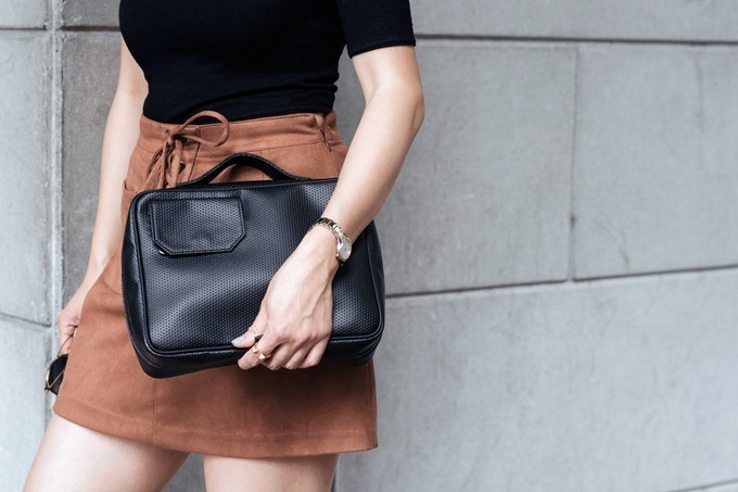 Credit: The Flight Pack
5. The perfect way to stow it all away
Keeping all your in-flight travel essentials shouldn't mean continually reaching into the overhead compartment every time you need something.
Luxuriously affordable and oh-so stylish, the Flight Pack takes the stress out of packing with its smart, modular and minimal design that gives you easy access to everything on your travel checklist.
Equipped with multiple compartments to house your toiletries, pockets to keep your earbuds and cables neatly organized, and even a vanity panel(!) to save you the trip to the tiny airplane bathroom, this is everything you've been looking for in a travel accessory.
Durable, water resistant and made with premium vegan leather, the Flight Pack was built to see the world, one city at a time.
Long flights aren't always a walk in the park, but packing the right travel accessories is the first step in making your flight an enjoyable way to kick off or wrap up an epic vacation!