See more: Top 5 – Team Flytographer
We love to read and we love to travel! In this week's Top 5, the team at Flytographer HQ offers up some of our favourite travel-inspired books to get you in the mood for adventure.
***Bonus: keeping reading for our contest below!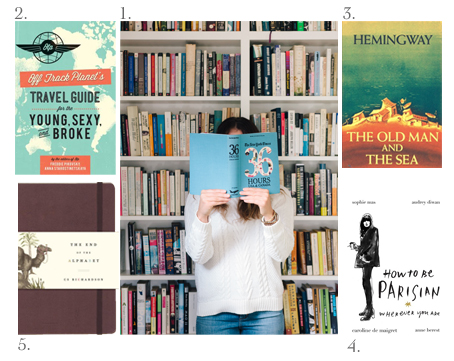 1. "As part of a series from The New York Times, 36 Hours USA & Canada is the perfect book for a busy lifestyle. When I travel, I can avoid all that time-consuming planning and itinerary-making…I only have to flip to the right city and I have a great weekend all ready to go." – Nicole, Founder
2. "Funny, raunchy and hip, OTP's Travel Guide for the Young, Sexy, and Broke marries the practical and the outrageous in one easy-to-read and highly visual tome. I love the witty copy, honest off-the-beaten-track gems and great app recommendations. OTP also has an online magazine to keep the good times rolling." – Tedi, Marketing Coordinator & Shoot Concierge
3. "While it's not your traditional travel book, The Old Man & the Sea inspired my trip to Spain with my dad when I was 15 years old. One of our stops was Café Iruña in Pamplona where Hemingway wrote it. It was my dad's favourite book. We sat in the cafe where he explained its history as well his own inspiration for travel and all of his trips. A father-daughter travel experience I'll always cherish!" – Coralie, Digital Marketing Manager
4. "Who doesn't want to be Parisian? Ironic, cheeky and filled with bons mots, this book made me laugh out loud while noting that women from Paris are as imperfect as anyone else. I love that it is sectioned in short paragraphs so that I can pick it up at any time. Quick and fun, it comes complete with beautiful photographs and illustrations to savour." – Tara, Creative Designer
5. "In The End of the Alphabet, the main character is given a month to live and immediately begins a journey to visit cities and countries on his bucket list. Short and sweet, this lyrical novella reads like a fable and reminds me that life is for living, and travelling is one of the best ways to live." – Michelle, Global Recruiter
---
Win these books!
We love travel and we know you do too! Tell us your favourite travel-inspired book on Facebook or Instagram – go to the post with our book image (as above) to comment – and be entered to win a set of all 5 of these books! We are giving away 2 sets, so enter on both Facebook and Instagram to double your chances. Contest closes Sunday, May 17 at 12:00 midnight PST; winners will be announced Monday, May 18.
---