Whatever takes your favourite gal to her happy place, Chicago is sure to have it. Here are our top 10 unique ideas for celebrating your BFF and soon-to-be bride in the Windy City.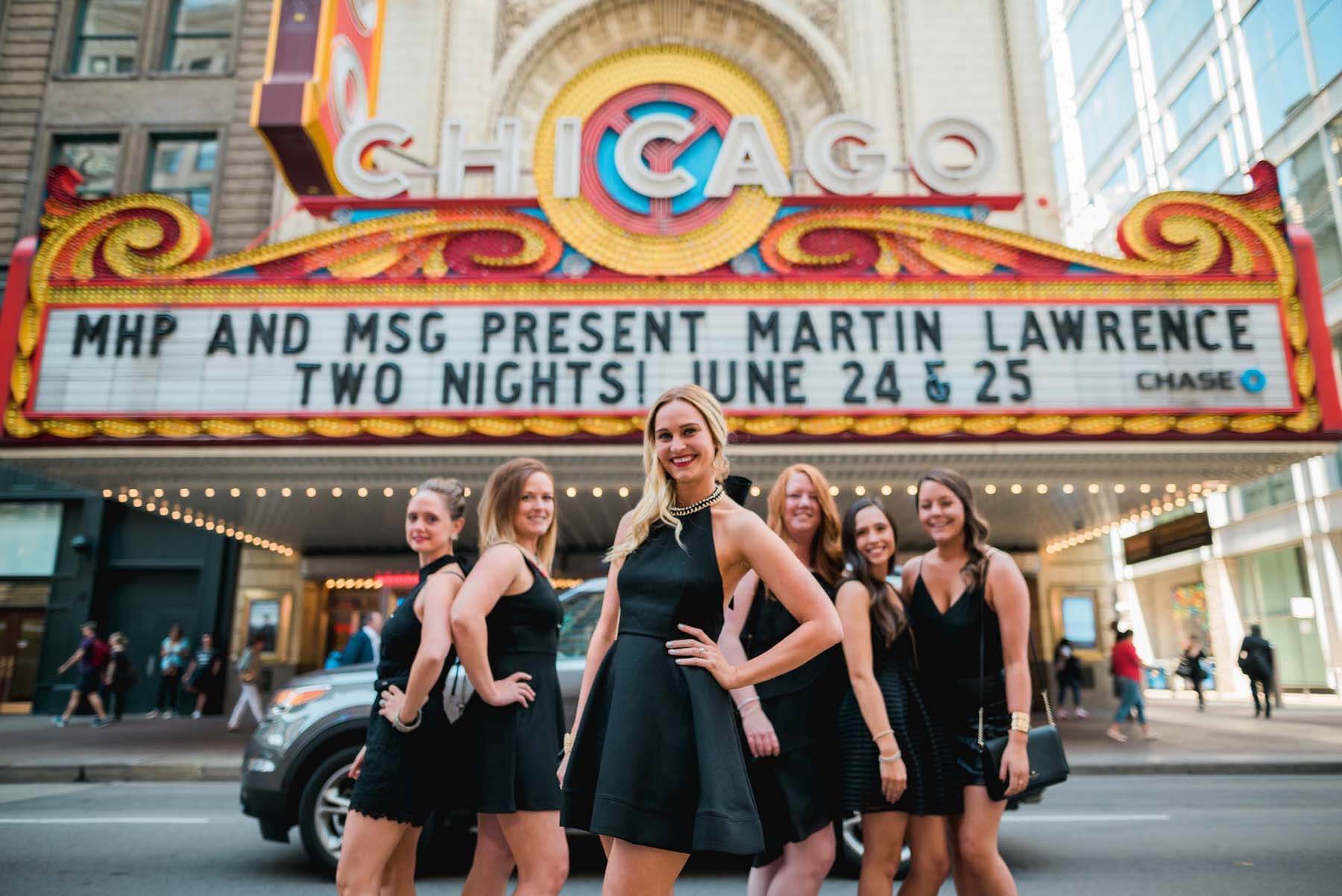 1. See the city from above
What better way to see Chicago's stunning urban landscape than from above? Chicago Helicopter Experience offers daytime, sunset and nighttime helicopter tours for up to six people. It's the perfect way to kick off an unforgettable Chicago adventure.
2. Whip up a delicious meal together
Bond with your ladies by cooking a delicious meal together (and enjoying it together afterwards, of course). The Chopping Block offers private cooking parties – you'll enjoy cocktails and appetizers upon arrival and then get to work and enjoy your meal. You'll also be given copies of all the recipes you whipped up, so you can recreate the special meal at home.
For an Italian excursion, check out Eataly's classes and events. From wine tastings and desserts to pasta and cheese, Eataly will make you feel like you've been whisked away to Italia. Arrive early or plan to stay after your cooking class to explore Eataly's extensive offerings, all conveniently under one roof. Wine bars, a beer bar and several restaurants all boasting different Italian specialties will have you eating, drinking and enjoying each other's company for hours.
3. Laugh it up at a comedy show
Chicago is one of the greatest cities in the world for comedy. Plan a night of laughter with your ladies at one of Chicago's best comedy clubs. The Second City, iO Chicago (which recently moved into a brand new space) and The Annoyance Theatre & Bar all feature hilarious improv, sketch shows and musicals.
4. Sip inspired libations
Chicago is at the forefront of the world's cocktail scene. No matter which spirit is your vice of choice, you can find it featured in some of the finest concoctions at Chicago cocktail bars. Head to Lost Lake for classic rum-forward tiki cocktails. If you're more of a whiskey gal, head to Longman & Eagle. For beautiful, gin cocktails, Scofflaw is your spot. And if you love it all or your girlfriends' tastes are varied, head to The Barrelhouse Flat or The Violet Hour for inspired cocktail menus that include all varieties of spirits.
5. Feed your inner foodie
If the gal of the moment is a devoted foodie, plan a festive dinner at one of Chicago's many Michelin-starred restaurants. This year, the most Chicago restaurants ever – a whopping 26 – gained Michelin stars. Chicago's best restaurants aren't all super stuffy places either. 42 grams is a BYOB "chef-driven restaurant" where interaction with the chef is encouraged. Reserve the Chefs Counter for 8 or the 10-seat communal table.
6. Pamper yourselves
Book a party at Polish and Pour for a fun day of private pampering. For a small corkage fee, you can BYOB or add an open bar to your spa package. Everyone can treat their digits to a manicure and polish and then head out in style for the rest of the evening's plans – perhaps a comedy show or reservations at one of Chicago's best restaurants? 😉
7. Book a private karaoke party
Lincoln Karaoke offers private karaoke rooms decked out with party lights, flat screens and multiple microphones. A combination of Chinese food and bar appetizers are available to fuel the evening with a full cocktail menu to wash it all down and, you know, ease those initial karaoke jitters.
8. Get a dose of nostalgia
Chicago has seen a surge of arcade bars, more cleverly known as barcades, pop up around town recently. Paint the town red over classic games of pinball and other nostalgic arcade games from your youth at Emporium, which also hosts live music from time to time, Logan Arcade or Headquarters Beercade.
9. Party in an old bank vault
For dinner and cocktails in an unforgettable setting, treat the bride-to-be to a special night at The Bedford. Though it doesn't look like much from the outside, head inside and downstairs and you'll soon discover this classy scene is set in an old bank vault. It's one of the best places in town for oysters and martinis, so go ahead and indulge.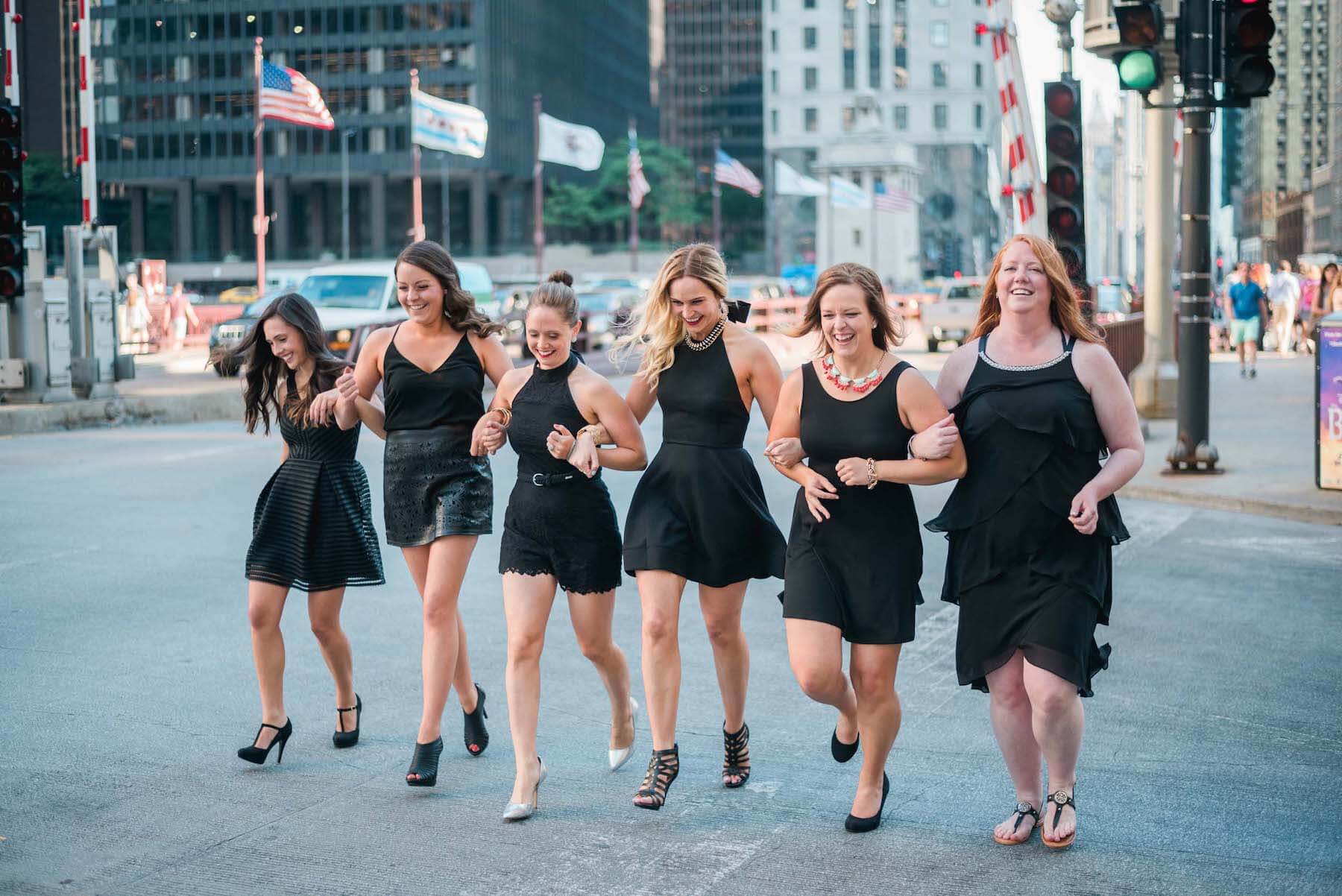 10. Indulge your inner fashionista
If your girlfriends love a good shopping outing, hit Chicago's Magnificent Mile for the best the city has to offer. From department stores to designer boutiques, you'll have a blast bonding and browsing. Plan a midday break at The Purple Pig for a perfectly shareable menu of antipasti, cheese, smears and wine.
All Photos by Flytographer: Danielle in Chicago