As it turns out, the once-in-a-lifetime "YES!" moment can happen twice! This romantic double proposal starts in magical Paris and continues on The Ellen Show, with more surprises in store for this amazing couple.
When Kate and Sarah were traveling through the most romantic city on earth, Kate knew that Paris was the perfect place to propose to her girlfriend. Kate reached out to Flytographer to help plan and capture this beautiful, once-in-a-lifetime moment at Trocadero. We love love, and the opportunity to document all kinds of unique love stories across the globe has us swooning daily. As Ellen so beautifully said, "Everybody deserves love. That's all, that's the most important thing. It's all that matters in this life, is love."
When it came to planning the big question, Kate knew she wanted the moment to be absolutely picture-perfect. In order to get Sarah dressed up without suspicion and at Trocadero for sunrise to avoid the crowds, Kate created a ruse that they were doing a photo shoot in Paris in fancy dresses for a company they often work with. Little did Sarah know, she was actually dressing up for her own proposal!
Sarah: "So I had no idea this was going to happen…and then once we were doing this photo shoot in front of the Eiffel Tower, [Flytographer Olga] had me pose in a way where my back was towards her, and then she got down on one knee, and I blacked out. So no, I definitely did not see this coming!"
While popping the big question is nerve-wracking, Kate knew her chosen family and her community were behind her 100% of the way. Kate: [to Ellen] "If it wasn't for someone like you, I would have never had the courage to just go out there in the public and be able to propose to my fiancée. So many people don't accept that. And you've paved the way for queer women everywhere. And it's just like the most inspiring thing."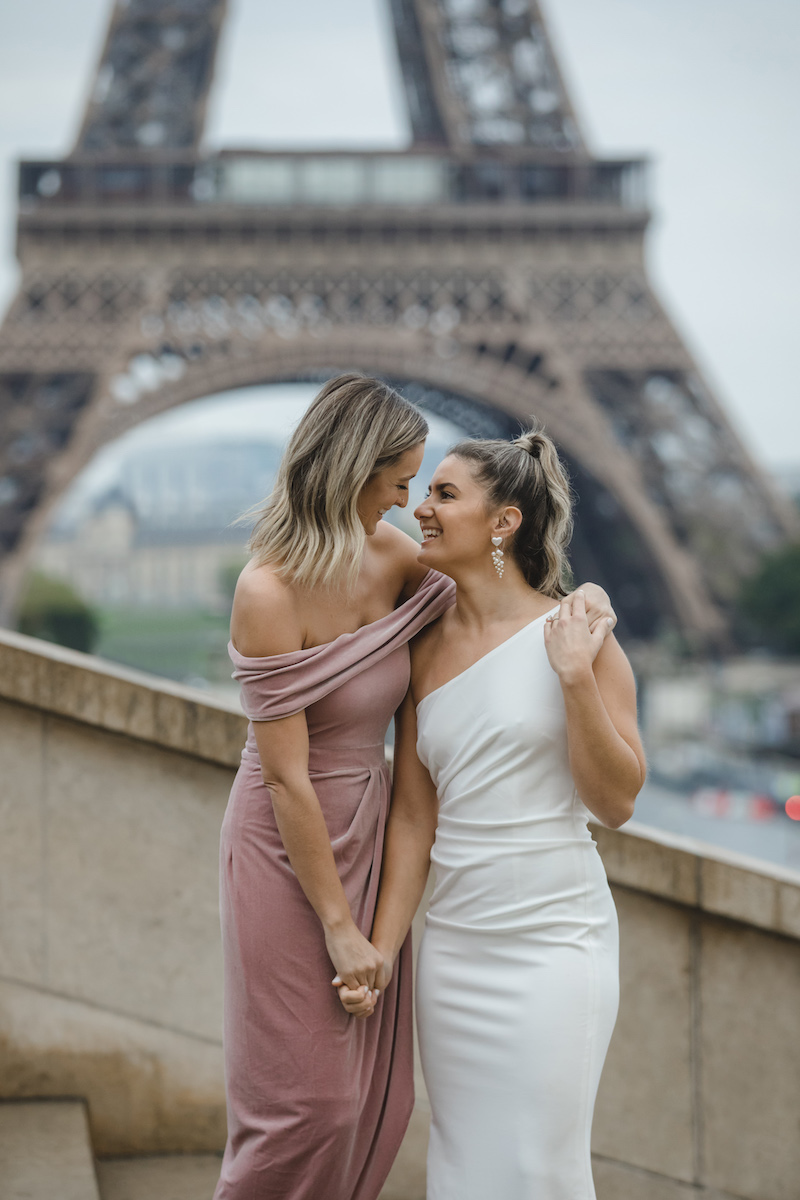 Photos: Olga in Paris for Flytographer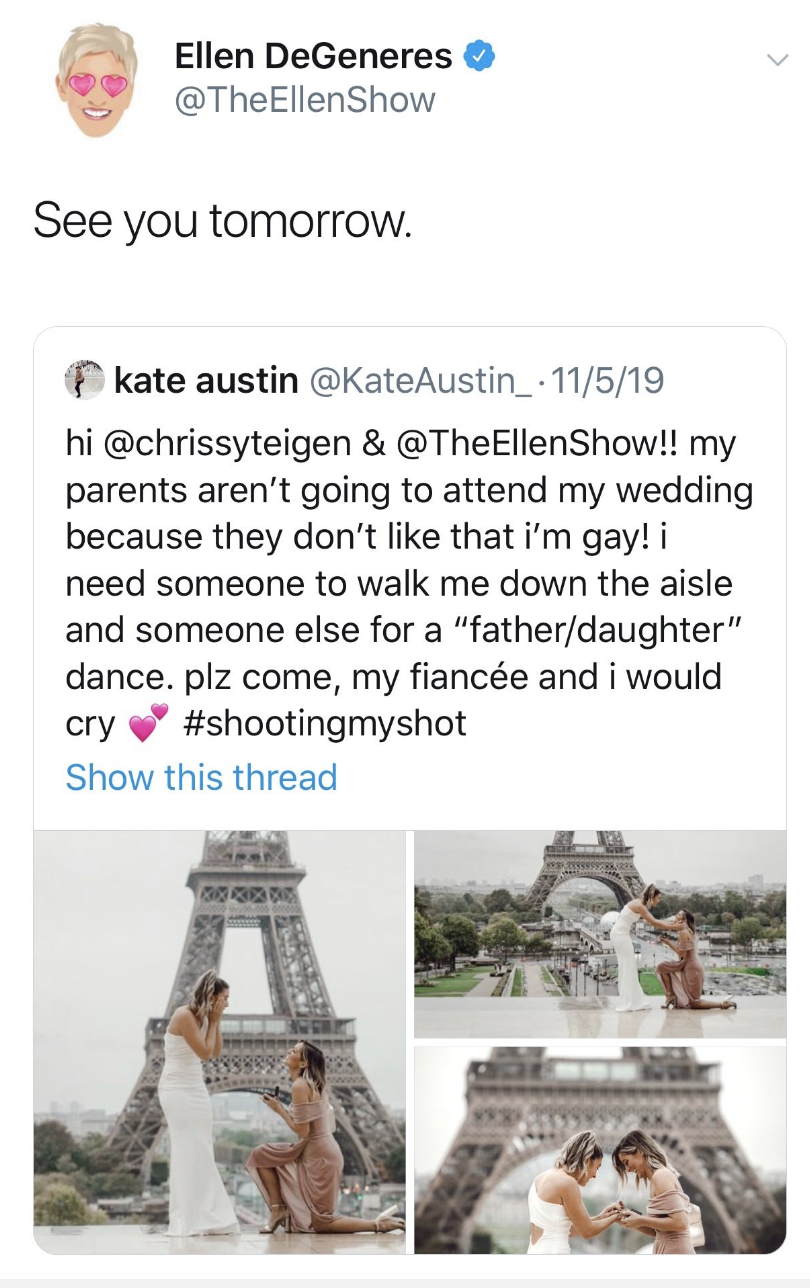 Image courtesy The Ellen Show
The proposal didn't end in Paris, though. After sending a short tweet to Ellen inviting her to their wedding, Sarah & Kate were brought on the show! Although Ellen had to RSVP "no," she did have one more gift for the happy couple. With her chosen family and friends revealed (in true Ellen fashion, from inside a giant wedding gift box) and tearful hugs all around, Sarah had a special question to ask…
Sarah: "Yeah, so, I mean, I know you already proposed to me. But of course, you know I had to get my piece in there because you deserve it. And there's no better way to do it than in front of our chosen family, and of course, our biggest role model. The way that you feel today is the way is the way you make me feel every day, and I can't wait to spend my life feeling that way. So —"
Kate: "I love you so much!"
Sarah: "Will you be my wife?"
We hope you had your tissues ready. Cue happy tears and enough joy to last a lifetime because this double proposal is one we'll never forget!  Watch the surprise proposal video HERE.