"Will you come travel with me? Shall we stick by each other as long as we live?"
― Walt Whitman
We captured hundreds of thousands of photos around the world in 2016. Here are some of our favourite proposal moments.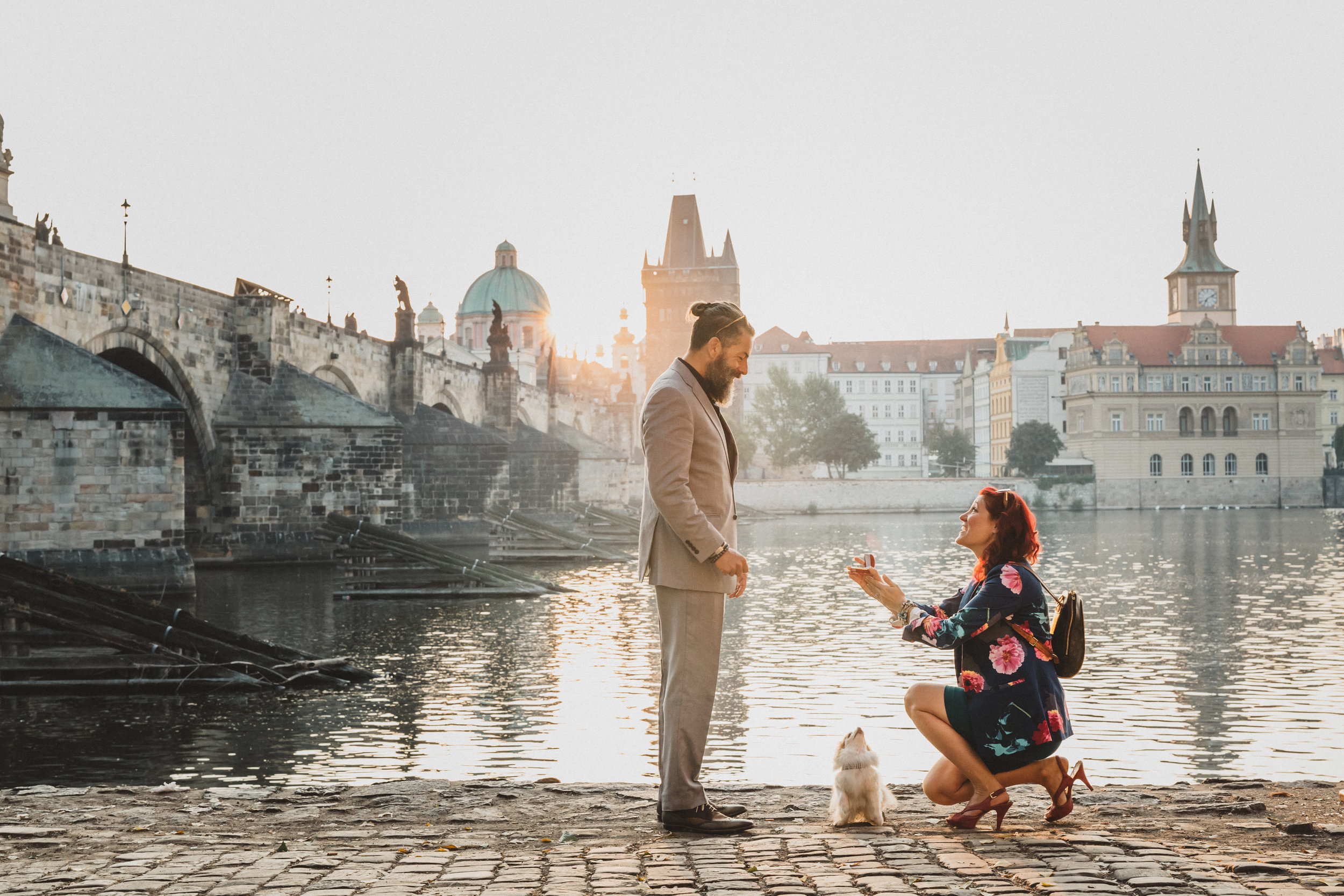 1. Stefan and Sonja in Prague
Flytographer Sarah
"In the end… after a moment, a trip … when it's over, all you have is your memory. Science, however, has shown that we don't recall the original memory when we look back, but rather the previous memory of the memory, and, as such, in time it degrades. It becomes a pale recollection or even faulty. The photos keep that memory brighter." – Sonja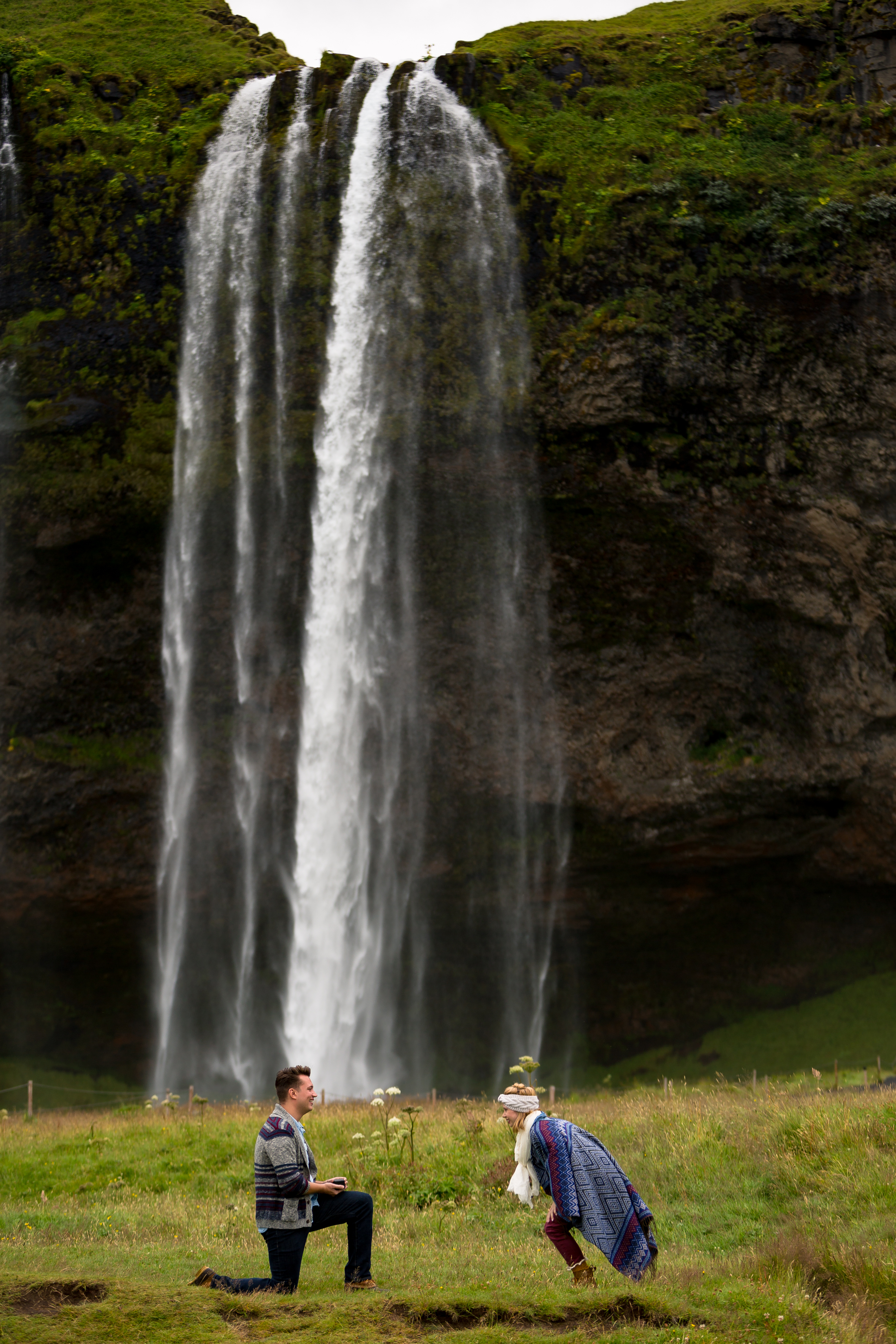 2. Mike and Stephanie in Iceland
Flytographer Ernir
"Stephanie and I have been dating since college, and one of our favorite things to do together is travel and go on adventures. Iceland is a breathtaking country. We were speechless everyday due to the beauty around us. Of course our favorite moment of our trip was our proposal at one of the most popular waterfalls in the south of Iceland. Stephanie had no idea it was coming. I even switched the day of the proposal due to rain, and I am so happy I did. We arrived early, and we were the only ones there! It was as if I rented out the entire waterfall. The whole moment was surreal and perfect. I am so happy I arranged to have it captured on film. We will always treasure this trip. Iceland was the perfect place to start the next chapter of our lives together." – Mike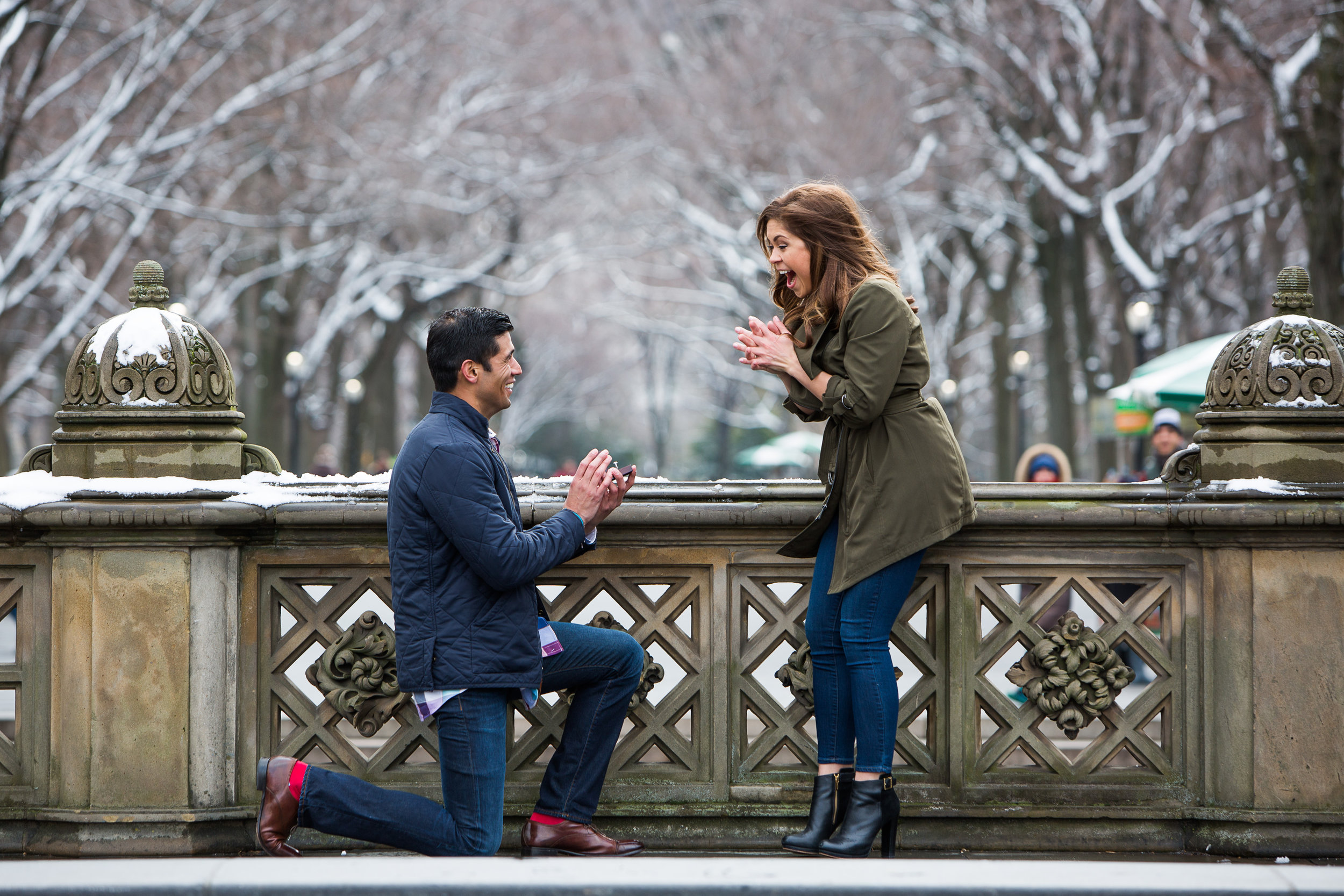 3. Pedro and Blair in New York City
Flytographer Johnny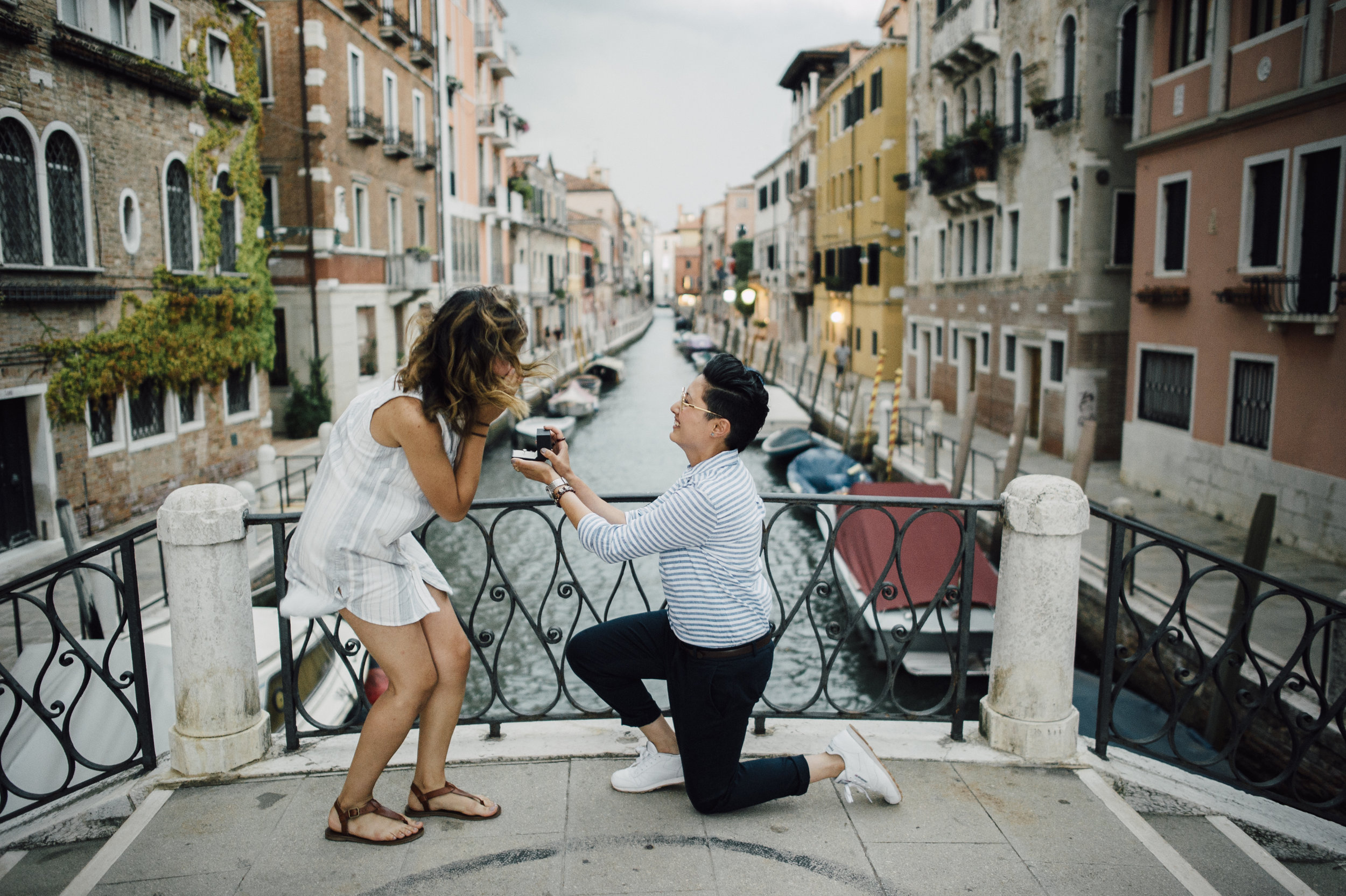 4. Denise and Katrina in Venice
Flytographer Serena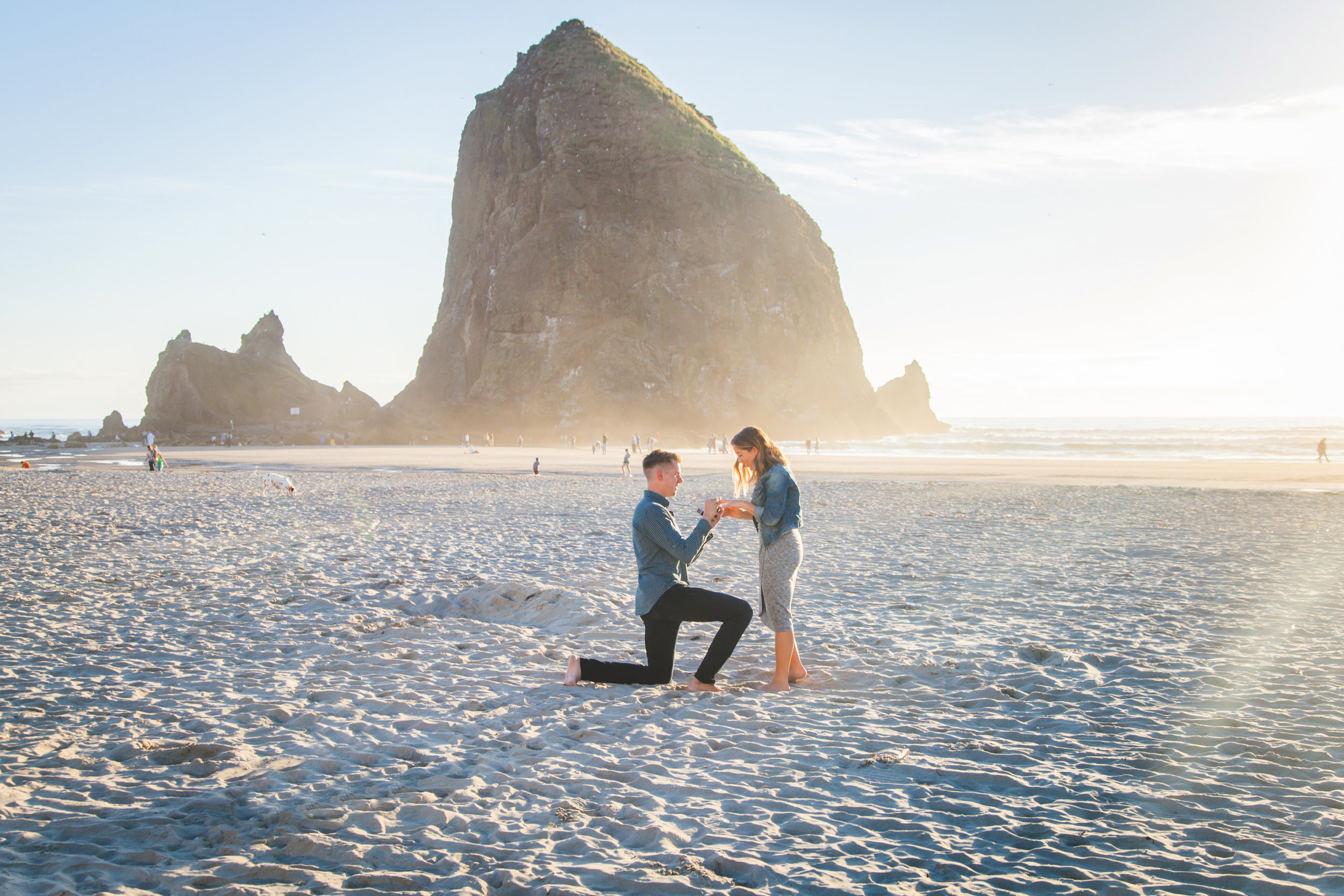 5. Ryan and Kerry in Portland
Flytographer Whitney
"Back in April of 2015, Ryan texted me a photo he took that showed 'I Love You Kerry' written in the sand in front of Haystock Rock. Being back in that very spot a year and half later and getting engaged was a full-circle moment. It was very special." – Kerry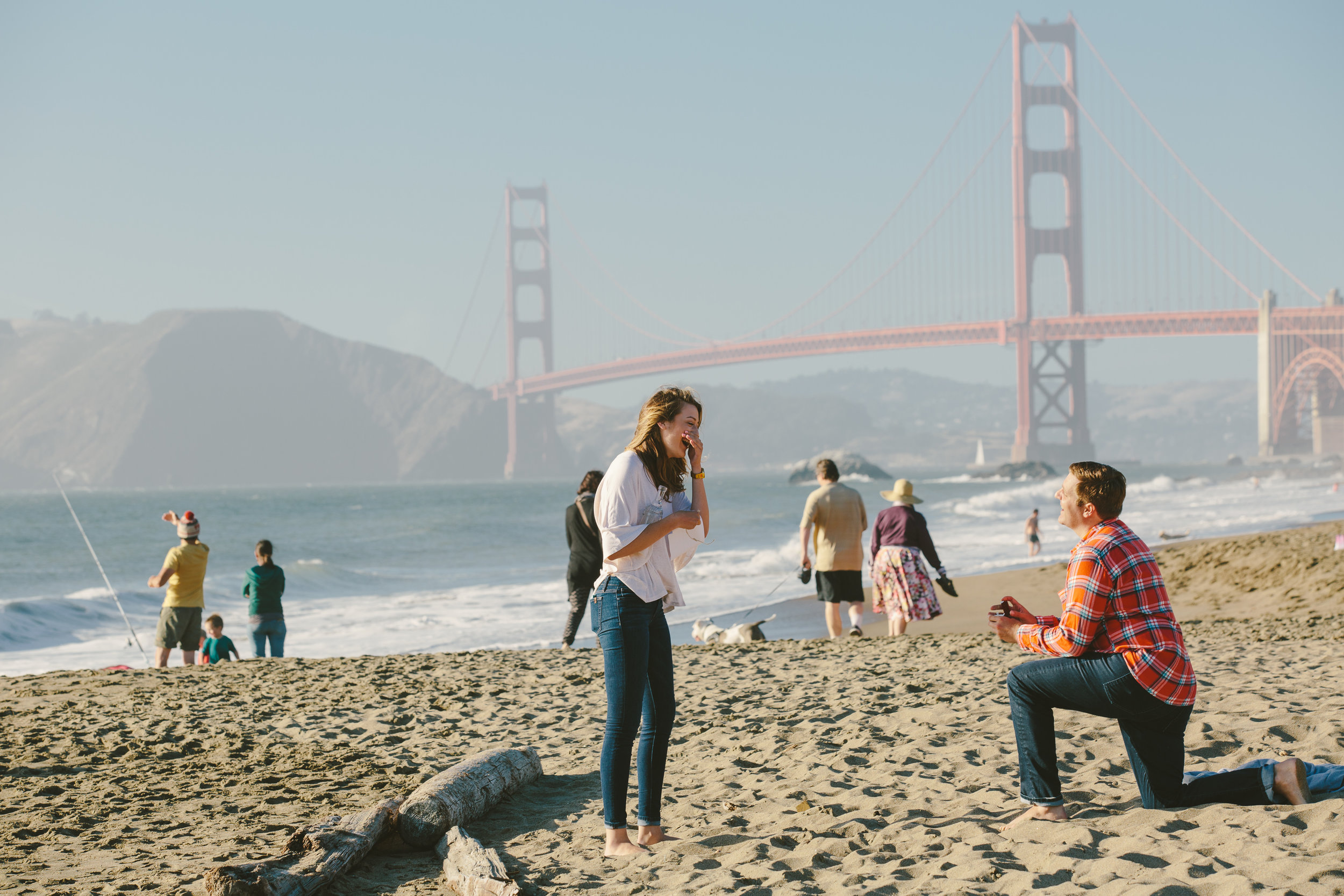 6. Andrew and Lauren in San Francisco
Flytographer Danielle
"Shaking with excitement, my eyes began to water as I read,
'Dear Lauren,
I love you with all my heart, I cherish every moment I spend with you. Your love, friendship and compassion mean so much to me. We have spent some of our best moments at beaches and at the ocean: birthdays, anniversaries, some of our most wonderful and cherished moments. And so I think it is only fitting to ask you here, if you would spend the rest of your life with me…'
I could barely read the last sentence. I looked up to see Andrew (also smiling and shaking) on his knee. As he opened the mahogany ring box, I backed away in disbelief. This was actually happening!" – Lauren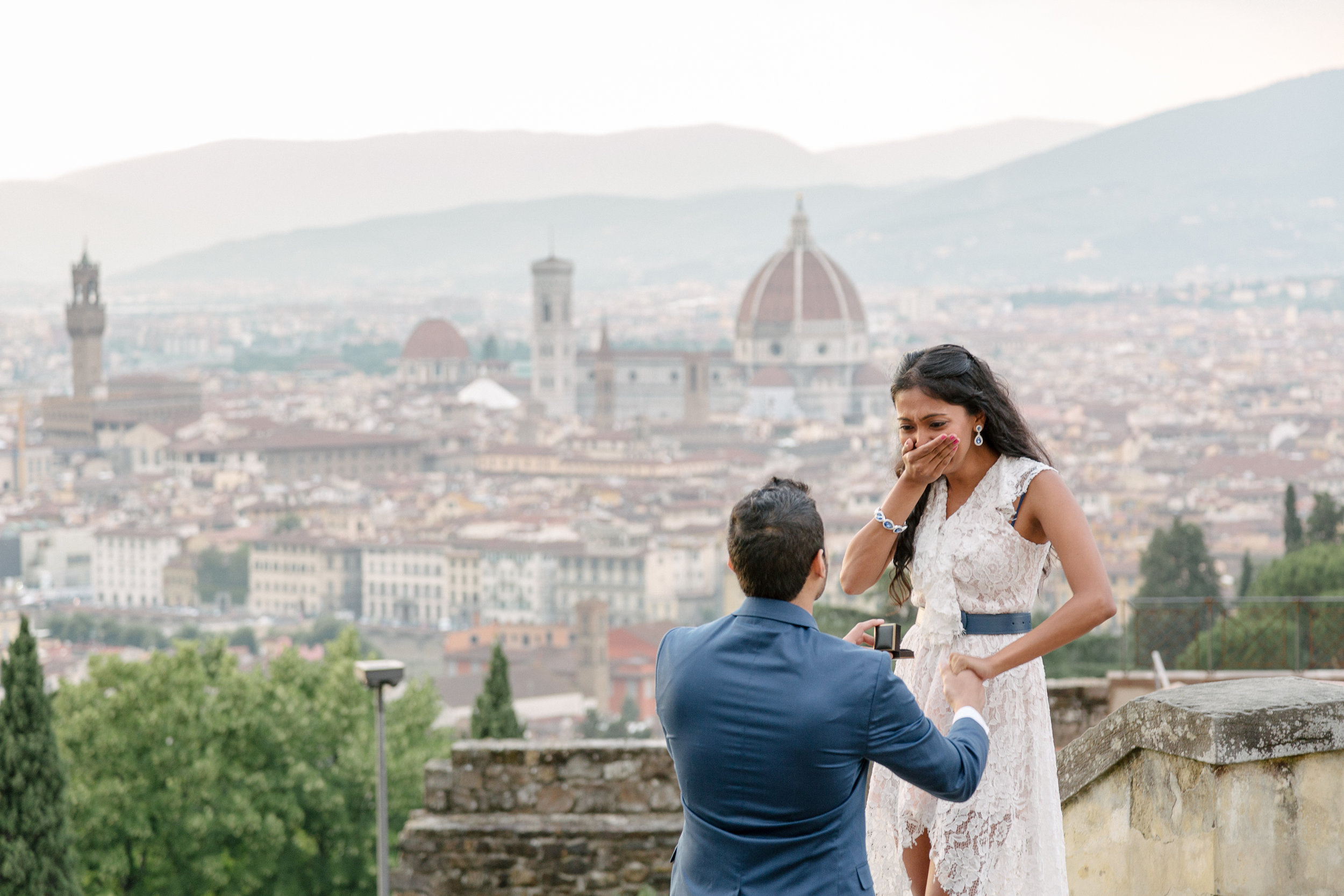 7. Nikul and Miral in Florence
Flytographer Emma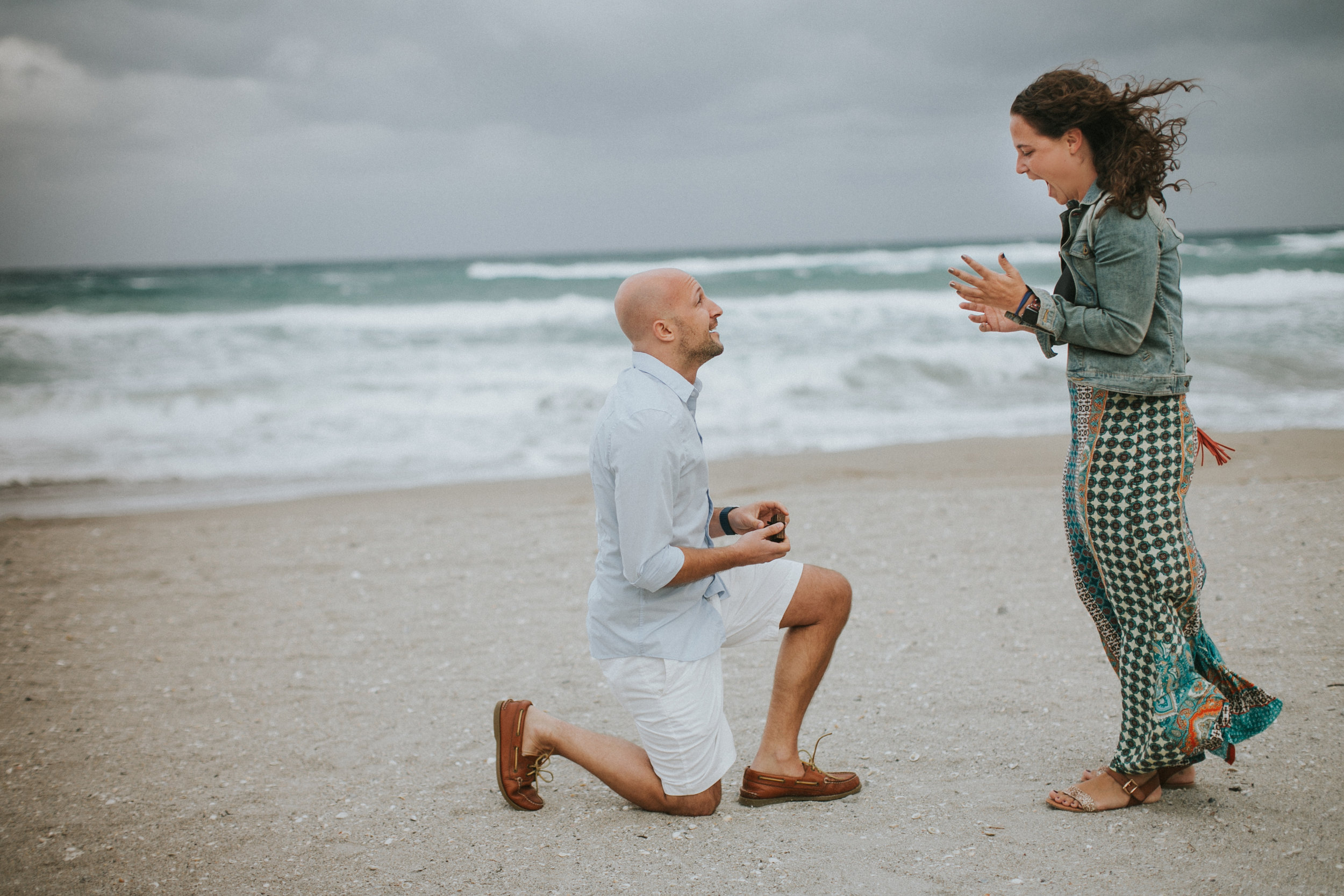 8. Jay and Kelly in Palm Beach
Flytographer Cheryl
"The extreme winds before and during the proposal definitely led to one of the funniest parts of the trip. Kelly and Cheryl started talking on the beach (before Kelly knew why she was there), and Cheryl said she was waiting for a couple who was late for a photo shoot. Kelly asked Cheryl if it was for engagement photos and then said, 'I hope not, because this weather sucks for that!' Cheryl laughed and said the winds and dark skies actually photograph very well – and she couldn't have been more right." – Jay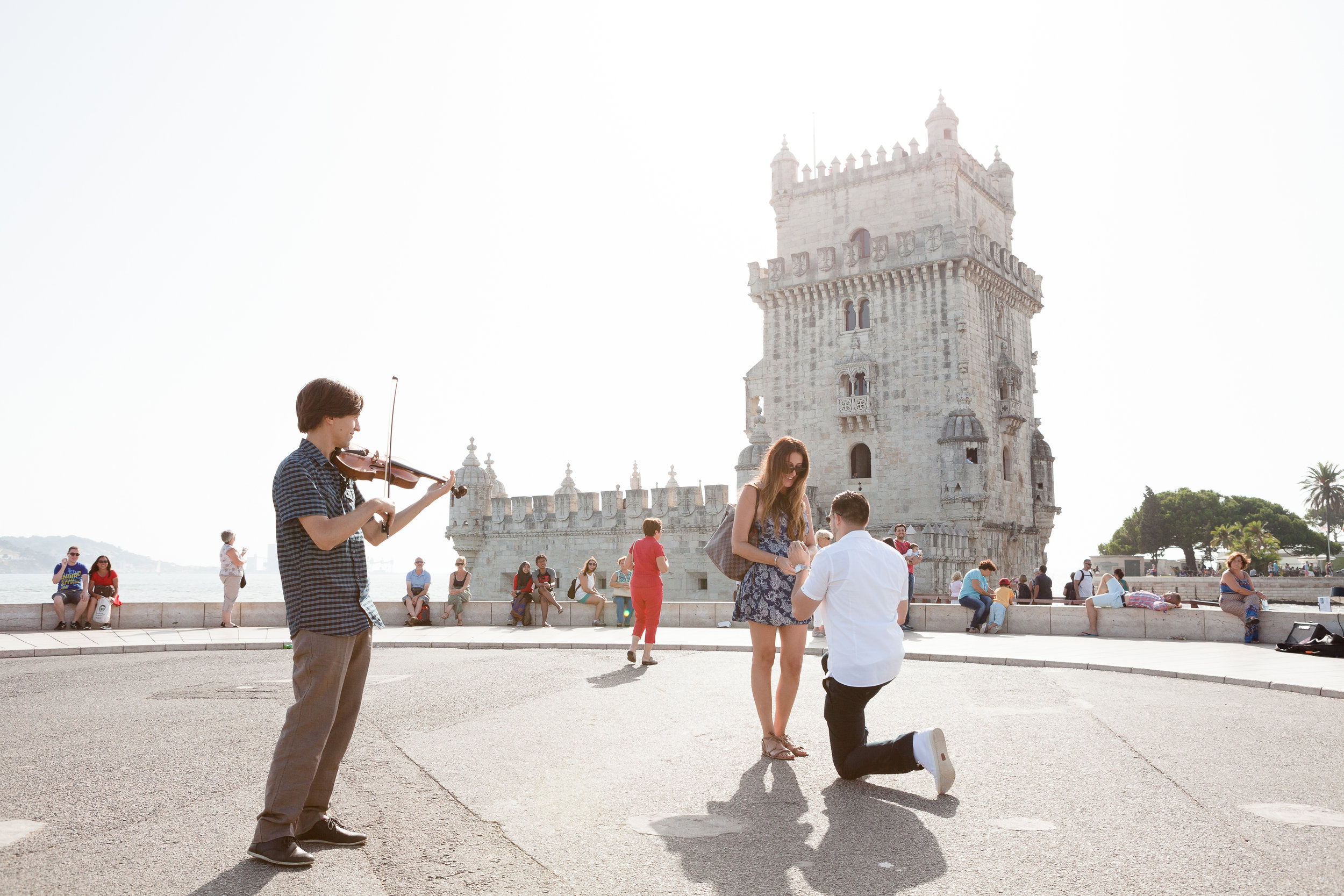 9. Steve and Diana in Lisbon
Flytographer Goncalo B.
"When Diana and I met, we had an instant connection. We have so many things in common and one them is the love for traveling, so what better place to propose than in Europe? As a child, Diana went to Portugal every summer with her family and I knew she held those memories very close to her. Last summer was the first time we went to Portugal together. We loved it! We even rescued a dog from there, which we call Euro. I knew that was the place to give her an everlasting memory. Last year we both said we would return and we did.  
A few months before, I researched online and found a photographer through Flytographer in the Lisbon area and a private violinist to make it as romantic as possible. The photographer gave me a few options, the Belem Tower stood out to me immediately and I chose it practically without even seeing the other options. Her parents were there to witness the proposal and the rest was history. My philosophy is there are some things you only do once in life, so do them to the fullest! This is our fairytale." – Steve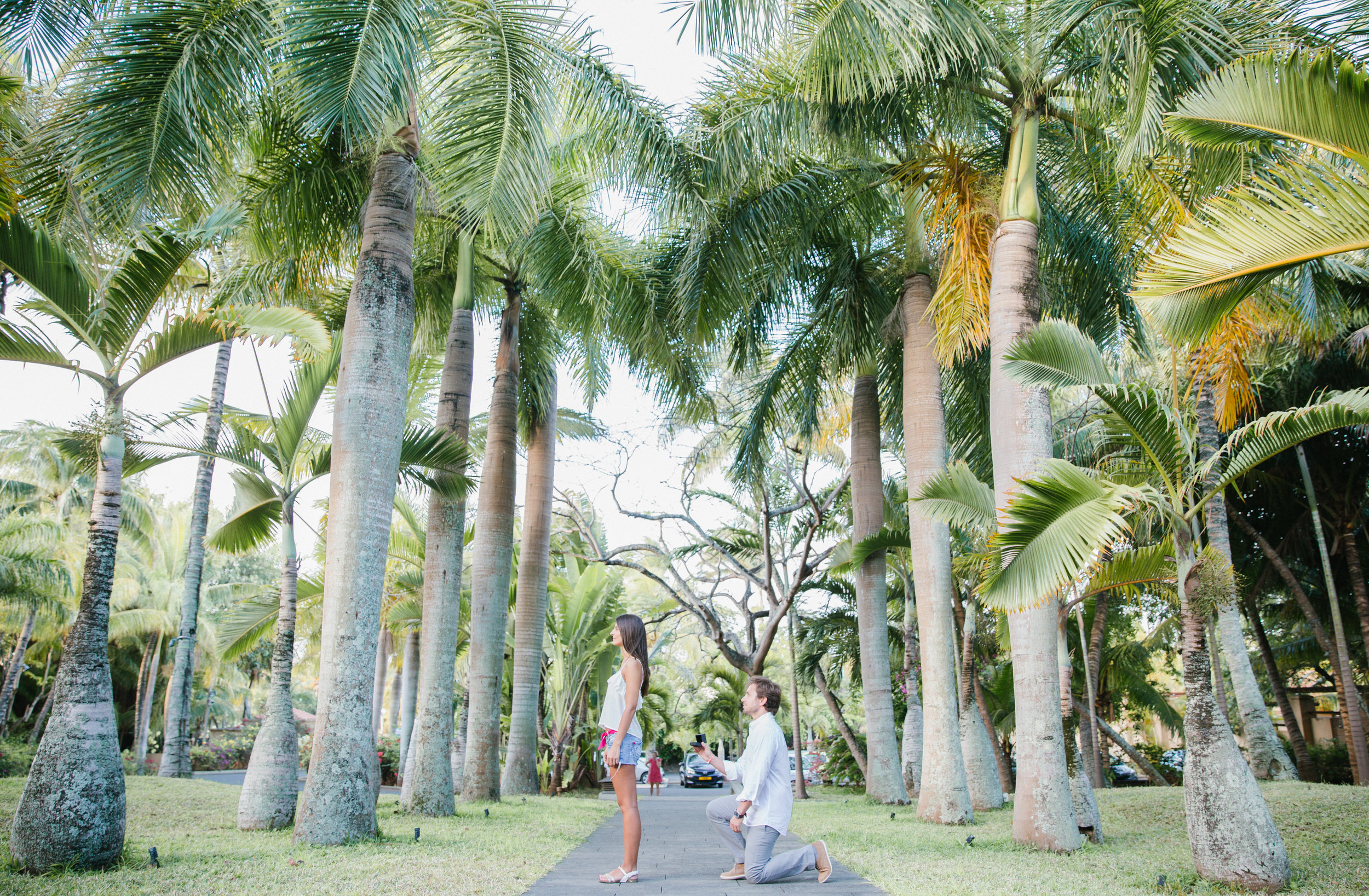 10. Celso and Liliana in Mauritius
Flytographer Mayline