See more: proposal – love – couples – Best of 2015
An epic vacation with the perfect partner … what better time to plan a proposal? We feel so fortunate to be a part of our customers' journey at this very special time, helping them capture memories for a lifetime. Read below for some of our favourite proposals of the year, along with the sweet narratives woven into each story.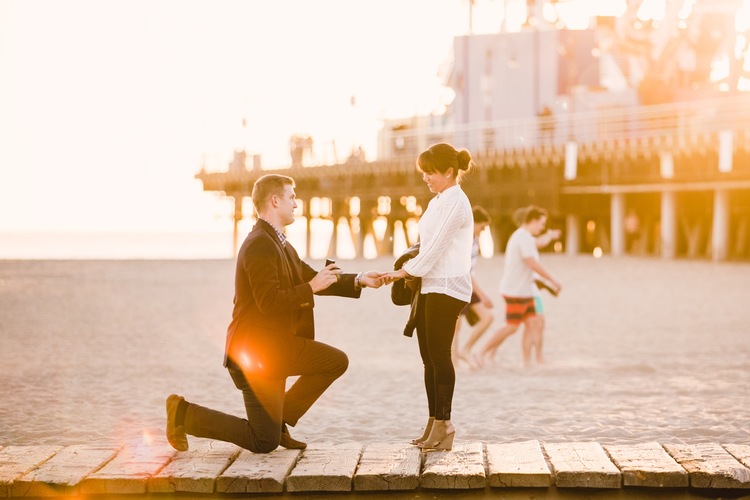 Tim & Lauren in Santa Monica | Flytographer Andrea
"Tim and I met 5 years ago, while I was still a senior at USC. Unbeknownst to him, I actually had my sights set on him long before we ever officially met!" – Lauren
Read their proposal story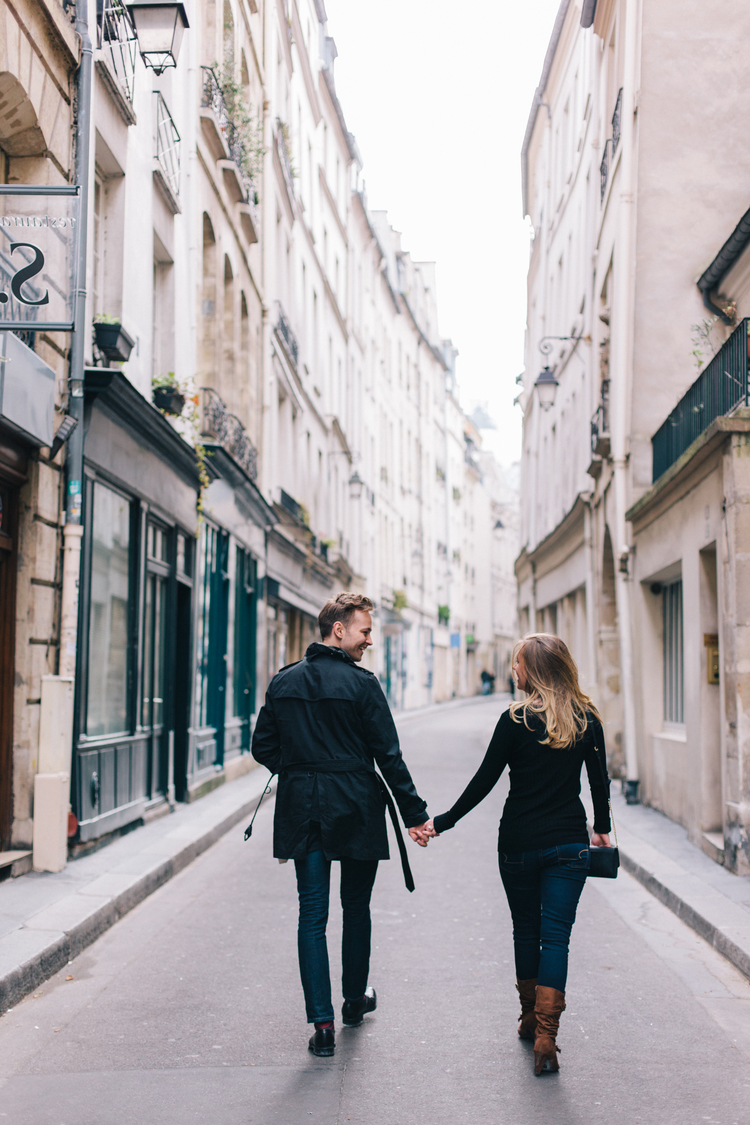 Alex & Kirsten in Paris | Flytographer Gonçalo
"I took my girlfriend on a surprise trip to Paris to propose. She had no idea where we were going until the night before and (hopefully) didn't know I was going to propose. I had everything planned out: the photographer, the location, what I was going to say, everything. I even had a custom lock made with our names on it and the date of the proposal to put on the bridge." – Alex
Read their proposal story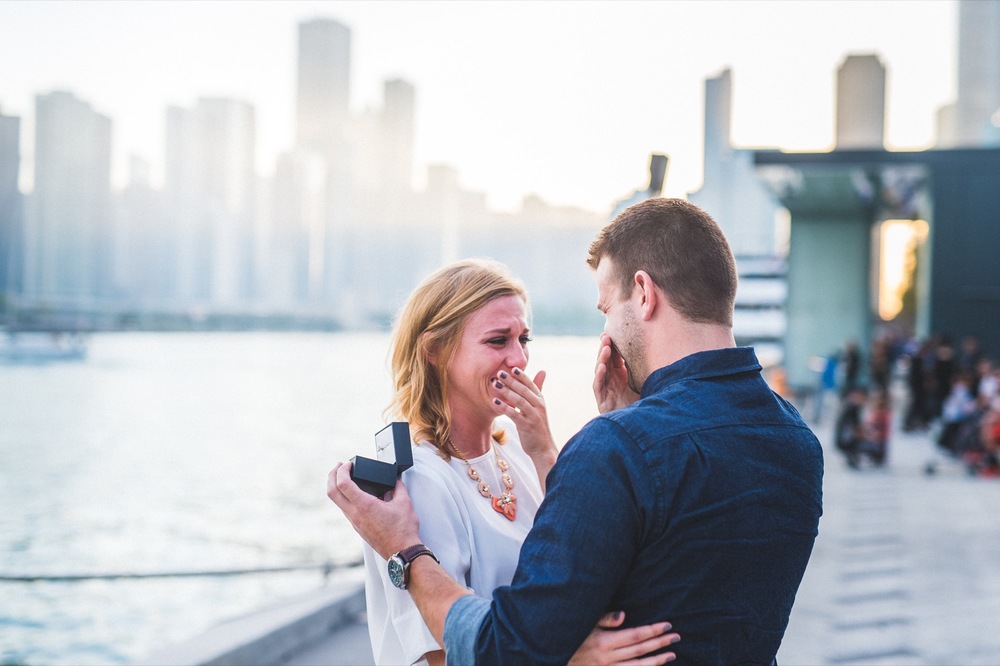 Blake & Malorie in Chicago | Flytographer Michael
"I remember walking down the stairs and seeing Malorie; I was instantly blown away. All those feelings of friendship rushed over me again – and not to mention she was absolutely stunning! Over the course of the next couple months, Malorie and I hung out more and more and it was apparent she was the one for me." – Blake
Read their proposal story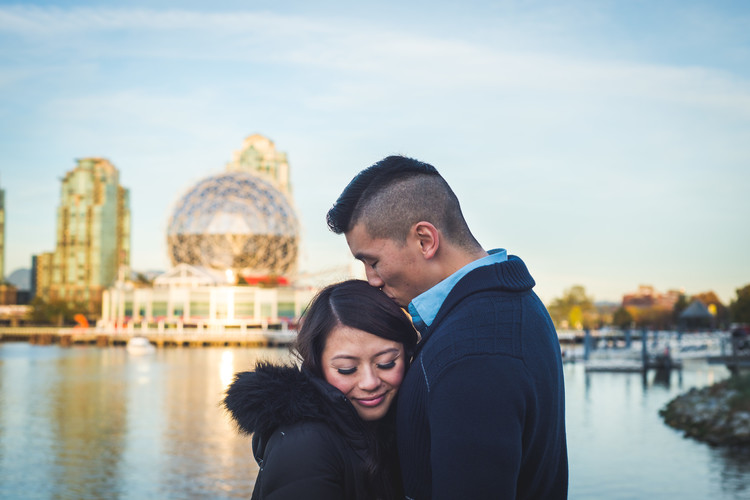 Joshua & Diana in Vancouver | Flytographer Katrina
"Diana and I met through our mutual friend who introduced us. It was love at first sight (for me, anyway!). I picked a location that had the iconic landmarks of Science World and BC Place in the scenery. Diana and I were both raised in Vancouver, BC and we love having these locations show how proud we are of our city!" – Joshua
Read their proposal story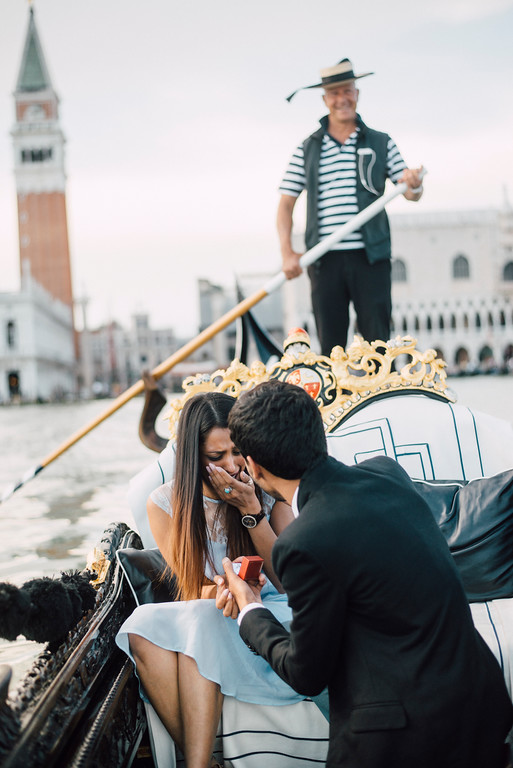 Jes & Nihal in Venice | Flytographer Serena
"We met in one of the most unlikely places, but I guess it's becoming more common now… Twitter! The weirdest part was that we had no mutual followers and yet Jes still managed to find me. She doesn't believe it, but I keep saying it's fate because we are made for each other… from the music we both listen to, to the fact we both love basketball (which is quite rare in England). We spoke every day for 6 months on the phone and Skype before we met in person. I already knew before we met face-to-face that I wanted to marry her, and I even told her – but she didn't believe me! I wanted to go to Paris for New Year's with her (this is still before we had met), and she told me that she would only go with her husband. I told her that it's going to be me so we should go, but she paid no attention. Little did she know that nearly 3-1/2 years later we would be engaged!" – Nihal
Read their proposal story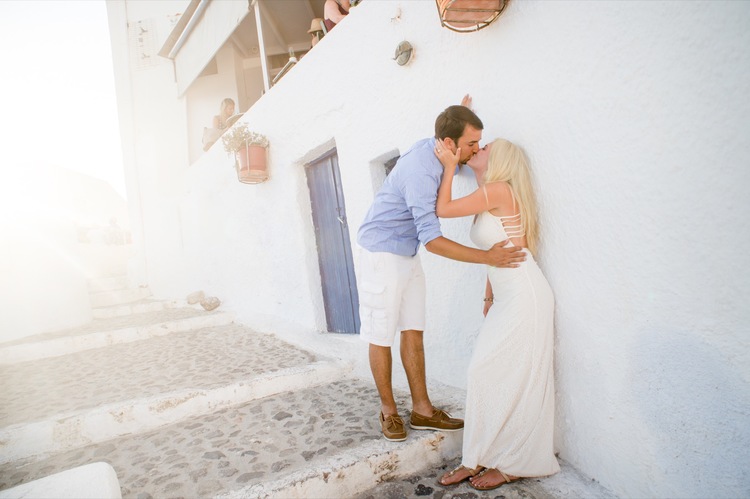 Bruno & Bryannah in Santorini | Flytographer Nikos
"I looked at Bruno's hand and noticed it was shaking. It was at that moment where I was pulled back to reality. Only reality was better than any of my dreams. It was just Bruno and me and he was asking me to spend the rest of our lives together. He told me he felt his life started the moment he met me and wanted continue this journey together, forever, the rest of our lives. I started to cry and of course said yes." – Bryannah
Read their proposal story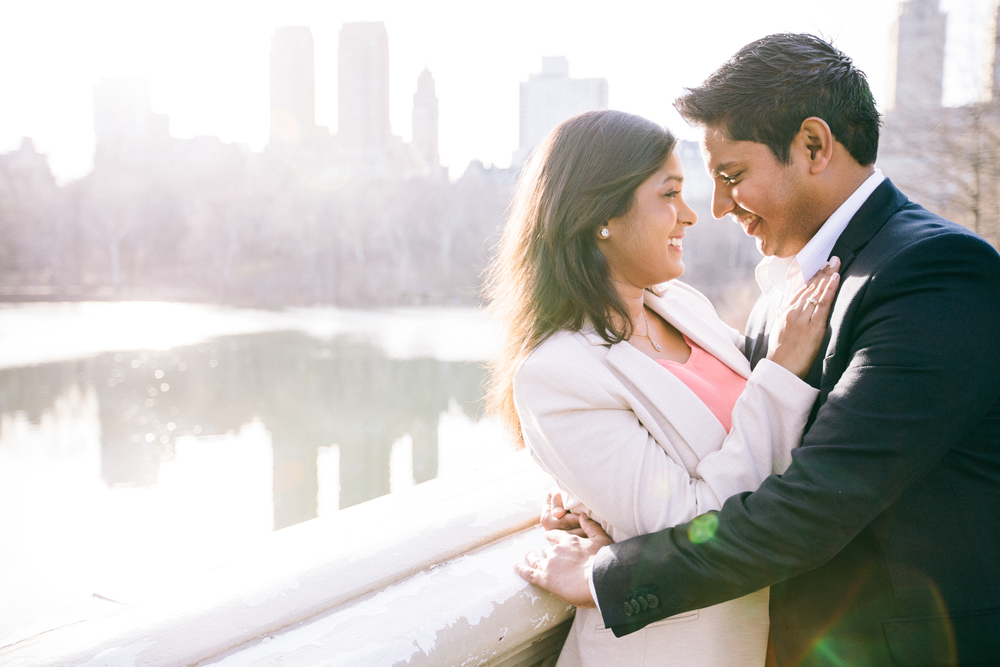 Amrit & Krystal | Flytographer Samantha
"We finally made it to Bow Bridge and stopped for a bit to admire the skyline view.
Right then and there was the perfect moment. I got down on one knee and asked my amazing partner for the last 10 years to be my wife. She said absolutely YES! and made me the happiest guy in the world." – Amrit
Read their proposal story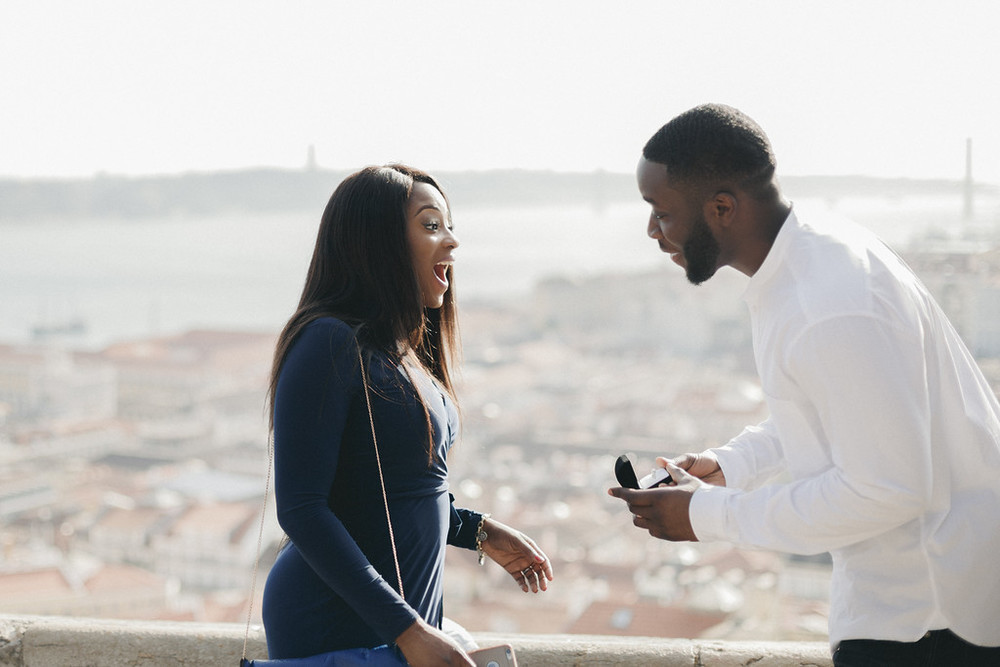 Faith & Kojo | Flytographer Orsi
"Faith is from the UK and I am from Canada. We met in university when Faith came to my school on a year-long exchange. As cheesy as it sounds, it was love at first sight. We both had a feeling were going to love each other immensely but found it difficult to act on our feelings simply because Faith had to return to the UK. It was also my last year in university and I was hesitant to start a long distance relationship because I never heard good stories about them. After thinking about it for days and speaking to friends and family, I thought that it was worth giving it a try than letting her go and regretting it. The rest fell into place and we have been in a long distance relationship for 3 years – I don't want to be with anyone else but her!" – Kojo
Read their proposal story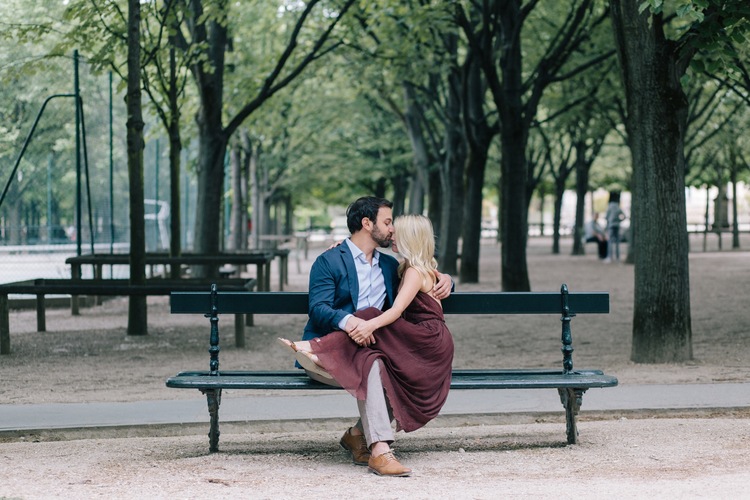 Dani & Ali in Paris | Flytographer Gonçalo
"We met in college as I was graduating and then did long distance for a year before she moved to where I was, in NYC. We have been together for 5 years now. On this trip, we were already traveling to the Middle East and Turkey, so it was easy to add a few days in Paris to the end of our trip. I figured there is no better place to get engaged than in Paris! I knew the Eiffel Tower would be difficult to do because of the crowds and tourists, and I heard that the Luxembourg Gardens were beautiful." – Dani
Read their proposal story
Kim & Steve in Honolulu | Flytographer Chelsea
There are some proposals that really take our breath away – and this is one of them! With sweeping vistas of the Pacific Ocean, and the tropical breeze in their hair, this beautiful couple began a new chapter of their lives on the sandy beaches of Honolulu, Hawaii.
Read their proposal story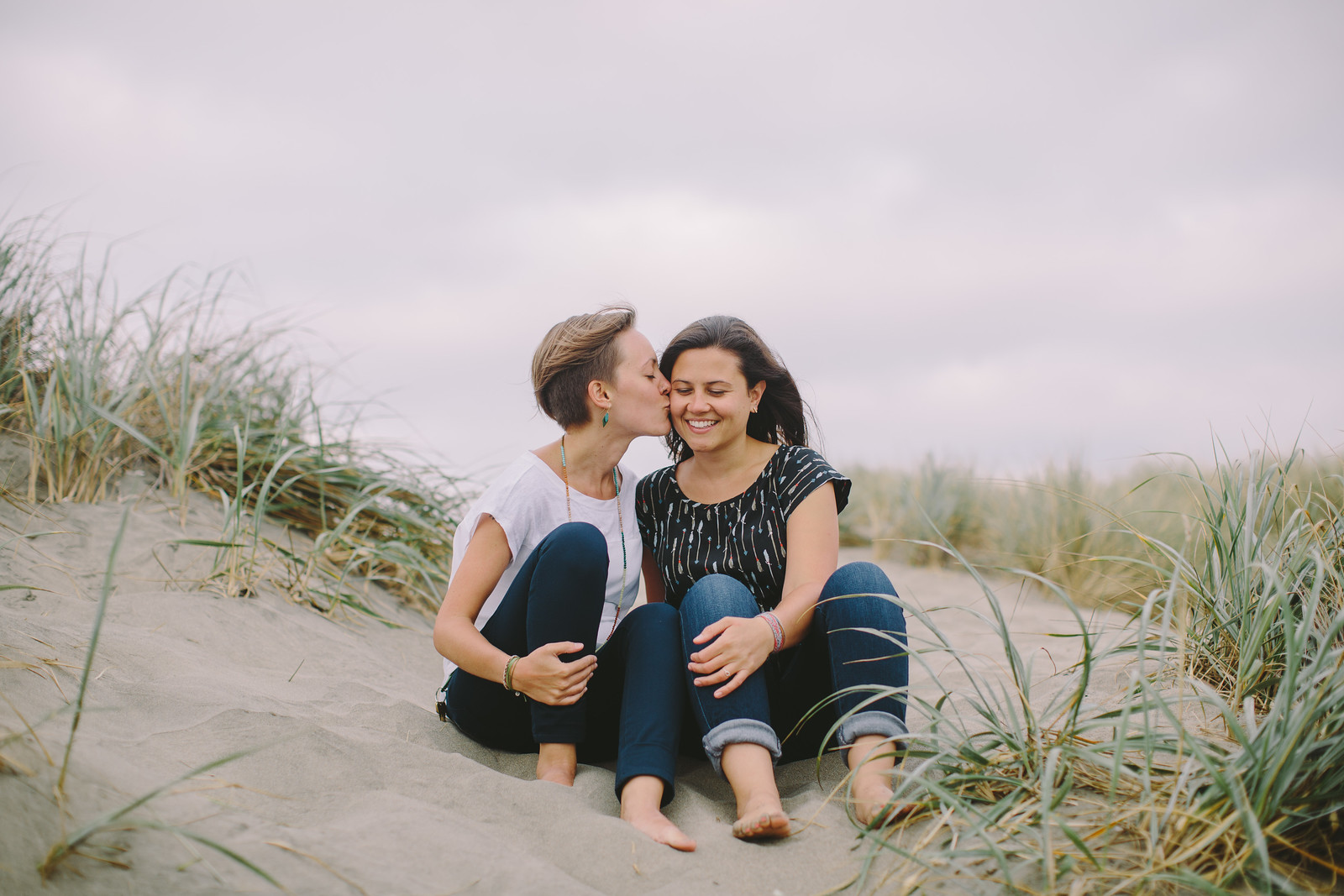 Mckenzie & Tori in San Francisco | Flytographer Danielle
"Tori and I met for the first time in March of 2012 at a monthly queer women's dance party in Washington, DC called She.Rex. We connected over music (she's a bass player and I'm a singer), and had an amazing time playing together in a rock band for the next year and a half before finally starting to date. Once we got together, we talked a lot about the future -marriage, kids, where we might live – but we always skipped over the getting engaged part. I decided it was time to act, so I got some advice from Tori's sister and brother-in-law, and got to planning! – Mckenzie
Read their proposal story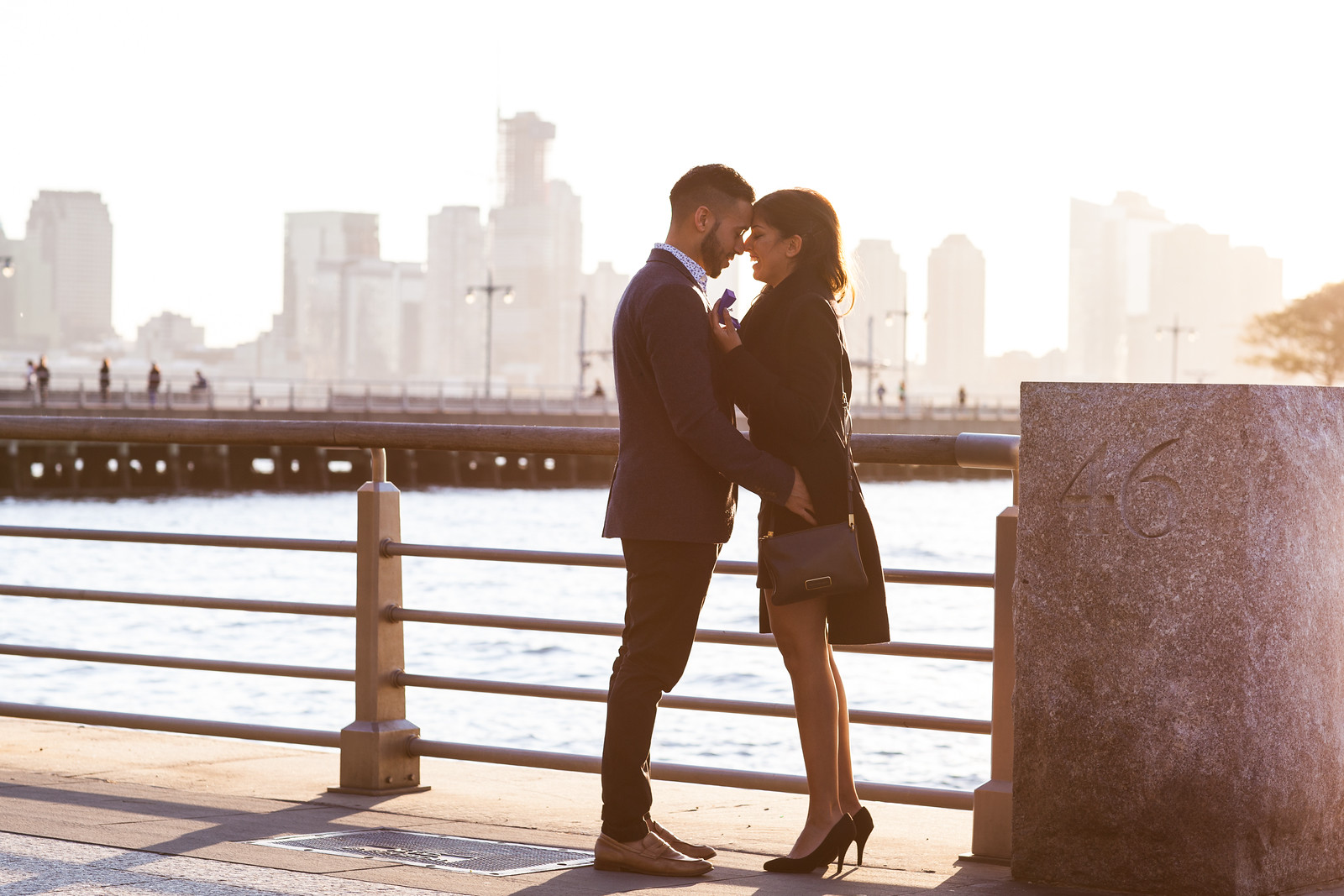 Ketan & Narissa in New York | Flytographer Ashka
"I absolutely loved the service and expertise that Flytographer provided. They made my proposal that much better and I'm so glad that I was able to capture the moment to share it with my friends and family. On top of that, the quality of the photography was amazing." – Ketan
Check out our Best of 2015 page where you can view the full gallery of our best photos of the year, including the top Proposal, Honeymoon, Family, Friends, Solo Travellers and Love Stories.