"The moment is so quick and hard to capture, yet we have photos to last a lifetime."
With the help of Nassau proposal photographer Julio, John planned a gorgeous beach proposal for his girlfriend Taylor… in her literal dream vacation destination in the Bahamas. Nassau's beautiful beaches set the scene for a proposal under the palms. Read on for how she reacted when John popped the question.
HOW THEY MET
"We met at the end of high school and spent 50 straight days together that summer before college. The day we had to leave to separate college campuses was one of the longest days of our lives and I knew from that day on that I always wanted her in my life."

SPECIAL LOCATION / DATE
"Taylor loves beach getaways in general, but has always had Atlantis Bahamas at the top of her list for dream vacations. I knew once we had booked this trip to make her dream a reality that it would be the perfect destination for our proposal."
THE BIG DAY
"She was in shock in the best way possible. The majority of the photo shoot was spent with her looking at me and whispering 'Is this real?!' and when we got the photos a couple days later, we were able to relive the euphoria once again!
"We would like to personally thank our proposal photographer Julio again as this experience was unbelievable. Taylor and I can't believe how great these photos came out. The moment is so quick and hard to capture, yet we have photos to last a lifetime." – John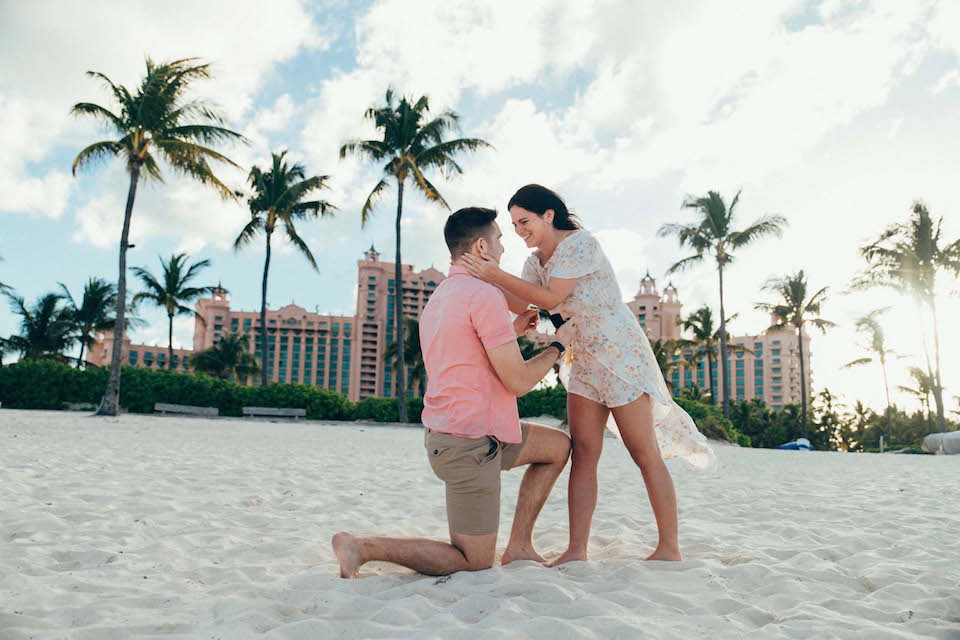 (Photos: Flytographer Julio in Nassau)