See more: proposal – couples – love – Lisbon
After years of dating long-distance, Kojo used a family holiday to Lisbon to propose to his beautiful sweetheart, Faith.
Although plans were confirmed and then changed, Kojo, Flytographer Orsi and Shoot Concierge Jen kept their cool and coordinated every detail of the big moment so it all went down perfectly. Sweeping city views from St. George's Castle only added to the magic.
Keep reading to hear Kojo's, Jen's and Orsi's stories of this gorgeous proposal!
---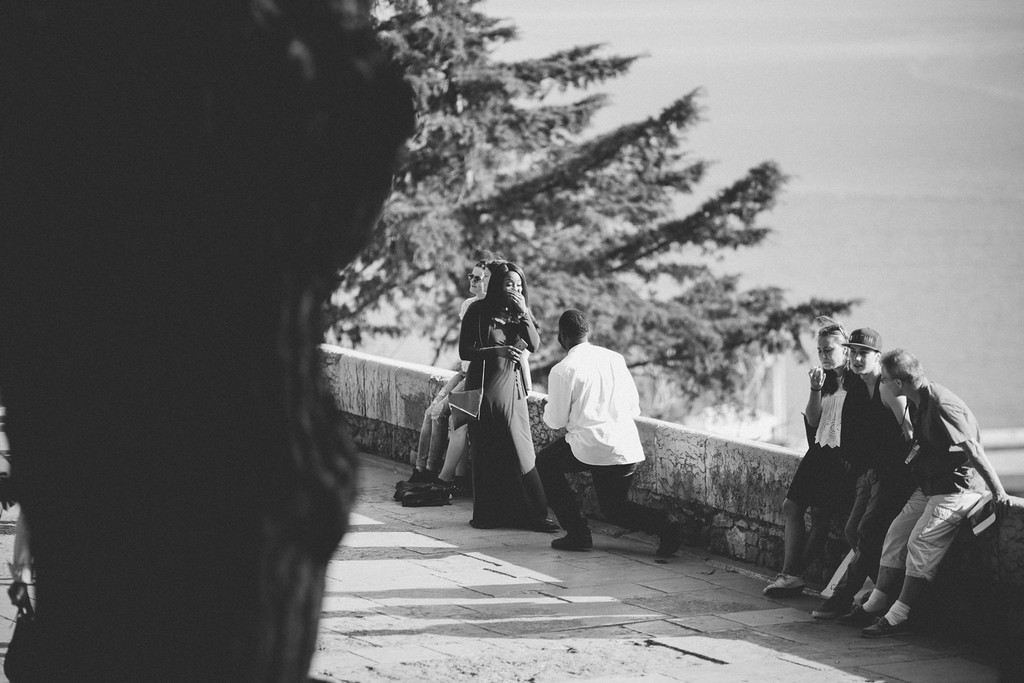 "Faith is from the UK and I am from Canada. We met in university when Faith came to my school on a year-long exchange. As cheesy as it sounds, it was love at first sight. We both had a feeling were going to love each other immensely but found it difficult to act on our feelings simply because Faith had to return to the UK. It was also my last year in university and I was hesitant to start a long distance relationship because I never heard good stories about them. After thinking about it for days and speaking to friends and family, I thought that it was worth giving it a try than letting her go and regretting it. The rest fell place and we have been in a long distance relationship for 3 years – I don't want to be with anyone else but her!
I knew Faith and her family had planned a trip to Portugal and it seemed like the perfect place and time to 'pop' the question! I wanted the moment to be memorable and her reaction to be captured. So I searched online and came across Flytographer, which I thought was an amazing idea. From that point on, I was in contact with Jen and Orsi who helped me along the way to turn my visions into reality and it was a huge success! We will be married this August in London." – Kojo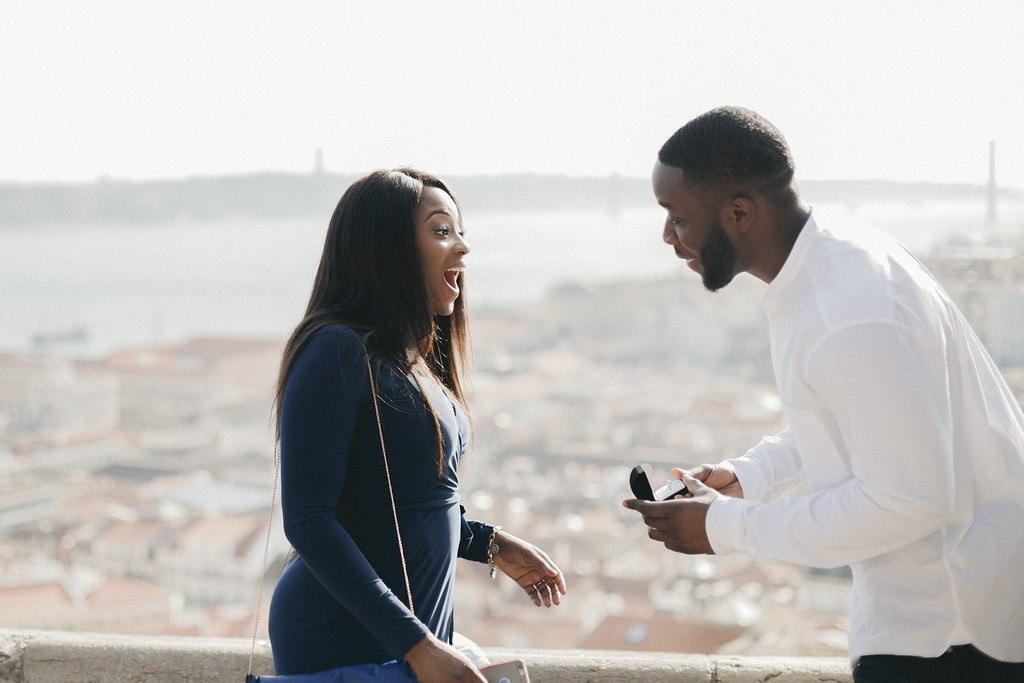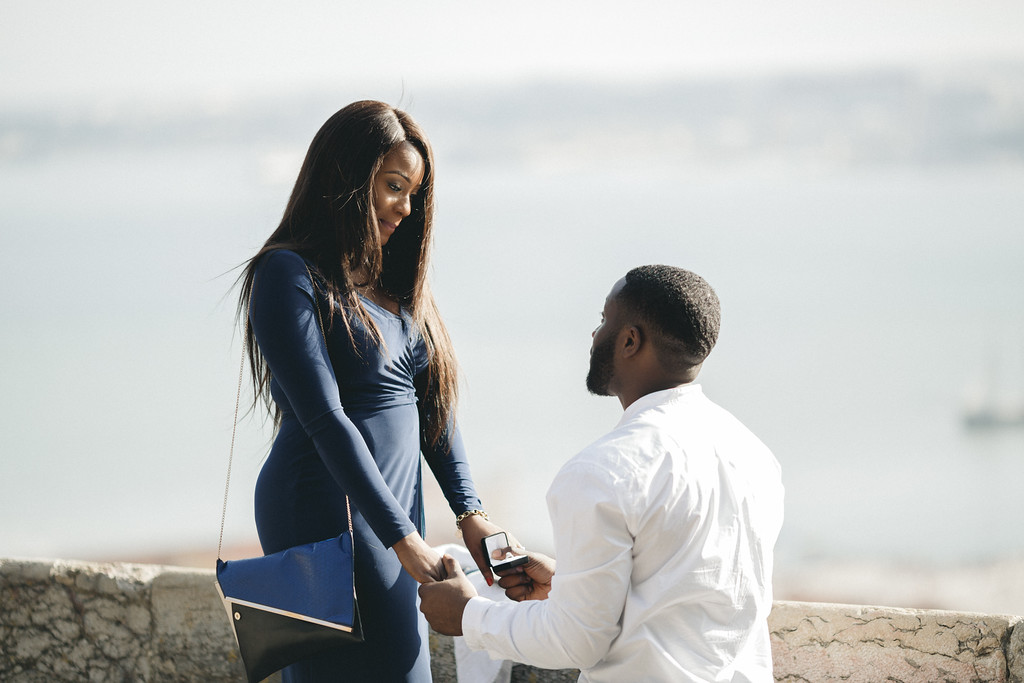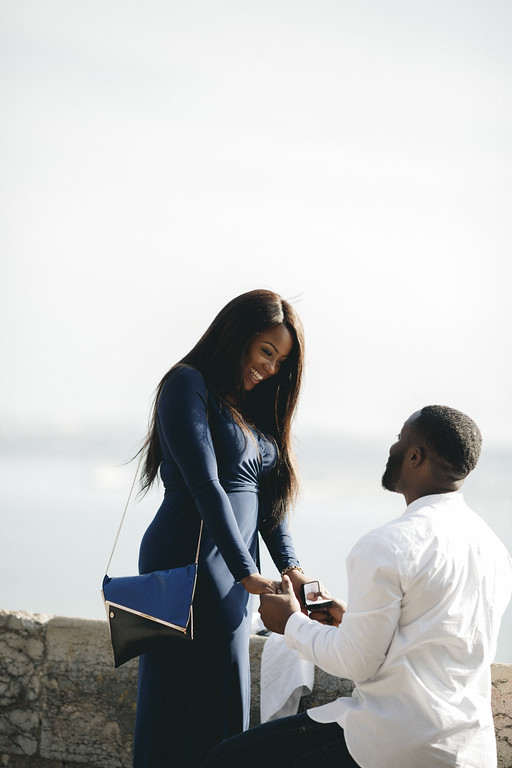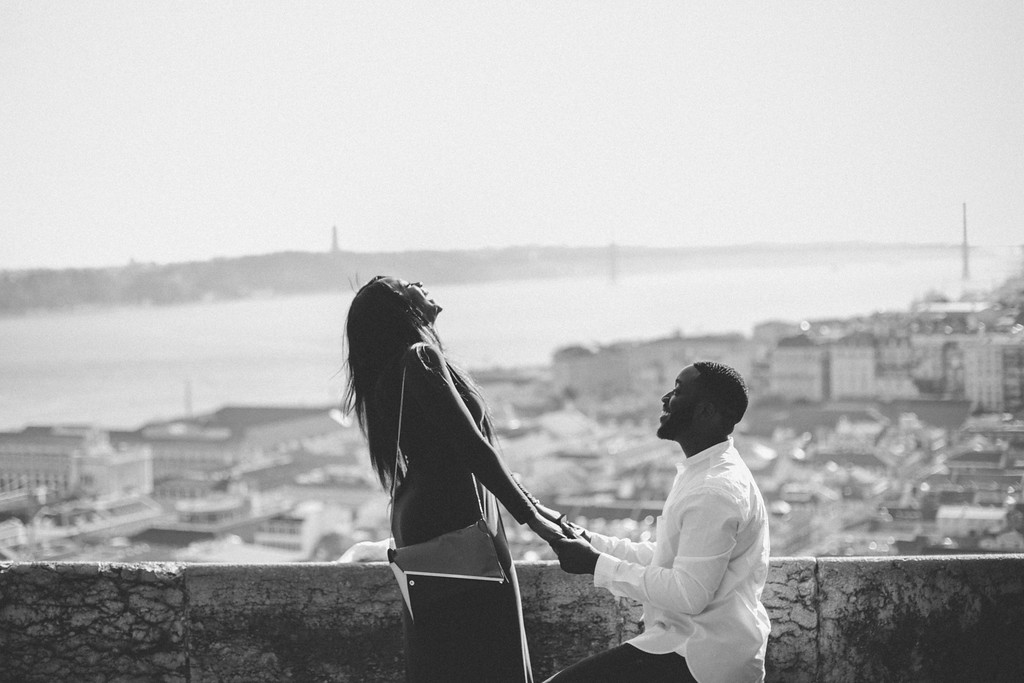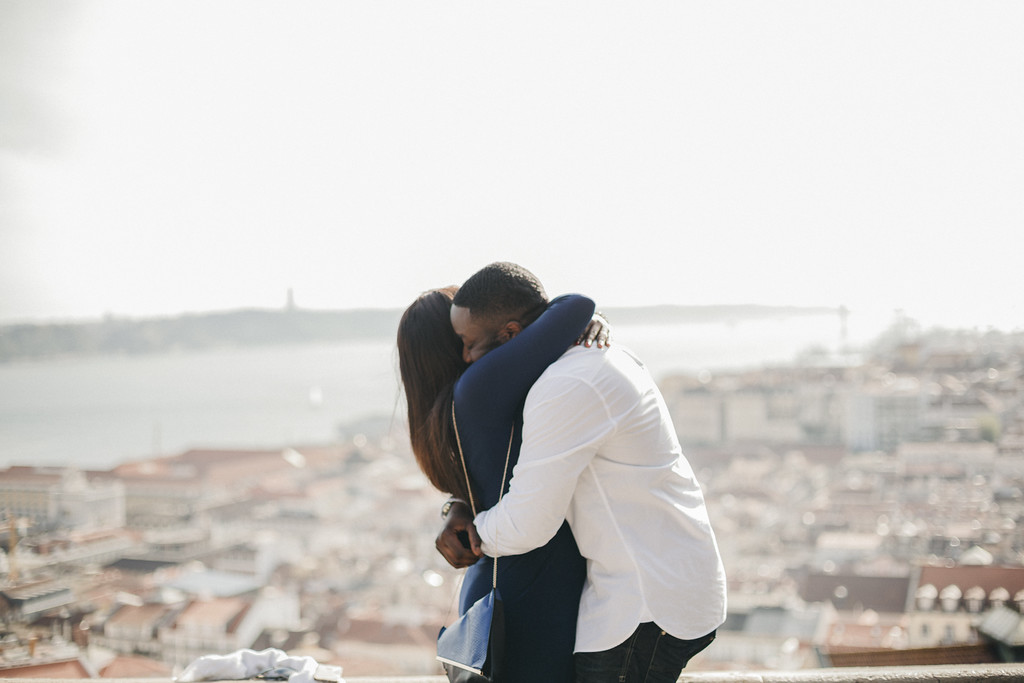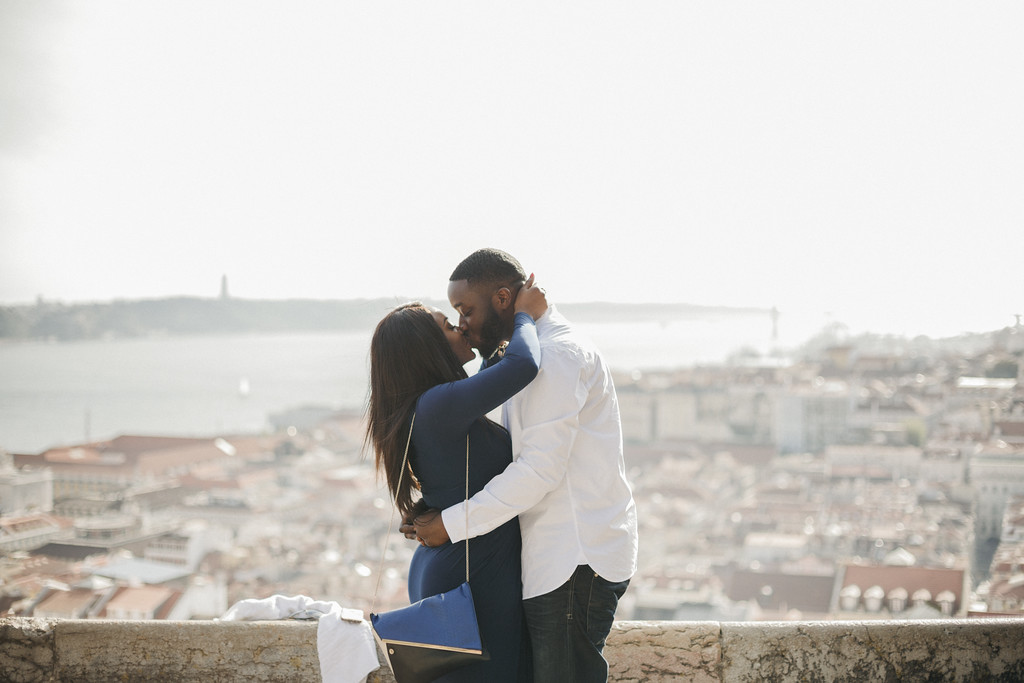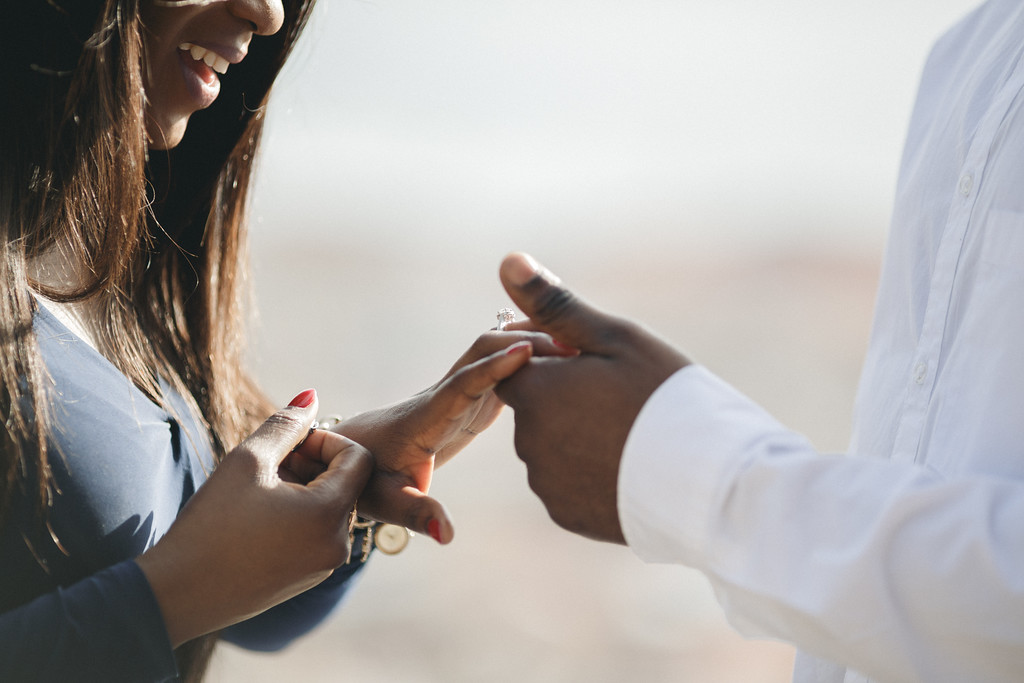 Shoot Concierge (and proposal coordinator extraordinaire) Jen: "Kojo had been talking to me on and off for months – he wasn't sure of his plans so we couldn't confirm. Finally he was ready and we locked Orsi in for the big moment … or so we thought! Kojo didn't want her to know that he was going to propose … technically they were already planning to wed, but because they were in a long distance relationship he'd never had a chance to actually propose!
He wanted somewhere with an amazing view of the city that he could easily convince her to visit as a tourist spot. Orsi suggested the castle, and we hunted for an easy-to-find spot within the castle where they could do the proposal. In the end we settled on an amazing game plan, and everything was a go … but at the last minute her family suggested a trip into Lisbon several days earlier than planned! Kojo was no longer in control of the game plan, and many nervous emails and text messages were sent.
Thankfully, it all worked out and Orsi arrived at the castle ready to execute the sneakiest game plan of all … pretending to be a helpful tourist taking a photo of the couple in an epic spot. As Kojo reached into his pocket to pull out his iPhone to offer to Orsi, he got down on his knee … and things worked out perfectly. As you can see from the photos, it was a TOTAL SURPRISE for Faith!"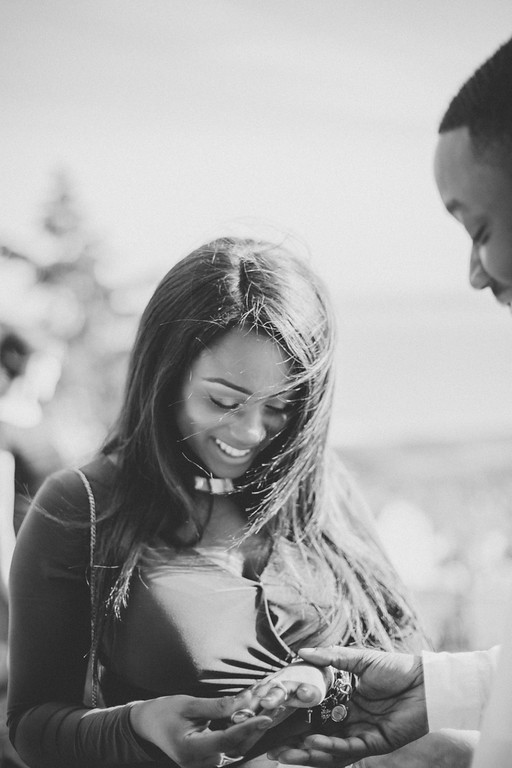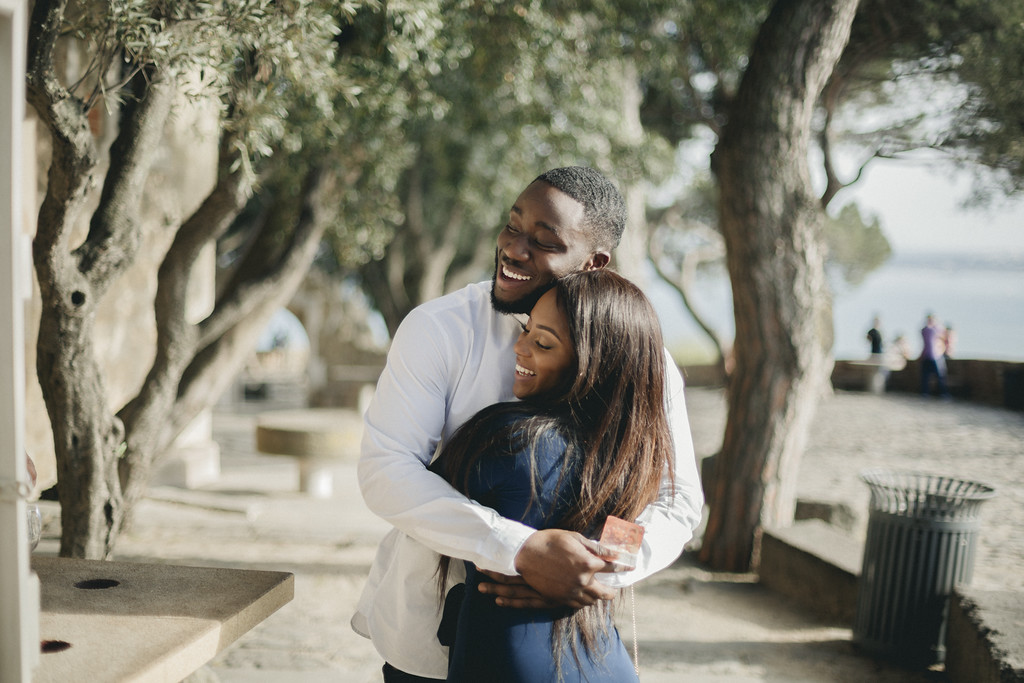 Orsi: "For me the most fascinating thing about this story was actually from the perspective of Flytographer, as an experience for the client. It was incredible how organized and helpful you are as a service. Seriously… all the proposals of the world should be coordinated by you!
The Skype session before the shoot was a great idea – going through all the details was super helpful for Kojo, and also for me as the photographer. Proposals are always so exciting and definitely one of my favorite things to photograph. I´m usually pretty much as nervous as the future groom, so knowing that we are both clear about how, when and where it is going to happen, gave me a certain comfort and made me feel more prepared to the whole thing.
It was so cool when I arrived at the entrance of castle and found Kojo & Faith waiting in the queue of the ticket office. Faith was looking at the entrance and Kojo was checking out the queue looking for me, so I waved to him carefully. He just kept cool and slowly wagged his head, letting me know he saw me. Then everything went according to plan: I was casually walking around the castle walls, pretending I was a tourist, and when I saw Faith taking a selfie, I knew it was the my cue to ask them if they wanted me to take their picture with my professional camera instead. Their answer was of course yes – and after two pictures, Kojo went down on his knees and surprised her with a beautiful ring – and the rest you can see in the pictures! 🙂
It was awesome to be part of this significant moment of their lives. Knowing that they will cherish these pictures forever fills my heart with joy. Every time I grab my camera for a wedding, a proposal or even for a family shoot, I am grateful I have such 'power' and responsibility in my hands, and that I can give people something so priceless: memories."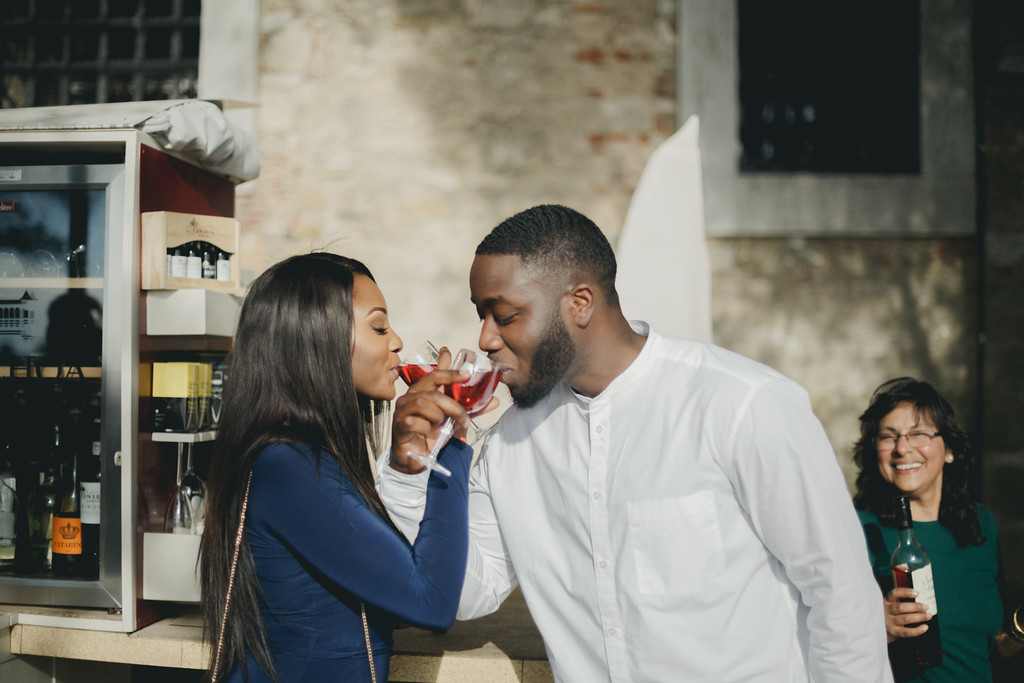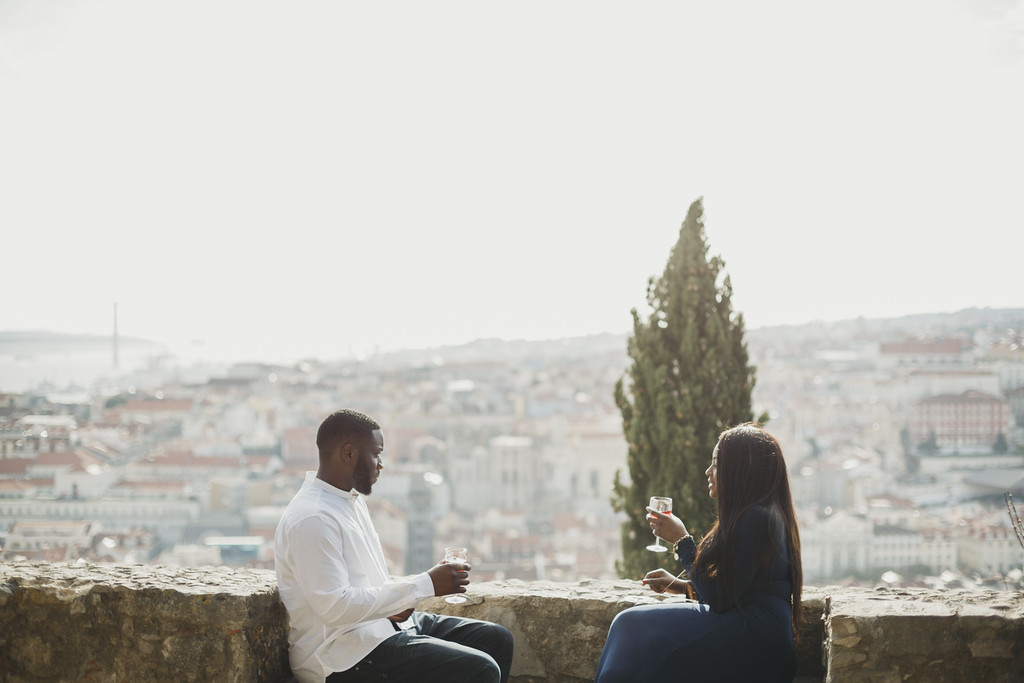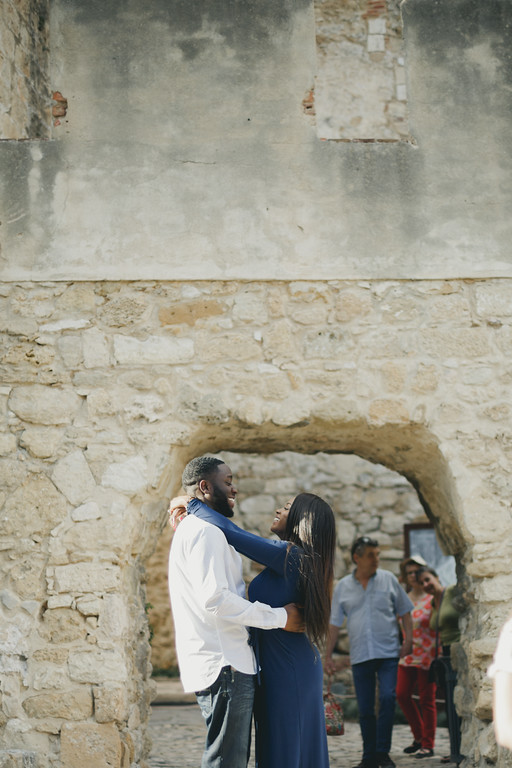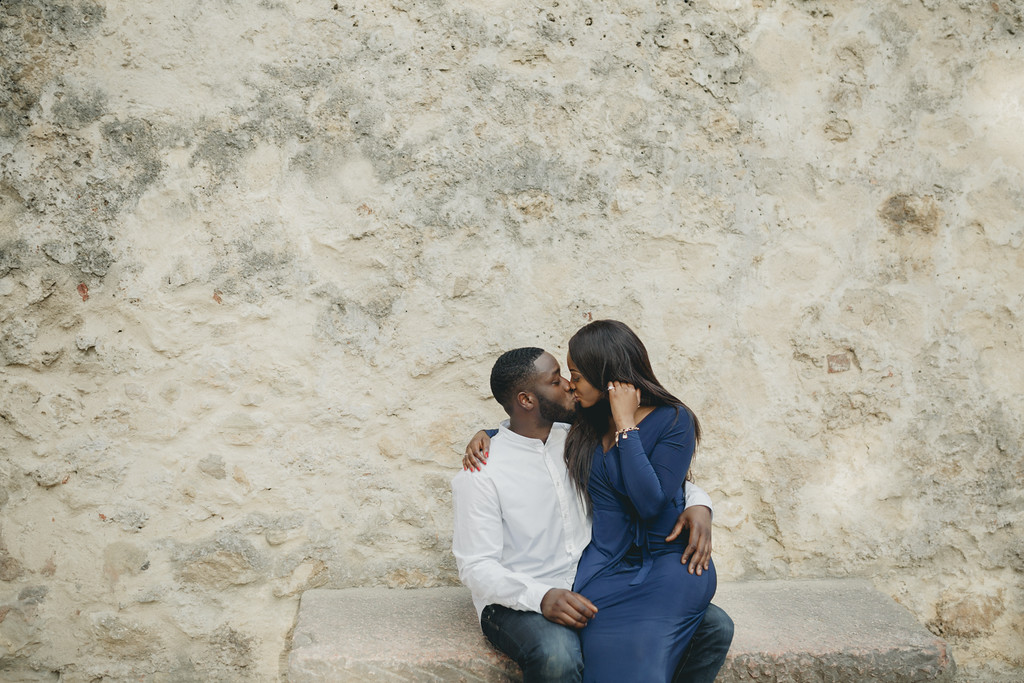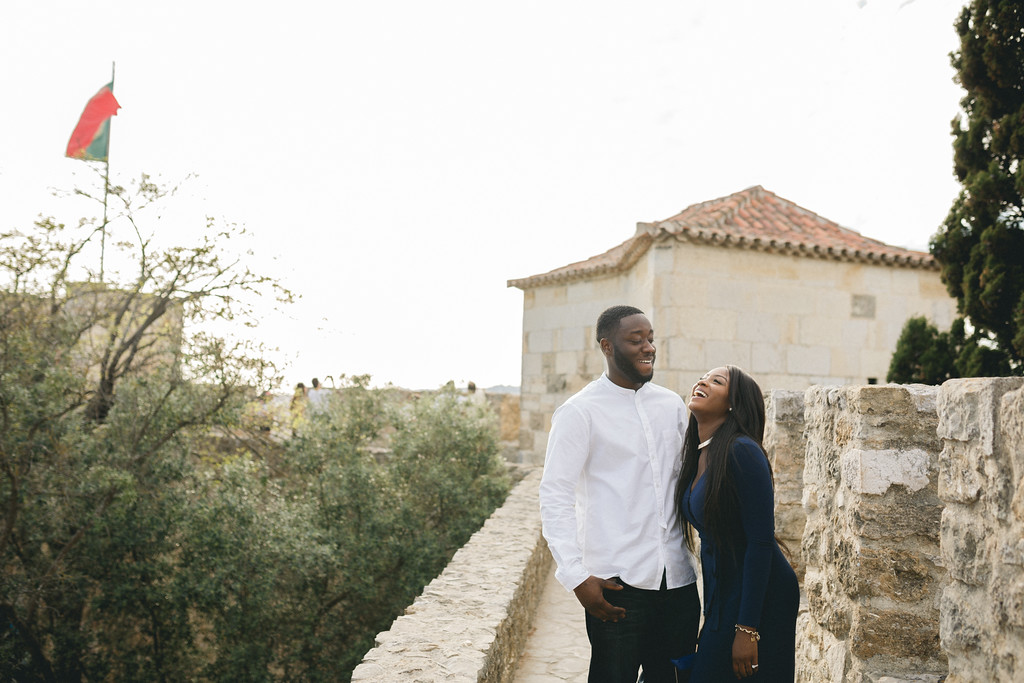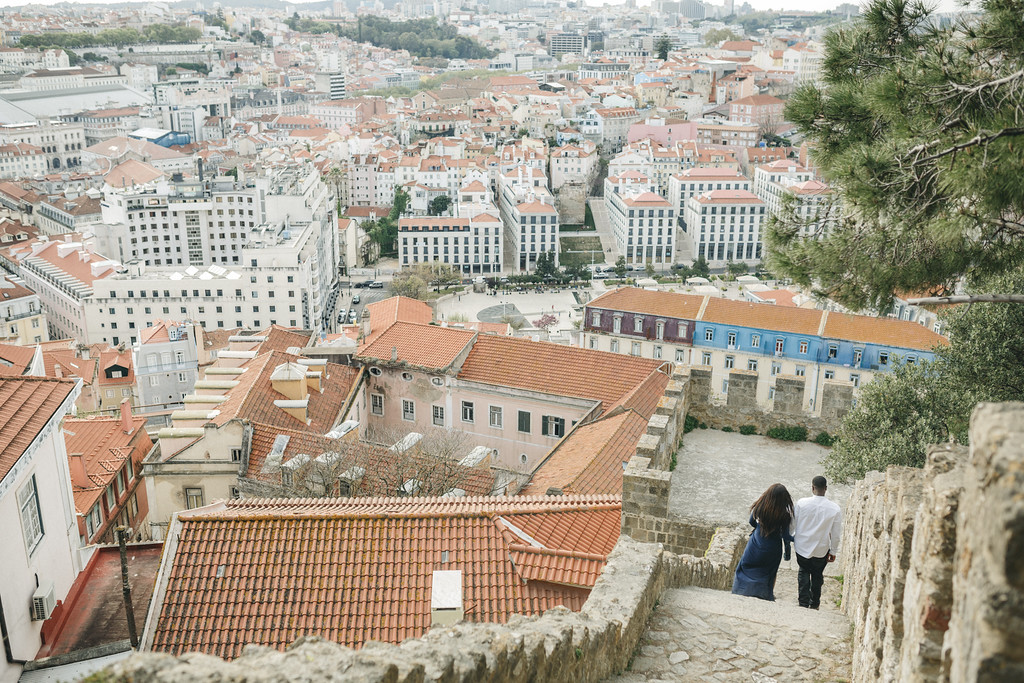 To Orsi,
We just wanted to take the time to say a massive thank you for capturing this magical moment in our lives. The pictures came out beautifully and were beyond our beliefs – we are so happy with the results. You were amazing to work with – so patient and understanding! Thank you for allowing us to be ourselves. Thank you for constantly thinking on your feet with our short notice time/date changes. It was a perfect day, with gorgeous weather (and you were right – it did rain on Monday! lol).
Our greatest gratitude goes to you – you were the best!
We recommend you to everyone looking for the BEST Flytographer in Lisbon!!
Kojo & Faith