Although we always say it's a good idea to book a shoot well in advance, we definitely try to accommodate last-minute shoots whenever possible. In the case of Randall's proposal to Monique, it couldn't have worked out better: he had booked a trip to NYC only the evening before, and now wanted to be sure to have photos documenting "the big ask" to his long-time love. Stars aligned, and Samantha, his preferred photographer, happened to be available the next day. The couple now have beautiful memories of this special moment.
Read below for both Randall's and Flytographer Samantha's insight into how the day went down.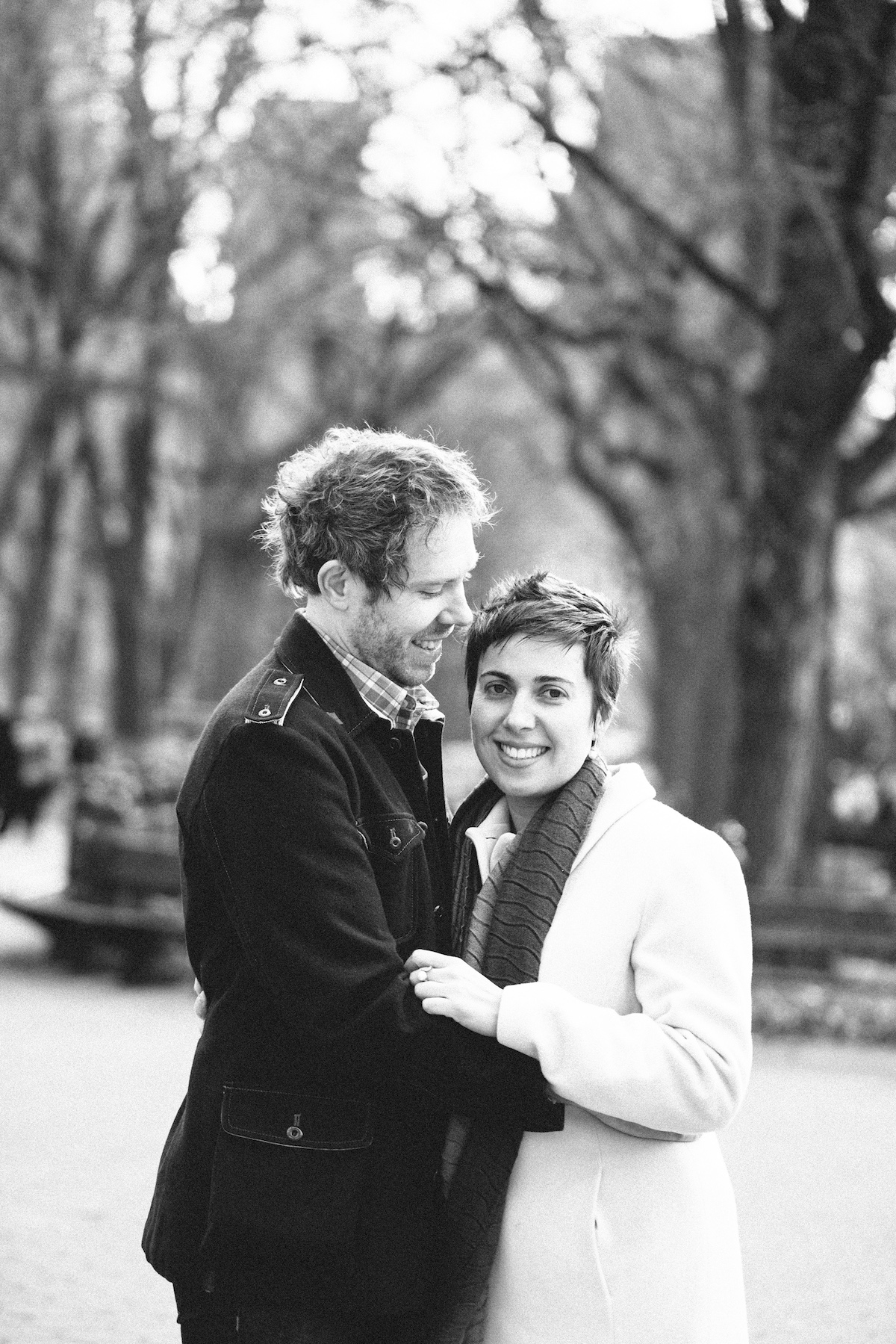 Randall's story:
"One the eve of our 10 year dating anniversary, Monique and I booked a last-minute whirlwind trip to New York City. It had always been my intention to propose on this occasion, so I frantically scoured New York City for unique locations and decided upon Bow Bridge in Central Park. I had organized a mid-afternoon anniversary dinner at The Loeb Boathouse and intended to propose beforehand.
All of this was a mystery to Monique as I wanted it to be a surprise. She had a sneaking suspicion that something would happen – it was our 10 year anniversary after all – but she didn't know when, where or how.
I reached out to Flytographer two days beforehand to express my interest in booking a photographer to capture the special occasion. Flytographer had several photographers based in New York City. I was particularly taken with Samantha's work but knew full well that she may be unavailable at such short notice. I put in a request for her services and eagerly awaited feedback.
To my surprise, she was available as she had another shoot in Central Park later that afternoon. Shoot concierge Jen promptly emailed me and organized a Skype discussion between Samantha and me to discuss the finer details of the photo shoot, such as where to meet and how to signal when I was about to propose. My last minute plans conveniently fell into place – although my next worry was if they could all be perfectly executed!
Monique and I caught an overnight flight from Vancouver, Canada to New York City. Neither of us sleep very well on planes so we were rather exhausted when we arrived at the hotel. At this point I was considerably stressed, as the plane has been delayed and I was to meet Samantha in Central Park in only 1 hour for the proposal! In addition to this, we were unable to check into our hotel room that early, so we used the hotel lobby washrooms to change clothes and freshen up before jumping in a taxi headed for Central Park. The taxi arrived perfectly on time at Central Park and my stress started to subside. Hand in hand, I took Monique on a leisurely stroll toward Bow Bridge – all the while, Samantha was secretly photographing our every move.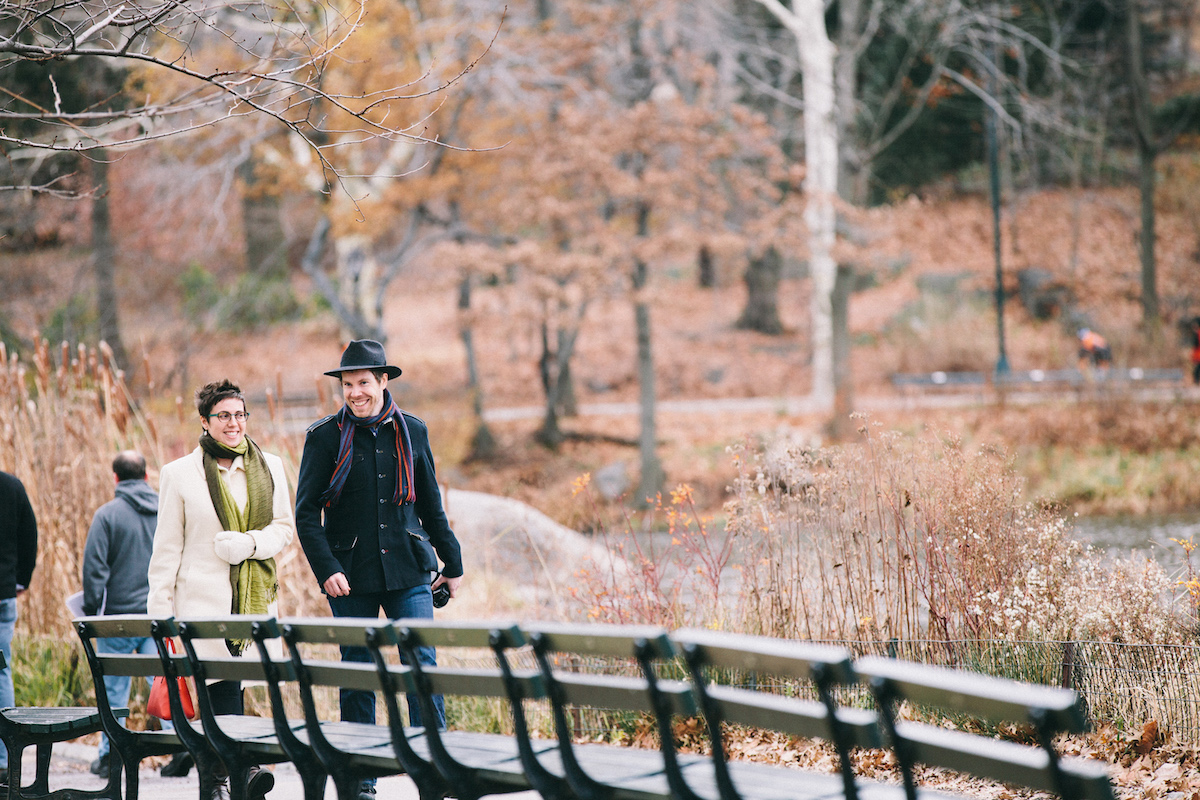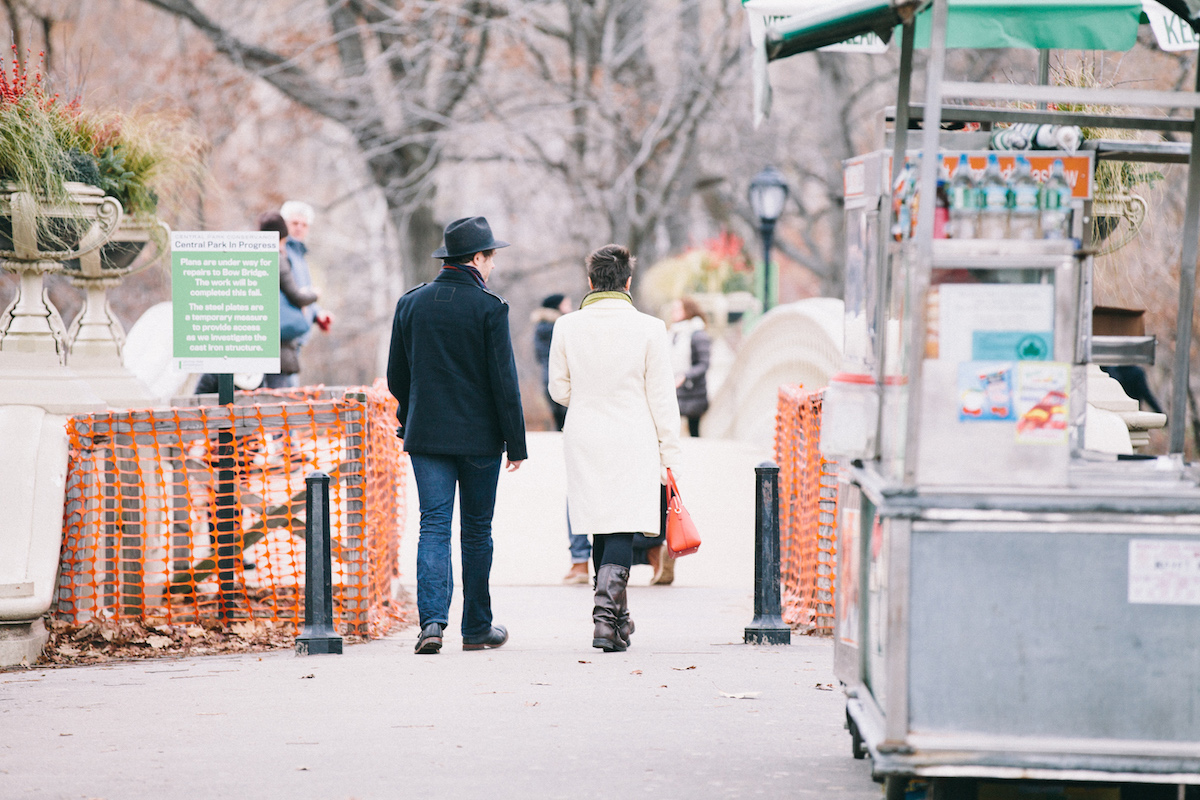 Five minutes into our leisurely walk around Central Park, my plans came to fruition. The proposal on Bow Bridge went off without a hitch, as I bent down on one knee to ask Monique to marry me. We received a round of applause from passersby, after which I informed Monique that I'd like to introduce her to someone. Much to her surprise, I introduced our photographer Samantha who had been busy capturing the proposal!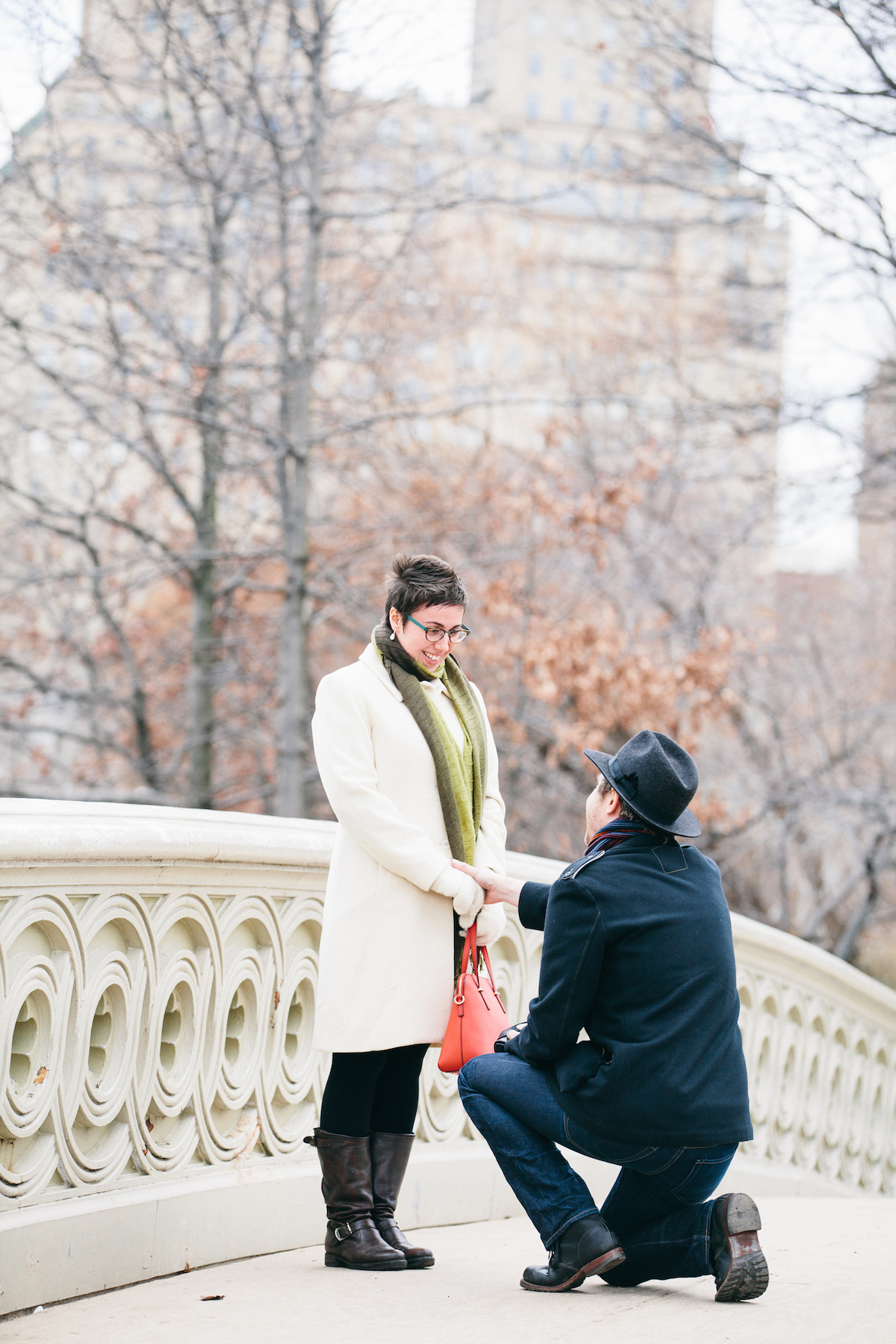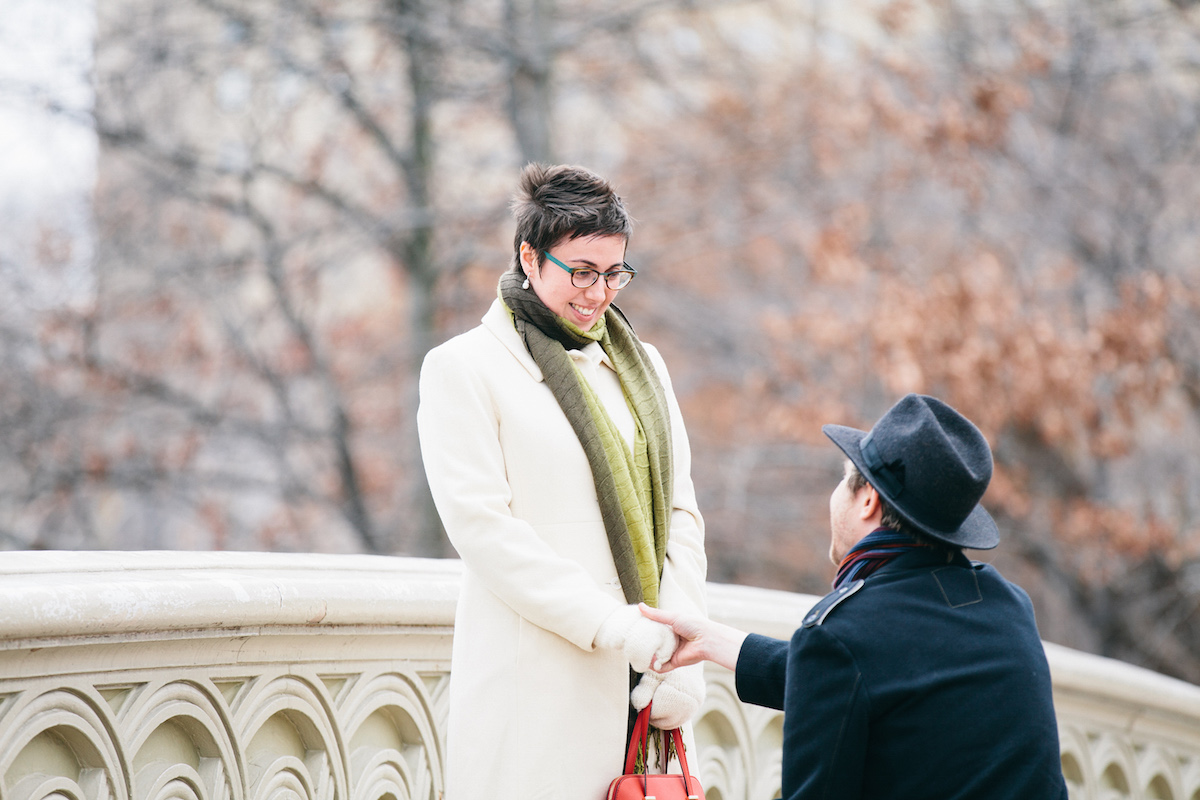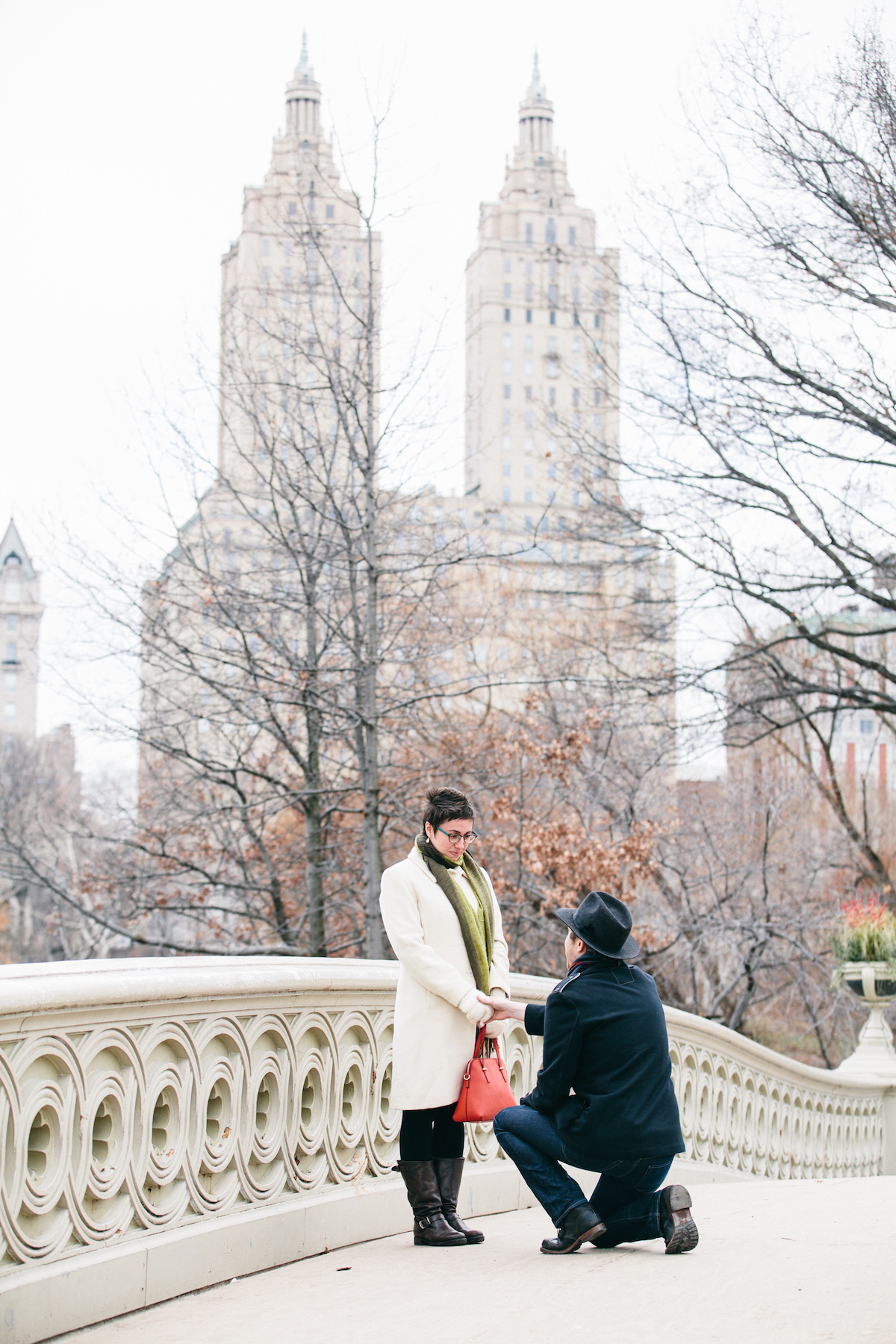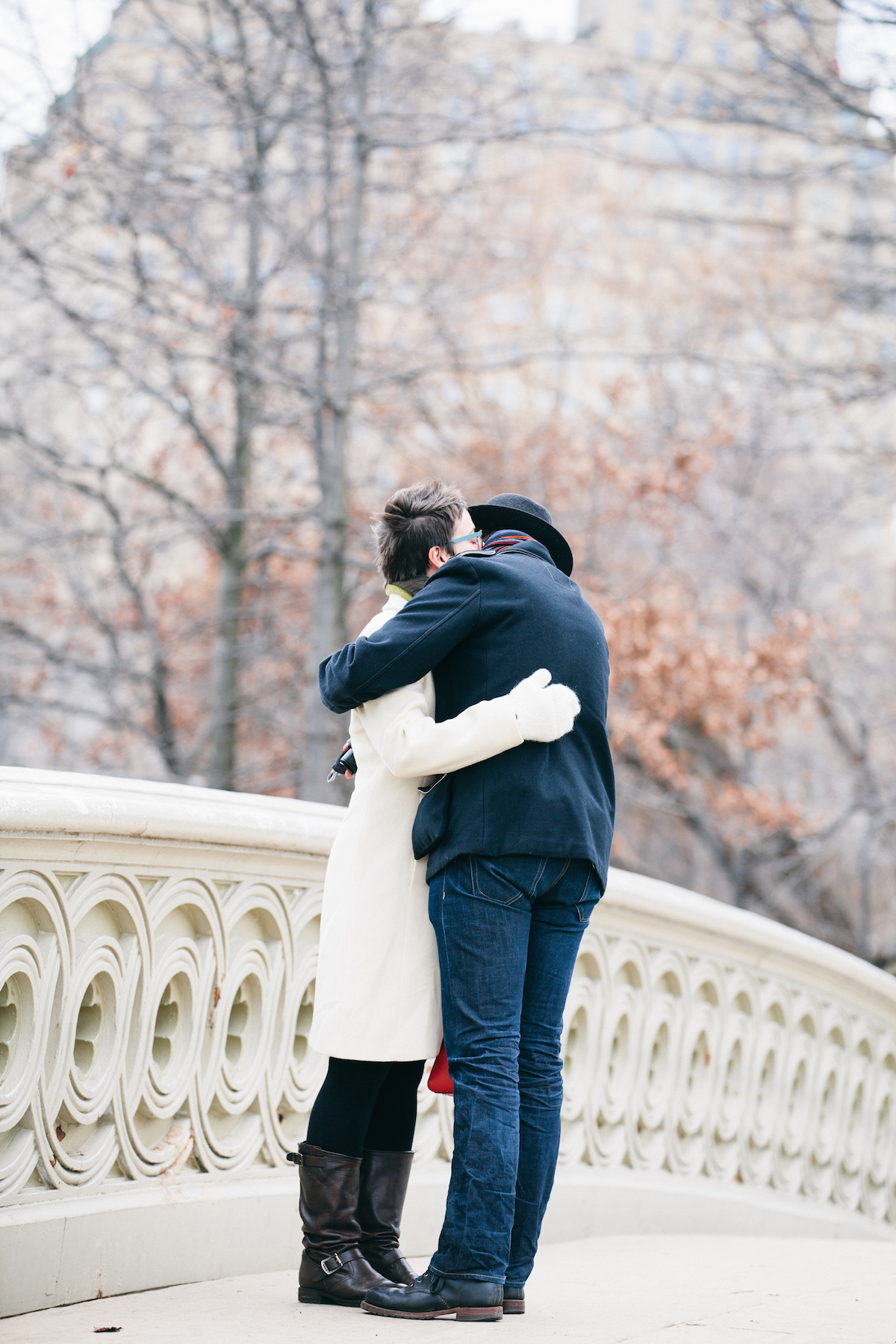 We spent an hour-long photo shoot on Bow Bridge, Bethesda Fountain and The Mall. Samantha was great at suggesting poses and simply letting us do our thing to capture us naturally. Neither of us had ever had professional photos taken but she was great and made us feel comfortable. We absolutely loved the end result. Most importantly, it allowed us to share the photos with not only our friends in Vancouver, but also our friends and family in Australia. Flytographer and Samantha captured a very precious moment in time and we'll always enjoy revisiting the occasion thanks to the wonderful selection of photos."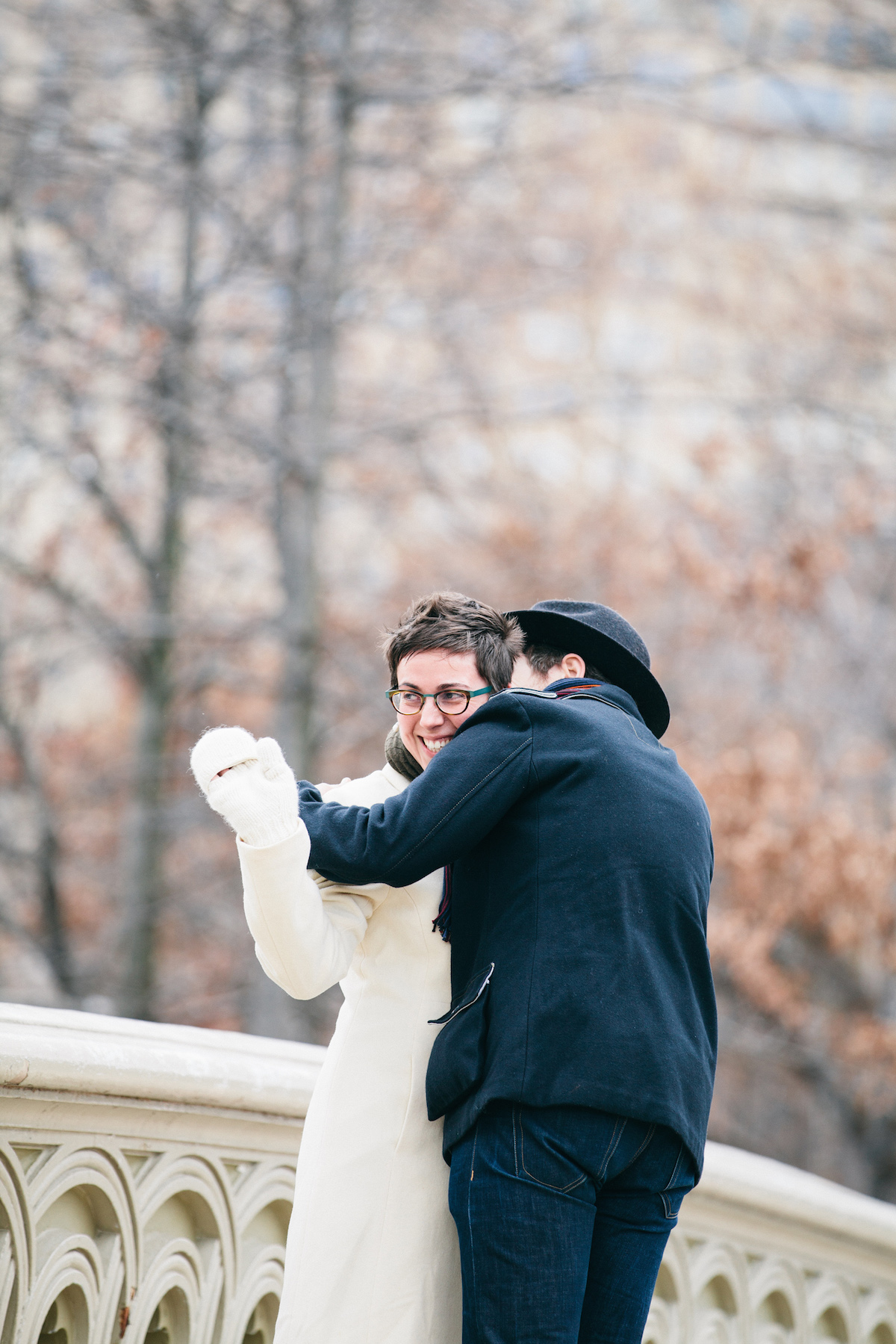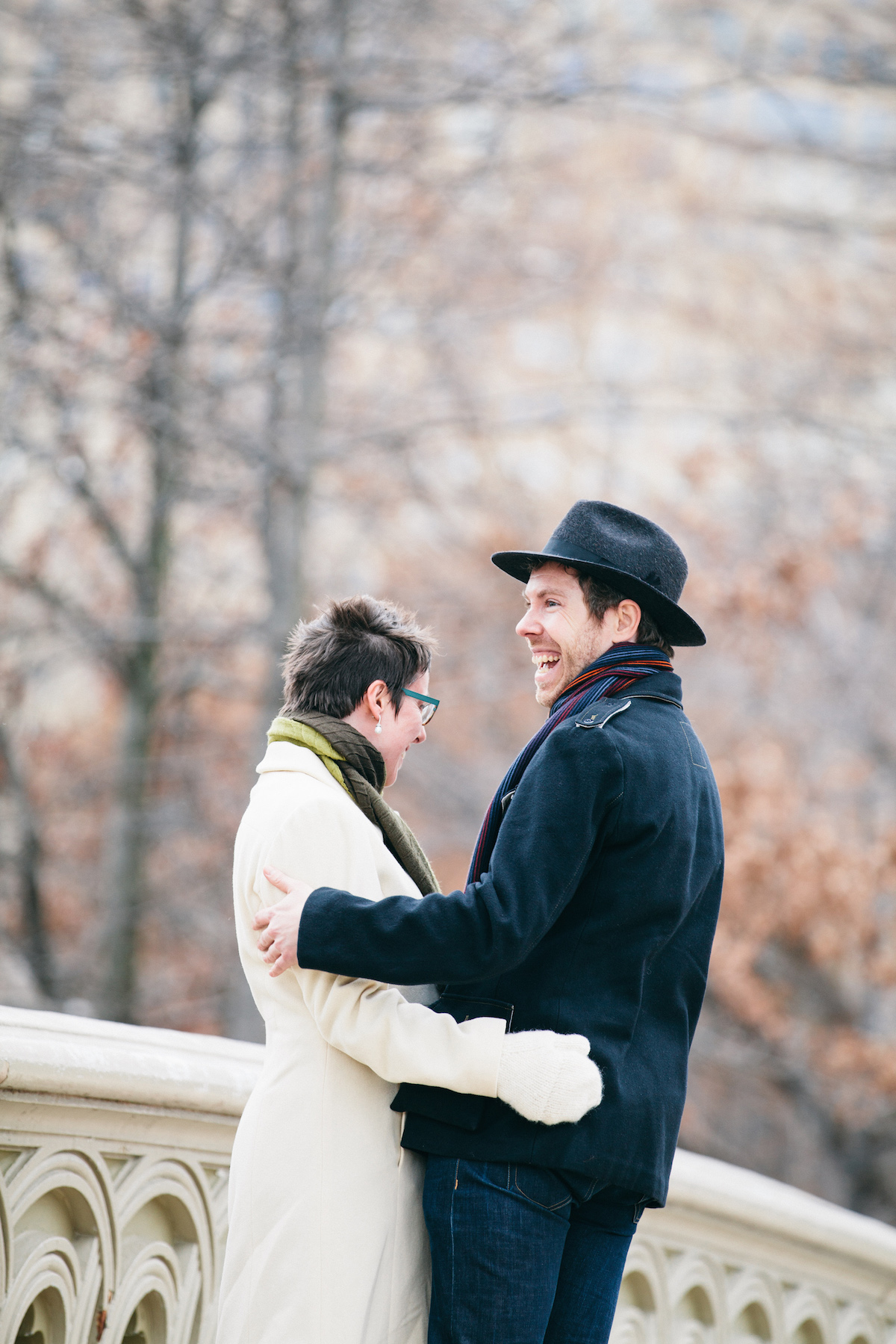 Flytographer Samantha's story:
"Surprise proposals are one of my most favorite sessions to photograph! They are always bursting with excitement, love and happiness, and I love being a Flytographer for those special moments. When Jen contacted me about a last minute surprise proposal in Central Park, I was so excited as soon as I saw that I was available at that time!
I spotted Randall and Monique immediately as they were stepping out of their taxi and followed them all the way to Bow Bridge. I am sure Monique knew something was up Randall's sleeve, but I don't think she expected a photographer to be there at all! Bow Bridge was completely empty as Randall got down on one knee to propose. Afterwards there was some cheering for them from the path that overlooks the bridge and we made our way over to Bethesda Fountain, Bethesda Terrace and The Mall where we created some amazing photos of the newly engaged couple! I loved this session for so many reasons. Firstly of course that it was a surprise proposal, secondly that there seemed to be somewhat of a glimmer in the air the whole time we were shooting, and thirdly, I felt how these two were so comfortable with one another, and when I look back at their images I just see pure love." – Samantha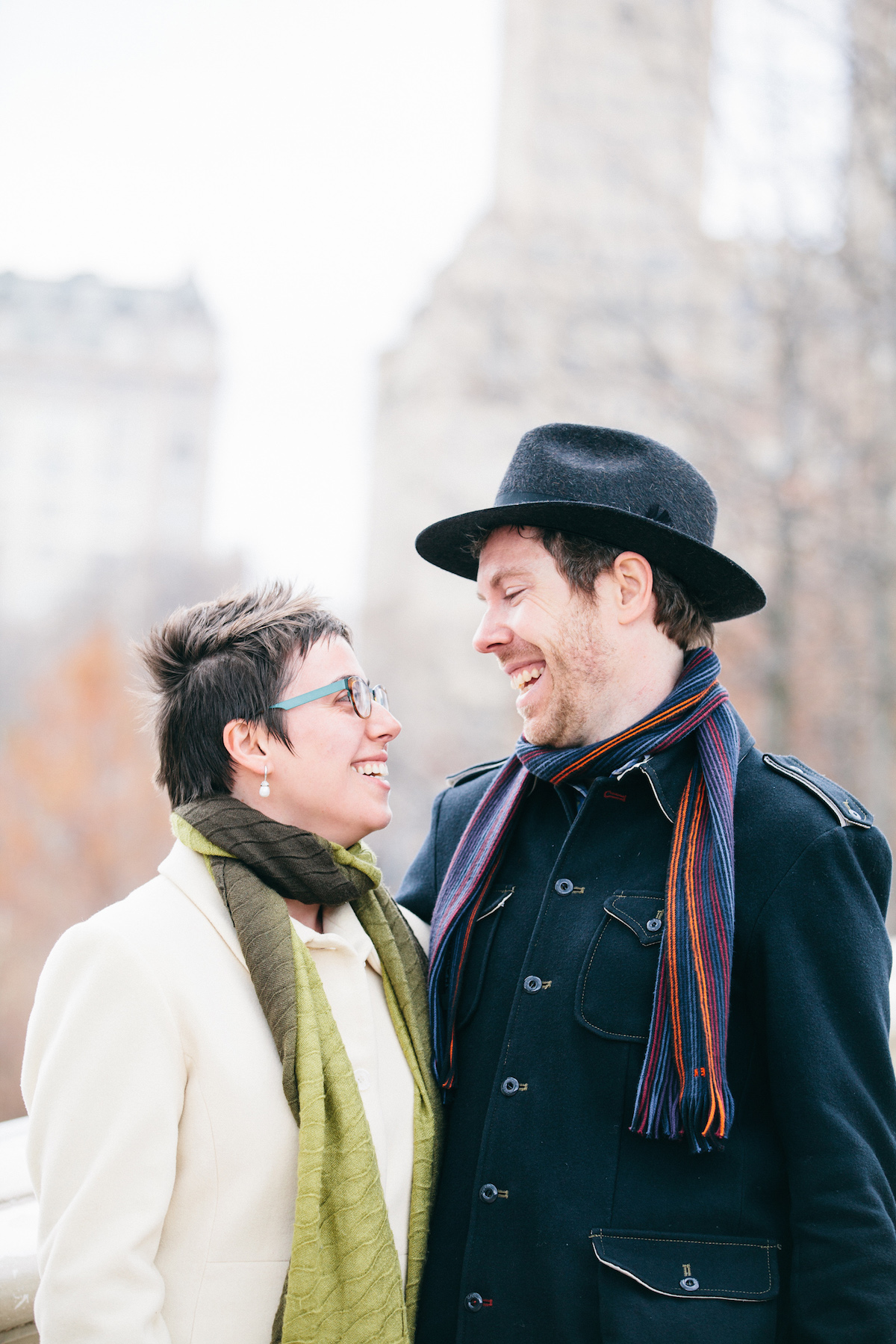 "Samantha successfully captured a very precious moment in time and we couldn't be more thrilled. Samantha was super friendly, efficient, and made us feel at ease. We had fun on our first ever professional photoshoot. Especially the fact that Jen and Samantha were so accommodating at the last minute. Thanks so much, these photos mean a lot to us. Much of our family and friends live overseas and we can thankfully share our engagement with everyone." – Randall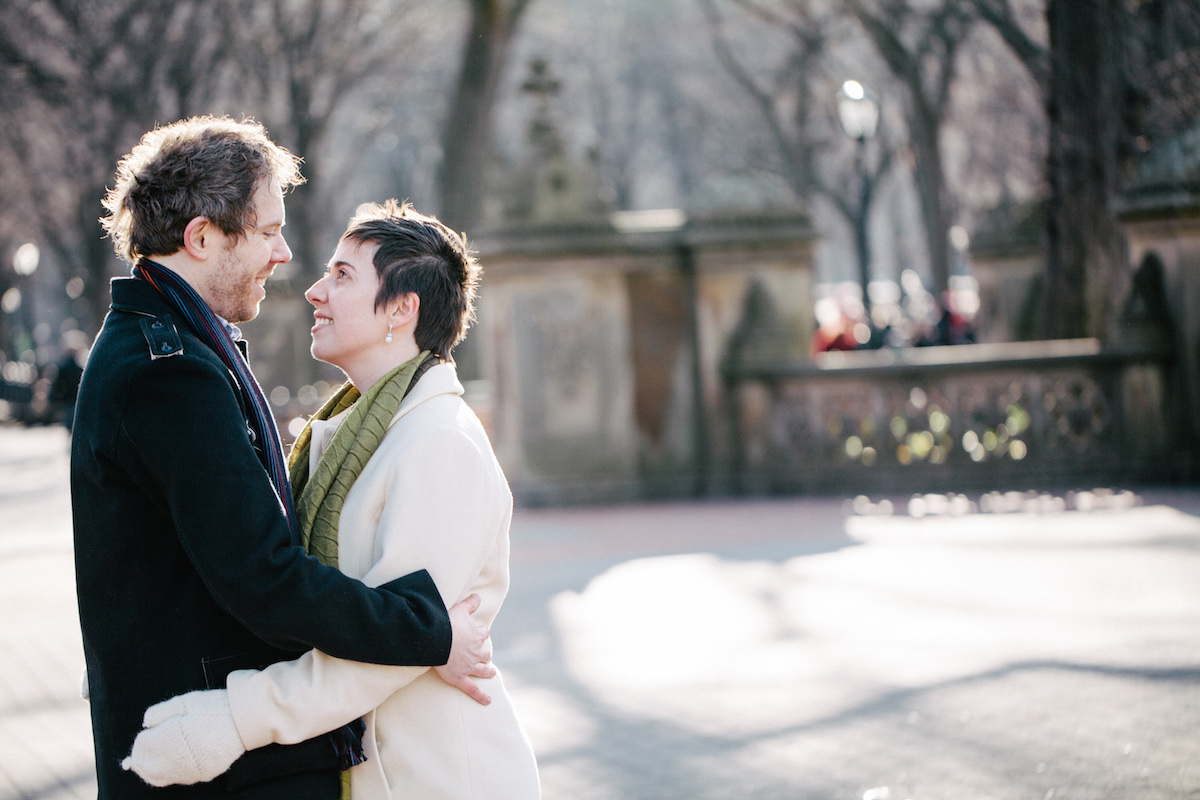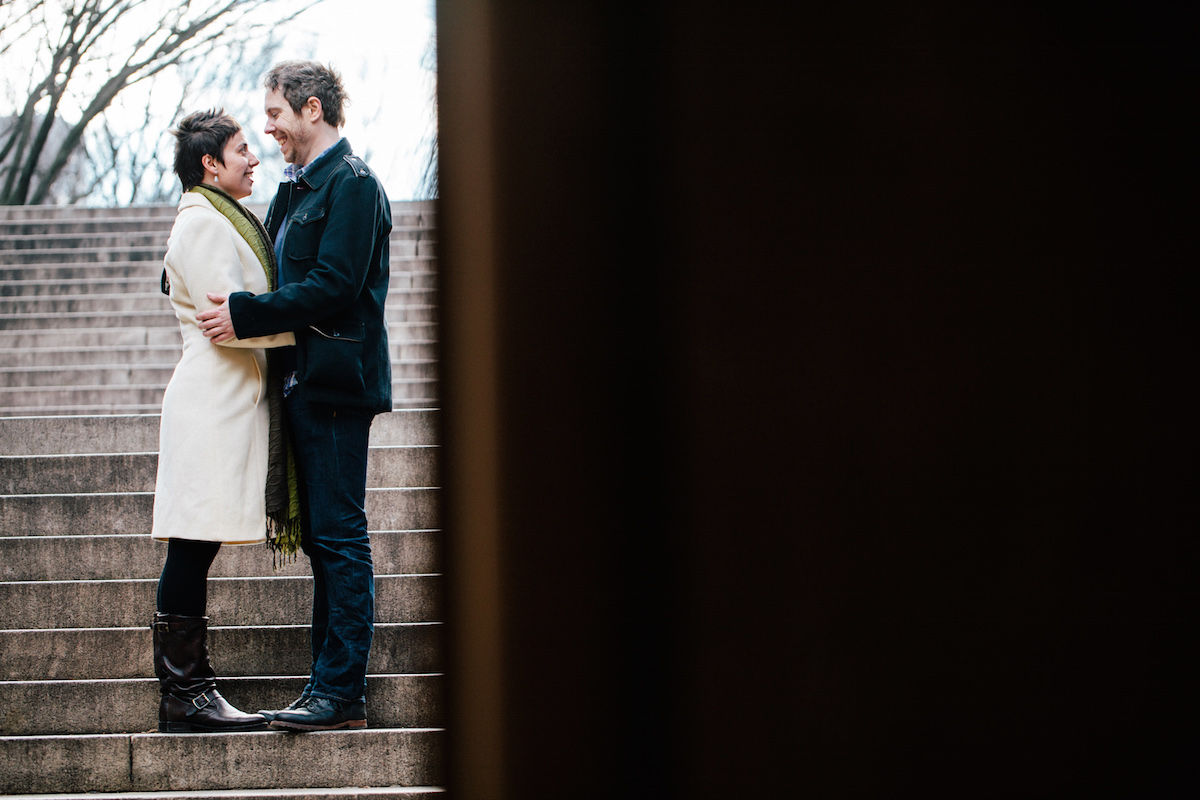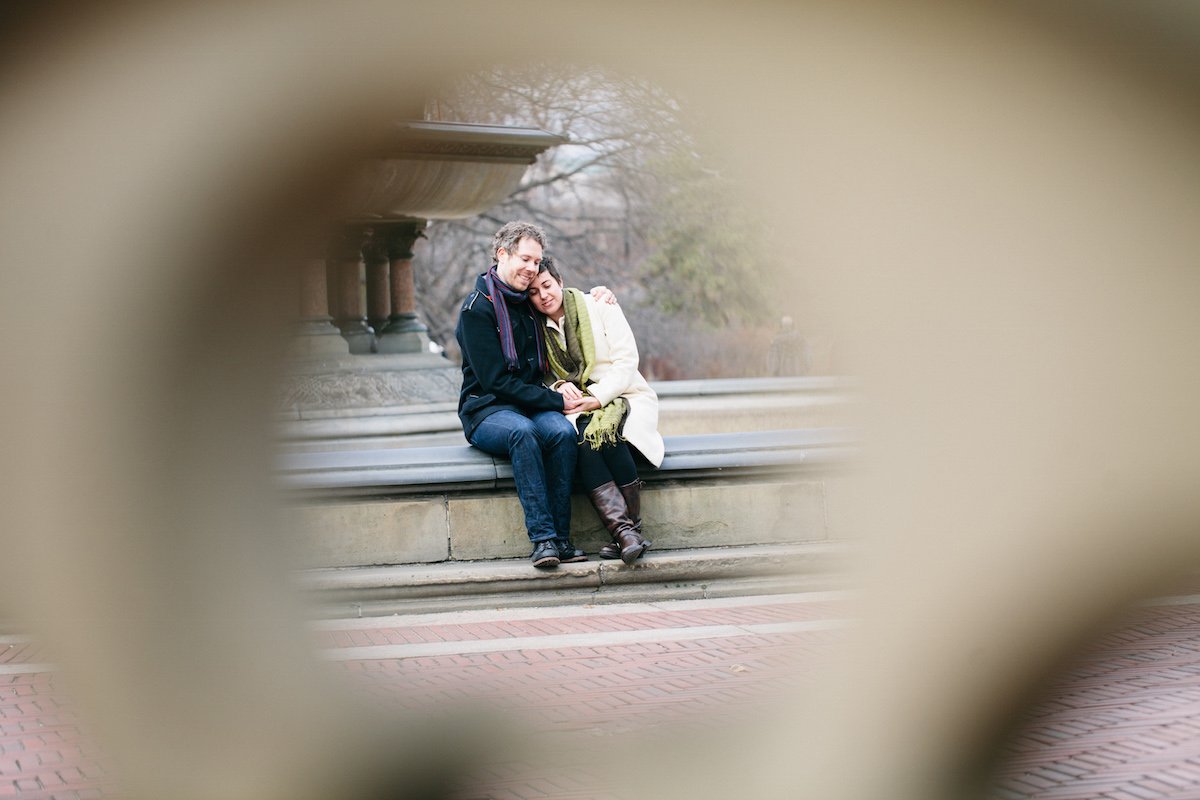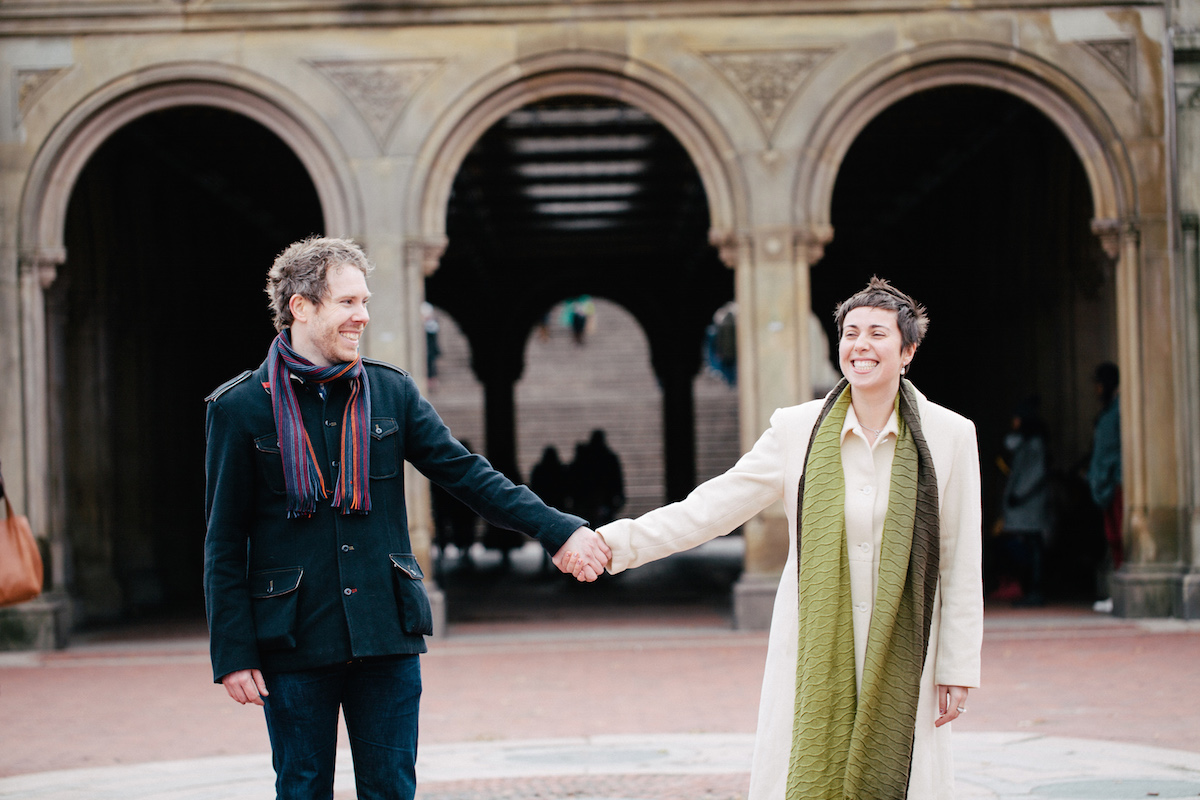 Congratulations, Randall & Monique! We are so thrilled it all worked out so well. Our best wishes for a long and happy life together! xo
See more sweet proposals here.
Spread the love with the Share Buttons below.