Book lovers, take note. This surprise Porto bookstore proposal is seriously noteworthy.
Ajaypal pulled out all the stops to plan this epic bibliophile-friendly proposal for his girlfriend, Manpreet. While she was innocently perusing a very famous Porto bookstore, she had no idea he was in that very bookstore waiting for the perfect moment to surprise her with a ring. Read on for all the squeal-worthy details.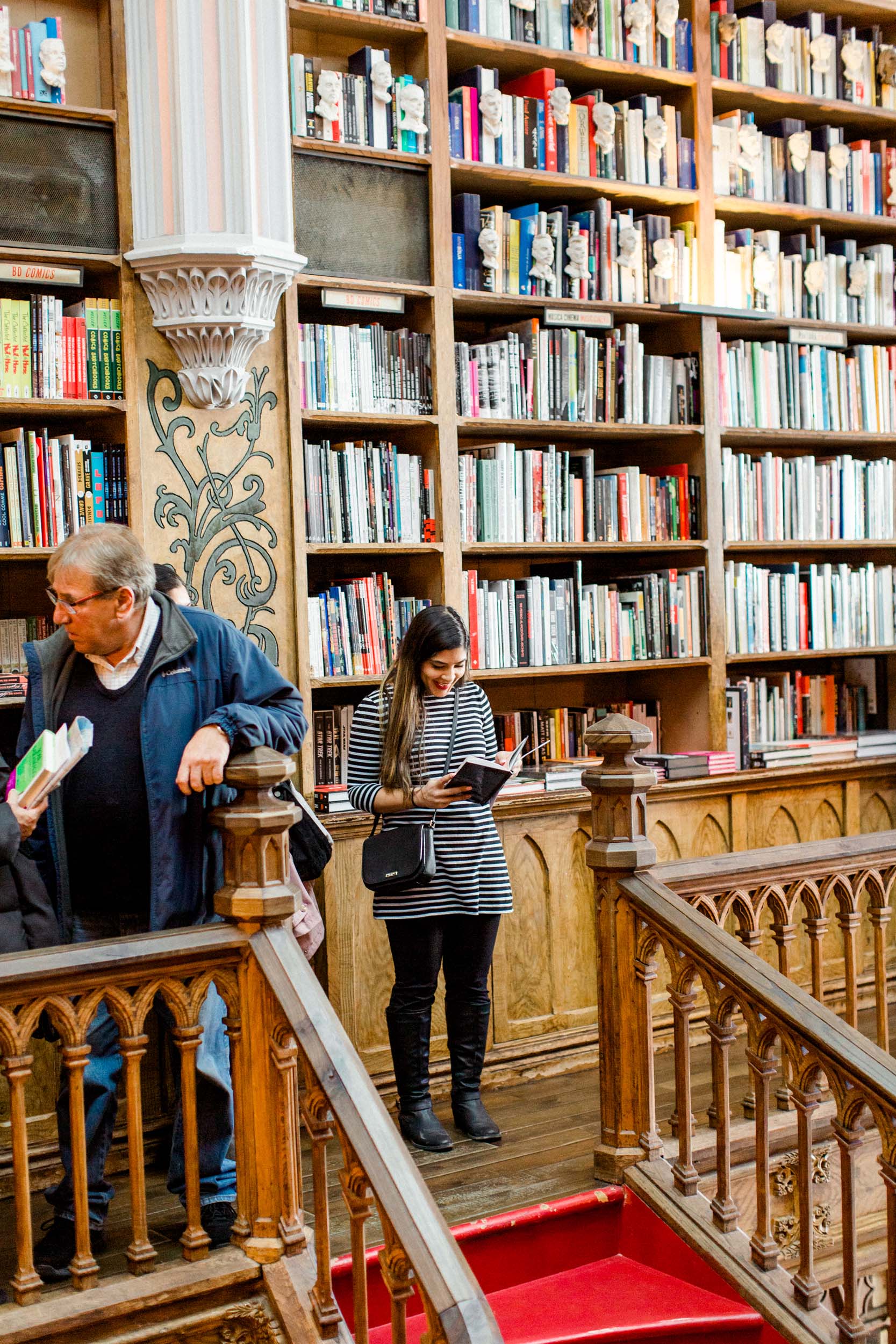 PLANNING THE PROPOSAL
"My girlfriend Manpreet was travelling around Europe with her friend for a few days and I thought this would be the perfect opportunity to propose! Manpreet loves books and was visiting Porto for one day to visit a famous book store, so I reached out to her friend and worked out the details with her to make sure everything went smoothly. Then, I packed my bags and I was off to Porto!
"I had a general idea of how I wanted to propose, but nothing finalized because I had not seen the bookstore in person. Upon landing in Porto, I went straight to Livraria Lello. As I turned the corner, I saw a line of people going down the street waiting to get in. I panicked and went to the front of the queue to try to figure out what was going on. I was told that I had to go around the corner and first get a ticket. At the counter, I began telling them that I had emailed the bookstore and mentioned that I was going to propose.
"They had no record of my previous correspondence! At this point, I was a bit stressed, but then they told me to speak to their supervisor, who was thrilled and offered me five priority tickets for myself, our photographers, my girlfriend, and her friend! I left two tickets at the counter for my girlfriend and her friend and told her that I had bought them tickets online, so they could just skip the queue to pick up their tickets."
THE BIG DAY
"I woke up nervous, but excited with some butterflies! I met with our photographers, Ivo and Vanessa, twenty minutes before Manpreet was expected to arrive to go over the plan and then I made my way downstairs to hide! I received a message from her friend that they had their tickets and were making their way inside. I was hiding under the stairs hoping they would go directly upstairs… and they did! As they made their way upstairs, I messaged the photographer to place the custom book I had created on the shelf. The book was in place!
"As I was hiding under the stairs, I was waiting for a message letting me know that she was reading the book, but it never came. Her friend messaged me that she couldn't find the book. The photographer messaged me saying that she wasn't reading it. I'm panicking. I tell her friend again where the book is and finally, she starts reading the book.
"I then make my way to the front, ask the employees to slow down foot traffic in the bookshop, and then sprint up the stairs and turn the corner to see her reading the book. The book was a collection of our memories and inside jokes over the years we've spent together. The last page talks about continuing to build these memories forever and asking her to marry me. As she finished the book and made her way down the stairs, I was on one knee ready to ask her to marry me!" — Ajaypal
Flytographers Ivo & Vanessa in Porto