We've got the insight straight from the experts on how they help you feel and look your best, while capturing you and your loved ones in incredible destinations around the world.
While you may think professional photographers know all the tricks and never feel nervous in front of the camera, they have the same worries and inhibitions as you do. However, this is what makes them experts on how to create an amazing photo shoot experience – they've all been there!
Photo: Jilli in Edinburgh for Flytographer
"We're all the same universally, really, and there are very few people who like getting their photo taken. It's easy to relate!" – Jilli in Edinburgh
We don't just hire our photographers for talent. We choose people who immediately feel like an old friend and who genuinely care about you and your experience. This is our secret ingredient that takes your photos from simply good to utterly magical.
Create the mood
"Smile! Even if everything feels like it's falling apart, you set the mood, and because I smiled and set the tone, my clients have had great experiences and love their photos." – Melissa in Honolulu
Photo: Melissa in Honolulu for Flytographer
Photo: Melissa in Honolulu for Flytographer
We understand that travel usually comes with stress, extra planning and worries, but once the shoot has begun, the focus is all positivity. After all, you're capturing incredible, once-in-a-lifetime memories in a beautiful location. Our photographers know that even when the rain comes (metaphorically or literally!), simply choosing to smile and radiate joy can work wonders.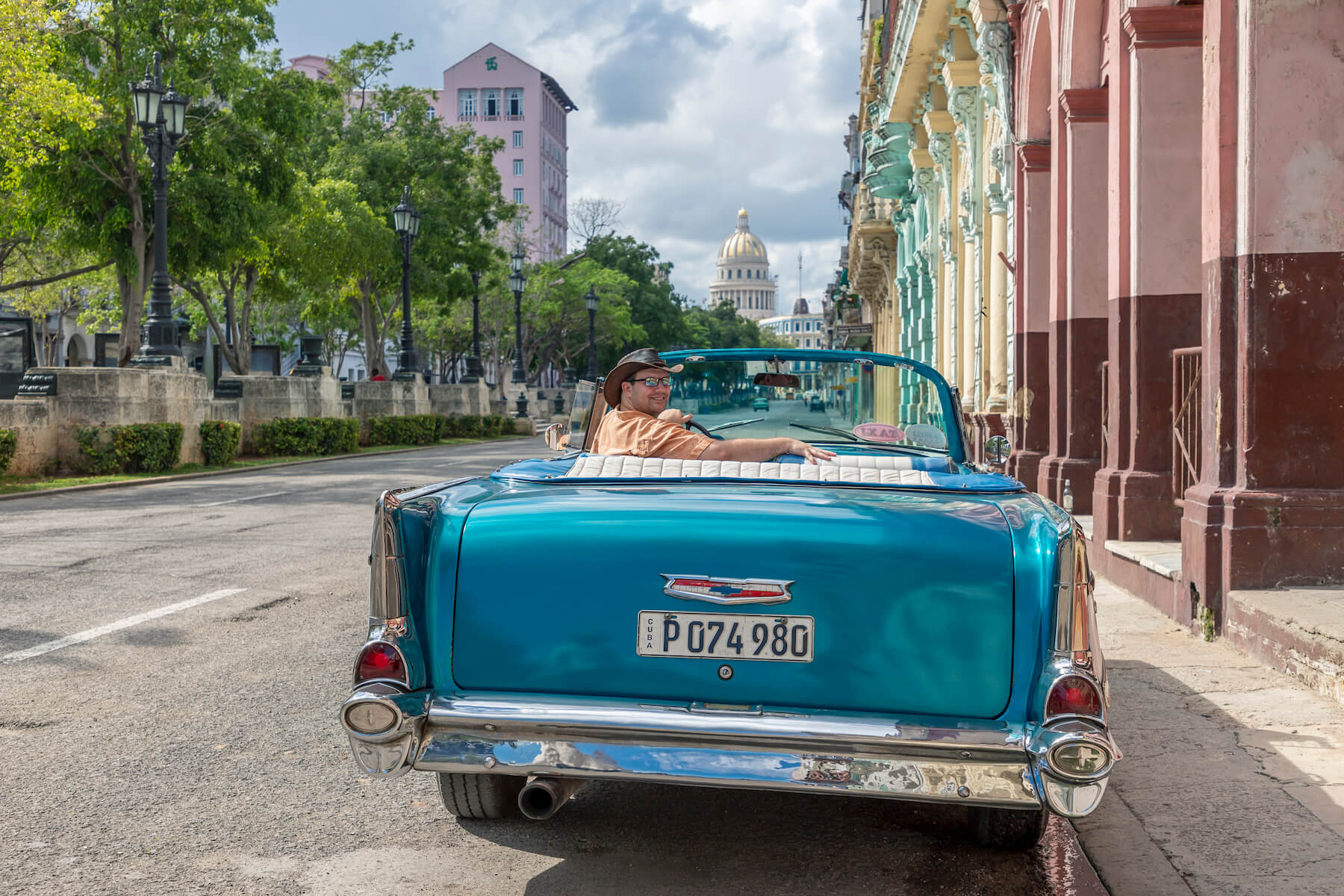 Photo: Adrian and Natasha in Havana for Flytographer
"Some funny jokes and poses help to relax the nerves. I always give messages of support because strengthening the confidence and self-esteem of the client is vital." – Adrián in Havana
Our photographers aren't just there to take pictures – they're your official hype-person for your shoot! Don't be surprised if you're showered with compliments from the moment you meet. Not only does it feel amazing to hear compliments about yourself, but it also allows the photographer to let you know all the things you're doing well.
Set expectations for the shoot
"I tell them right from the start that Flytographer shoots are fun and relaxed. They can just be themselves and I will help direct them if they're not sure what to do. I also like to start with giving them some sort of motion-based prompt, even if it's just walking hand in hand towards me. Giving them something to do always seems to ease the nerves." – Dana for Flytographer
Photo: Dana in Budapest for Flytographer
If you're feeling nervous about the shoot because you don't know what to expect, your photographer is there to help. We know that a casual, vacation shoot is something many people haven't done before. Ultimately, your photo shoot is a relaxed stroll around town, while enjoying the company of loved ones and documenting authentic, real moments. Your photographer will help guide you with simple prompts or poses so everyone looks and feels their best. 
Photo: Dana in Budapest for Flytographer
Connect with each other
"I always leave my Flytographer sessions feeling like I've made new friends." – Stephanie in Scottsdale
Photo: Stephanie in Scottsdale for Flytographer
Our local photographers are all unique, but they all share the same passion for creating amazing travel memories. Connecting with people like you from around the world, hearing your stories and being a part of your vacation is part of the shoot experience! They want to genuinely get to know you, and through this connection, they can capture the true you in your photos.
Photo: Meli in Budapest for Flytographer
"As long as you really enjoy taking photos of people, and you are really paying attention to their personality and listening to their story, they will feel your passion. Plus, they will know they can trust you – and trust is key in vulnerable situations like this. If you love people, being you always wins." – Meli in Budapest
Fun for the kids (and everyone else!)
"I love making the photo shoot experience magical for the kids. By laughing, playing and joking with them, listening to their ideas for funny poses, and engaging with them as a friend, I'm showing kids that taking photos doesn't have to be boring. Plus, it gives me a better chance of getting the 'must-have' shots the parents want!" –Natalie in Honolulu
Photo: Natalie in Austin for Flytographer
Not only do we want to capture beautiful photos, but we want to make the shoot experience itself unforgettable. Unsurprisingly, kids often dislike standing still and smiling for an hour (and most adults do, too!). Our photographers aim to make the shoots fun and exciting for the kids, and this means playing games, laughing and moving around. By allowing the kids the freedom to have fun, it allows the photographer to get the best shots without tears and frowns. Photo shoots are about celebrating families, quirks and all!
Local tips and insight
Our local photographers have incredible local insight on the best places to add to your itinerary. Hidden cafes with the best coffee, secluded romantic neighbourhoods to spend an afternoon exploring, the best place in town for that local dish you've been wanting to try — they know it all! Don't be afraid to take advantage of their expertise because they want you to have the absolute best possible time in their city.
Photo: Stephanie in Scottsdale for Flytographer
"I really make a point of asking them questions about their trip, where they've eaten, what they've seen." – Stephanie in Scottsdale
Photo: Andrea in Positano for Flytographer
"I love smiling and talking all the time with my guests. Behind every couple, there is a story. I love to ask to know more about them, and I also tell them things about myself and where we are taking pictures." – Andrea in Positano