We recently sent our European photographer Marian on a quest to explore Marrakesh (French spelling – Marrakech) to help us find some fantastic new vacation photographers in the area.  While in the Kingdom of Morocco, Marian captured some stunning imagery and local tips that we couldn't help but share.
By Marian in Lake Como for Flytographer Spending almost a month in the vibrant city of Marrakech certainly changed my life. The Medina, which is the name for the oldest and most fascinating parts of the city, is chaotic yet filled with small local hotels called Riads. When you enter the doors of any Riad, it feels like you are entering into a quiet oasis in the middle of the bursting atmosphere that characterizes so much of the Moroccan culture. The food is the tastiest I have ever tried; the sweets are addictive and several cups of fresh mint tea are part of anybody's diet in this beautiful place. Although it feels like a lively, and sometimes aggressive place, the way people live is slow. Coming from a fast-driven culture feels like a shock, but it represents a big reminder to our senses that, hey, we are on vacation! Enjoy, relax … waiting 15 minutes for your bill will not kill you! You can have another cup of tea, or take some photos of the amazing views from your rooftop café. Right?
Flytographer Marian Bader
Photo by Marian Bader for Flytographer
What I liked the most, apart from everything I ate, was the kindness of the Moroccan people. It felt like a being in a very warm, colourful home, away from my own comfortable and serene home in Switzerland.  The daily 5 am "call for prayer" was magical, and the donkeys delivering daily goods for the local shops made me feel like I was going back hundreds of years in time. The spices, the smell of scented oils, the peaceful Hammans, the sounds, the busyness of the Medina, the thousands of amazing and colourful souvenirs I had to refrain myself from buying, the warm weather, the high beautiful palm trees – it all aroused my curious side and made me feel alive.  Oh, and did I mention the food? The food was the highlight of this trip!
Top rooftop cafés with best views, good food & relaxing atmosphere
A delicious Kefta Tajine at Atay Cafe
One of the rooftop terraces at Atay Cafe
ATAY CAFE – 62 Rue Amsefah  The most amazing views of Marrakech and the Atlas mountains are hidden in between this little café´s walls. This is my favourite place to visit after a hectic morning bargaining for beautiful goods at the Souk. Here you can relax in any of their three panoramic outdoor terraces, in very comfortable seats surrounded by colourful pillows. The food is amazing and their juices and teas are beyond divine. Perfect for a relaxing lunch or for a tea break with breathtaking views!   CAFE DES EPICES – 15, souk Cherifia. Sidi Abdelaziz If you didn't chill at this café´s terraces, wear their typical hats, and snap a photo, you didn't visit Marrakech. It is located in my favourite little square in the Medina, where you can buy all sorts of spices, soaps and crafts. The views are beautiful and this is the perfect place for a snack or a relaxing lunch. On some of the nights I visited, they had very delightful local musicians on the top terrace, which made my experience so unique!
The rooftop terrace at Souk Cafe in the Medina and fresh Moroccan mint tea
SOUK KAFE – Derb Sidi Abd El Aziz A small, not so touristy café with a more authentic touch, serving amazing local dishes. Try the "pastilla" and different tajines. I loved their food and I was served so well whenever I visited. Beautiful views from the rooftop terrace too! Ideal for lunch or snacks. CAFE GUERRAB – 39 Souk Ablouh Jemma el fna، Located in the Jemaa El F-naa Square, the not-so-touristy version of the most sought-after cafés at a portion of the price. This is a place visited by many locals, with tasty typical food and juices. The rooftop terraces are the best place to have lunch or dinner. While it is a bit away from the main square´s crowd, it is still close enough to see, feel and enjoy the vibrancy of this unique landmark with the most beautiful views of the Medina and the Koutoubia Mosque.
Places to feed your tummy and soul
LE JARDIN –  32, Souk El Jeld, Sidi Abdelaziz A quiet, stylish and relaxing paradise inside the Medina. Perfect for a romantic dinner or sunny outdoor lunch. All dishes are beautifully presented and tasty. Dinners in the candlelit garden are my favourite at this place. During winter time, call in advance for a spot near the fireplace. NOMAD CAFE – Place Rahba Kedima This place was created straight from Pinterest! It is one of the most stylish cafés in Marrakech, with brightly-coloured interiors, beautiful people you want to hang out with and many decorative cushions and lamps you want to take home. Can I tell you a secret you should keep to yourself? No matter where I had dinner, I always saved some space for dessert at this place. You definitely cannot leave Morocco if you haven't tried their saffron-scented Moroccan date cake with fresh whipped cream and salted caramel sauce (and you must ask for extra caramel sauce, trust me). The rooftop terrace is beautiful, but so is the small interior dining rooms, where the decor makes you dream of going back home and redecorating in the café's style! MAMA AFRICA – Rue Oum Errabia An African-chic café located in the most modern area of Marrakech, frequented by the hippest, youngest and coolest locals. Serving African-style dishes and playing the most chill reggae and local music. Be prepared for rich, Caribbean-like flavours, and colourful, plentiful dishes. The Mama-Poulet dish and coconut-based smoothies are amazing! EARTH CAFE – 4 Derb el Messfloui A great vegan and vegetarian-friendly close to Jmaa el F-naa, serving quick, fresh and tasty healthy dishes. It's not luxurious, but it's good for your soul! Perfect for a healthy lunch on the go while visiting the Souks. It is located in a hidden street right after Nomad Cafe and the place is very small (only 2 tables!), but worth it if you are looking for healthy options. LA MAISON ARABE – La Table du Riad by Riad 72, 72 Arset Azwel Bab Doukkala Best tajine I've eaten in Marrakech! A high-end, elegantly decorated local restaurant where the food is delicious and the crowds are refined. The wonderful ambiance and uber-romantic courtyard make it one of the most romantic places for a dinner-date in this vibrant city. DAR YACOUT – 79 Rue Sidi Ahmed Soussi, Bab Doukkala This was one of the most cinematic experiences of my trip to Marrakech and a definite highlight! Imagine arriving at a typical Moroccan house with no restaurant signs. Suddenly, a very elegant gentleman opens a side door and introduces you to one of the most glamourous candle-lit Moroccan courtyards you have ever seen. Then he takes you to a small beautiful room to take a glass of champagne or any drink you desire, while local musicians soothe your night with beautiful Moroccan music. After that, the Royal Feast begins at another table, and then you regret that you'd had breakfast and lunch, or had not taken the girl or boy of your dreams with you! Dar Yacout is an experience not to be missed – book in advance.
Daging Rendang Padang dish served on terrace at Exotic Bali
EXOTIC BALI – 56 Derb Chentouf، Quartier Riad Larrouss If you want to take a break from Moroccan dishes to experience something different, go to Exotic Bali. The chef is Balinese and cooks authentic and tasty dishes. The presentation of the food is amazing as is the traditional Moroccan Riad where it's located. You can eat downstairs in a covered, intimate and colourful courtyard or upstairs on a beautiful terrace surrounded by beautiful plants and views.
The Souks. One of the many cats you encounter while walking around Marrakech.
1. Bargaining at the souks for the most beautiful souvenirs for you and your home.  Bring an empty piece of luggage and be ready to fill it up with the most beautiful decorative pillow covers, throws, dresses, lamps and rugs.
Captured by Marian Bader for Flytographer
Le Jardin Secret
2. Relaxing in a quiet paradise after a hectic day at Le Jardin Secret. This is my favourite spot in Marrakech, where you can walk around magical gardens and visit one of the most ancient and beautiful palaces in the city. If you had to visit only one museum, visit this one.
Le Jardin Majorelle
3. Admiring and filling your Instagram with colourful, tropical and stylish snaps at Yves Saint Laurent's Jardin Majorelle. Make sure you wear your most beautifully-coloured dress and hat and take your camera for some glamorous photos! 4. Visiting the uber-beautiful Ben Youssef Madrasa and discovering the finest of Islamic architecture. Get your camera ready for one of the most beautiful sights in Morocco. 5. Getting inspired by a beautiful and vast photo collection at La Maison Della Photographie.  Experience a visual journey into the past and enjoy some of the most beautiful old photos of Marrakech. Recommended highly for lovers of history and art. 6. Unwinding at a local Hamman. Head to La Mamounia for a unique and luxurious experience or to Hamman de la Rose for amazing treatments at a reasonable price. 7. Admiring the famous Jemma El-Fna Square from one of the many rooftop cafés or enjoy drinking a very tasty orange juice from one of the hundreds of juice stands located in the square.  
8. Getting lost in the Medina and discovering Marrakech's hidden streets and corners. One of my favourite things to do in this enchanting city was to forget about my map and allow my intuition to lead me into the most authentic places. Beware of local men offering to guide you, and refuse any help from strangers unless you are really lost (in which case, agree in advance how much money to pay them for their assistance).
9. Taking a selfie at the Koutoubia Mosque.  Spend some time at its beautiful gardens and admire the largest mosque in Marrakech. You cannot miss a photo at this landmark, which can be seen from any point of the city. Non-Muslims can only admire it from the outside. 10. Heading to the Gueliz neighbourhood to discover the most modern side of Marrakech. 
Instagram-worthy stays that will leave you feeling like Morrocan royalty
Riad El Fenn – 2 Derb Moulay Abdallah Ben Hezzian, Bab El-Ksour I could not a find a more photogenic Riad in Morocco. Every corner is worth a photo and is the most romantic getaway spots I could think of. It's the perfect place for a photo session too! Riad Yasmine – 209 rue Ank Jemel، Bab Taghzout Hashtag Morocco in any of your social media searches and you will find hundreds of bloggers posing in the different spaces of this beautiful Riad, especially at the very beautiful green-coloured pool. La Sultana – 403 rue de la Kasbah An oasis in the middle of Marrakech's hectic medina. A mix of luxury and authenticity, with a beautiful spa. La Mamounia – Avenue Bab Jdid، Super luxurious accommodation, home of Morocco's most beautiful and recognized spa. It is a legendary palace – beyond beautiful! It's perfect for couples and honeymooners; you cannot get a better place to stay in the city. Royal Mansour – Rue Abou Abbas El Sebti A delightful, elegant and unique Moroccan style hotel where every guest is treated like royalty. If you are not ready to lavishly spend the money (which would be worth it!), you can also visit the spa and its beautiful gardens. Every corner of this hotel feels special and authentic. Truly recommended and a very photogenic place!
Must-see day trip – Atlas Mountains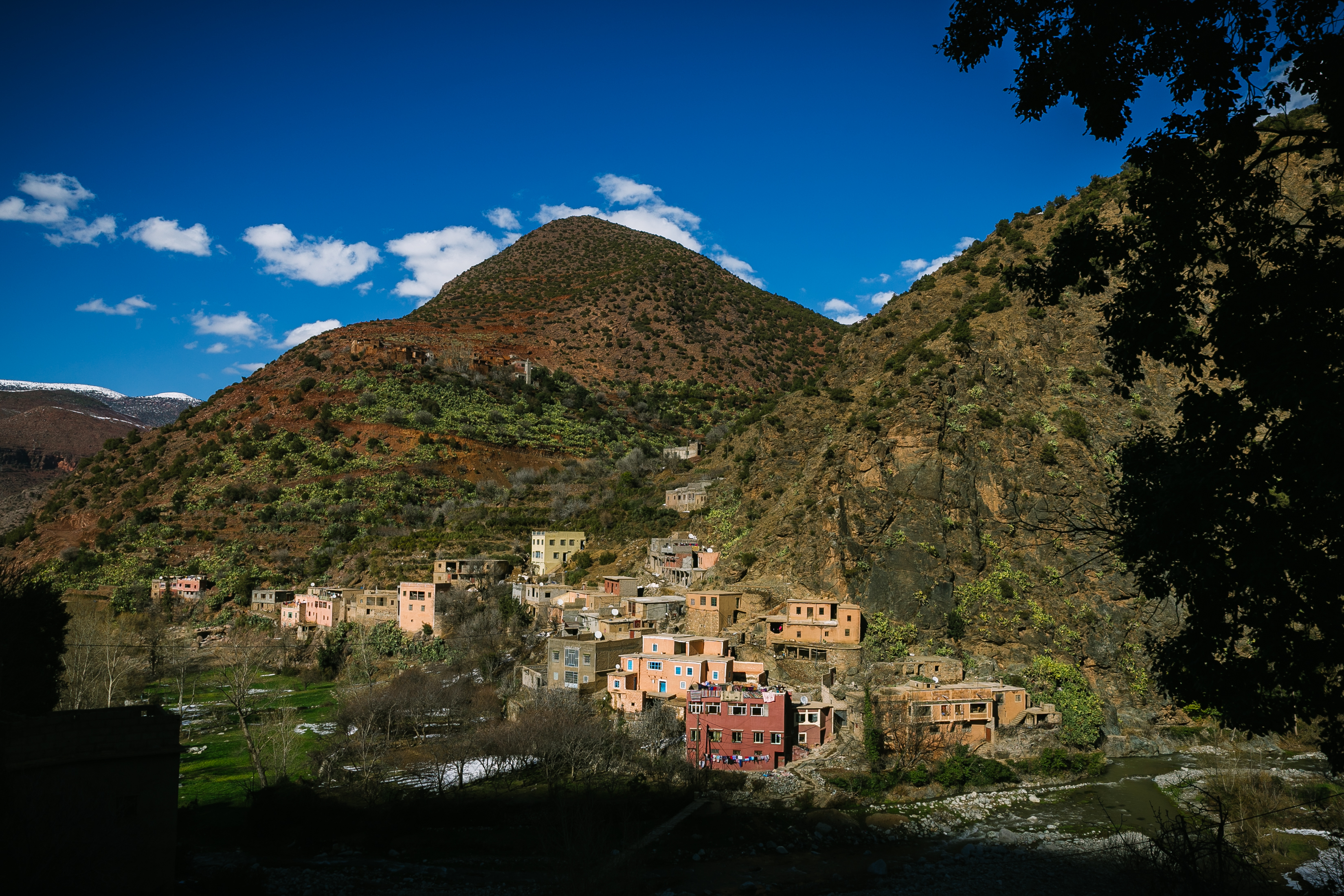 ATLAS MOUNTAINS – OURIKA VALLEY AND THE BERBER VILLAGES This is a day trip not be missed, especially if you want to have an experience that feels more raw and authentic. You will enjoy scenic views of the Atlas Mountains, see beautiful waterfalls, visit a traditional argan oil factory and a typical Berber family house. I recommend you take a private guide with car for this one. Trust me, you will have more time to enjoy and take photos, to speak to the locals and hear their stories, drink their fresh tea, and learn from their culture. There are many companies that organize tours, but most of them fill a bus with tourists and you end up getting lost in the crowd, not feeling any authenticity in your experience.