Recently, one of our Lake Como photographers, Marian, made a trip to Amman and neighbouring areas to soak up the sights and sounds of Jordan. She returned home with gorgeous photos (natch!), recommendations of what to see and eat, and an overwhelming love for this magical corner of the universe. Do not wait – get this city on your bucket list immediately!
Photos and text by Marian for Flytographer
Chaotic and peaceful. Artsy and messy. Traditional and modern. Amman is a city of constant growth and contrasts. Within minutes, you can go from a very peaceful oasis to the most hectic of streets, from the most traditional and monochromatic cityscapes to the most colorful and modern buildings. It is a city made to awaken your senses, to get you away from what's normal to a slower pace of life, where sipping coffees with your friends and losing track of time is the rule. Amman is full of colourful flavours and a welcoming atmosphere that wraps you up into the most inviting and introspective journey, one that gives you a whole different vision upon returning home.
Artsy cafés with atmosphere in Amman
ZAIZAFOUN, Daraj Al Kalha 
Such a hidden jewel in Amman! It's hard to find, but so worth it. It's so photogenic, with an outdoor terrace surrounded by beautiful graffiti and books. Perfect for a break after a busy day of shopping and very close to downtown.
RUMI CAFE, Kulliyat Al Shareaa Street 14, Jabal Al Weibdeh 
The trendiest and most visited bar in the expat area of Weibdeh, where young locals meet for a chat and freelancers share tables with local students and hipsters. Great spot for a juice and a snack while people-watching.
SHAMS AL BALAD, Jabal Amman 
My favourite café in Amman, especially for a late breakfast. Very healthy dishes and tasty salads. The restaurant is located in a typical house and you can eat outside on the terrace or inside in a very cozy area. It is also home to a very unique shop that sells local souvenirs.
RAKWET ARAB CAFE, 4 Al Baouniyah Street 
A well-curated typical restaurant, serving traditional food and some tasty non-alcoholic drinks! You can eat and smoke some shisha on the side. Perfect for lunch or dinner.
FANN WA CHAI, Jabal al Weibdeh 
A perfect place with free wifi for those working outside normal office hours. Lots of wonderful teas and a beautifully calming atmosphere.
JADAL FOR KNOWLEDGE & CULTURE, Downtown, King Hussein's street, Al Kalha stairs house number 5
Jadal, or the so-called "Anti Café," is a unique place. You pay by the hour and get unlimited coffee and tea with free wifi. It is also home to many cultural activities. It's not, however, the place to get hungry, since food is not served!
Eating like a local in Amman
HASHEM, Al-Amir Mohammed St, Downtown 
This place is an institution! It's cheap and tasty, and the service is very quick. Amazing for breakfast, lunch or dinner and ordering is a breeze since they only serve tasty falafels and different types of hummus with bread. 
HABIBAH SWEETS, Al Hazar St 2, Marwan Madi Complex 
Best traditional sweets in town! You cannot leave Amman without trying their specialty: Kanafeh, a Palestinian dessert to die for! Just imagine indulging into layers of soft pastry crumbs sitting on top of the most amazingly soft cheese, all cooked in the oven and covered in syrup. No worries about the calories – if you skip taking cabs, you will burn it off in an hour. Walking around Amman can be such a workout!
SUFRA, Rainbow Street 
Here you should try the most famous Jordanian dish: the Mansaf, which is made of rice, lamb and yogurt. Amazing atmosphere and great setting! Located downtown, right next to a photogenic set of colorful stairs covered with umbrellas.
In my opinion, the best neighborhood to stay in is Jabal Al Weibdeh. It is very safe but still lively at night, with a great vibrancy for walking around and having a casual dinner or lunch. It is the artsiest neighbourhood in Amman; every empty wall is covered with colourful graffiti. Weibdeh is very close to busy downtown, but far enough away from the noise. You will find the most luxurious and beautiful hotels in other areas of town, however, so it depends whether you want to be close to the action in a boutique hotel or Airbnb in Weibdeh, or far from the night scene but comfortable in a big and luxurious modern tower.
SHAMS ALWEIBDEH, Al-Baouneyah Street, Building 59 
Located in Weibdeh, this hotel has small, very clean, modern apartments. Perfect for travellers who want to feel at home by cooking some of their meals or have a living room to relax in after a hectic touristy day.
ROTANA HOTEL, Abdali Boulevard 
Located in the newest part of town, on the Abdali Boulevard, this hotel is all about luxury and beautiful design. The neighbourhood is home to many modern cafés and restaurants, and a lovely place to walk at night. 
LE ROYAL HOTEL, 3rd Circle, Zahran Street 
A beautifully designed 5-star hotel, famous for its night illumination. Very central and luxe.
1. Visit Amman's historical site, the Citadel, and enjoy the sunset from the most peaceful location in the city. The Citadel has some of the most beautiful ruins I have ever seen and the best views of Amman.
2. Head to the Jabal Al Weibdeh neighborhood and go "café hopping" with all the other expats. Weibdeh is a very famous area where the beautiful people hang out and meet their friends for an afternoon chat, shisha, and a glass of fresh juice or coffee. Here you can find the artsiest cafés in the city and some of the best places to eat.
Smoke a shisha. Yes, you cannot leave Amman without having one! Head to Weibdeh or Rainbow Street. You can have one in almost every café located in these areas. My favourite was at Rakwet Arab in Weibdeh.
Eat falafels and hummus. The best in town is at Hashem, a very traditional restaurant in downtown serving a fixed menu of falafels with different types of hummus and bread. 
Visit the Roman Amphitheater and watch the locals spend their free time in the square

: kids playing soccer, friends chatting for hours, tourists enjoying the sun and lots of families just enjoying the scene.

Admire the beauty of the King Abdullah mosque. 

All tourists, including non-Muslims, can visit the mosque. It sits right in front of a Catholic church for a study in contrasts.
Reserve a cultural afternoon to visit the Darat-al-Funum Museum and hang out at their gardens and peaceful café 

with beautiful views of Amman.
8. Visit the different markets and shops downtown for the most colourful dresses, gold and silver jewelry, spices, book, food and accessories. This place is souvenir heaven!
Visit Amman's modern face, the Abdali Boulevard

, for a different kind of experience. Here you will find plenty of modern cafés, restaurants and a duty-free shop. 

Take a local cooking class at Beit Sitti in Weibdeh to bring the culinary flavours of Jordan home!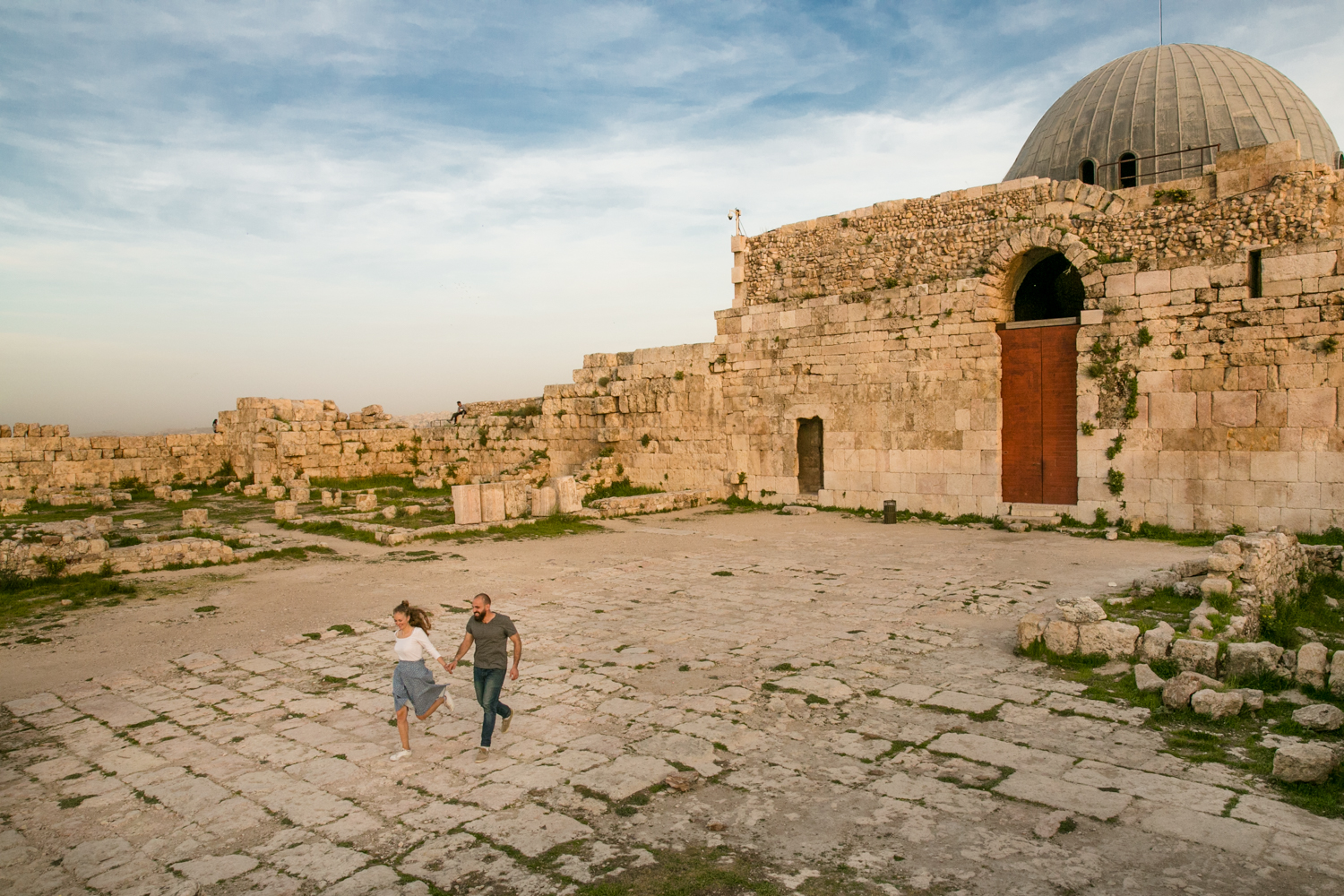 PETRA
You cannot miss visiting Petra in your lifetime! It is one of the most beautiful places in the world and such an authentic Jordanian experience. You can easily arrive from Amman in a few hours with a private driver (or tour, but I would skip on this one). I would recommend getting there very early in the morning in order to beat the crowds and enjoy fresher weather. Wear comfortable shoes and be prepared to walk a lot. If you do get tired, you can always ask a local Bedouin for a horse, camel or donkey ride (but make sure you agree on the fee before you get on). And don't forget your camera – this historic site is magical.
WADI RUM
Did you ever watch The Martian? Well, Wadi Rum was the place where this film took place and it is exactly the way you see it in the movie, with the difference that it is actually inhabited! Wadi is the place for a peaceful break where you can enjoy beautiful sunsets, camel rides into the most interesting landscapes, and sleeping in tents under the stars. I recommend staying for at least one night in a Bedouin camp, where they can also help you hire a sunset jeep tour or camel ride to further discover the beauty of this desert. You can combine this trip with Petra and make it a 2-day getaway since they are not so far from each other … and trust me, together they make an incredible holiday weekend!
THE DEAD SEA
If you visit Jordan and go back home without a photo of you floating on this very saline sea, you haven't really been there! This is a very unique experience and also very close to Amman, which makes it the perfect day trip. You can hire a private driver or even an Uber to get there. In order to access the water, you need to enter one of the many hotels located in the area. They will charge you a daily fee and you can use all their facilities in addition to your swim in the Dead Sea.
Some tips before you embark on your trip
Although there are certain parts of Amman where the modern and traditional collide, there is still an expectation, especially if you are a woman, that you are supposed to be covered from your neck to your ankles, particularly in downtown Amman, and you should also avoid public physical contact with your partner.
Amman is spread between hills and is quite hard to get around only by foot, unless you stay in the downtown area. You can take cabs, but they only take the local currency in cash.
When you are shopping for souvenirs at the souks, don't accept the first price. Unless the price is written on the item, feel free to bargain.
And last but not least, expect and get used to slower service, traffic, and routine delays. If you have an appointment with a local, they might be late … it is a slower-paced culture and being early is not the norm. Accept this before you go, and just relax into this patient and vibrant culture.