"It takes a lifetime to discover Greece, but it only takes an instant to fall in love with her." – Henry Miller
Best things to do in Santorini to live a local
"Santorini is a miracle of nature. The whole island used to be a volcano and what someone can see nowadays has taken thousands of years and volcanic activity to be formed. Living on an island has a quite different vibe than living in a big city. Being surrounded by sea makes people more outgoing and lighthearted." – Spyros
Whitewashed buildings and windmills cascading down the sheer cliffsides, surrounded by blue skies and even bluer waters, is an absolutely unforgettable view! ✨  Formed by an ancient volcanic eruption, unique energy is almost tangible from within the ground as you explore this incredible destination in the middle of the glittering Aegean Sea. From panoramic views of the caldera to celebrating the vibrant Greek culture, we've compiled the top things to do during your visit to the island of Santorini. 🌋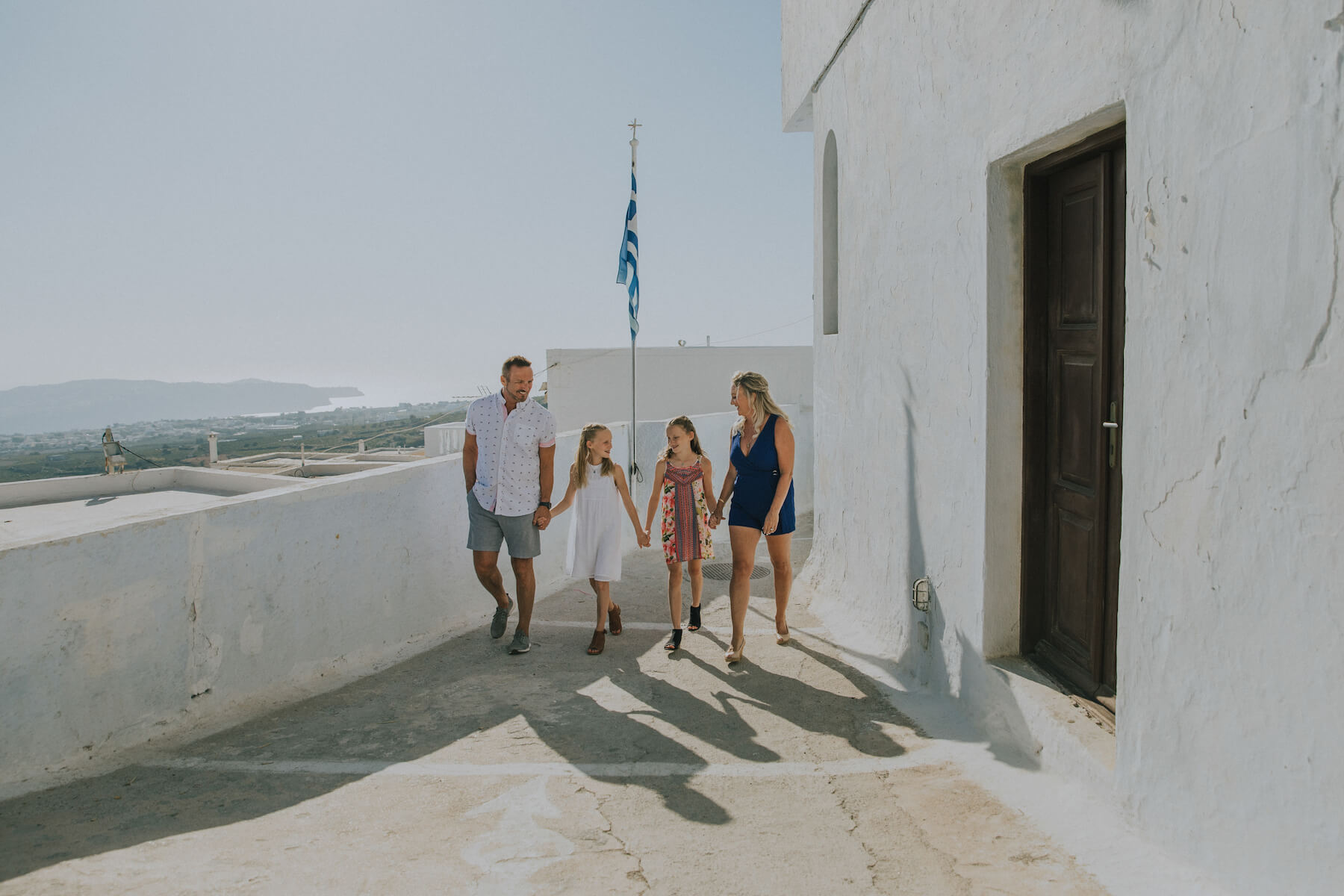 What are the best things to do in Santorini?
"Emporeio, Pyrgos, Megalochori, Finikia and Akrotiri are villages where still a lot of locals live. Any visit to these places can be a connection to the local culture. Speak with locals, listen to their stories and try the local food. Wine making, of course, is a great part of the local culture and any wine tour can be a great window to Santorini's authentic identity. It's difficult to find the local culture across the caldera which has been radically developed for tourist purposes in the last decades." – Spyros
With the explosion in popularity over the past years, it would be easy to miss out on making an authentic connection with the local Greek culture and history that runs deeper than Instagrammable streets and sunsets. Here are our favourite must-do's beyond the popular classics:
Honourable mentions: Santorini Sailing sunset cruise & catamaran boat tour, Kamari Beach, Santorini Hot Springs, half-day trip to Thirassia, Museum of Prehistoric Thera to discover Ancient Thera, sightseeing day tour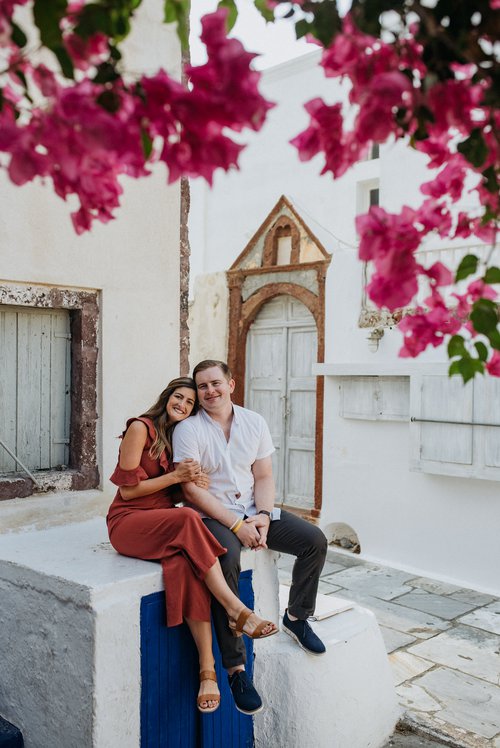 Travel Tip Feature: What is your best tip for Santorini?
"Atlantis bookstore! I've been following this bookstore for a few years, they have such a unique and cool story. Abby always tries to find hidden gem book stores everywhere we go and she was really excited about being able to go to Atlantis. Amoudi Bay was one of our favorite spots, jumping off the rock, eating at Dimitris where Andrew Zimmern did, was a blast. Pro tip, Oia is super busy, prepare yourself if you're traveling in the summer months." – Connor (photographed above)
Read more Santorini Travel Tips from Flytographer customers.
Best places to take photos in Santorini
"Santorini is well known for its picturesque whitewashed Cycladic villages. Everyone flocks to the popular cliff-hugging hotspots suspended over the caldera. But my favourite route is a bit of a hidden gem and it is still mostly untouched by tourists. Pyrgos Village has all the authentic charm of a traditional Greek island with hamlets that lead to hilltop churches with the classic blue domes and iconic white homes. It is my favourite because this hill-top sanctuary is the highest village on the island that offers sweeping views, majestic sunsets and is surrounded by vineyards." – Kimon
"I would say [my favourite place to take photos are] Imerovigli and Skaros Rock; they offer a great view towards the Aegean Sea and the caldera part of the island. Especially Skaros — it has such a primordial landscape, it's like travelling back in time when walking around the rock." – Spyros
View all 6 expertly-curated Flytographer routes through Santorini. 
Oia by Kimon in Santorini | Prints available for purchase
Windmill by Kimon in Santorini | Prints available for purchase
Capturing memories in Santorini
Blue domes sprinkled among the whitewashed houses are an iconic view in many of the Cyclades, from Ios to Mykonos, but standing along the edge of the caldera with a view of the sunset is uniquely Santorini. To capture the magic of these volcanic islands, book a Flytographer shoot and meet our amazing local photographers ready to document the wonder of it all. 📸