See more: couples – proposal – love – anniversary – Santorini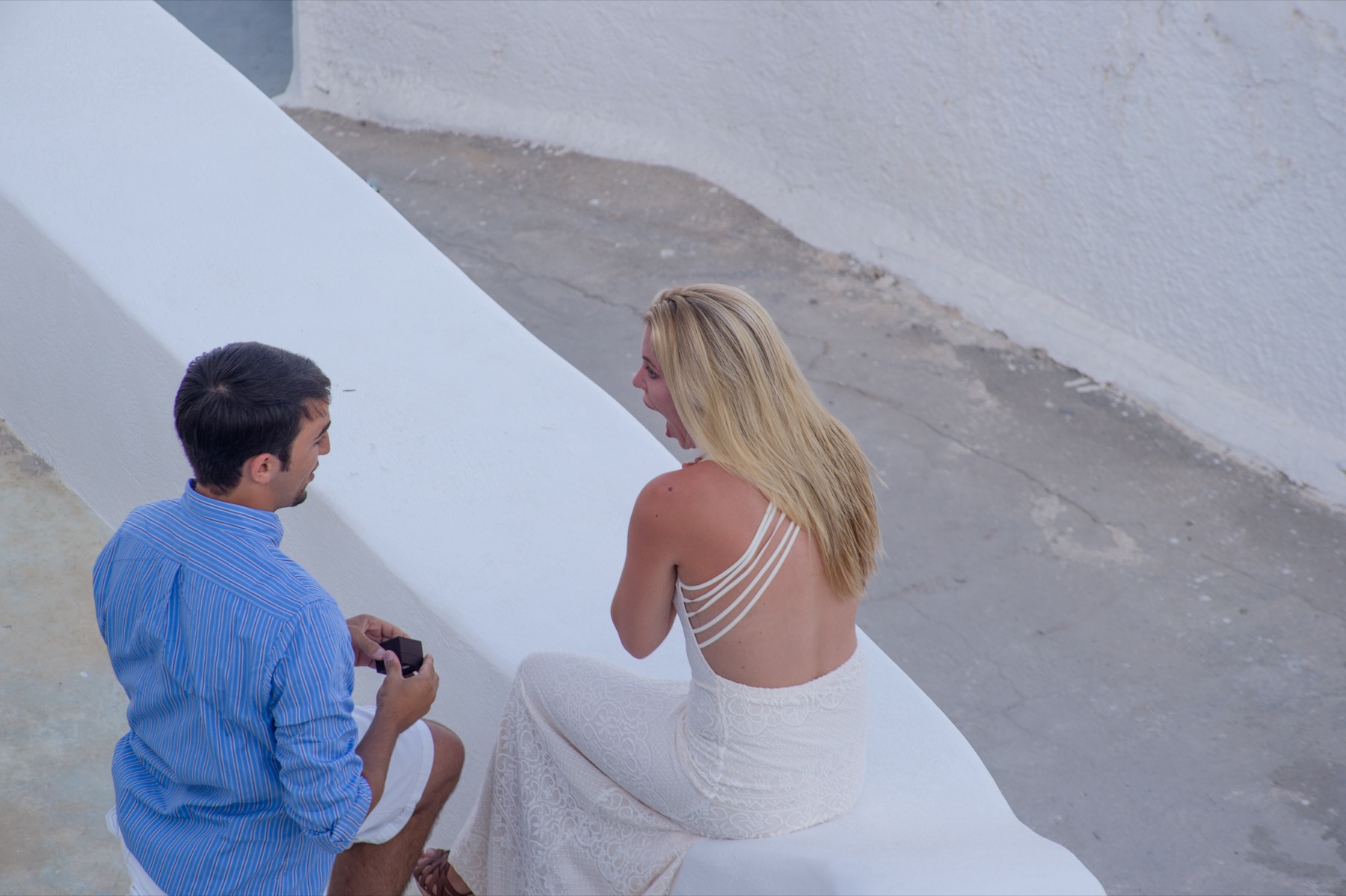 For Bruno, a surprise proposal alone wasn't enough to give his longtime love Bryannah – he gave her a surprise vacation, too! After dreaming of visiting all her life, Bruno surprised Bryannah with a trip to Greece for their seventh anniversary, and topped off this magical trip with a perfect proposal, captured by Flytographer Nikos in Santorini. Once the shock wore off, they wandered the cobbled streets of Oia and preserved one of the most important moments of their lives with these beautiful photos! Read on to hear all about their love story, and the elaborate planning that went into Bruno surprising the love of his life!
Bryannah: "I can still remember the exact moment I first laid eyes on Bruno. A group of my high school friends and I were standing in front of the town's ice cream parlor drinking milkshakes and trying to meet boys from the other high schools. It was a warm August night. I remember looking at him, thinking "this one is something special."
We reconnected about two summers later and have been inseparable ever since. We truly are best friends and just so in love with each other. I could not imagine my life without him, nor do I want to. He has already given me a lifetime full of memories and laughter. He helped me get through college and still inspires me to be the best version of myself in every way. He has helped me become close with my loved ones and he is like another son and brother to my family. He showed me so much of the world through travel at such a young age and we have developed a new perspective of the world together. He allows me to genuinely feel comfortable in my own skin and makes me feel like the most beautiful woman in the world. He believes in me. Bruno has the kindest heart and has the ability to make everyone feel like they are the most important person in the room. He is smart, silly, and the most romantic person I know. I love him."
Bruno: "Bryannah and I began dating July 21st, 2008. I remember coming home after our first date and telling my mom how special I thought she was. To this day my mom still tells the story about how she knew that Bryannah was the one for me based on our conversation the night after our first date."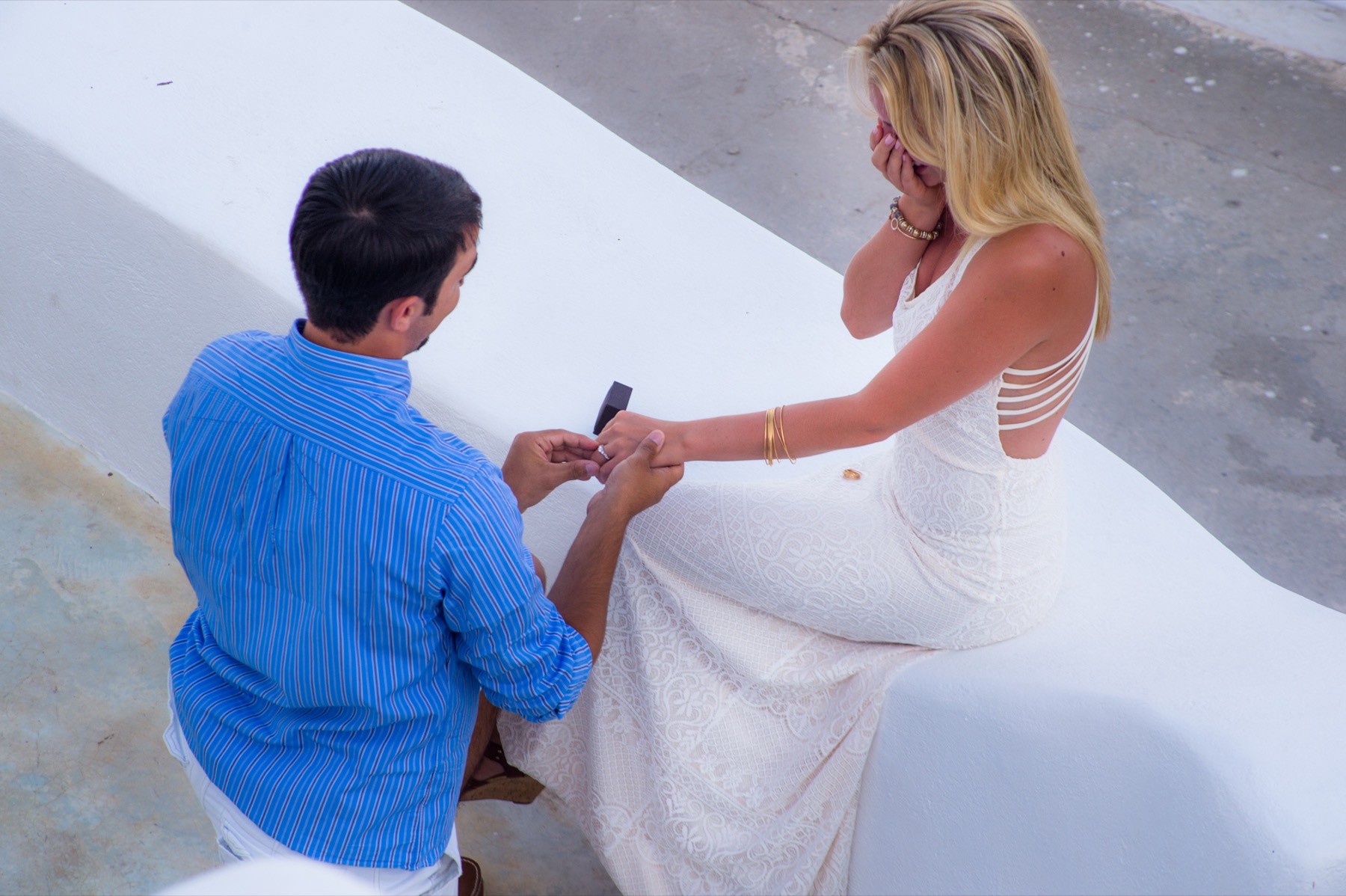 Bryannah: "It had always been a dream of mine to go to Greece. I just found the Greek islands to be so beautiful. When I was younger, I loved the Sisterhood of the Traveling Pants book and their movies.
Two months before he proposed we were trying to plan a trip for mid-July. We looked into going to Europe or taking a cruise in the Caribbean. We eventually decided to save some money and take a cruise to Turks & Caicos and the Bahamas and I was really excited to go. I started looking into excursions, buying a few outfits/bathing suits, and telling our friends and family about the trip. However, late one night, one week before the trip, Bruno handed me a wrapped gift while I was lying in bed and told me that it was for our vacation the following week. I unwrapped it to see that he had gotten me the Sisterhood of the Traveling Pants book with movie set. He told me, "You're going to need this for our flight next week, its long" – I told him, "Florida is only about 3 hours away. And I love you but I just bought two books for the cruise," – He answered, "These movies are for our flight to Greece."
I was in pure shock! I was so happy and confused all at the same time. I needed him to repeat that over about three times, "We are going to Greece." I couldn't believe it. How did he plan my dream trip all without me knowing? I was so excited I started getting hot flashes and so I needed to sit outside. I continued to ask him to explain where we were going and how he planned it. I called my mom and all my friends. I was on cloud nine.
Bruno knows me so well. He intentionally told me about the trip a week in advance (and not at the airport, thank god!) because he knew I would need to buy a couple new Greece-specific outfits. We would be going to Greece and spending time in Santorini on our seven year anniversary. And so, of course the idea of him proposing crossed my mind but I was not sure if he was going to do it."
Bruno: "In February of 2015 I began to plan the proposal. One of the key aspects of the proposal that I wanted to be sure I covered was to have a photographer there to capture the moment. I was hesitant to book the Greece trip or cruise or any trip for that matter with the intent to propose because I wasn't sure about how to get a photographer that I could trust.
I began researching photographers in Santorini and came across the Flytographer website. I first thought "Wow… This is a fantastic idea!" then, I looked further into it and reviewed their photo packages and customer testimonials and I was really excited when I found the "Capture the Moment package"! I looked into Nikos' portfolio and loved his style and previous work. I looked at the Flytographer website for about a week before I finally decided to go for it and book the package.
After the photographer was booked, I went ahead and booked the Greece trip for me and Bry. The plan was to spend 2 days in Athens, 3 in Mykonos, 3 in Santorini, and 2 in Istanbul before returning home and I setup the trip so that we would be arriving in Santorini on our 7 year anniversary.
One week after I booked the Flytographer package, I set up a Skype call with Nikos and our personal Flytographer shoot concierge, Jen. I shared my plan for the proposal so that everyone was on the same page. The video call was incredibly productive and I walked away that day with complete confidence that Nikos would capture our proposal exactly how I envisioned it."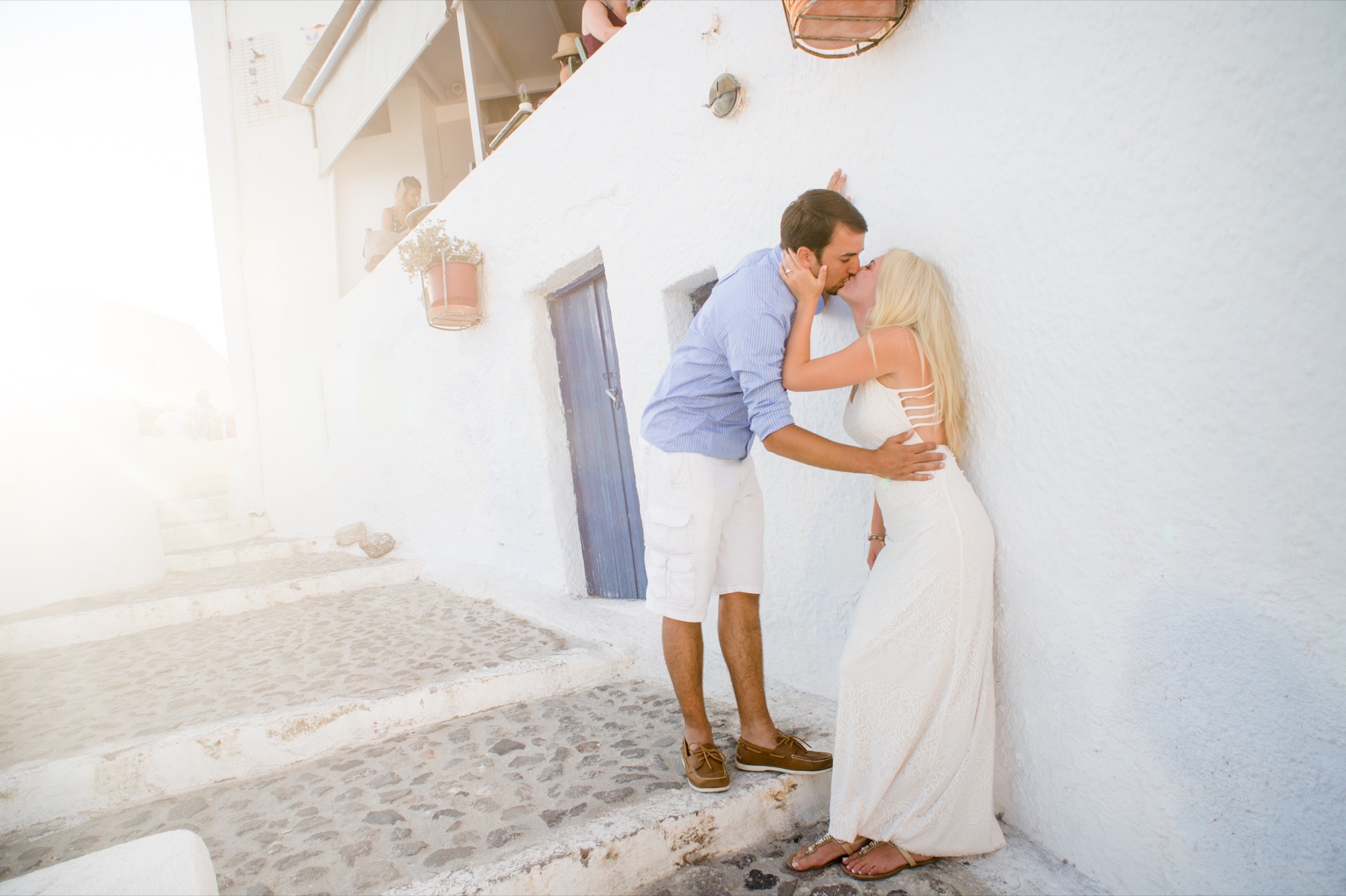 Bruno: "My plan for the actual day of the proposal was to tell Bry that we were going to dinner at sunset so that she would wear something nice. Dinner was at 7:30 pm but I had scheduled the photo shoot with Nikos for 6:30 (so that I could propose and we could do engagement photos before dinner). I tried to act very casual while we were getting ready. I made sure to shower first and get ready before her.
While she was in the shower I went out on the balcony to make sure everything was set up (chairs moved around, etc.) and at 6:10 pm, I looked up and saw Nikos. I gave him a thumbs up and said that she was still getting ready. She got out of the shower and was asking for my opinion about which dress to wear (the white one in the photo and she also had a salmon colored evening dress that she had planned to wear that day). I casually said that she would look great in either one and for her to choose the one she would feel more comfortable in and she decided on the white because it was a little less formal and Santorini seemed more casual then the salmon colored dress. At this point it was 6:15 and I was getting more and more nervous because Nikos was waiting outside above our balcony, I had the ring box in my pocket, her hair was still wet, and she didn't have any makeup on.
When she tried on the white dress, she noticed that it was really long and would be dragging on the floor. I again tried to act calm and asked her if she had bobby pins. She said she did so she got them out and I pinned her dress up with 6-7 pins so that it wouldn't drag. It was really cute because she was commenting on how great I'll be with our daughters someday (little did she know that I was about to propose!).
While she was in the bathroom drying her hair, I went out to the balcony and told Nikos that she was almost ready. I told Bry that I wanted to take a few pictures with the auto-timer on our camera. The goal here was to get her positioned in a good angle for Nikos to capture the proposal. After a few pictures with our camera she started noticing other photographers above us taking photos of the sea… and possibly us??
When she looked out at the sea toward the volcano that formed Santorini, I knew that this was my chance. I pulled the ring box out of my pocket when she started to look back at me and I told her that my life started the moment we started dating and that I would love to spend the rest of my life with her. She said Yes! And I'll never forget the emotions that I felt from her"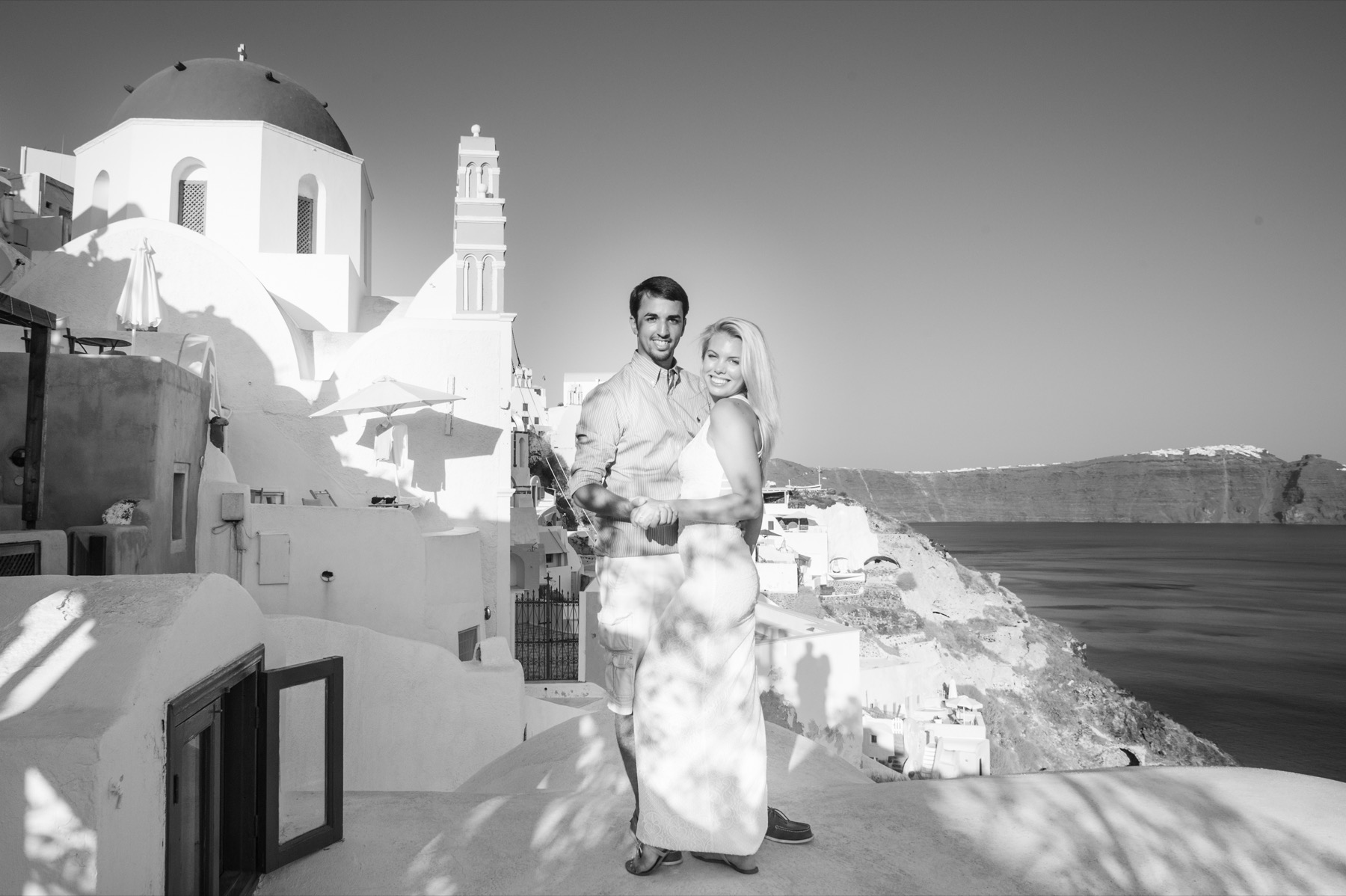 Bryannah: "The day of our seven-year anniversary was very relaxing. After I got ready, we stood outside on our balcony taking pictures on the self-timer camera. I noticed a man with a nice camera taking photos of what looked like our view of the sea. I turned behind me to see what he was taking a picture of and when I turned back around to see Bruno, I looked down and he was on one knee. For a brief moment, I swear I blacked out. I felt every single emotion all in a couple seconds. I knew what was happening but I could not believe it. It was the moment I had waited seven years for and it was more magical than I could have ever imagined.
I looked a Bruno's hand and noticed it was shaking. It was at that moment where I was pulled back to reality. Only reality was better than any of my dreams. It was just Bruno and me and he was asking me to spend the rest of our lives together. He told me he felt his life started the moment he met me and wanted continue this journey together, forever, the rest of our lives. I started to cry and of course said yes.
After, we met our photographer Nikos (who was absolutely fantastic) and went on our engagement photo shoot. You could tell by the photos that it was a fairytale dream. I do not think I could have planned a better engagement myself. I feel so lucky to have found my soulmate at such a young age. We have shared so many milestones and memories together in our short lives; and I am so blessed to spend the rest of my life with Bruno!"
For more proposal inspiration, check out our new Travel Stories!