When you both plan a romantic Santorini proposal with the same ring? It was probably meant to be.
Juliana spent months planning a gorgeous Santorini proposal for her girlfriend Tati. What she didn't know is that stranger in a bidding war with her for the ring? It was Tati. Read on for how this serendipitous double proposal came to be.
"We have both always dreamed of going to Santorini. I wanted it to be a place that we held dear to our hearts, so I began planning my proposal to Tati months before we embarked on our trip to Greece. I knew this moment had to be perfect. I hired Flytographer Kimonas to capture the big moment and began looking for the ring. Once I found the perfect ring, I was informed that the ring was no longer available and that there were only two left. I was in a bidding war with whom I thought was a stranger — but who turned out to be Tati — for the SAME RING! After a few weeks of going back and forth with the jeweller, the ring arrived to the house. I asked Tati's mom to hide the ring for me, without knowing Tati had asked her to do the same.
"We finally arrived to Santorini and I anxiously waited for the planned proposal date to approach. I kept reminding myself to play it cool so Tati wouldn't catch on. The day arrived and throughout the morning, I kept insisting that we head back to the hotel in order to freshen up before heading to Skaros Rock to see the sunset. We arrived to the location two hours early, so we headed to a rooftop bar to grab a few drinks before it was time to head down to 'see the sunset.'
"Finally, Kimonas texted me to let me know that we should start making our way down to the location slowly. With every step I took, my heart began to palpitate vigorously. I needed our Santorini proposal moment to be everything Tati had ever dreamed of. We reached the chapel in front of Skaros Rock and Kimonas was there pretending to be a tourist. I asked Tati to take a selfie with me to signal to Kimonas that I was ready to propose. He asked if we would like him to take a picture of us on my phone, then asked if we would like him to take a picture with his camera. I quickly said yes.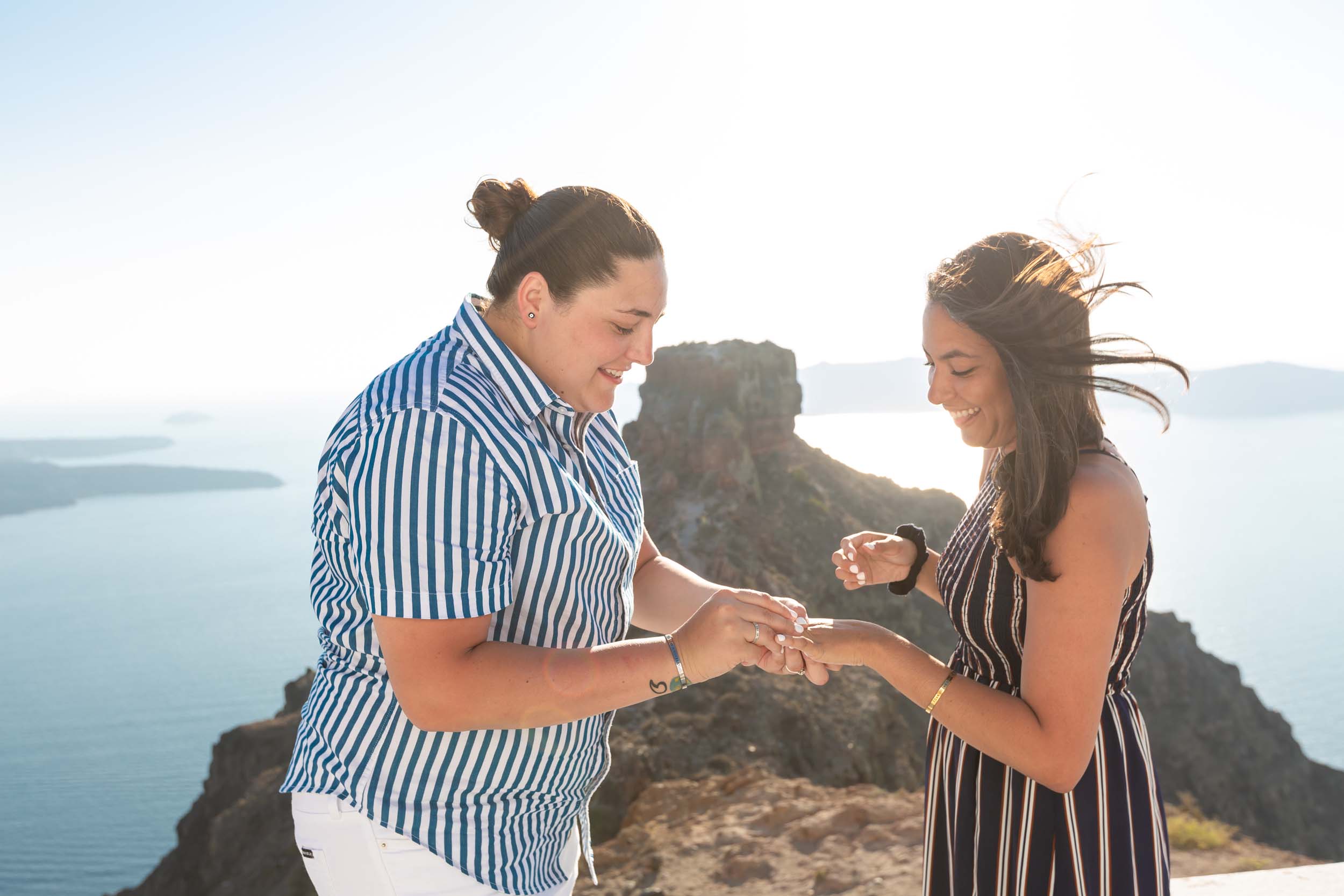 "We got into position for the picture and that's when I looked at Tati and said, 'You know I love you, right?' Tati immediately caught on and asked, 'Wait, are you proposing right now?' I kneeled down and said, 'Yes, will you marry me?' She quickly reached in her purse and pulled out a ring box and said, 'Only if you marry me.'" – Juliana
Flytographer Kimonas in Santorini